Amateur Boxing
Five things that you should know about boxer Akash Kumar
By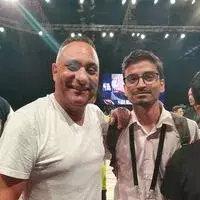 Gaurav Singh
The younster recently won a bronze medal at the World Boxing Championships.
Young Indian sensation Akash Kumar endured a heart-wrenching loss to Kazakhstan's Makhmud Sabyrkhan in the semi-finals of the AIBA World Boxing Championships in Belgrade, Serbia.
Despite his 0-5 loss to the Kazhak in the semi-final, the Indian beat several talented boxers such as former Olympic silver-medallist, Yoel Finol Rivas of Venezuela in the quarter-finals of the tournament.
At the tender age of 21, Haryana's Akash Kumar has a promising future ahead of him. Here are five things that you should know about the sensational Indian boxer:
5. Seventh Indian to succeed at World Boxing Championships
Akash Kumar is the seventh Indian to win a medal at the World Boxing Championships. He joins the elite company of Vijender Singh (2009), Vikas Krishnan (2011) Shiva Thapa (2015), Gaurav Bidhuri (2017), Amit Panghal (2019) and Manish Kaushik (2019) who won a medal each. Amit Panghal is the only one to have won a medal better than bronze amongst all.
Men's boxing team coach Narender Rana lamented the lack of experience in the team for the tournament. They felt that they could have improved upon their haul of one bronze medal this year. Nonetheless, it was a fruitful campaign for the Indian contingent, who added another medal to their tally (now, seven). They did so despite not having any Olympians taking part in the competition.
4. Medal winner on senior debut
The World Boxing Championships in Belgrade was Akash's senior boxing debut and he graced it by winning a medal. Out of the 13 members of the Indian boxing contingent, five individuals reached the quarter-finals. However, only Akash Kumar managed to reach the semi-finals and guaranteed himself a medal in the tournament.
He overcame Caleb Tirado of Puerto Rico and then Olympic medalist Yoel Finol Rivas to reach the semi-finals. Despite being ousted by Sabyrkhan with a scoreline of 0-5, Akash showed a lot of prowess throughout the tournament. His fearlessness and supreme speed are the key attributes that make him special.
Neat footwork and a decent reach make him relentless. The Indian boxer adopted the strategy of taking a strong start, earning points in the early rounds and continuing to counter-attack in the later stages – tiring out his opponents in that process as well. It was an exceptional performance and campaign for the boxer who hails from Bhiwani in Haryana.
3. Hardships & challenges
His bronze is not just the seventh medal in India's tally at the World Championships, It has a lot more meaning behind it. Akash Kumar himself dedicated the medal to his late parents.
It has been about a decade since the demise of his father. His mother also passed away earlier this year, which created a lot of hardships for the Indian boxer. The young man even showed a lot of maturity upon learning about his mother's demise. He won a medal despite all the hardships and will look to achieve constant success in his further journey.
2. A young, fearless boxer
Akash's father, a state-level wrestler, played a key role in getting him and his brother into wrestling and then boxing later. Infact, Vijender Singh's medal at the World Boxing Championships in 2009 played a huge role in Akash Kumar taking up boxing over wrestling. Coming from Bhiwani, the same city as Vijender, Akash joined Captain Hawa Singh Boxing Academy in 2008.
Six years later, he was scouted by the Army Boys Sports Company and since then he has trained under the best. Akash always looked up to take on other senior boxers and remained fearless. His aggressive nature and physicality were at display during the World Boxing Championships this year. He showed agile footwork and evaded opponents' attacks with ease. The young boxer also never shied away from asserting himself.
1. Champion at youth level
Akash Kumar has won the Khelo India Games title three times already in his career, including one last January. His coaches always thought of him as the "next big thing," but he truly exceeded all expectations at the World Boxing Championships in 2021.
Besides being a three-time Khelo India Games winner as a youngster, he also participated in the Youth World Championship in 2018. Another instance of his success at the youth level was when he won the gold medal at the Golden Gloves youth tournament in 2018. Akash was one of the seven Indian gold medalists in that competition. India finished the medal tally on top with 17 medals.
Last month, he won the national title in his category that made him eligible to participate in the World Boxing Championships as a part of the Indian contingent.
For more updates, follow Khel Now on Twitter, Instagram and Facebook.