Badminton
Who was the first Indian to reach All England Open Badminton Championship Final? – Answer to question asked in KBC 15
(Courtesy : Screenshot/Sony LIV)
The contestants couldn't determine the correct answer and quit the game.
In the recently aired 58th episode of the immensely popular television quiz show, "Kaun Banega Crorepati (KBC) 2023," the Bindas Bhatias, who had been performing exceptionally well, faced an unexpected setback when they reached the 13th question, worth a substantial 25 Lakhs.
The question that stumped the contestants was, "Who was the first Indian to reach the final of the All England Open Badminton Championship?" It was a crucial question, and the contestant, who had come so far, was unsure about the correct answer.
To make an informed decision, the contestants decided to exercise the "Phone a Friend" lifeline. Seeking assistance from a trusted friend, they hoped to get closer to the correct answer. The friend suggested that the answer might be the legendary badminton player, Prakash Padukone. Prakash Padukone is undoubtedly one of India's most iconic badminton players and a strong contender for this achievement.
However, hesitation crept in when the contestant found themselves torn between two similar-sounding names – Prakash Padukone and Prakash Nath. This moment of doubt became pivotal, forcing the contestant to rethink their approach. With a significant prize at stake, they decided to exercise caution and opt for a more conservative route.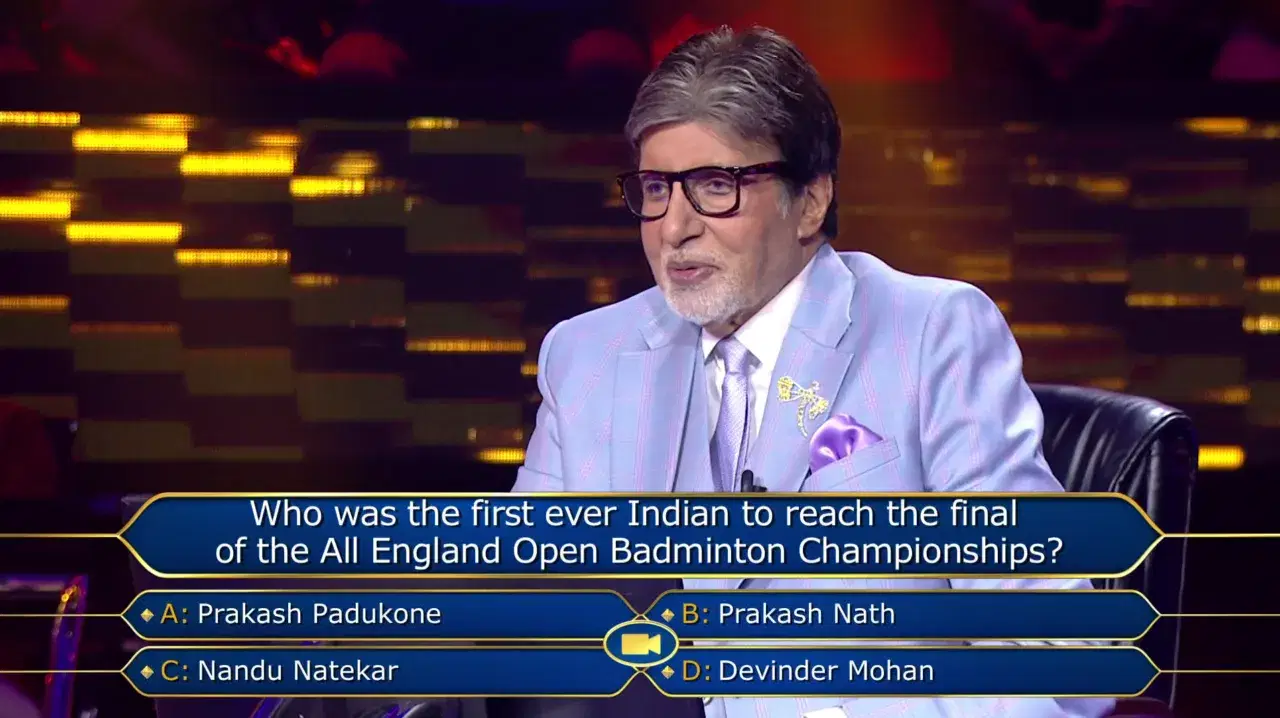 The question concerning the first Indian to reach the All England Open Badminton Championship final was indeed a challenging one.
In the nail-biting question that led to the Bindas Bhatias' exit on KBC 2023, the correct answer was- Prakash Nath.
Prakash Nath, an unsung hero of Indian badminton, achieved a significant milestone when he became the first Indian to reach the final of the All England Open Badminton Championship. This incredible feat was accomplished way back in 1947, an astounding 75 years ago. Prakash Nath was one of the two Indian contenders in the men's singles category, alongside Davinder Mohan.
In his remarkable journey to the final, Prakash Nath found himself pitted against Sweden's Conny Jepsen. However, the final turned out to be a one-sided affair, with Jepsen emerging victorious with a scoreline of 15-7, 15-11.
For more updates, follow Khel Now on Facebook, Twitter, and Instagram; download the Khel Now Android App or IOS App and join our community on Telegram.