The former German international is a Bundesliga legend
Lothar Matthaus is a living Bundesliga and Bayern Munich legend. Matthaus won 7 league titles with Bayern Munich and various other cups. While with his national team, he won the World Cup in 1990, the European Championship in 1980. He was also awarded the Ballon d'Or award in 1990, and he was named the Germany player of the year twice during his playing career.
Lothar Matthäus recent sat down with the Bundesliga media, discussing a variety of topics including playing in the Bundesliga and Union Berlin's form, Dortmund and Christopher Nkunku and Sadio Mane's form. Finally, here is the full interview.
Can you really imagine Union Berlin becoming champions at the end of the season? In 1998 Kaiserslautern even managed to win it after having been promoted to the Bundesliga.
"Anything is possible! In 1997 I experienced FC Kaiserslautern, a promoted side, in their first game in Munich; Otto Rehhagel [Kaiserslautern manager] came back to the place of action and they won 1-0. Everybody thought it was an isolated incident but after 34 match days, they were champions as a newly promoted side! Anything is possible in the Bundesliga and if both Freiburg and Union are able to continue their positive form from the start of this season, then we could be looking at a champion from Berlin or Freiburg. In this case it would not be Hertha BSC from Berlin but surprisingly, Union."
What do BVB need to become champions again after a long time?
"They need to produce the quality from the last 20 minutes against Bayern or the second half against Freiburg, more consistently. They have not played a particularly great season so far, but they still managed to accumulate quite a lot of points. I cannot remember a very dominant display by them for a full 90-minute match. In the first win of the season, Leverkusen should have won the game after their second-half performance, but the match ended 1-0 in favour of Dortmund.
At Freiburg, they were 1-0 down at half-time, and they ended up winning 3-1; their best second-half performance of the season. They made six points from two games that they lost the season before, which made me think this could be the time for Dortmund; a statement not only internally but for the whole world to see. They went from making zero points from those games, to six this season, and not even hitting second gear! Did well in the transfer market, they have a fantastic squad; they bought five new players who play for their national teams.
Everything seems to be going in the right direction in Dortmund but then the bad results come. A loss to Bremen at home, conceding 3 goals in the last five minutes. Losing after being ahead against Cologne. This cannot happen to a top team, a team that wants to become German champions; just as Anthony Modeste said after the game against Bayern. They need to win these games because they will not always be lucky, like they were against Leverkusen or when coming back against Bayern. These are the moments where Dortmund needs to show some steel. They did not play well in their first two wins but after the draw against
Bayern, where they looked lost and their opponents were dominant, this should be the moment where they need to channel some confidence and belief that they can go and beat any team. They need to win more games with the quality that they have."
How big is the pressure on the Bayern dressing room when they are not first in the table?
"Yes, there is pressure, that is why there is unrest at Bayern at the moment. There is unrest because they are not first and they are not winning games. They lost their goal machine from the last 7-8 years, in Robert Lewandowski. You have always had a central striker at Bayern who contributed a significant number of goals; Miroslav Klose, Mario Gomez, Giovane Elber during my time, Dieter Hoeness, Karl-Heinz Rummenigge and not to mention Gerd Müller.
Bayern are missing that kind of player at the moment, and they wanted to try and go a different direction. In terms of quality of play I think their approach has been justified, because they have proven their quality on the pitch, but unfortunately, the goals are missing. That is the problem and that is what puts the spotlight on them, not only internally, but also from all the people watching them from the outside. The team is being confronted with it, the manager is being confronted with it, and those in positions running the club are being confronted with it.
This then leads to talk of a crisis or that the manager and team is folding from the pressure. In reality, everything is more stable than what is being said, because the results in the Champions League and their general performances have been good. It is not the crisis that we sometimes make it to be, it is just a moment where Bayern are not where they want to be, in terms of position in the table."
Trending World Football Articles:
Let's move on to some of the Bundesliga's top players. Sadio Mané has already played a few games in the Bundesliga. What makes him stand out?
"For one, his positive thinking. You always get the feeling he is enjoying his football. He makes his teammates better and he is extremely quick. Has a good understanding of the game and takes responsibility. He has a lot of quality, and more importantly, he has experience; that is what a player needs to perform at the highest level. Takes responsibility at both, the club level and for hisnational side. Scored the decisive penalty at AFCON against Egypt. Is a leader; he is captain of Senegal, and he is African Footballer of the Year. He is fantastic for the Bundesliga, not only for Bayern but generally for the Bundesliga. A move from Liverpool to Bayern shows the attractiveness of our league for top internationally acclaimed footballers."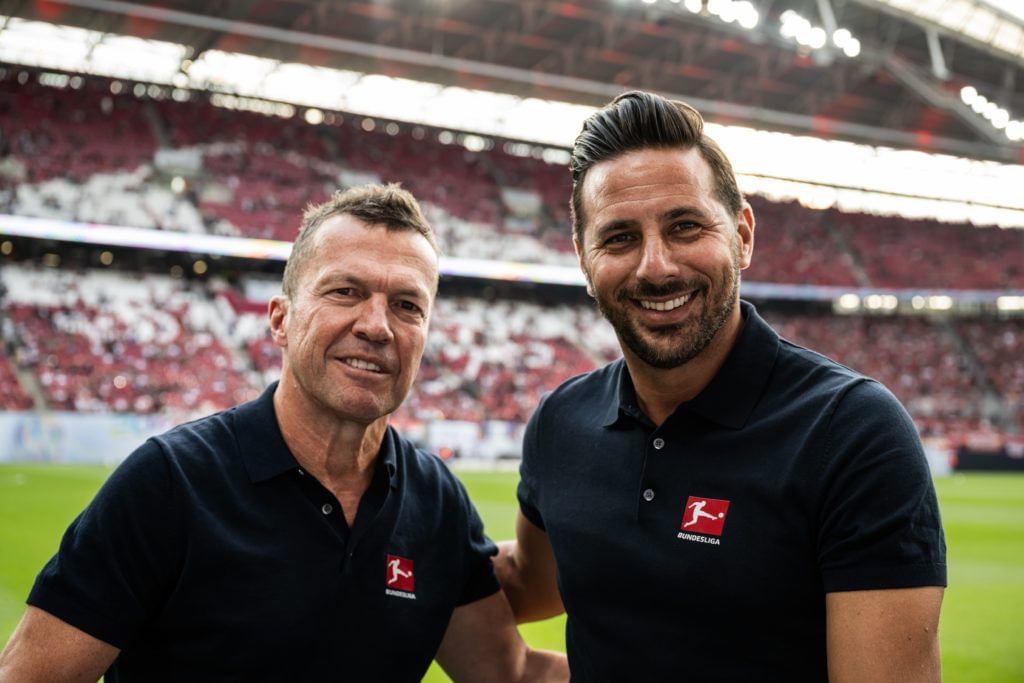 What makes Christopher Nkunku stand out?
"He is even faster than Mané! He was the best player in the Bundesliga last year and was deservedly acknowledged for it. Was the pivotal player in helping Leipzig qualify for the Champions League, after a bad season for their standards. He was the one who scored the decisive goals and he continues to do it in the present. It is not by coincidence that he is admired by so many clubs, whether it be from London, Manchester or Liverpool; he will have the pick of the crop!
He is a unique player and has been showing it over a number of years. He is dangerous in front of goal; he has pace and is a fantastic dribbler, who makes great runs in behind. Is also a player who can assist; he even scored a header not long ago, which is not one of his strengths! He is a player who made massive strides forward in the last one and a half years, and it is not by coincidence that he plays for the French national team."
What makes Marco Reus such an important player for Dortmund and Germany
"His experience and his cleverness. His anticipation and feeling in given situations. He is at a certain age and has had a significant number of injuries but always comes back; that shows his ambition and belief in himself. I am relieved his injury from a few weeks ago is not as bad as once feared, which gives him the opportunity to be in contention for the World cup.
He had to miss two tournaments due to last minute injuries in the past, so I hope he can make this one. He deserves to go because he has been a fantastic player for so many years. Is a player who always scores decisive goals, scoring in the 1-0s for his team, which always sways the momentum in favour of his team; he is always responsible for important goals.
He is the captain of Dortmund; he takes responsibility off the field as well. I wish him all the best because he deserves it due to his quality and because I know the hardships he went through from all the injuries and bad moments in his career. A lot of other people would have given up or had doubts; he does not do this, he just keeps fighting. That is why I hope he wins the world cup as a starter, because he missed the opportunity to do so in the past tournaments. He is a very important player for Dortmund."
What does the World Cup mean to you?
"It is the biggest achievement in world football, in my opinion. It is like the European cup but every four years, with the best national teams in the whole world taking part. I think it is the most important trophy a footballer can win. A Champions League is also fantastic, something I never achieved, but it is a competition that takes place every year. The World cup is a competition where the best of the best come together for five weeks, which is being held in Qatar this
year, to win this big title! Everyone is always excited for it and want to desperately be part of it, that is why you are so excited when the national team coach nominates you in the squad; you know you will be there and get to show the world your quality on the biggest stage. You can play your part in your country's best team to try and win the world cup. You know that the whole world will have their eyes on you in these five weeks."
Who are the three most important players in the German national team?
"That is very difficult to answer. Manuel Neuer, for his experience and quality as a goalkeeper. You need a good goalkeeper to win titles and Manuel already showed at the 2014 World Cup what he is capable of. Sepp Maier in 1974; I remember in a second half, some absolutely outrageous saves, which helped us win the title.
Joshua Kimmich, who plays in a position where you have the most influence on the pitch; this is something I can confirm from my personal experience. You have to keep an eye out in front and also behind; you can influence the game in all directions. Of course, Thomas Müller as well. He is like a coach on the pitch; he leads the press and organises the attack. He is fantastic for Bayern and also the national team.
A player like Gündogan is also important, and not to mention Rüdiger as well; after all the experience he gained in the last three years. All the success and confidence he gained from playing at Chelsea; now playing at a big club like Real Madrid. These are examples of some players you build around but that does not mean that the other ones are not important. Even [Jamal] Musiala will be important for the national team in his own way, if they want to go far in the competition. He is the type of player who can make a difference in the final third and we have a lot of players who will have to make this difference when the World cup starts."
Which Bundesliga players are you most looking forward to at the World Cup?
"There are many! Nkunku, who we mentioned before. First of all, I am looking forward to the German players because I want us as a team to have as much success as possible. Whoever goes further with their respective teams, will be the ones who will be talked about more. The French national team have the quality to go very far again. The Brazilians and the Argentinians have showed incredible performance levels in the last year, not only in terms of results but also in very consistent performances. Maybe they have been too consistent so that they will implode at the World cup, you never know! Spain and England with Olmo and Bellingham; we have foreign players in the Bundesliga who can achieve big things at the World cup with their respective sides.
Where will Germany finish at the World Cup?
"I think if we can reach the Semi-finals, we can be satisfied with that. The problem is if you reach the semi-finals, you always want to go one step further and it is always possible to go that one step further and become champions. I think semi- finals is an achievement I would be happy with and anything more than that is a dream that I wish for the team."
For more updates, follow Khel Now on Facebook, Twitter, and Instagram and join our community on Telegram.