These stats are from the European top five leagues
Across the top leagues in Europe teams have already started racking up red cards within just a few weeks of matches being played. And with Ligue 1 setting up many unwanted disciplinary records, let's take look into the teams with the most red cards in the 22- 23 season so far.
5. Premier League (8)
The league has so far only seen 8 red cards, with the Premier League into its 13th game week most of the teams have played 11 games. Chelsea are the only team to get collect two red cards, Conor Gallagher got sent off in the 28th minute against Leicester City and Kalidou Koulibaly was sent off with five minutes of the game remaining against Leeds. The remaining cards were given to Nathaniel Chalobah (Fulham), Collins (Wolverhampton Wanderers), Douglas Luiz (Aston Villa), Darwin Núñez (Liverpool), Emerson Royal (Tottenham Hotspur), and Luis Sinisterra (Leeds United).
Premier League creates the stark contrast with just 8 red cards after 13 rounds of fixtures compared to others on this list.
Also Read: Top 10 players with most red cards in world football
4. Serie A (20)
The Serie A comes in four on the list with 11 games into the 2022–23 season. The league has seen 20 red cards so far. Juventus with the most, 3 red cards to the likes of Cuadrado, Di Maria, and Milik.
In Italy, only 5 out of the 20 teams in the league have yet to produce a red card – Napoli, Inter Milan, Torino, Atalanta, and Roma. Napoli are rightful amongst them as it has committed the least number of fouls so far with just 85 fouls. Surprisingly, Torino has the most fouls conceded with 151 but has still not joined the red card club.
3. Bundesliga (21)
With one more red card than Serie A, Bundesliga comes in the third spot. With 21 red cards shown in the league so far.
Bayer 04 Leverkusen have collected 4 red cards which is the most in the German league, followed by Stuttgart and FC Koeln with 3 each. Only 5 teams have managed not to get red carded during the first 11 matches played in Bundesliga – Union Berlin, Bochum, Freiburg, and Dortmund. Fc Augsberg with 150 fouls conceded, committed fouls leading to two red cards but in contrast Union Berlin with 147 fouls committed has not yet received the red card.
Trending World Football Articles:
2. La Liga (40)

Spain's LaLiga comes in second place on this list. La Liga has so far witnessed 40 red cards during the first few weeks of the season.
Cadiz, Osasuna, Valencia, and Real Betis all of them have received four red cards each. Followed by Getafe, Espanyol, Elche, and Real Valladolid with three each. Real Sociedad, Real Madrid, Villarreal, and Girona are the only clubs that have so far not received a red card. And Real Marid have committed the least number of fouls with just 99. Surprisingly, Real Sociedad has 194 fouls conceded so far, the most in the league. But they still have not received a red card.
1. Ligue 1 (44)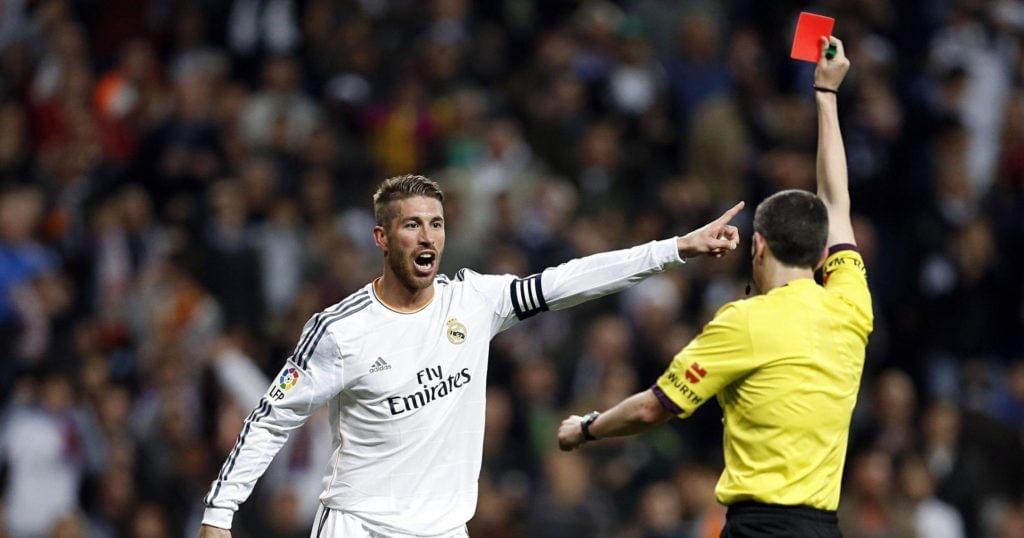 The French Ligue 1 has produced the most number of red cards this season among Europe's top 5 leagues. With a staggering 44 red cards only a handful of game weeks in the 2022-23 campaign.
Todibo's red card, where the French center-back was sent off after just nine seconds, was the quickest red card given in Ligue 1 history. Moreover, the 11 red cards given during the 3rd game week of the Ligue 1 season were the most given in a single game week.
Ligue 1 club Remis has collected the most red cards in the Ligue 1 with 8 so far. Montpellier with 5 followed by Monaco and Auxerre with 4 red cards each. Marseille with the most fouls conceded almost 190 and collected 2 red cards so far. Ramos received the 28th red card of his career playing for PSG earlier this season
Ligue 1 by far has given the highest quantity of red cards across Europe's top five leagues this season.
For more updates, follow Khel Now on Facebook, Twitter, and Instagram and join our community on Telegram.