These players are most likely to be named the beholder of the prize.
Nominations for the FIFA Best Men's Awards have been released. Everyone is eagerly awaiting the results of the awards on 27th February. Of all the awards on the night, the Best Player of the Year award is the one everyone looks up to the most. Though FIFA awards only started in 2017, they have quickly gained a lot of prestige and following from fans in a short period of time.
Among the nominations for Best Player, Cristiano Ronaldo stands out as the biggest absentee. It is the race to win this trophy on 27th February between Julian Alvarez, Jude Bellingham, Karim Benzema, Kevin de Bruyne, Erling Haaland, Achraf Hakimi, Robert Lewandowski, Sadio Mane, Kylian Mbappe, Lionel Messi, Luka Modric, Neymar, Mohamed Salah, and Vinicius Junior.
Let's take a look at the top five players who are the favourites to win this time around.
5. Neymar (Paris Saint-Germain, Brazil)
There has always been a perception that Neymar is still not fulfilling his potential, and that has always been true for the last few years. But Neymar has been phenomenal for Paris Saint Germain since 2022, and he looks all red and determined to win it all in 2023.
Despite just 14 starts this season, Neymar has scored 11 goals and made 10 assists for his club. These numbers prove why he is considered among the best in the world. Although injury ruined his World Cup dreams and the ending could have been different at the mega event and Neymar would have been sure to win the FIFA Best Player of the year award.
Trending World Football Articles:
4. Luka Modric (Real Madrid, Croatia)
The career of Luka Modric has gone like a fine wine since he turned 30 years old. Every year Modric seems to be adding more to his greatness, and 2022 proved that he is one of them. Croatian midfield maniac won the Champions League and La Liga titles with Real Madrid, and he led Croatia to another dream run to the Semi-Finals with his team.
The Croatian midfielder is currently 37 years old, but his influence on the game and his presence in it is like that of a 25-year-old elite midfielder. Modric is easily one of the best in the world at the moment and his name is one of the hot favourites to lift this trophy.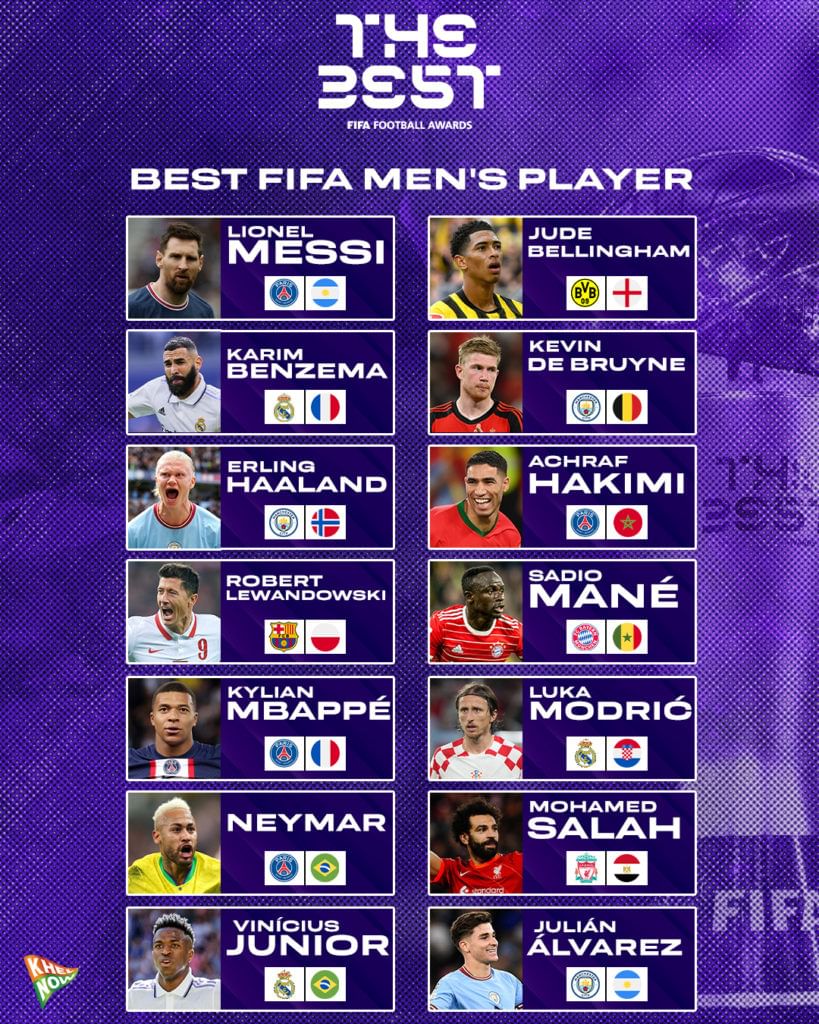 3. Karim Benzema (Real Madrid, France)
Over the last two seasons, Karim Benzema has dominated both his club and individual career. The striker achieved almost everything last season. As well as winning the Champions League and La Liga with Real Madrid, he won the Nations League with France, and most importantly, he won the Ballon d'Or Award for his outstanding performances.
With 27 goals in 32 Real Madrid appearances, Benzema won the Spanish League Golden Boot as well. His only disappointment in 2022 was not being able to play at the World Cup because of an injury. Nevertheless, he has done enough to be considered a strong candidate.
2. Kylian Mbappe (Paris Saint-Germain, France)
It might seem like Kylian Mbappe has had the worst luck lately, but his numbers on the field are enough to show why he is one of the world's best players at the moment. During the World Cup 2022, the French enigma scored eight goals in seven appearances, including a hat-trick in the finals to bag the Golden Boot award for himself.
Although he couldn't take his team over the line in the final single-handedly kept them alive till the last whistle. Mbappe again this season is too hot for defenders and has scored 13 goals in 15 appearances for Paris Saint-Germain in the French Premier League. This time, the Parisians appear to be the favourites for winning the Champions League with Messi-Mbappe-Neymar, and Mbappe will prove key to their success.
1. Lionel Messi (Paris Saint-Germain, Argentina)
With the World Cup trophy now in his possession, Lionel Messi has been able to check off a lot of items from his wish list. However, his hunger for more does not seem to be ending. The Argentine magician bounced back to post a disappointing 2021 season. 
His seven goals helped Argentina win the World Cup. He has also been symbolic on the club level with eight goals for Paris Saint Germain. Messi is a clear favourite for this year's award, and his phenomenal numbers certainly make him a strong contender. 
For more updates, follow Khel Now on Facebook, Twitter, and Instagram and join our community on Telegram.