There have only been some footballers to have played at both of these legendary clubs.
AC Milan is going head-to-head with AS Roma starting on 8 Jan 2023 at San Siro on Sunday. Currently, Milan ranks 2nd, while Roma holds 7th position and it is all to play for in what is going to be a feisty encounter. There have been some legendary players who have pulled off the shirts of these dignified clubs and we will be focusing on them here. Without further adieu, let's have a look at the top 10 players who have played for both AC Milan and AS Roma throughout the history of this derby:
10. Alessio Romagnoli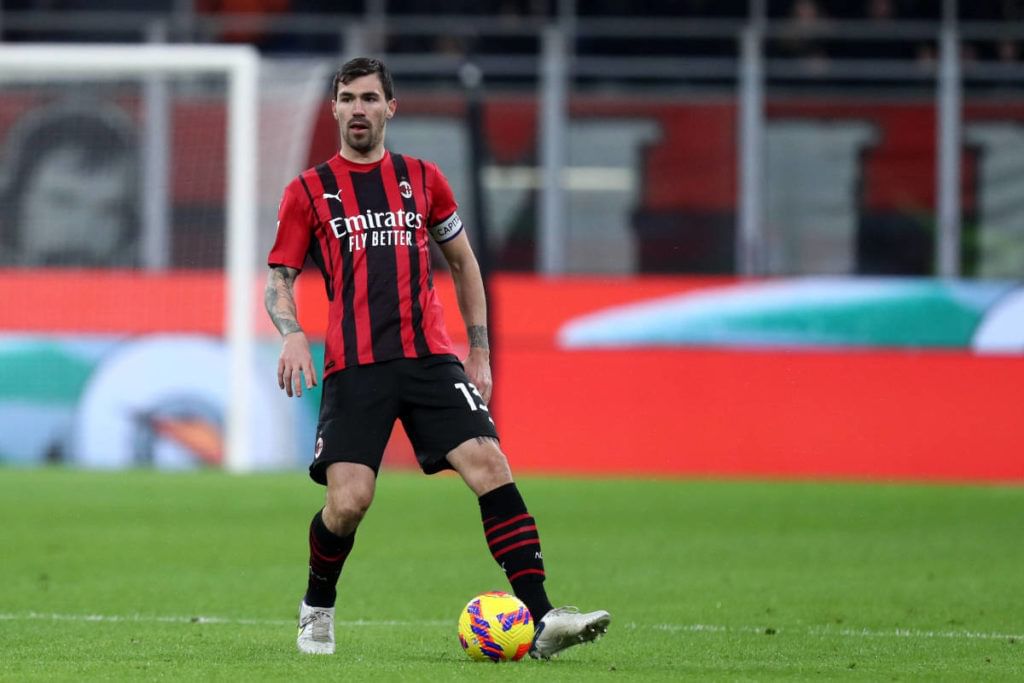 Romagnoli would have actually been an ideal sweeper in the systems of old because he is not blessed with pace but instead consistently shows his awareness and anticipation when in danger and knows how to act upon such instincts. Currently playing for Lazio, Romagnoli began his career with Roma in 2012. Though he did not have much game time over there as he made just 13 appearances. His true potential was unlocked in Milan colours when he signed for them in 2015.
He has made a total of 197 appearances for AC Milan and also captained the side in the 2018-2019 Serie A season.
9. Stephan El Shaarawy
An archetypal playmaker by his own standards, Stephan El-Shaarawy currently plays for AS Roma but he witnessed most of his glory days with The Rossoneri. The characteristics that define El Shaarawy's play are his pace, eye for goal, versatility, eye-catching dribbling skills and close control. The player has been likened to both Neymar and former Milan playmaker Kaka.
He has a total of 21 goals out of 82 appearances for AC Milan and a total of 39 goals out of 157 appearances for AS Roma. Also nicknamed as "The Pharaoh", he equalled Marco van Basten's Milan record for most goals at the start of a Serie A season in 2013 (12 in 15). He also happens to be the youngest scorer for AC Milan in the history of the Champions League aged 19 years and 342 days.
8. Phillipe Mexes
A sturdy defender, Mexes was signed by AS Roma in June 2004. He carried on to play for the team from Rome for 7 consecutive years until his true potential was unlocked by AC Milan. A no-nonsense defender, he had that rusty nature in him which enabled him to become one of the pillars of the AC Milan defence till 2016. He scored 11 times out of 183 appearances for AS Roma and 6 times out of 86 appearances for AC Milan.
Remember his goal against Anderlecht in UEFA Champions League 2012 season? Go check it out if you haven't.
Trending World Football Articles:
7. Bojan Krkic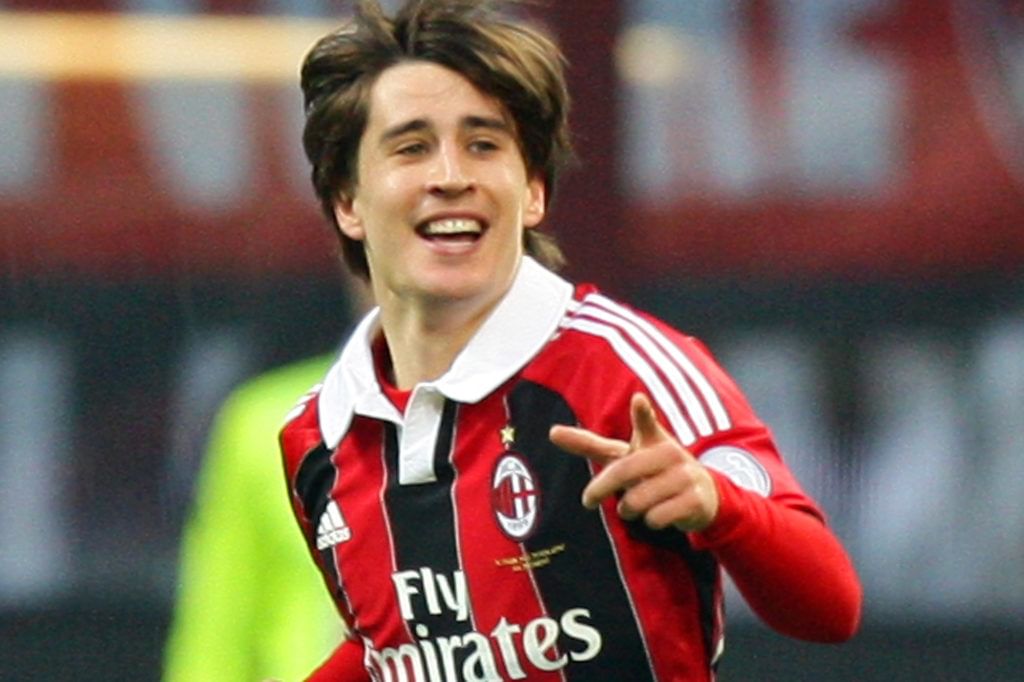 A talent who rose from the ranks of La Masia, his talent was diminished even before he could showcase himself on the world stage. In July 2011, Bojan moved to Italy to play for Roma. He made 37 appearances for the Italians and scored 7 goals. The following season, he was sent out on loan to AC Milan. He scored 3 goals in 27 games in an injury-hit season.
Currently playing for J1 League club Vissel Kobe, Bojan can play as a main striker, a secondary striker or a winger. Although it has been said that he prefers to play as a striker.
6. Alessandro Florenzi
A full-back by trait, he can also play as a winger which adds to his dynamism in the field. He started his professional footballing career with Roma in 2011 and currently plays for AC Milan. He represented the Italy senior side at UEFA Euro 2016 and UEFA Euro 2020, winning the latter tournament. Florenzi has made a total of 227 appearances for AS Roma in which he scored 25 goals. For The Rossoneri in 26 appearances, he scored 2 times.
5. Antonio Cassano
A talented forward, he had spells at almost all of the renowned clubs in Serie A. A forward by nature, he was also deployed as a winger or an attacking midfielder by his managers as he could adapt to all the roles provided to him. Cassano made 39 appearances for the Italy National Football Team which he scored 10 times for The Azzurri.
He won the Supercopa Italiana with AS Roma in 2001 and also the Serie A title. He also won the Supercopa Italiana with AC Milan in 2011. Cassano scored 39 times out of 118 appearances for AS Roma and 7 times out of 33 appearances for The Rossoneri. Cassano hung up his playing boots in 2018.
4. Juan Alberto Schiaffino
A player of immense talent and unbelievable records, his low centre-of-gravity and slender physique made him one of the best in the business back in his days. He scored the all-important equalizer in the 1950 World Cup final against the host Brazil. As Uruguay was triumphant over the Samba Boys by 2-1.
Schiaffino moved to Europe in 1954 where he spent six years at San Siro, lifting three Scudetto titles with AC Milan. He represented AS Roma between 1960 and 1962 where he scored 3 goals out of 39 appearances for them. He was famous in the Rossoneri ranks as he scored a mammoth 47 teams for them out of 149 appearances.
3. Alcides Ghiggia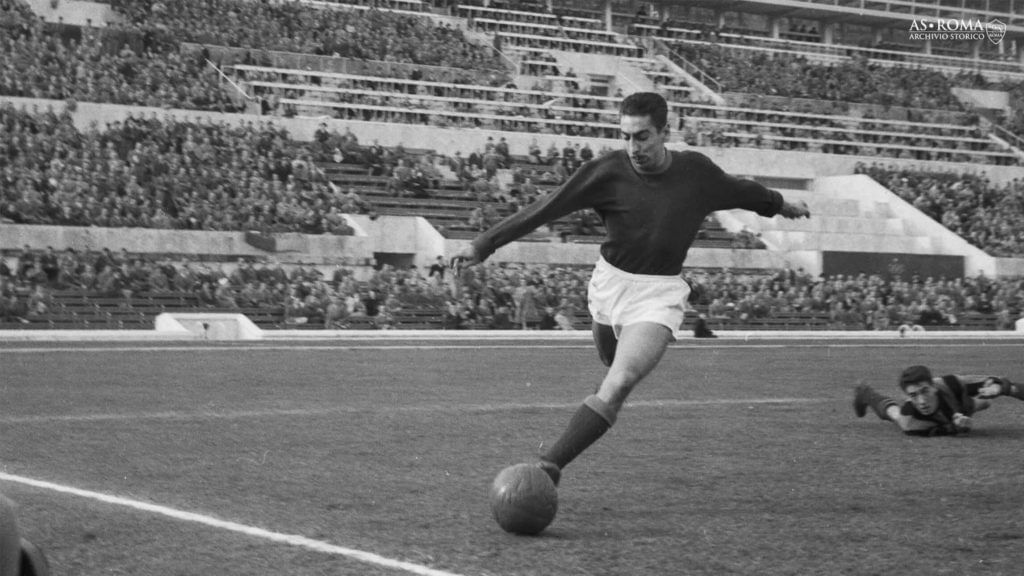 A legend of the game, he was an Uruguayan-Italian football player who achieved everlasting fame for his decisive role in the 1950 World Cup. Uruguay defeated the hosts' Brazil (2-1) at their own background as he scored the winning goal. Primarily playing as a winger, he spent most of his career at AS Roma where he represented them from 1953-1961. He scored 19 times out of 201 appearances for them. He made only 4 appearances for AC Milan who signed them from Roma in 1961 and spent the rest of his playing career at Danubio.
2. Cafu
Known for his pace and energetic attacking runs along the right flank, he is regarded as one of the greatest full-backs of all time. Also was one of the best defenders ever to play in Serie A, and one of the greatest Brazilian and South American players of his generation. The most capped player for Brazil's National Football Team with 142 appearances. Cafu was crowned South American Footballer of the Year in 1994. In 2004, was named by Pelé in the FIFA 100 list of the world's greatest living players. He spent 6 years in AS Roma from 1997-2003 and ended his playing career with AC Milan in 2008.
1. Gunnar Nordahl
AC Milan legend, Gunnar Nordahl is the all-time top goalscorer for The Rossoneri with 221 goals in 268 appearances for them. The 5-time top scorer in Serie A, he holds the record for most goals per appearance in Italian football history. He also netted 33 goals out of 43 appearances for Sweden and spent the rest of his playing days at AS Roma. He added to his tally by scoring 15 goals out of 34 appearances for AS Roma. A highly prolific striker, his record in Italian Top flight football is bested only by Francesco Totti and Silvio Piola.
For more updates, follow Khel Now on Facebook, Twitter, and Instagram and join our community on Telegram.