A number of footballers have played for both clubs over the years
The rivalry between the Tyneside giants and the Red Devils from Manchester have been quit fascinating over the past few decades. As both these teams eye for the first trophy of the season in this season's League Cup final on Sunday, we will have a quick look at some of the great players who have played for both these clubs. Without further adieu, let's have a look at the top 10 players to have played for both Manchester United and Newcastle United:
10. Gabriel Obertan
A winger of truly high potential, Obertan came through from Bordeaux in France to sign for Manchester United in the summer of 2009. Though he had a brief spell at the club which was limited by injuries. His only official goal for the Red Devils came in the UEFA Champions League against Bursaspor. He made only 14 appearances for Manchester United and was signed as a direct replacement for Joey Barton in 2011 by the Magpies. He had a 5 year spell at St. James'Park in which he made 58 appearances. But was never able to get full recognition from the fans because of his consistent injuries. Obertan scored only twice in that spell for the Magpies and despite many chances could not bring his game to the foremost level he would have wanted.
9. Ronny Johnssen
He could be deployed either as a centre-back or a defensive midfielder given his ability to play in both the positions. Johnssen was approached by Alex Ferguson to sign for Manchester United in 1996. After he was recognized for his performances at Besiktas. He eventually signed for them after turning down the first offer and went on to win six trophies in his spell at Old Trafford. This included four league titles, an FA Cup and the UEFA Champions League of 1999.
He has the rare distinction of also winning four medals in four consecutive appearances with the club. Making a total of 99 appearances for the Red Devils, he scored 7 times in that tenure. He was released in 2002 and after having a brief spell at Aston Villa he was signed by Newcastle United. Although it did not pan out well for him. As he could manage to make only 3 apperances for the Magpies before he was released on fitness concerns.
8. Keith Gillespie
Another player that went unrecognized in both of these clubs but had a brief spell was this right winger from Ireland. He was part of the squad alongside Ryan Giggs, David Beckham, Paul Scholes, Robbie Savage and Gary Neville that won the FA Youth Cup for Manchester United in 1992. He could not never really make it to the first team at Old Trafford and was loaned to Wigan Athletic. Occasional appearances for United followed in 1994–95, but he was never able to displace Andrei Kanchelskis as United's first-choice right winger.
He then signed for the Magpies in 1995. He made a total of 143 appearances across Premier League and UEFA Champions League. Gillespie helped the club finish as runners up behind his former team mates for two consecutive seasons in 1995-96 and 1996-97 respectively. He also helped Newcastle to reach the FA Cup final and scored 11 times in his three and a half year spell at Tyneside.
7. Alan Smith
Smith was known for his aggressive mentality on the pitch and his high-pressing style of football. He began his career as a striker or a right winger at Leeds but was converted into the role of a holding midfielder by Sir Alex Ferguson after he signed for The Red Devils. Smith earned reputation as a hard-tackling player and was noted for his high work rate. Sir Alex Ferguson had trained him to take the place of Roy Keane as an anchor in the heart of the midfield. Premier League winner with Manchester United in 2006-07. He made 61 appearances for the Red Devils. Smith scored only twice despite being a natutal centre-forward by trait.
He signed for Newcastle as his pace went down and subsequently found himself sidelined through an ankle injury. Although he was in the side that won Newcastle promotion back to the Premier League in 2009-10. He did not find himself making the starting XI ahead of Wayne Routledge and Dannie Guthrie. He made a total of 84 appearances for The Magpies and was unable to score a goal in that tenure.
Trending World Football Articles:
6. Nicky Butt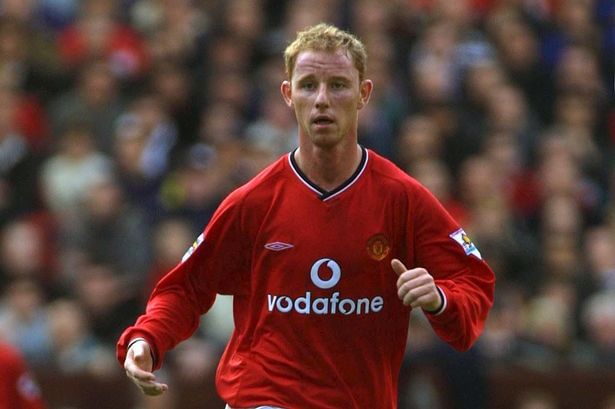 The lifespan of Nicky Butt's professional career as a footballer lasted 18 years. It all started in 1993 when he signed his first professional contract at Manchester United. Subsequently, he spent 12 summers of his life at Old Trafford. Within this time, he had won the Premier League six times and lifted the UEFA Champions League trophy once. He was a part of the Class of 92, the fabled Manchester United Team of mid 90's that had become an icon. Treble winner with the Red Devils in 1999. He made 271 appearances for the Red Devils in which he scored 20 times. Nicky had an immaculate presence in the midfield and was deemed a ball winner.
He handed a transfer request to Manchester United because of his limited game time and eventually signed for the Magpies in 2004. All did not go well for him in his first spell at Tyneside because he was loaned to Birmingham City. After a fall out with the fans in his early days at the club. He made a return in 2006 and was a key member of the squad until 2010 which gained back promotion to the Premier League. He made 134 appearances for the Magpies in which he scored 5 times.
5. Danny Simpson
Primarily he played as a right back but he had the utmost potential to drive down the wings and deliver teasing balls into the box for forwards to capitalize on.  He was a product of the Manchester United Youth system. Having come up through the ranks into the reserve squad in 2005. With Gary Neville and Wes Brown ahead of him in the pecking order. He did not find much game time in Manchester United and could only make 3 official appearances for the club after having brief loan spells elsewhere around the country.
On 2009, he signed for the Magpies and played a solid part in Newcastle's promotion to the Premier League. Winning his second Championship title in the process, while forming a right flank partnership with January signing Wayne Routledge. Simpson kept his right-back spot with consistently strong performances and made a total of 123 appearances for the Magpies.
4. Louis Saha
He was one of a new breed of striker, combining the elements of a bullish old-fashioned target man -strength, power, hold-up play and heading ability with explosive pace and exceptional technique. Most importantly, he was capable of scoring all different types of goal and did so with alarming regularity. He began his career at Metz and gradually grew up the ranks after he was loaned to Tyneside in 1999. He made a total of 11 appearances for The Magpies and scored once in that spell.  Injuries plagued his Old Trafford career.
However he did enjoy success with twice winning the Premier League, the 2007-08 UEFA Champions League and also scored six times en route to victory in the League Cup. Wayne Rooney praised him as one of his favourite strike partners during his time at the club. He remained at Old Trafford for five seasons from 2004-2008 and made a total of 86 appearances in which he scored 28 times.
3. Michael Owen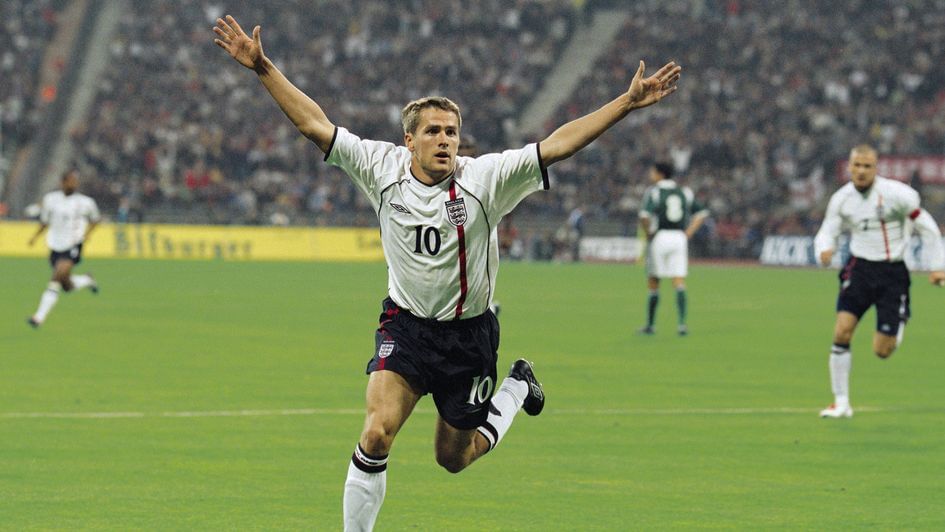 Owen won both Young Player of the Year and Player of the Year in 1998 while also picking up his first Premier League Golden Boot. He is one of just two Englishmen to win the Ballon d'Or in over 40 years. With Kevin Keegan picking up the gong in 1978 and 1979. Though his best days resided at Liverpool, Newcastle United was the only club he might have regretted about after signing for the Magpies.
His game time was limited due to a series of injuries and he could score only 30 times in 4 seasons with the club. He was eventually granted his wish to move to Old Trafford in 2009 following the departure of Cristiano Ronaldo to Real Madrid. Owen won the Premier League title in 2010-11, League Cup in 2009-10 and FA Community Shield in 2010. He made 31 appearances for the Red Devils and scored 5 times in his 3 year spell at the club. Before hanging up his boots after a short loan spell at Stoke City.
2. Peter Beardsley
Manchester United fans may have earsed him from their memories. But he was a part of the club during his long one year loan spell at Old Trafford in which he made just one appearance. Although he is widely known for his performances at Newcastle United and Liverpool. It is with the Magpies that he gained the most recognition. Beardsley was an instant hit with the Newcastle supporters, scoring and setting up spectacular goals. He went on to celebrate promotion with his teammates, who were captained by Kevin Keegan in his final season as a player. He became Newcastle United Player of the Year for consecutive seasons in 1984-85 and 1985-86 respectively. Beardsley managed to score 61 times in 147 appearances for the Magpies.
1. Andy Cole
Cole's career was defined during his time at Manchester United. But he first adored the colours of Arsenal where he came through the ranks but just made two senior appearances. He became the most expensive player in the Magpies' history after he signed for them in 1993. He made a mammoth contribution to the cause at St. James Park by scoring 12 goals in 12 appearances following his mid season arrival- helping them getting promoted to the Premier League. Cole's partnership with Beardsley up front proved fatal for others in the Premier League as he managed to score 55 times in 70 appearances for the Magpies.
He drew attention from Old Trafford and subsequently moved there in 1995. A part of the treble winning squad, he won five Premier League titles with the Red Devils, an UEFA Champions League, two FA cups. He was widely regarded as one of the best strikers of his generation but his success was not recognized fully. He managed to score 93 times in 195 appearances for Manchester United in his six year spell at the club.
For more updates, follow Khel Now on Facebook, Twitter, and Instagram and join our community on Telegram.