Indian Women's Football
43-year-old Laura Estibeiro is pushing the borders of footballing capabilities
By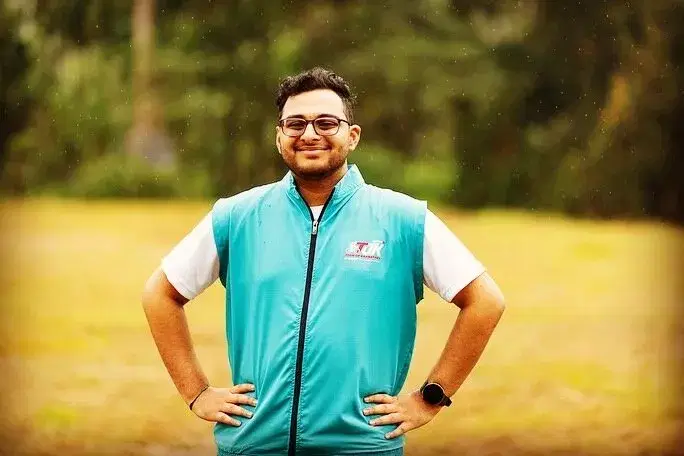 Sathvik Bharadwaj
The Goa captain has enjoyed a staggering 27-year-old career and is currently playing the Senior Women's National Championships
Laura Estibeiro was called up to the Goa state team for the first time when she was 16 years old. The year was 1996 and she had only been accepted in the trials at the behest of then India captain Maria Rebello. Rebello — a Referees Committee member now — had spotted Laura playing with boys in her village, Macasana, and was immediately struck by the raw talent she possessed. "She had the skills," Rebello says, "but more importantly she had the desire to play the game. And I thought that it would serve her well in the long run."
There are different kinds of desires. Some fuel success, and others fuel competition. And then there's the kind that keeps you connected to the sport purely because it makes you happy. Estibeiro channels the third kind.
Just happy to be involved in the sport
Fast forward to today, and she is still here, playing football, and fulfilling the passion of a lifetime. The 43-year-old captained Goa to a comfortable victory over Rajasthan in their opening game of the 27th Hero Senior Women's National Football Championships 2022-23 at the Fatorda Stadium on Sunday, March 25, 2023.
"I'm nothing without football," she says, the morning after the victory. And even if she is, she's preferred to not find out. Perhaps the oldest player at the tournament, Estibeiro has traversed and lived a long journey within the women's game in India. 'When I started playing, girls didn't get paid," she says. "We were playing with boys, jostling for space, and attention, and mostly just doing so to fulfill our own deep-rooted love for the game."
Her mother — Estibeiro lost her father when she was very young — and her siblings always encouraged her to play, even if they didn't quite understand the joy she found in it. "They never stopped me," she says. "Sure, they questioned what I'd make of it. And if it would be enough to tide me over for life, but they didn't stop me. Couldn't stop me actually."
Battling career-threatening injuries
Football itself almost stopped her from playing the game. At the Nationals in 1999, Estibeiro suffered a head injury in a group-stage game. She was immediately hospitalized, and subsequently transferred to an ICU. She remembers her friends and family being so worried that they conducted a mass for her back home. A few days later, she was deemed healthy enough to travel back home.
Her travails weren't over. On the way back, the car carrying her and some teammates met with a brutal accident. The driver was killed on the spot, and the six girls suffered serious injuries. Estibeiro, who had just recovered enough to travel, was laid up for six months.
"My family took it as a sign, and said that I should stop playing," she says. "I told them that I saw it as confirmation that I shouldn't be spending much time outside the football pitch."
Stamping her authority in the IWL
A staple of the Goa team in her youth, Estibeiro shifted to Mumbai in her twenties to find better opportunities to play the game, and went on to represent Maharashtra in the Nationals for several years. In the inaugural Hero Indian Women's League, she played for Pune City FC — something she lists as the high point of her career — and even went on to play for Sethu FC a few years later.
In a country where young girls are often denied the opportunity to play, and careers are cut short because of societal pressures, Estibeiro's longevity is a testament to the strength of belief. Married for over a decade now, Estibeiro believes women's football has come a long way, and has a long road to go ahead. "I look at the young girls playing in the Goa team itself, and I tell them that they should never stop playing the game. They must remember why they started playing it," she says. "It's much better for them now. Some clubs pay you money to play. The facilities have improved and there are more platforms for them to perform…"
Goa'a chances in the Nationals
While confident about Goa's chances in the National Championships, Estibeiro advises caution when making assumptions about them. Estibeiro has played alongside Goa's head coach, Girijadevi Desai and hopes that shared experience can impart something new to Goan football. While, they make up the saged heads of the team, a lot of youngsters line the frontline. The team's youngest player, Karen Estrocio, 18, scored the brace in a 3-0 win over Rajasthan. "We have a lot of young players in the squad," Estibeiro says, "so they have a lot to learn and learn it quickly."
For her part, Estibeiro does not entertain any thoughts of retiring from the game anytime soon. She plays football to keep fit — "I'm fit to play football and I stay fit by playing it" — and works as a gym instructor in Nagpur to bolster her income.
"I'll play football, till I drop," she says. "I've always said this. I'd be happy to die on a football pitch."
For more updates, follow Khel Now on Facebook, Twitter, Instagram, Youtube and join our community on Telegram.