World Football
Pierre-Emerick Aubameyang opens up about recent struggles in football
By

Dhruv Sharma
The striker has barely had a kick around since joining Chelsea last summer
Mental preparation is a crucial aspect of success in the world of football. Players have to maintain a positive mindset, ability to overcome challenges, and stay focused on their goals. Chelsea's Pierre-Emerick Aubameyang is a perfect example of a player who has benefited from mental preparation throughout his career.
Aubameyang's journey to success began in his early days as a footballer. He started playing for French club Lille in 2007, and was unable to make an impact. Despite his setbacks, Aubameyang remained determined and goal oriented. He moved to Italian side AC Milan in 2011, where he was able to polish his skills and make a name for himself.
Resilience of Aubameyang
It was during his 2016-17 Dortmund season where his positive mindset was displayed, he faced personal challenges off the pitch that affected his performances but he kept fighting and scored 31 goals in all competitions for Dortmund.
Trending World Football Articles:
He made a move to Arsenal in 2018, he was Premier League's joint-top scorer alongside Mo Salah and Sadio Mane in 2018-19 season, with his exceptional performance he was then named Arsenal's player of the season. The following season he won FA Cup final with Arsenal where he scored a brace against Chelsea.
However, the 2020-21 season proved to be a challenging one for Aubameyang. In that same season he struggled with a lack of form and fitness, he was battling malaria and was even dropped out of the squad; but his mindset and never die attitude led him back to the Arsenal squad.
Since his time with Arsenal and Arteta, he has changed a couple of clubs. FC Barcelona signed him from Arsenal where he played as a striker but soon Lewandoski and Memphis Depay overshadowed him. After his spell with Barcelona, Chelsea with new owners signed Aubameyang to strengthen their attacking. He has played under Lampard, Thomas Tuchel, and while managing Chelsea this season Tuchel left Aubameyang out of the 23-man Champions League squad which left fans and Aubameyang clueless.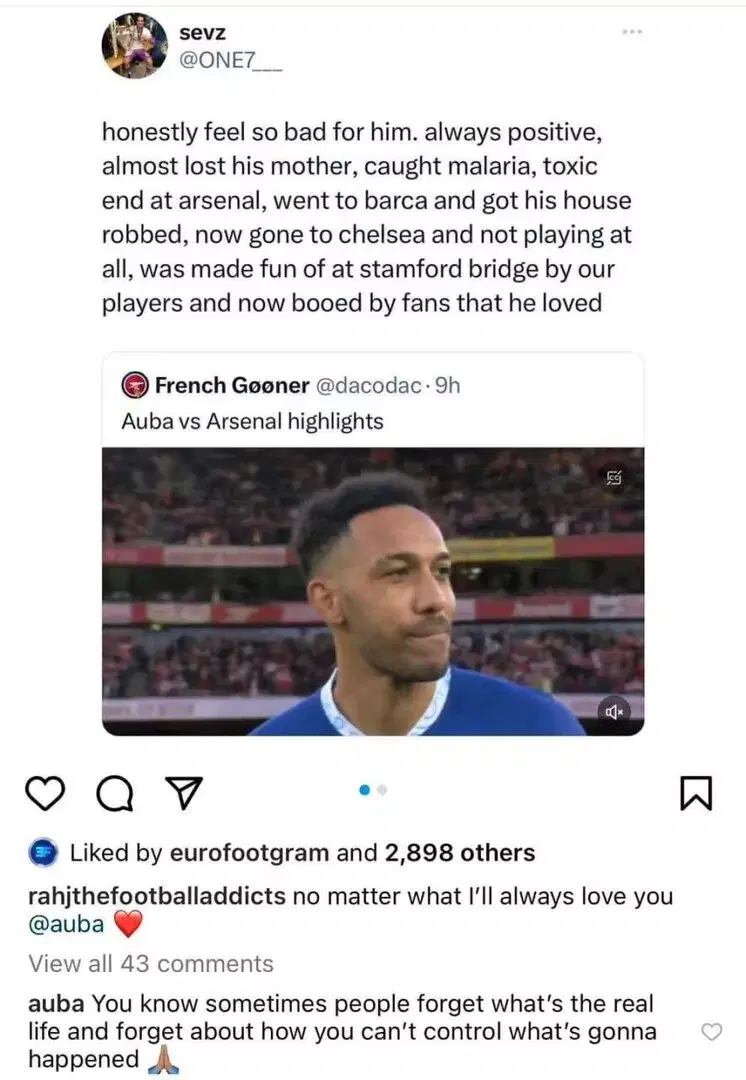 Frank Lampard had to take over again due to the sacking of Thomas Tuchel, under Lampard he recently started their North London Derby against Arsenal where he was booed by the Arsenal fans and criticized by Chelsea fans for only touching the ball 9 times that match.
Despite all his struggles and past experiences he continues to train hard every day and puts a smile everytime he steps on to the field. Aubameyang has shown mental strength to fight everyday.
For more updates, follow Khel Now on Facebook, Twitter, and Instagram and join our community on Telegram.
posted in :