World Football
Jose Mourinho's incredible record in European finals
By

Dhruv Sharma
The "Special One" can win his sixth European trophy
Jose Mourinho, a name synonymous with success in the world of football management, has left an everlasting mark on European football with his impressive record in the finals. He is known for his tactics, and ability to guide underdog teams to silverware, he has consistently delivered wherever he has managed.
Mourinho has a special thing about himself, the persistent delivery in high-stake matches on the grandest stage. From his early triumphs with Porto to his recent exploits with AS Roma, he has engraved his name in the history of football, as one of the best football managers we have ever seen.
Jose has been managing for two decades now, and only once he has faced a tough challenge, this forgettable spell came when he landed in North London after Tottenham signed him. Even though he faced this challenge, he helped Spurs reach the Champions League final, and moments before that he was sacked.
Fans and pundits couldn't believe it because he had a perfect record in the finals, his majestic work at Inter earned the trust of the Serie A supporters, and Mourinho returned to Italy in 2021 after he was called up by Roma.
Mourinho has also served up some special European nights as Porto and Manchester United manager – his record in finals making for particularly impressive reading.
Jose Mourinho's Impressive Performance in European Finals
5. Porto 3-2 Celtic (2003 UEFA Cup Final)
In the 2002-2003 season, Jose Mourinho led FC Porto to an extraordinary campaign in the UEFA Cup, which culminated in a thrilling final. Facing Scottish side Celtic FC, at the Estadio Olímpico de Sevilla in Spain, Mourinho's Porto put on a display of skill, determination, and tactical brilliance.
The match was tightly contested, with both teams showcasing their quality and ambition. Despite an early setback, as Derlei's opener was canceled out by Henrik Larsson's equalizer, Porto remained composed and focused on their game plan. Mourinho's astute guidance from the touchline was evident, as his side kept their composure and continued to press forward.
The defining moment of the final came in the 115th minute when Derlei struck again, restoring Porto's lead and propelling them closer to victory. Despite Celtic's desperate efforts to find an equalizer, Mourinho's well-organized defense held firm, ensuring a 3-2 victory for Porto at the final whistle. His success that night laid the foundation for his triumphs to come in European competition.
4. Porto 3-0 Monaco (2004 UEFA Champions League Final)
On May 26, 2004, an iconic moment in Jose Mourinho's managerial career unfolded as his FC Porto side took on AS Monaco in the UEFA Champions League final. The match, held at the Arena Auf Schalke in Gelsenkirchen, Germany, showcased Mourinho's tactical planning and cemented his status as a rising managerial star.
Porto entered the final as underdogs against the talented Monaco team led by Didier Deschamps. However, Mourinho's preparation and ability to inspire his players proved to be the decisive factors in the match. Porto showcased a disciplined and resolute performance, perfectly executing Mourinho's game plan.
The breakthrough moment came in the 39th minute when Porto's Carlos Alberto unleashed a stunning strike, putting his team in the lead. Soon after, Deco added a second goal, capitalizing on a defensive error from Monaco. The team demonstrated incredible discipline and determination, denying Monaco any significant opportunities to stage a comeback. In the end, Porto emerged triumphant with a convincing 3-0 victory, securing their second European title and etching Mourinho's name in Champions League history.
Trending World Football Articles:
3. Inter Milan 2-0 Bayern Munich (2010 UEFA Champions League Final)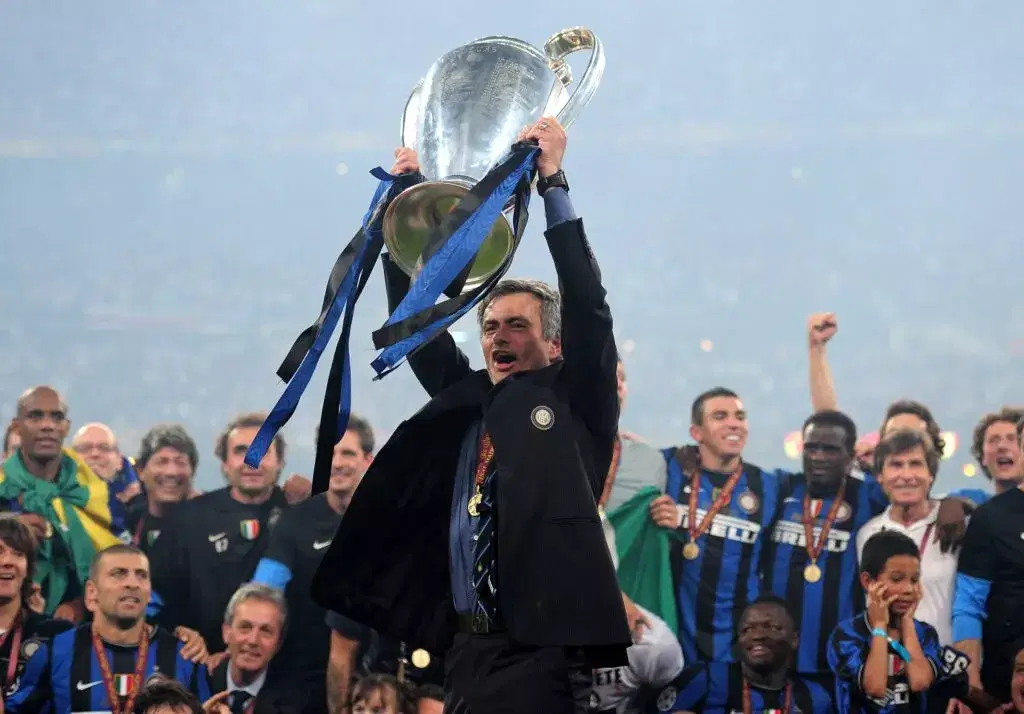 The Santiago Bernabeu stadium in Madrid, Spain, played host to a highly anticipated UEFA Champions League final between Inter Milan in 2010, managed by Jose Mourinho, and Bayern Munich. Mourinho, known for his meticulous planning and emphasis on defensive organization, devised a game plan that neutralized Bayern Munich's attacking threats. Inter Milan executed Mourinho's strategy flawlessly, showcasing discipline and resilience throughout the match.
In the 35th minute, Inter Milan struck a crucial blow when Diego Milito opened the scoring with a clinical finish. Mourinho's tactical setup allowed Milito to exploit the spaces left by Bayern's high defensive line, and the Argentine striker made no mistake in putting Inter Milan ahead. Inter Milan's midfield, marshaled by Esteban Cambiasso and Wesley Sneijder, worked tirelessly to stifle Bayern's attacks and regain control of the game.
In the 70th minute, Diego Milito struck again, capitalizing on an error in Bayern's defense to double Inter Milan's lead. The Italian giants continued to frustrate their opponents, maintaining their defensive solidity and denying Bayern Munich any hope of a comeback. The triumph marked Mourinho's second success in the competition, having previously won it with Porto in 2004.
2. Manchester United 2-0 Ajax (2017 UEFA Europa League Final)
For Mourinho, this match held particular significance as it presented an opportunity for redemption and a chance to secure a coveted European trophy for his new club. Mourinho had faced a challenging season with Manchester United, finishing sixth in the Premier League, but the Europa League provided a chance to secure a route into the prestigious UEFA Champions League. As the final kicked off, Mourinho's tactical astuteness and ability to inspire his players became evident.
Manchester United took the lead through Paul Pogba, who headed home from a cleverly worked set-piece routine. The goal injected confidence into Mourinho's team, and they grew stronger as the game progressed. Manchester United's defensive line, marshaled by the experienced duo of Chris Smalling and Daley Blind, stood resolute in the face of Ajax's relentless attacking endeavors. In the second half, Manchester United extended their lead with a sublime goal from Henrikh Mkhitaryan, who acrobatically volleyed the ball into the net. The goal showcased Mourinho's ability to instill confidence and freedom in his attacking players, allowing them to express themselves on the grandest stage.
The match ended with a convincing 2-0 victory for Manchester United, securing the club's first UEFA Europa League title and granting them a place in the following season's UEFA Champions League. The match ended with a convincing 2-0 victory for Manchester United, securing the club's first UEFA Europa League title and granting them a place in the following season's UEFA Champions League.
1. AS Roma 1-0 Feyenoord (2022 UEFA Europa Conference League Final)
After unfinished business with Tottenham, Mourinho was acquired by Roma to bring back all the joyous moments back to the Italian club. On 25 May 2022, in Tirana, Albania, Roma faced Dutch side Feyenoord in the decisive game of the UEFA Europa Conference League (UECL), the newly-born European competition and third most important tournament behind the UEFA Europa League and UEFA Champions League.
The match was evenly balanced, the first half was diabolical and the second half was one outstanding. The defensive pillar-Chris Smalling, who played under Jose at Manchester United proved to be a reckoning force, and the breakthrough finally came when Nicolo Zaniolo's deft first-half finish was enough to win it for Jose Mourinho and Roma.
This was Roma's first European honour in more than 60 years, the cup was referred to as "the cup of jokes" earlier that season but Roma's players could not look more pleased to win the first-ever Europa Conference League final. This trophy made it five wins from five European finals for Jose Mourinho.
2023 UEFA Europa League Final
The much-awaited final kicks off at 12:30 IST, Roma is about to face Sevilla in the final. Roma managed by Jose Mourinho, who has never lost a European final, and Sevilla, a team that has been lethal when it comes to playing in the Europa League, they have won 6 Europa League titles.
This final is going to be one where the immovable object meets the irresistible force, fans across the world have anticipated this as one of the most important matches in Jose Mourinho's career.
For more updates, follow Khel Now on Facebook, Twitter, and Instagram and join our community on Telegram.