LaLiga
Robert Lewandowski, Vinicius Jr lead KN's LaLiga Team of the Season for 2022-23
By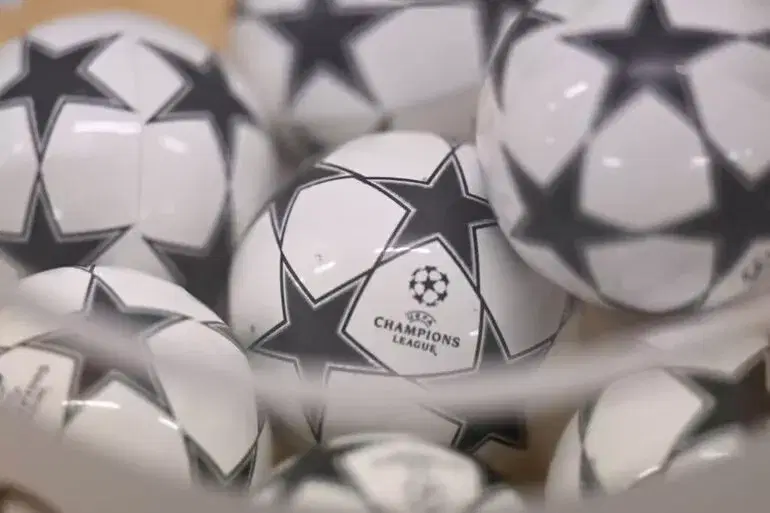 Govind
Barcelona have four representatives in the selected 11
As the top professional competition in Spain, LaLiga boasts a rich history and tradition of excellent football, attracting millions of spectators both locally and globally.
Throughout the years, this prestigious league has produced legendary players and iconic clubs that have left an indelible mark on the sport. Icons like Johan Cruyff, Diego Maradona, Lionel Messi, and Cristiano Ronaldo have graced the pitches of LaLiga, showcasing their immense talent and skill. The league has been a breeding ground for greatness, shaping the careers of many world-class athletes.
While Real Madrid and Barcelona have traditionally been the dominant forces in La Liga, other elite teams such as Atletico Madrid, Valencia, Sevilla, and Villarreal have consistently challenged for glory, making the league even more competitive. The rivalry between these clubs adds an extra layer of excitement, making every match a spectacle to behold.
Barcelona were dominant from the start in LaLiga 2022-23. They won the title for the first time under Xavi and had one of the best defences in the league. All players have contributed to their success, but only four make it to the team of the season. Some of the other players in LaLiga have also contributed to their side's success. Here is the list of the 11 best players in 11 different positions on the field in the Spanish top division.
Formation: 4-3-3
GK: Marc-André ter Stegen
Team: FC Barcelona, League appearances: 36 matches, Clean Sheets: 25
When a football team lets in 18 goals in 36 games, the goalkeeper has to be really good. As has been the case with FC Barcelona. The German, Marc-Andre ter Stegen, has made many spectacular saves. He currently boasts a tally of 25 clean sheets.
LB: José Gayà
Team: Valencia CF, League appearances: 28 matches, Goals: 1, Assists: 2
Although Valencia are in 13th place, they have yet to secure LaLiga survival. Left-back Jose Gaya gets a nod in our 2022-23 TOTS. The Valencia captain has made 28 appearances. And with just four yellow cards, he has kept his discipline in the game. Gaya also managed to score once while also assisting three times.
CB: David García
Team: CA Osasuna, League appearances: 29 matches, Goals: 2
Standing beside Gaya will be another club captain. David Garcia from CA Osasuna has managed to head in two goals over 29 appearances. He has been part of Osasuna's youth team and got promoted to the first team in 2014.
CB: Jules Koundé
Team: FC Barcelona, League appearances: 27 matches, Goals: 1, Assists: 3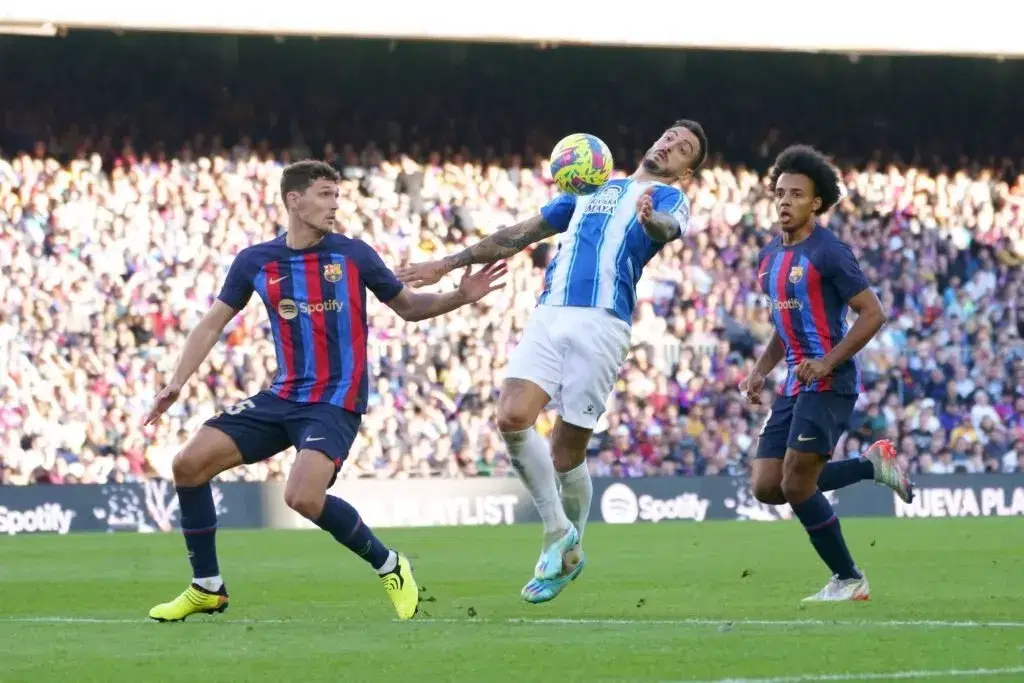 Former Sevilla star Jules Kounde was heavily courted by Premier League side Chelsea. But he made the switch to Spain in 2022. At Barcelona, the central defender is more used in the right-back spot. Although he has fit in like a glove, the player has expressed his frustration at not being able to play in his preferred CB role.
Even if he leaves, Barca could gain a massive transfer fee, which could help with their future ambitions and even recoup Messi.
RB: Nahuel Molina
Team: Atletico Madrid, League appearances: 30 matches, Goals: 3, Assists: 2
Another player who made a mark in his first season of LaLiga is Nahuel Molina. After playing for Serie A side Udinese, Atletico Madrid came calling. The start on Spanish soil wasn't very smooth, but he stuck around with the intensive training regime of Diego Someone. The Argentine was part of the squad that lifted the 2022 World Cup with Lionel Messi. And his confidence could be seen with another three goals and two assists for Los Colchoneros.
CM: Pedri
Team: FC Barcelona, League appearances: 26 matches, Goals: 6, Assists: 1
Born in November 2002, the world has already witnessed his flair in the midfield and the final third. Pedro González López, or Pedri, as he is well known, swapped his old jersey number 16 for Barca's 8.
Club legend and Pedri's hero, Andres Iniesta, used to wear it in his days. He has played a total of 1982′ minutes of Spanish top-flight football, with 22 starts to his name out of 26 match involvements. He has scored a goal with every third shot on average, making it six goals in 18 shots.
CM: Federico Valverde
Team: Real Madrid, League appearances: 32 matches, Goals: 7, Assists: 3
Although Federico Valverde didn't make his presence felt in the 4-0 away defeat to Manchester City. The Uruguayan fills in the midfield role.
Federico Valverde of Real Madrid has appeared in 32 games already. He has managed to score seven goals while also providing assists three times. The former RM Castilla graduate also has three assists in the UEFA Champions League while also scoring two goals in 11 outings.
Trending World Football Articles:
CM: Gabri Veiga
Team: Celta Vigo, League appearances: 34 matches, Goals: 9, Assists: 4
Gabriel Veiga, the surprise recipient of La Liga's February Player of the Month award, has emerged as a deserving winner. Despite being just 20 years old, Veiga has led Celta Vigo's surge up the table, scoring nine goals and providing four assists in the current season. His performances have caught the attention of clubs across Europe, with many recognising his potential as a top-quality attacking midfielder. Veiga's journey from Celta's academy to a first-team breakthrough showcases his determination and improvement.
LW: Vinícius Júnior
Team: Real Madrid, League appearances: 32 matches, Goals: 10, Assists: 9
Along with Valverde, another Madrid man who was left frustrated after getting knocked out by Manchester City in the UCL semi-finals is Vini Jr. The 22-year-old Brazilian has tormented many teams this season.
In the Champions League alone, he bowed out with seven goals and five assists. Although Real Madrid couldn't secure a seat in the finals. Vinicius will remain the third-joint top scorer in the 2022–23 UCL season. His domestic performances have been top-notch too. With 10 goals and 10 assists, he helped the Los Blancos stay in the title race until Barca sprinted away with the LaLiga trophy.
ST: Robert Lewandowski
Team: FC Barcelona, League appearances: 32 matches, Goals: 23, Assists: 6
The former FC Bayern striker will spearhead our attack. Although Real Madrid's Karim Benzema ran away with the Pichichi award for 2021-22. There's a high chance that FC Barcelona's new recruit will grab it this time. The number 9 joined Spanish side Barcelona from Bundesliga giants Bayern Munchen in the summer of 2022.
Having already netted 23 goals with a game in hand, Lewandowski has helped the Blaugranas win the 2022-23 LaLiga title. The Poland captain appeared in 32 Spanish top-flight games while also making six assists along the way.
RW: Antoine Griezmann
Team: Atletico Madrid, League appearances: 35 matches, Goals: 13, Assists: 13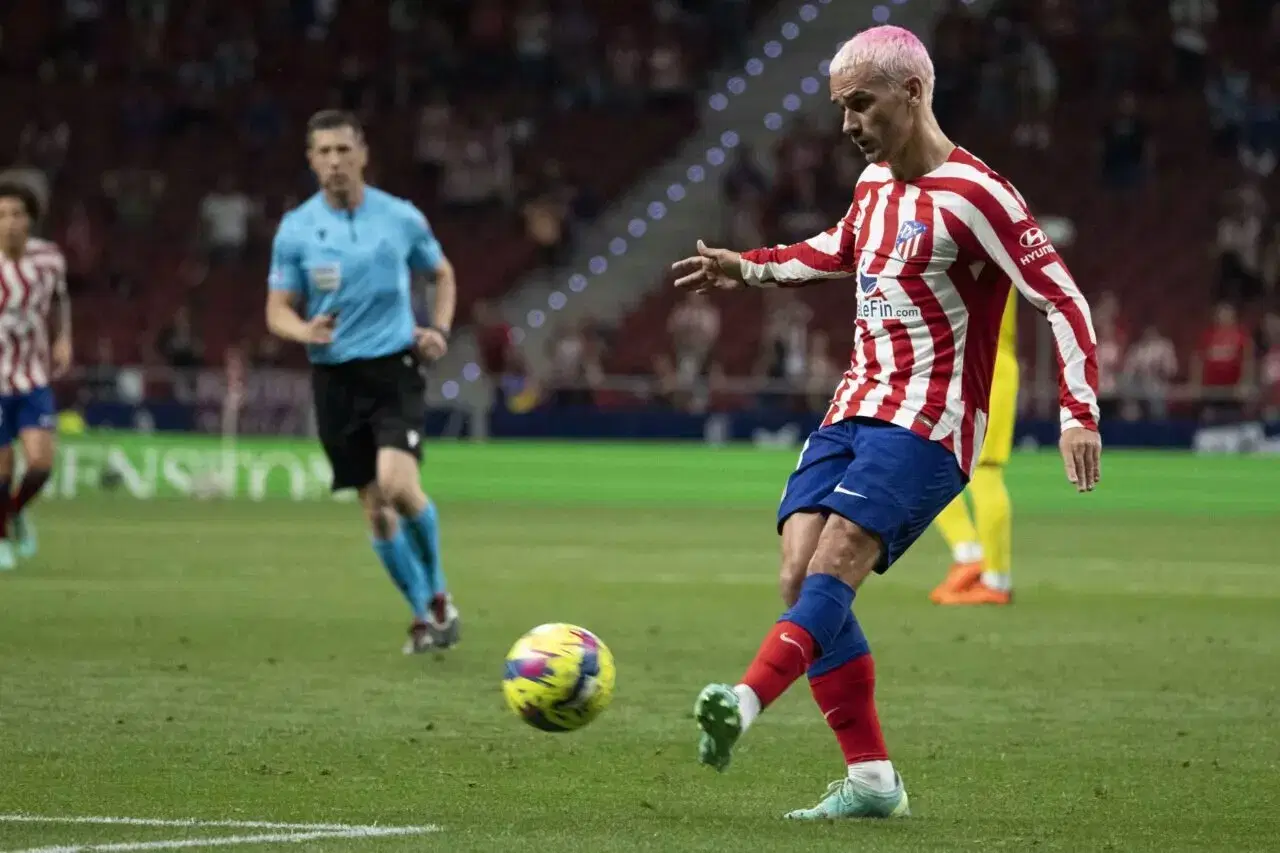 The Frenchman will complete our LaLiga team for the 2022–23 season. After having a dusky affair at Barcelona, he was welcomed back with open arms at Atlético Madrid.
Under Diego Simeone, he has once again found his feet, having been able to put away 13 goals. In 35 appearances, Griezmann has also managed to provide 14 assists to his teammates.
For more updates, follow Khel Now on Facebook, Twitter, and Instagram and join our community on Telegram.