Subroto Cup
Subroto Cup 2023 Final: Jharkhand trample Haryana to defend title
By

Atawaris Warsi
All the goals were scored in the first half itself!
St. Patrick's Gumla, Jharkhand, clinched the 62nd Subroto Cup (Junior U-17 Girls Category) defeating GSSS Alakhpura Bhiwani, Haryana in the finals with a 3-0 scoreline, thanks to a brace from Anita and a goal from Shaulina.
Jharkhand pretty much settled the game in the opening three minutes as they scored two early goals snatching the match away from the hands of the Haryana girls, who looked perplexed and stunned. Jharkhand's attacking moves were fluid, often flawless at times, as they attacked the Haryana box from all directions.
St. Patrick's backline was pretty much idle the whole match as the GSSS Alakhpura frontline didn't pose much of a threat throughout the entire match. The only threat that the Jharkhand backline received was a tamed free-kick and a volleyed shot at the end that was brilliantly caught by goalkeeper Surajmuni.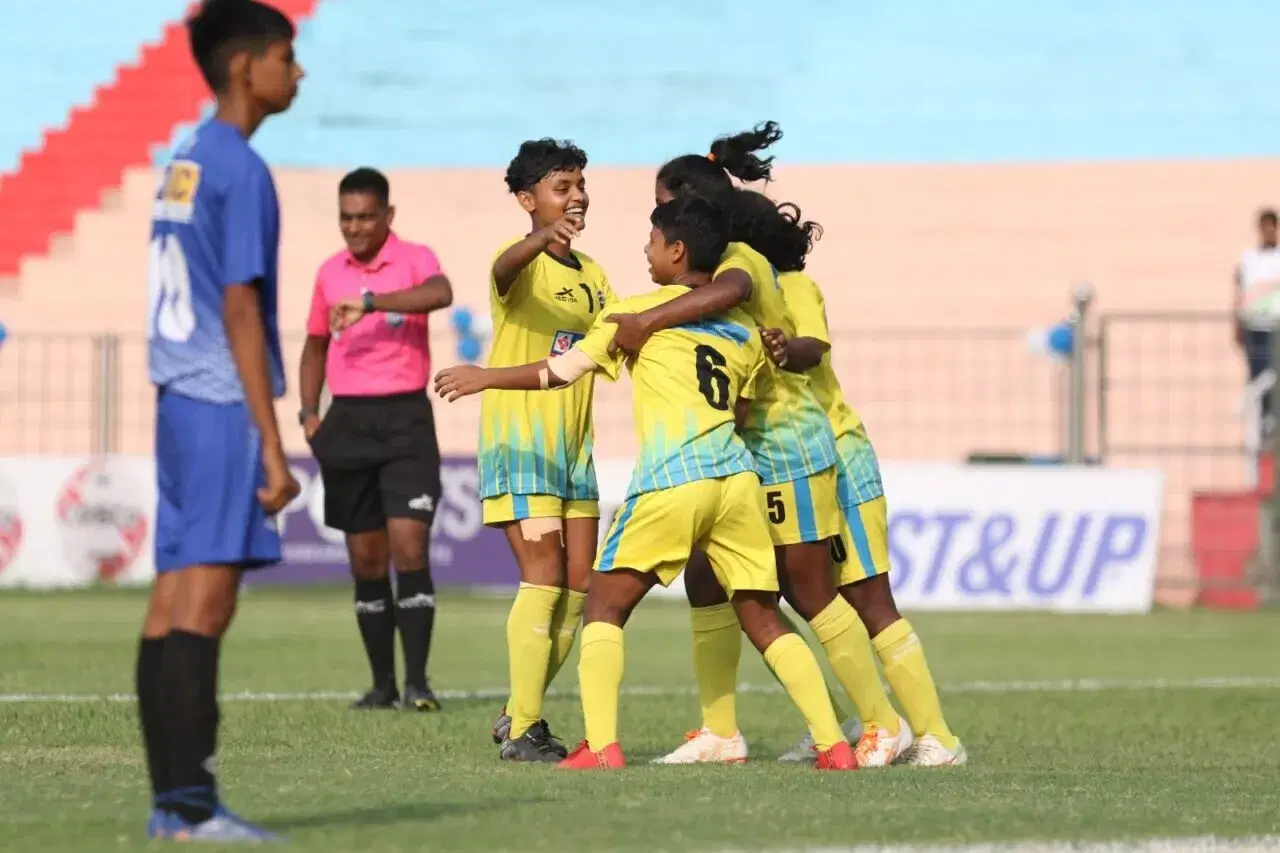 The midfield was also quite decent, but the match's limelight shifted towards the blistering attacks by the Jharkhand girls, who overwhelmed the Haryana defence throughout, giving them no time to breathe. Anita and Shaulina were on the scoreline, but a magnificent performance by the number 10, Alfa, who was a constant threat for the Haryana defence, must be also mentioned.
On the other hand, Haryana coach Banita seemed like she admitted her mistake during the match when she substituted Varsha for Ritika after her side went two goals down within the initial three minutes. The substitution managed to hold off the Jharkhand attack, but the damage was already done. However, it was commendable that Haryana did manage to limit the opposition to three goals, even when the match seemed to have a significant difference in the scoreline.
Key Performer of the Subroto Cup final
Alfa
Though the Jharkhand star performer was not on the scoresheet, she did earn an assist and was the arguably the best player on the pitch for St. Patrick's. As they say, the best players are not measured by stats in football, but are measured by the impact they had on the match.
For more updates, follow Khel Now on Facebook, Twitter, Instagram, Youtube; download the Khel Now Android App or IOS App and join our community on Whatsapp & Telegram.
posted in :