UEFA Champions League
Top seven youngest players to feature in Champions League 2023-24 Gameweek 1
By

Syed Talib Haider
The future stars of football have arrived on the biggest stage of club football
Who are the future football stars? The first week of the UEFA Champions League 2023-24 has rounded up, and the fans were left wanting for more. This tournament has a history of turning unknown players into famous stars, like Kylian Mbappe and Erling Haaland when they were teenagers.
We have made the list of young players featured in the first game week of this season's Champions League.
Seven youngest players in UEFA Champions League 2023-24 gameweek 1
Lamine Yamal – 16 years, 2 months & 6 days
A La Masia product, and now a Barcelona star, Lamine Yamal has broken into the scenes like no other player. At 16, he is living life! He has become Xavi's favourite, got his first call-up for the Spain National Football Team, and has played in his first-ever Champions League game against Antwerp. Barcelona won the game 5-0. Yamal has also featured in all the La Liga games so far this season, with three starts and three substitution cameos.
George Ilenikhena – 17 years, 1 month & 3 days
Another star drew attention in the Barcelona vs. Royal Antwerp game in the Champions League, but he was on the losing side- George Ilenikhena. The French-Nigerian attacker is a serious player to watch out for. George has strength, pace, and the mentality of a beastly striker just waiting to unleash. He got 30 minutes worth of playing time in his first-ever UCL game, and that to against Barcelona.
Warren Zaire-Emery – 17 years, 6 months & 11 days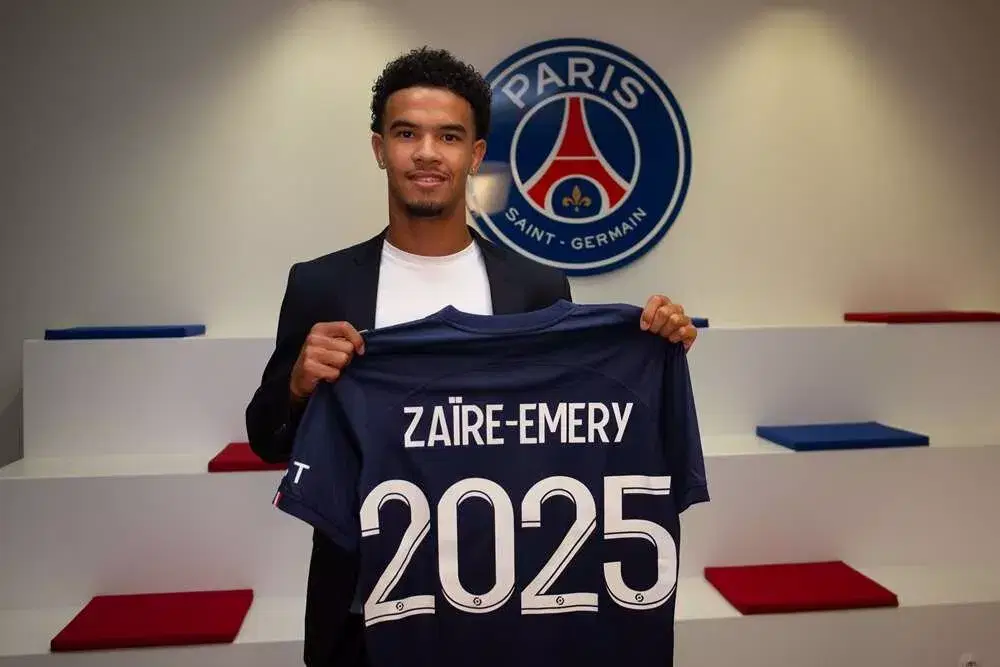 Warren Zaire-Emery, at just 17 years old, set a Champions League record as the youngest player to start a knockout game last season. He was only 16 when he was in the starting XI against Bayern Munich in the round-of-16 tie. Zaire-Emery is now a key midfielder at PSG, playing under Luis Enrique. It's no secret that the Spanish coach loves to play youngsters. So, if he continues to perform well in the upcoming matches, Emery could become Enrique's go-to player.
Trending World Football Articles:
Leo Sauer – 17 years, 9 months & 3 days
Leo Sauer, a Slovakian winger, rose through the ranks of Slovakian clubs to eventually land in Eredivisie with Feyenoord. Now, he has signed his first senior contract with Feyenoord this season. One minute of Champions League feature gracefully accepted, as he knows he will be seeing a lot of it in the future if he keeps up with the hard work.
Mathys Tel – 18 years, 4 months & 24 days
When Harry Kane joined Bayern Munich in the summer, there were rumours that Mathys Tel would be sent on loan. The Bavarians signed him for just €28.5 million from Rennes. But instead, the 18-year-old stayed with Bayern and has made a big impact. In just four substitute appearances this season, he's scored twice and provided one assist. This means he's been involved in a goal every 80 minutes since joining the team in 2022.
Arthur Vermeeren – 18 years, 7 months & 12 days
Arthur Vermeeren was a key player in Antwerp's surprise Belgian title win last season. Now, he is seen as one of Europe's top young defensive midfielders at just 18 years old. Big clubs like Barcelona and Manchester United are already interested in him because he's good at handling the ball, which is rare for someone his age.
Oscar Hojlund – 18 years, 8 months & 16 days
Brother of Manchester United's new signing Rasmus Hojlund, and Emil Højlund's twin, Oscar Højlund is already making his presence known. At the age of 18, he is becoming Copenhagen's regular in the midfield. Though, he was on the pitch for only a minute against Galatasaray in the mid-week. However, Oscar's passion for the game- that runs in the blood- and his dedication will soon reap him huge rewards.
For more updates, follow Khel Now on Facebook, Twitter, and Instagram; download the Khel Now Android App or IOS App and join our community on Telegram.
posted in :