World Football
Top 10 all-time top scorers for Germany football team
Germany has a rich history of strikers
Football is the most popular sport in Germany. The German national football team has won four FIFA World Cups (1954, 1974, 1990, 2014), being the joint-second most successful nation in the tournament only surpassed by Brazil. It also holds a record for three UEFA European Championships (1972, 1980, 1996), and won the FIFA Confederations Cup in 2017.
Germany has a very rich history of football and they have had some fine players throughout their illustrious history. It has also had world-class players who scored a lot of goals not only at the club level but also international stage. Here we look at the top ten all-time scorers for the German national team:
10. Oliver Bierhoff – 37 Goals
A large and prolific striker, Bierhoff was a strong, physical, aggressive, and powerful player, who played mainly as a target man in the centre-forward role. Although he was not particularly skilful with his feet from a technical standpoint or a particularly good ball player, he possessed good movement inside the box as well as strong hold-up play, but he was known in particular for his excellent aerial ability; in addition to his height, strength, and elevation, he was able to execute headers with power and precision, having scored several critical goals with his head throughout his career, for both club and country. The towering striker scored 37 goals in 70 games for the national team, two of which came as a substitute during Germany's Euro 1996 final win against the Czech Republic.
9. Michael Ballack – 42 Goals
Ballack is considered to be one of the best and most versatile midfielders of his generation. On a technical level, he was a commanding, physically strong and aggressive player, with excellent passing range, who moved the ball efficiently, and who was capable of creating chances for his team. An elegant player on the ball, and the technicality and intelligence of his game were extremely high. He made his debut for Germany in an international friendly against Scotland, playing 31 minutes in a 1-0 loss to Scotland in 1999 and was part of the German national team that suffered consecutive heartbreaks at World Cups 2002 and 2006. In his 11-year stint with Germany, Ballack scored 42 goals in 98 games.
8. Uwe Seeler – 43 Goals
Widely regarded as one of the greatest players in German football history, Seeler was named one of FIFA's 100 greatest living players by Pelé in 2004. Uwe Seeler featured in four editions of the tournament in 1958, 1962, 1966 and 1970, from which he reached the final in 1966 with West Germany, losing to eventual champions England. Seeler scored 43 goals in 72 games over the course of his international football journey.
7. Thomas Muller – 45 Goals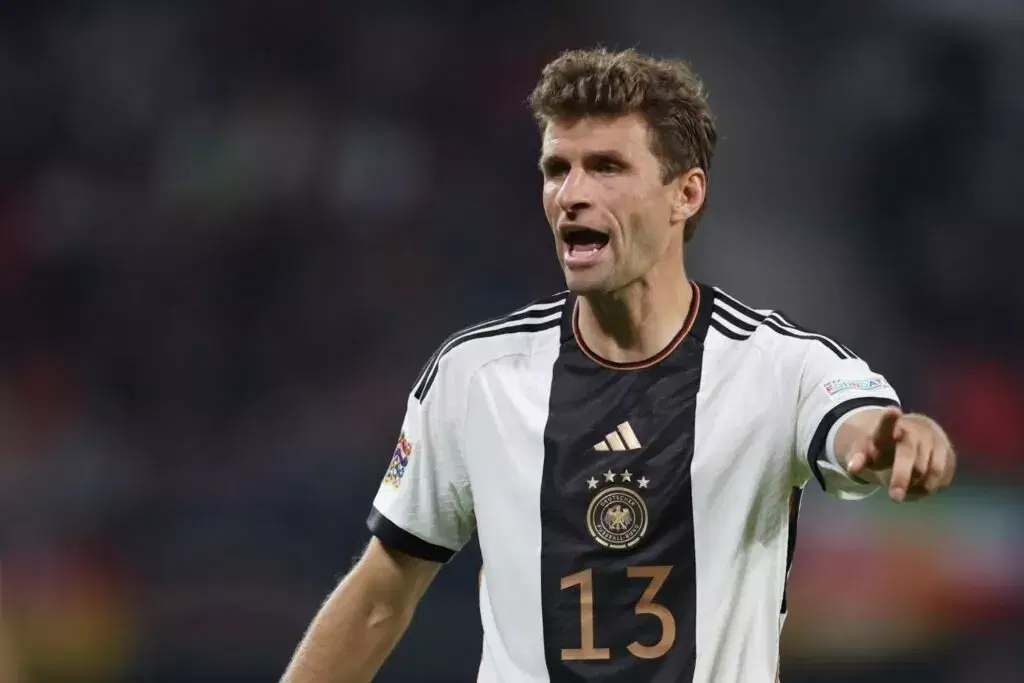 Müller's role can be described as an attacking all-rounder, a versatile player who is able to play in a variety of offensive positions. Although he lacks physical strength, Müller has been praised for his maturity, technique, awareness, tactical intelligence, finishing and positioning. He peaked at the 2014 FIFA World Cup, scoring five goals to help Germany lift the trophy, which included a goal and an assist in a memorable 7-1 rout of hosts Brazil. Muller scored 45 goals in 123 games.
Trending World Football Articles:
6. Karl-Heinz Rummenigge – 45 Goals
One of the most talented attacking players of his generation, Rummenigge was often lauded as a highly versatile forward, capable of playing as a second striker, winger, or flat-out centre forward. His main strengths were his pace, dribbling, heading and goalscoring ability, from both close range and from outside the box. His biggest achievement with Germany was winning the European Championship in 1980 when they beat Belgium in the final. Rummenigge scored 45 goals for West Germany in 95 appearances.
5. Jurgen Klinsmann – 47 Goals
Winner of the World Cup in 1990 and the European Championship in 1996, Klinsmann participated in three World Cups and three Euros for Germany at international level. Jurgen Klinsmann is one of the few players on this list to spend most of his prime playing outside the Bundesliga. Although he did not make his senior international debut until age 23. He was named West German Footballer of the Year in 1988, and unified German Footballer of the Year six years later. He scored 47 goals in 108 international games, netting in all six major international tournaments he participated in between the Euro 1988 to the 1998 World Cup.
4. Rudi Voller – 47 Goals
Völler made his debut for the German national team, then known as West Germany, in 1982. He represented his country at three FIFA World Cups and UEFA European Championships each. One of those rare players who reached the World Cup final both as a player and manager, Rudi Voller was a revelation in his prime. At the time of his retirement in 1994, he was Germany's second-highest goalscorer behind Gerd Müller; he is now joint-fourth with Jürgen Klinsmann, having been surpassed by Miroslav Klose and Lukas Podolski. He scored 47 goals in 90 appearances for Germany in total.
3. Lukas Podolski – 49 Goals
Podolski possessed explosive speed with great acceleration which was later affected by some lengthy injuries. He usually cuts inside either to shoot or pass the ball. Podolski is a physically strong player able to hold up the ball and produce key passes. Podolski has good dribbling and technical skills and is also a good crosser of the ball. Lukas Podolski remains one of Germany's best-ever centre-forwards. He was overlooked by the national team of his native Poland as a youngster, and Rudi Voeller jumped at the opportunity to tie him to the German team in 2004. In 130 appearances he scored 49 goals and currently plying his trade with Gornik Zabrze.
2. Gerd Muller – 68 Goals
Gerd Muller is and perhaps always will be remembered as Germany's best-ever striker. Regardless of how many goals Klose scores before retiring, the fact that "Der Bomber" took just 62 appearances to record 68 strikes three of which came in the World Cup finals makes his record more attractive still. Winner of the Ballon d'Or in 1970, Gerd Muller was at the peak of his powers when he led Germany to European Championship and World Cup glory in 1972 and 1974 respectively.
1. Miroslav Klose – 71 Goals
One of the most underrated strikers in the history of world football is Miroslav Klose. The veteran striker is an old-school footballer who can always be relied upon to find his form in the matches that matter most. A prolific goalscorer, Klose was a large and powerful striker who was known in particular for his ability in the air as a centre-forward, due to his strength, timing, elevation and heading accuracy, as well as his finishing ability. Termed as a "World Cup specialist", Klose led Germany to glory in 2014 and went on to score a total of 71 goals in 137 games for the national team at an impressive 0.52 goals-per-game ratio.
For more updates, follow Khel Now on Facebook, Twitter, and Instagram; download the Khel Now Android App or IOS App and join our community on Telegram.
posted in :