The Vivekananda Yuba Bharati Krirangan will host all matches of Group D in the upcoming qualifiers.
India are all set to ply their trade in the AFC Asian Cup Qualifiers. The Blue Tigers are in Group D of the qualifiers alongside Cambodia, Afghanistan, and Hong Kong. All of the matches in Group D will be played at the Vivekananda Yuba Bharati Krirangan (VYBK), Kolkata. Each of the four teams will face each other once across three matchdays — which will take place on June 8, 11, and 14 respectively.
With each of the three opponents ranked below them in the FIFA charts, Igor Stimac's side are the favourites to top the group. But how will they fare is a million-dollar question as performance levels haven't been at their best for Sunil Chhetri & Co. It is important to note that the group toppers and five best runners-up teams will qualify for AFC Asian Cup 2023.
However, that's not the main topic. Here we will share a venue guide of the Salt Lake Stadium, Kolkata.
Vivekananda Yuba Bharati Krirangan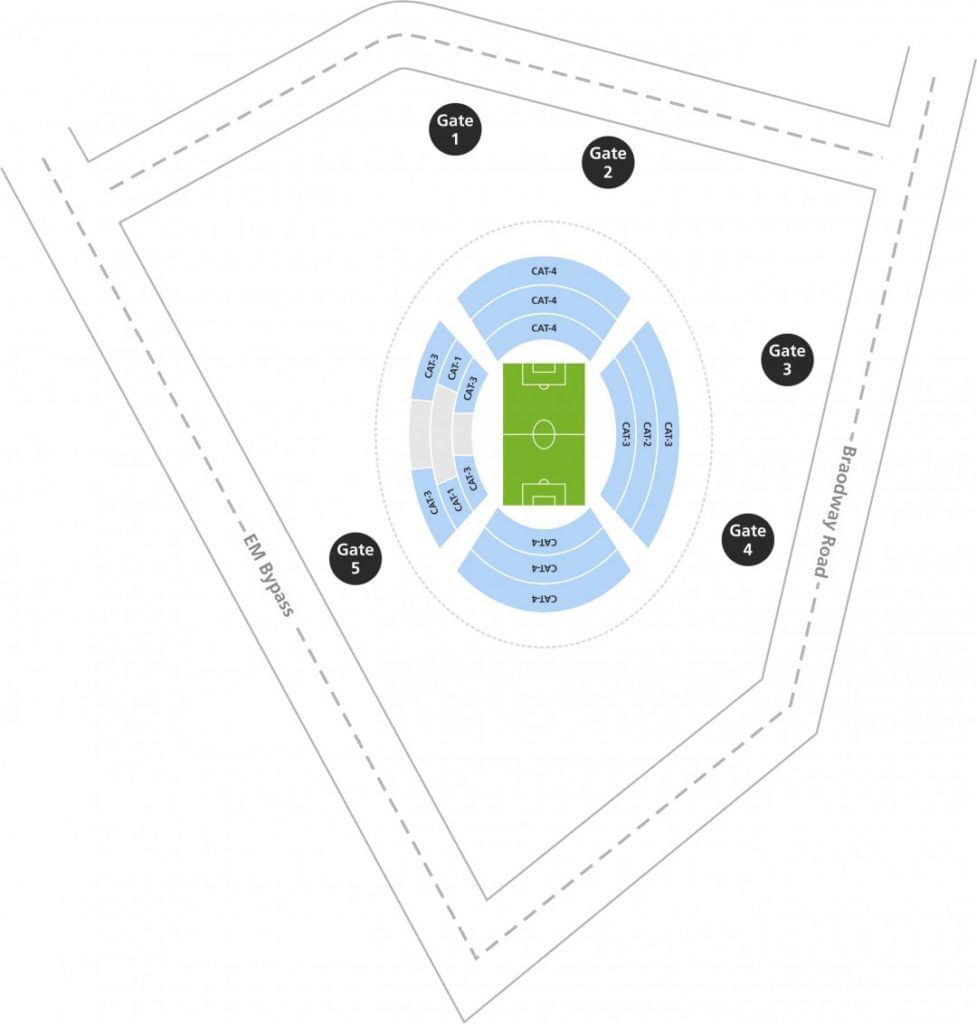 Popularly known as the Salt Lake Stadium, this venue is one of the largest stadiums in the country. The facilities it provides are satisfactory for any international competition. In 2017, the stadium was revamped keeping in mind the approaching FIFA U-17 World Cup. The Kolkata giants Mohun Bagan and East Bengal use this stadium as their home ground. Even ATK, prior to its merger with Mohun Bagan played in this stadium.
A total of seven gates are there – 1, 2, 3, 3A, 4, 5 and VIP gate. However, Gate-1 is mostly closed.
The Best View
A perfect view of the game is evident from each and every seat apart from the lower tier. However, we suggest that fans collect their tickets for these respective stands:
West Stand, Middle Tier.
East Stand, Middle Tier.
West Stand, Upper Tier.
East Stand, Upper Tier.
Fans can binoculate both sides of the pitch perfectly from these stands. In order to reach these stands, the fans should collect their tickets accordingly to ensure entry from gates 3, 3A, 4, and the VIP gate.
Getting to the stadium
Since the fans will be coming from various areas around the state, we'll be mentioning the maximum number of routes to reach the Vivekananda Yuba Bharati Krirangan.
By Road
The simplest way to reach the stadium is to take a cab. The matches start from 8:30 pm and that too on weekdays. Hence, it is ideal to move out from the habitat around 6 pm to ensure reaching in time. Also, those seeking to arrive directly at the stadium from the Dum Dum Airport can use this method; an alternative can be taking a bus that will travel via Eastern Metropolitan Bypass (E.M. Bypass).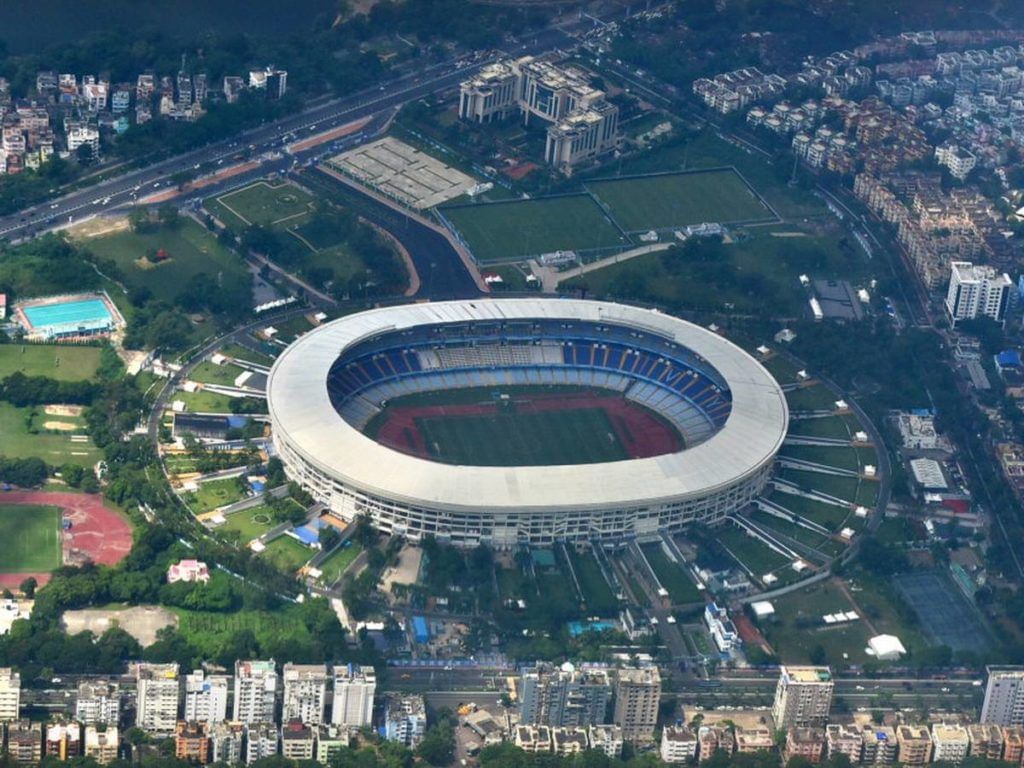 By train
Train routes are very much relevant as well. If you're coming from North 24 Parganas, catch a train that heads towards Sealdah. Also, any train from Sealdah which has a halt at Bidhannagar Road will do. Ensure to ask if the train will halt at Bidhannagar Road (this is a must). Once you reach Bidhannagar, you can get an auto which will take you to 13 No. Tank. A straight walk from that very spot will bring you to Gate-1 of the stadium.
By bus
Alternatively, a bus from Bidhannagar is relatively cheap. However, you have to end your ride at the respective stoppages of Hyatt Regency or Beleghata Building More or Salt Lake Stadium itself. If you stop at Hyatt Regency, a 10 to 15-minute walk will lead you up to gates 1 and 2. On the other hand, a 10-minute walk from Building More will lead you towards gates 4, 3 and 3A (in order of appearance). As a landmark, you can look for the AMRI Hospital. The hospital is just opposite the mentioned gates.
Parking
Prior to the Covid-19 pandemic, matadors, cars and bikes were allowed for parking near the AMUL Building. What measures have been taken since the pandemic are yet to be discovered. It should be kept in mind that even if you have taken a cab, you just can't land in front of your gate. The police usually don't allow this. You will be shown a place for signing off the ride by the police themselves.
In case, you are travelling in your own vehicle or two-wheeler, please also check for parking signages and park at the appropriate place to avoid trouble. There should be ample parking space available around the stadium.
Seeking accommodation
For fans visiting from other states/cities, hotels and lodges are available almost everywhere around the city. Hyatt Regency is the closest to the stadium. Other hotels in the Salt Lake area are also available for accommodation. However, it will be safer to book the rooms earlier.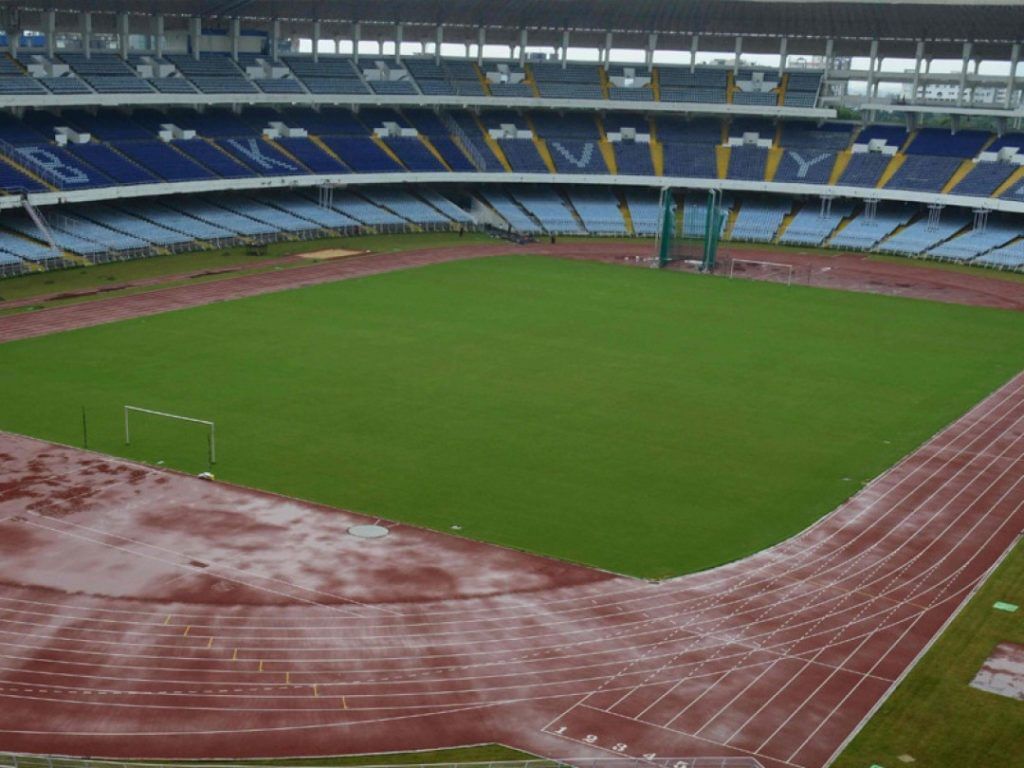 Do's and Don'ts
Do's
The weather isn't soothing in Kolkata. It usually stays very humid at this time of the year. Although the match will take place late in the evening, the exceeding humidity won't reduce by a huge margin. Dress in a comfortable manner.
Carry your tickets along with identity proof.
Carry some extra bucks to buy water from inside the stadium if they aren't for free.
If you fail to find your gate, ask anyone out there. Locals will be present. They will be able to guide you. You can also approach a person of authority for help.
Reach an hour or two prior to kickoff.
Don'ts
Don't carry cigarettes, gutka. They're not allowed inside the stadium.
You are not allowed to carry an umbrella as well inside the venue. Therefore, it's better to carry a raincoat in case there is rain.
Eat your meal from outside and enter the stadium. Outside food is prohibited inside the stadium. Also, the food available inside is likely to be overpriced or of poor taste.
Water bottles and bags are not permitted in the stadium.
Electronic gadgets apart from mobile phones are not allowed.
For more football updates, follow Khel Now on Twitter, Instagram and join our community on Telegram.