Head coach Juan Ferrando decided to leave out Igor Angulo and Alberto Noguera, while Romeo Fernandes was given the nod.
On Thursday, Indian Super League (ISL) outfit FC Goa announced their squad set to feature in the forthcoming AFC Champions League (ACL). The Gaurs' head coach Juan Ferrando opted not to choose the likes of Igor Angulo and Alberto Noguera for the 28-man squad, as the Asian Football Confederation (AFC)'s rule dictates that only four foreigners, one of whom should be from an AFC-affiliated country, can be a part of any ACL side.
Ivan Gonzalez, James Donachie, Jorge Ortiz and captain Edu Bedia are the four foreigners who will be a part of FC Goa's ACL squad. Among them, Donachie who is from Australia, will fulfill the AFC-affiliated foreign player category. Among the Indian players in the contingent are 11 Goans, including Romeo Fernandes, who was on trial with the club for the past few months.
The complete FC Goa squad for ACL 2021 is as follows:
Goalkeepers
Mohammad Nawaz, Naveen Kumar, Shubham Dhas and Dheeraj Singh Moirangthem.
Defenders
Sanson Pereira, Seriton Fernandes, Leander D'Cunha, Ivan Gonzalez (Spain), Mohamed Ali, James Donachie (Australia), Aibanbha Dohling, Saviour Gama and Adil Khan.
Midfielders
Edu Bedia (Spain), Glan Martins, Princeton Rebello, Brandon Fernandes, Phrangki Buam, Redeem Tlang, Makan Winkle Chothe, Alexander Romario Jesuraj, Amarjit Singh Kiyam and Romeo Fernandes.
Forwards
Jorge Ortiz (Spain), Devendra Murgaonkar and Ishan Pandita.
Along with Persepolis from Iran who were also the runners-up in the same competition last year, Qatar's Al Rayyan and Al Wahda from UAE, FC Goa will feature in Group E of ACL 2021. They will also host this group, and are also the first-ever Indian team to take part in what is Asia's premium club football tournament. Hence today, Khel Now takes a detailed look at the Gaurs' setup and analyses how they could line up against each of their opponents in the upcoming matches.
Performance so far
After finishing at the top of the ISL 2019-20 table under Sergio Lobera, FC Goa returned to the Indian top-flight league without a few key players and under a new head coach. Hugo Boumous, Amey Ranawade, Mandar Rao Dessai, Ahmed Jahouh, Mourtada Fall and Jackichand Singh (by a long route) re-united with Lobera at Mumbai City. The departure of Ferran Corominas further rubbed salt into Goa's wounds.
However, it's also worth mentioning that the former league stage toppers did a good job replacing all of these players in the squad. Saviour Gama and Seriton Fernandes have been a revelation in the full-back positions. Meanwhile, Hugo Boumous' exit resulted in the return of Edu Bedia as a starter. Corominas was replaced by Igor Angulo, who then proceeded to conclude his ISL 2020-21 campaign as the league's top scorer. Others like Jorge Ortiz and Alberto Noguera also impressed.
FC Goa started well in ISL 2020-21, but struggled slightly as the season progressed. Nevertheless, they managed to qualify for the playoffs after finishing in fourth place (seven wins and 10 draws from 20 matches). In the semi-final, they faced a strong Mumbai side and stayed on level terms with them, before bowing out of the competition via a penalty shootout after both legs ended in draws.
In hindsight, coach Juan Ferrando was able to help the Gaurs recover from the loss of several key players, while also leading them to a playoffs spot – all of it in his first season in India.
Changes post ISL 2020-21
After the conclusion of their ISL campaign, FC Goa's attention obviously shifted to the AFC Champions League. Adil Khan, who is on a season-long loan move from Hyderabad FC continues with the Gaurs, while Romeo Fernandes has also been selected. Fernandes' most recent competitive experience involves his game-time in the ongoing Goa Pro League (GPL) 2020-21.
But, more than that, it is Angulo's and Noguera's omissions that have left fans surprised. Angulo was the ISL 2020-21 Golden Boot winner and Noguera notched the most assists in the league this season. However, when you think about it, it is not hard to see why Ferrando picked the other foreigners over the duo.
As a coach, the 40-year-old probably understands how his team's defence is of prime importance. Barring Adil Khan, the Gaurs lack an experienced Indian name in their backline and that could be why the tactician chose both Ivan Gonzalez and James Donachie for the squad. Of course, Donachie's inclusion is mandatory, as he is the only AFC-affiliated foreigner in the team. Partnering him with Adil Khan alone must have seemed too much of a sacrifice for Ferrando.
Squad Analysis
Let us now analyze the squad in more detail.
Jorge Ortiz is the lone foreigner in the team's attacking department. Why Ortiz when you could have picked Angulo? The answer could be the former Atletico Madrid 'B' star's versatility. Throughout the course of the ISL 2020-21 season, Ortiz showed that he can play as a winger and also as a No.9, if needed. That makes the 28-year-old a good pick, as it gives Ferrando the option to switch between formations. Ishan Pandita would be the starting choice as centre-forward, with Devendra Murgaonkar deputizing for him.
We are very familiar with the names in the FC Goa midfield. Edu Bedia, Glan Martins and Alexander Romario Jesuraj stood out with their performances in the ISL. Meanwhile, Amarjit Singh Kiyam, Princeton Rebello, Phrangki Buam and Redeem Tlang also did well whenever they featured. With Brandon Fernandes returning from injury and Romeo returning on the back of an impressive showing in the GPL, the team from Goa have plenty of options to choose from.
As already mentioned, FC Goa's defence would be the most important part of the team in the ACL. One look at the squad should be enough to tell you how Juan Ferrando has picked out the best options available, to form his side's backline.
Saviour Gama and Seriton Fernandes are likely to occupy the full-back roles based on their impressive showing in the ISL. Meanwhile, Ivan Gonzalez, James Donachie and Adil Khan could occupy the central defence. The side also have good backup options in Aibanha Dohling and Leander D'Cunha.
Probable Starting XI
4-2-3-1 formation: Dheeraj Singh Moirangthem (GK); Seriton Fernandes, James Donachie, Ivan Gonzalez, Saviour Gama; Edu Bedia, Glan Martins; Alexander Romario Jesuraj, Brandon Fernandes, Jorge Ortiz; Ishan Pandita.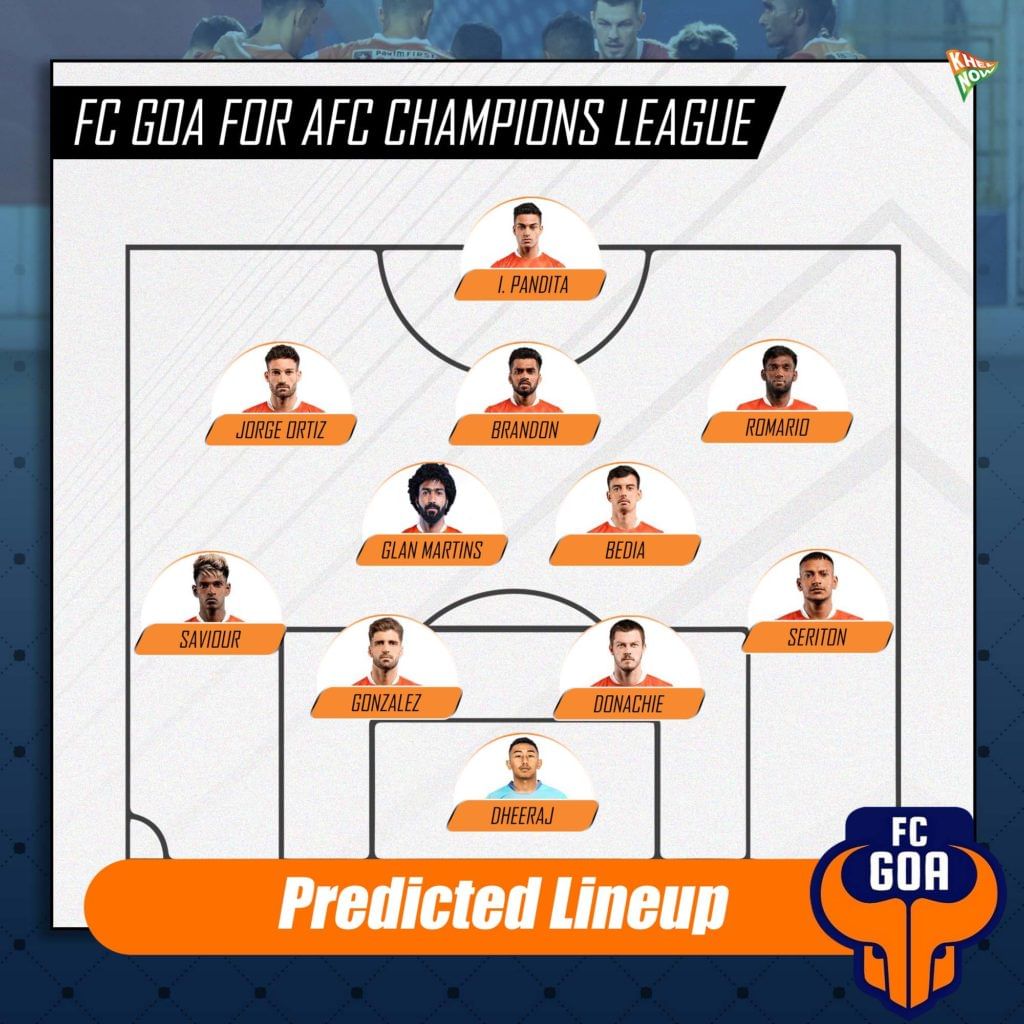 Alternative 4-4-2 formation: Dheeraj Singh Moirangthem (GK); Seriton Fernandes, James Donachie, Ivan Gonzalez, Saviour Gama; Amarjit Singh Kiyam, Edu Bedia, Glan Martins, Brandon Fernandes; Ishan Pandita, Jorge Ortiz.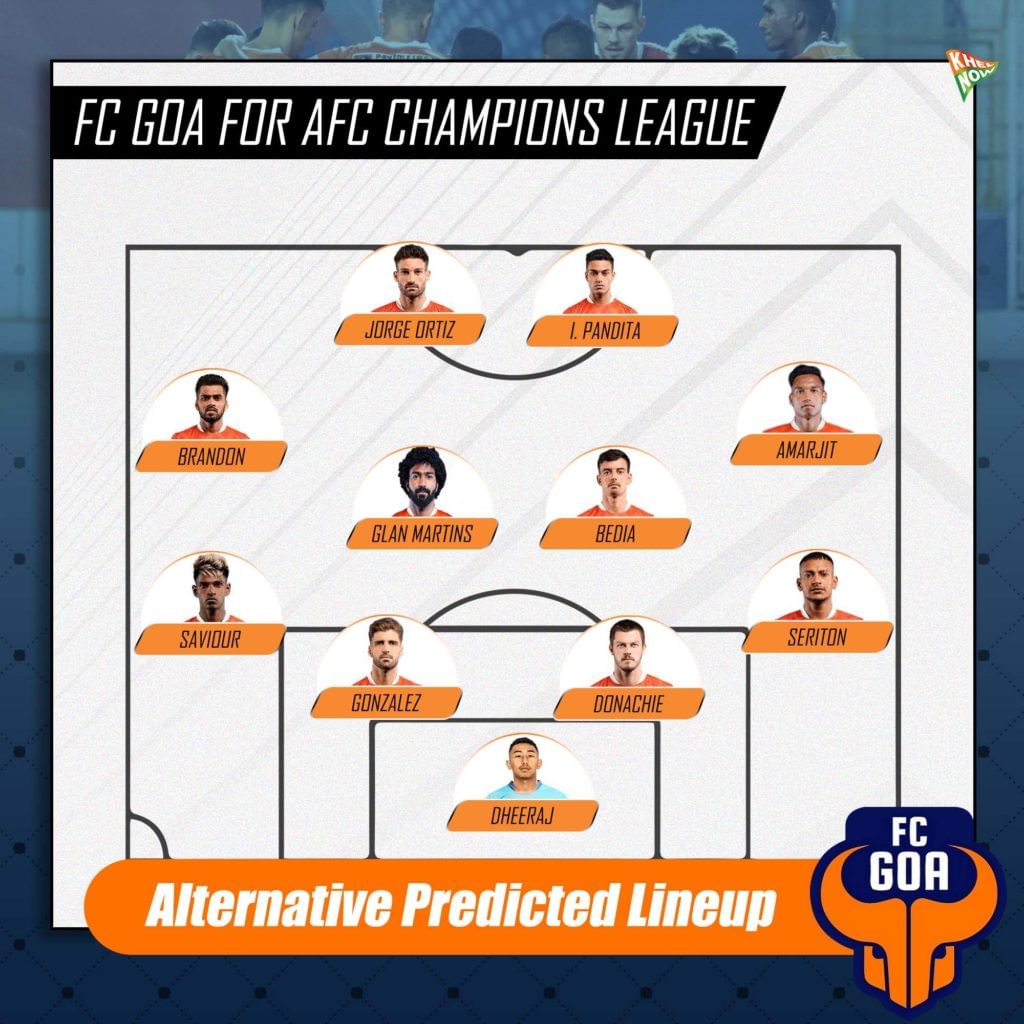 Players to watch out for
1. Edu Bedia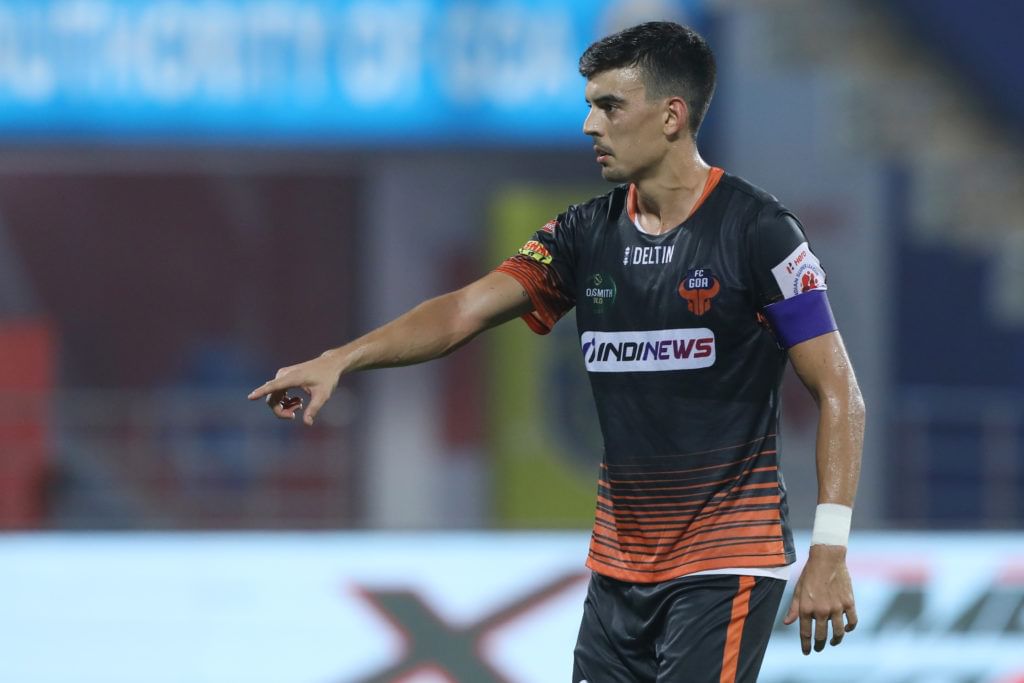 Which team would not love a skipper like Edu Bedia? The Spanish midfielder gives his all on the pitch and fights till the very last moment. In the playoffs tie against Mumbai City, he played on despite suffering two broken ribs!
FC Goa's No.8 maintained a passing accuracy of 80% all season and attempted the most passes in ISL 2020-21. He also notched three assists, in addition to the nine goals and nine assists that he had previously recorded since 2017.
2. Ivan Gonzalez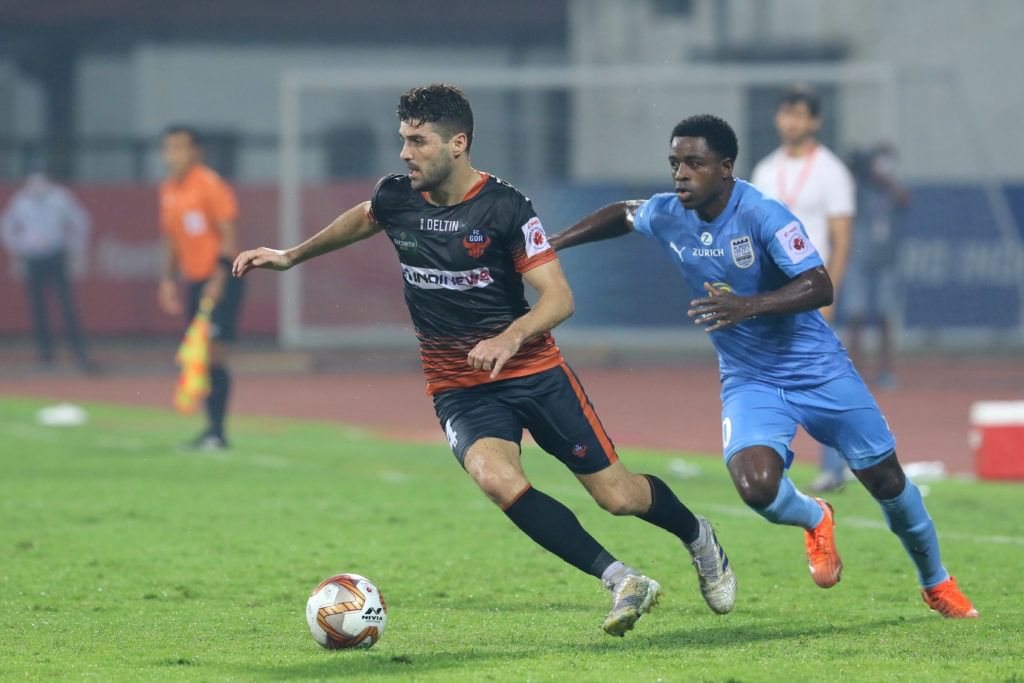 In previous media interactions, Juan Ferrando has made clear his love and admiration for Ivan Gonzalez. A product of Real Madrid's youth setup, the defender's performances went under the radar in ISL 2020-21.
Overall, the 31-year-old notched, 56 tackles, 73 clearances and 28 blocks across 19 games in the league. He would be one of FC Goa's most important players in the ACL.
3. Ishan Pandita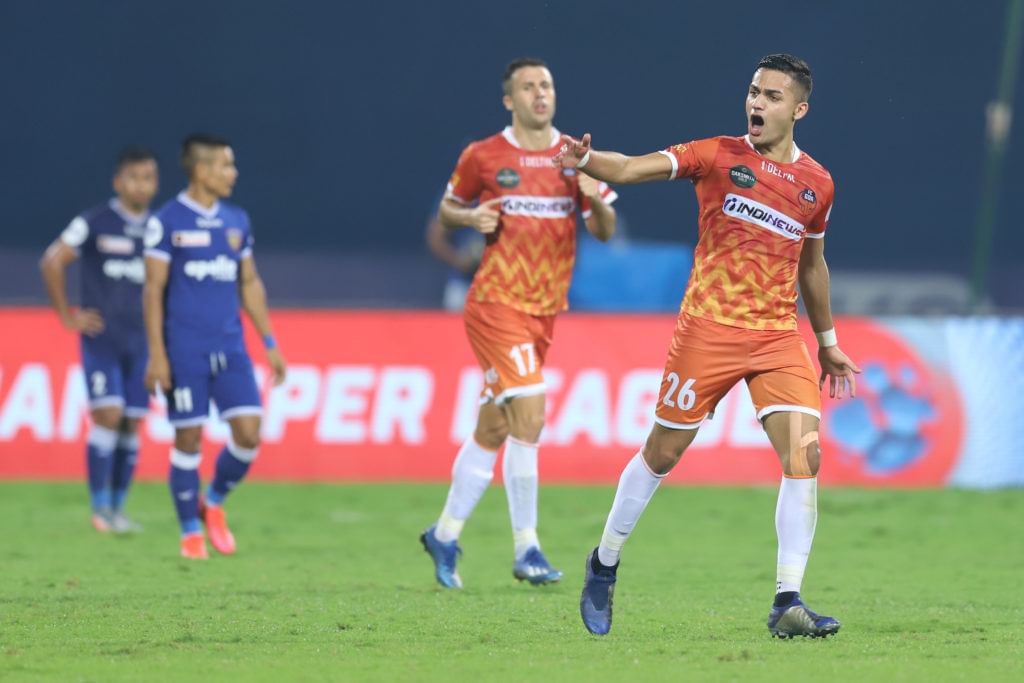 Having recently made his national team debut on the back of an impressive ISL season, Ishan Pandita has been enjoying a good season so far. The youngster scored four goals in the league and each of them won points for the Gaurs.
As the sole Indian centre-forward in the side, this upcoming ACL assignment is a perfect opportunity to shine for the 22-year-old.
4. Brandon Fernandes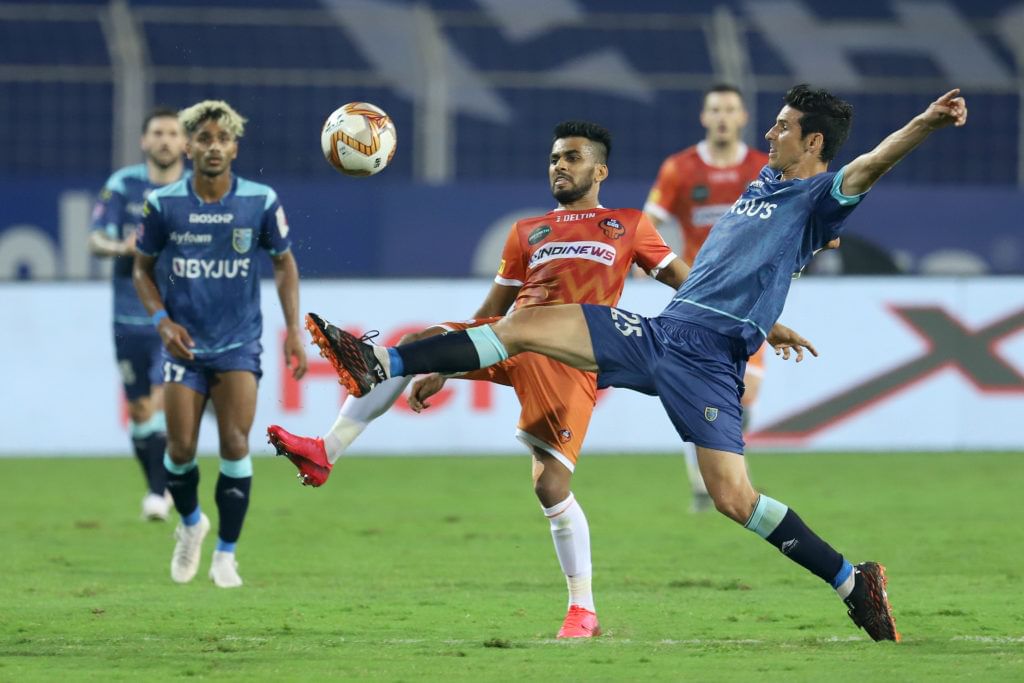 India's best attacking midfielder is returning from an injury layoff. What's more, he has the perfect opportunity to prove what he is capable of in the AFC Champions League. Having not played much of a role in the recently concluded ISL, Brandon Fernandes must be rearing to go.
For more football updates, follow Khel Now on Twitter, Instagram and join our community on Telegram.