ATK Mohun Bagan

2-0

Bengaluru FC







39′ Krishna
46′ Bose
ICYMI
FSDL acquires media rights for AFC competitions in four-year deal
India defender Sandesh Jhingan joins Croatian top flight club HNK Sibenik
ATK Mohun Bagan executed their plan perfectly and start their AFC Cup group stages as perfectly as they could've hoped for. That early goal in the second half gave Antonio Habas' side the cushion they needed to sit back and defend their lead, which they did brilliantly. Habas will be very happy with impressive debuts for Hugo Boumous and Deepak Tangi, with Boumous especially helping create so many big chances through the game. Even without Sandesh Jhingan, ATKMB's backline looked very strong – which is a very good sign for their future in this competition. Bengaluru FC withered away after a promising start, as they just didn't have enough quality up front to get the goal & weren't sharp enough to defend the goals. The fact that substitute left-back Parag Shrivas was involved in their best-attacking chances perhaps sums up their performance. This is a big win for ATKMB and now sets them up nicely to win the group, while BFC has a lot to do to even have that chance. Both sides will anyways be looking forward to the other group game between Basudhara Kings and Maziya S&RC later today and perhaps hope for a draw. We'll be back with AFC Cup action on Saturday, when Bengaluru FC and ATK Mohun Bagan are both involved in action. This is Uttiyo Sarkar signing out for Khel Now, thanks and goodbye ladies and gentlemen!
90+5′ ATKMB should've had another goal there. Manvir Singh shows impressive energy to burst forward down the open right wing and spots out a free Colaco in the box, but the youngster just can't get his shot right. Irrespective, the Mariners will be very happy after a compelling win which starts their AFC Cup campaign in emphatic fashion.
90+4′ Some late worry for ATKMB in this game as Deepak Tangri is down on the ground after suffering a nasty challenge. Suresh Singh is booked for it. Tangri, however, doesn't seem to be seriously injured and should be proud after a solid debut for the Mariners.
90+3′ Bengaluru FC just looks too exhausted to score a goal here today. ATKMB have managed to get their game management spot on in the second half.
90′ Bit of an ugly clash takes place inside the box after multiple players clash together while challenging for the ball inside ATKMB's box. Meanwhile, 4 minutes of added time is announced.
89′ The Mariners make their third substitution of the game, as young midfielder Sk Sahil comes on for captain Roy Krishna.
87′ Ajithkumar does well to trick a player and move forward with the box, but his attempted cross ends up flying over the goal.
84′ CLOSE! A well-synched move from BFC sees the ball moved to the left-wing, as Parag cleverly nutmegs a defender to get into the box, before his shot forces a smart low save from Amrinder to deny a goal.
82′ ATKMB are more than happy to just keep hold of the ball now, but are trying to beat BFC's pressing with some clever passing moves. Won't be surprising if they get another goal here.
79′ It's another change from the Mariners and another debut, as Liston Colaco comes on the pitch – replacing David Williams.
78′ Cleiton Silva tries to be a bit clever with a free-kick from a difficult angle by shooting at goal, but ends up wasting it as his attempt just doesn't curl enough and goes well wide of the target.
76′ It's been a disappointing day for BFC so far in terms of creating or finishing chances. They haven't received many, but the lack of a final product hasn't helped in converting whichever chances received
73′ CHANCE! A dangerous long throw from the right fools everyone and falls in the path of Shrivas a few yards away from goal, but his shot is deflected wide thanks to a heroic block from a couple of ATKMB defenders.
72′ ATK Mohun Bagan finally makes their first substitution of the game, as the influential Hugo Boumous is taken off for Bidyananda Singh.
71′ Boumous deceives everyone by attempting a shot on goal from the free-kick from a difficult position, but his shot is deflected wide of the target by a BFC player.
70' Subashish is at it again on the left-wing, as he manages to dribble past a player before being rattled down in the box by Ajithkumar for a freekick.
69′ Another substitution for BFC, as Parag Shrivas comes on for Naorem Roshan Singh. In the AFC Cup, teams can make up to 5 substitutions, so the Blues are taking good advantage of that.
67′ BFC are just not being able to create clear-cut chances because of ATKMB's rigid defensive shape. The delivery in the final third hasn't been good enough either. The Blues make a surprising change, as Sunil Chhetri is taken off for Leon Augustine – perhaps made with future games in mind.
63′ The Mariners looks more than happy to defend their cushioned lead now. However, they are constantly looking to counter-attack and send powerful long balls forward to send their attackers through on goal.
61′ Ajithkumar makes some decent early contribution and whips in a powerful cross from the right, which Amrinder has to scurry to bring down before clearing it away.
59′ Bengaluru makes a few attack-minded substitutions, as Ajithkumar replaces Sarthak Golui and Bidyashagar Singh comes on for Udanta Singh.
57′ Bengaluru FC are piling on the pressure here by putting more players in the final third, but their final delivery has been very disappointing so far.
55′ Boumous tries his luck from almost 40 yards out but ends up wasting a free kick as his fluffed shot goes way wide of the target.
53′ CLOSE! Cleiton plays a smart one-two with Suresh before taking a thunderous shot from outside the box, only to see Amrinder punch it away.
49′ Birthday boy Subashish Bose is excelling in the left wing-back role for ATKMB today. Not only is he putting in great defensive challenges and moving forward sharply down the left, but it was his header which assisted the opener before he produced a striker's finish for the second!
48′ Bengaluru FC have been shocked by that goal, which really should've been defended better as nobody seemed eager to mark or stop Bose from taking the shot. They have to throw in the kitchen sink to mount a comeback now.
46′ GOALLL! Subashish scores! What a start to the second half from the Mariners! David Williams does well to send in a nice pass into the box, which finds Subashish Bose – who brilliantly tricks a defender before smashing the ball into the bottom corner. 2-0!
46′ AND WE'RE BACK! ATK Mohun Bagan will be attacking from the right to the left this time. Meanwhile, BFC have made a substitution at the break, with Danish Farooq replacing Ajay Chhetri!
HALF-TIME ANALYSIS: Bengaluru FC might have dominated the lion's share of possession in the first half, but it's ATK Mohun Bagan which has been much more dangerous in front of goal. The Mariners took some time to get going in the game but really started to threaten after the first 20 minutes. New signing Hugo Boumous is proving well worth his price, pulling all the strings in midfield and creating some of the biggest chances of the half. He also played a huge role in creating the opener, which was a lucky deflection into the net from Krishna, but ATKMB will take it! Bengaluru have to improve their final product in & around the penalty area to get back into this game and have to move the ball much quicker in the second half. The Mariners will probably play more cautiously in the second half & look to get another goal or two from a counter-attack, but they have to be defensively perfect to get the win today. We'll be back with live action from the second half soon. Stay tuned, folks!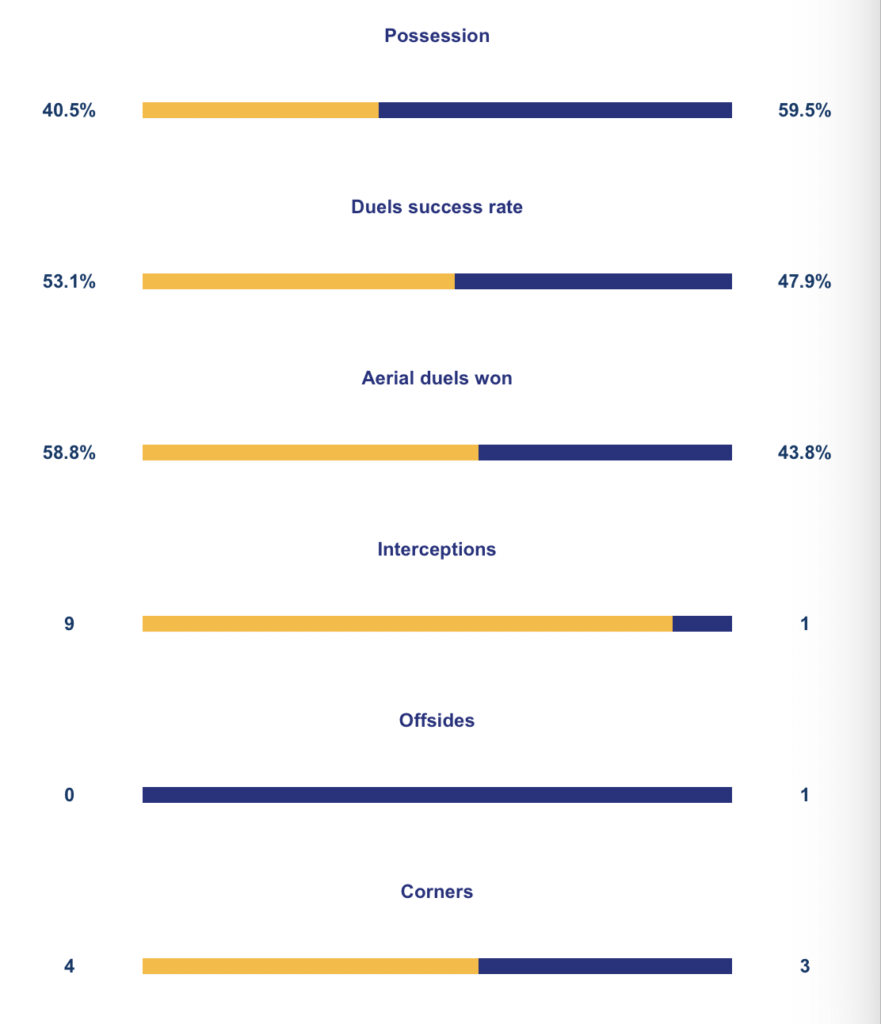 Half-time stats
45+1′ Bengaluru almost get that equalizer after Cleiton sends in an inviting corner which is headed just over the bar. ATKMB go into the break with the lead, but there's much to play for after the break!
45′ One minute of added time is announced. Can BFC get a late one before the break here?
42′ Conceding a goal like that would be gutting for Bengaluru FC, that to minutes before half-time! The Blues are trying their best to get back into the game, but the Mariners are intent on keeping their lead until half-time.
39′ GOALL! ATK Mohun Bagan take the lead! Boumous sent in an inviting cross from a corner that initially met Subashish's header before being deflected into the back of the net by Roy Krishna's flicked header! 1-0!
37′ Fortunately for Habas, Boumous is back on the pitch as he doesn't seem to have suffered an injury.
36′ Boumous is now on the pitch and looks to be in quite some discomfort. He is holding onto his hamstring, which could spell bad news for the Mariners.
34′ Jayesh Rane is down on the ground after being involved in a rugged challenge. However, it seems like the midfielder will be able to continue.
32′ GURPREET SAVES! ATKMB mounts a brilliant counter-attack as Boumous goes past a few players before spotting Krishna in space in the final third. Roy manages to get into the box and lay the ball up for the onrushing Boumous in the box, but the midfielder's thunderous shot is superbly denied by Gurpreet's foot!
30′ David Williams finds the ball in the final third and manages to dance past a few players before finding some space, which allows him to take a shot on goal that is held on strongly by Gurpreet.
29′ ATKMB are now trying to raise the pressure to get the opening goal. Boumous seems to have really come alive in his debut for the Mariners, but Antonio Habas will be disappointed that his side haven't got a goal yet.
26′ Chance! Cleiton whips in a really inviting cross into the box from a free-kick, but Alan Costa just can head the ball into the back of the net from yards away and allows Amrinder to hold onto it.
23′ CLOSE! Boumous produces another moment of magic as he sends in a brilliant cross into the box from almost the halfway line to Krishna, who just can't get his reach to the ball yards away from goal.
22′ Oooh! Manvir receives the ball and tries his trademark routine of shifting the ball from the left foot onto this right, just to see his emphatic shot go wide of the goal.
21′ CLOSE! Boumous finally comes alive and superbly makes his way into the box after dribbling past multiple defenders, but his powerful shot is saved really well by Gurpreet.
20′ Udanta Singh makes good use of his movement to get past Subashish Bose and swings in a wicked cross that forces a hasty header from McHugh that goes over – but could've gone into the back of the net on another day!
18′ BFC have done well so far to frustrate ATKMB's dangerous trio of Boumous-Krishna-Williams. Those three are not being afforded any space inside the Bengaluru area and are being met with physical challenges.
15′ Things have become a bit scrappy in the last few minutes as both teams look to tactically outwit each other before creating chances. The heat surely isn't making it any easy for the players.
12′ Manvir Singh has had a pretty sharp start to the game on the right-wing and dribbled past Naorem Roshan Singh on multiple occasions. However, his crosses haven't been accurate enough yet.
10′ Cleiton Silva becomes the first player to be booked in this game for a nastily stepping on Pritam Kotal's foot.
9′ Bengaluru look the more sharper of the teams here because of the fact that they played a game on Sunday. They're breaking past ATKMB's midfield line with ease but the final product has been missing.
6′ A very encouraging start from both teams here. Both sides look eager to run at each other's defence and are finding the spaces in the final third. But the delivery into the penalty area hasn't been good enough yet from either team.
4′ Ooh! BFC nicely play the ball out of defence and Cleiton Silva plays the ball to Jayesh Rane in the middle, who tries an ambitious shot from almost 35 yards out and sees it barely go wide of the target.
2′ A decent free-kick routine from the Mariners, as Hugo Boumous' free-kick is sent wide by a leaping Deepak Tangri.
1′ A really feisty start to the game here as David Williams takes a nasty knock from Yrondu Musavu-King in the aftermath of a shot from afar.
1′ KICKOFF! Bengaluru FC get the game under way and will be attacking from the right to the left.
4:25 PM The teams have made their way onto the pitch. This game will, of course, take place in an empty stadium because of the Covid-19 pandemic. Both sides will now take part in pre-match rituals before we get things started. Kick-off in a few minutes, folks!
4:20 PM Both teams will also keep an eye out on the other group stage game between Basudhara Kings and Maziya S&RC later today. A draw in that game can be ideal for the victor from this one, which is why neither ATKMB nor BFC will want to settle for a draw in this game.
4:15 PM ATK Mohun Bagan enjoyed a lot of success against Bengaluru FC in the previous ISL season. The Mariners defeated them both the times they met, with David Williams scoring the winner in one. The Australian has a great record of tormenting the Blues, having also scored in the playoffs second leg win in the 2019/20 season. He'll definitely be one to keep an eye out for today.
4:10 PM This is a huge game for both ATKMB and BFC's aspirations to progress into the group stages. A win today could give one team a huge chance of making the knockout stages, while possibly ending the other team's dreams. With Bengaluru obviously having the advantage in terms of match fitness, it'll be interesting to see how the Mariners' players cope in their first competitive game since March.
4:05 PM Some interesting lineups from both teams for their AFC Cup opener. For BFC, Ashish Kuruniyan misses out because of injury. They have seemingly gone with a 4-3-3 formation, but youngster Ajay Chhetri can also play as a centre-back – making it possible to shift to a 5-man backline. ATKMB, meanwhile, seems to have stuck with their 3-5-2 system – which can even revert to a 3-4-1-2 if Hugo Boumous plays as a no.10. The back-three should comprise of Pritam Kotal, Carl McHugh, and Subhashish Bose, while it'll be interesting to see how debutant Deepak Tangri performs in midfield. Lots of expectations from the forward duo of Roy Krishna and David Williams to turn up big in this one.
4:00 PM Marco Pezzaiuoli is the new man at the helm at Bengaluru FC. After a difficult previous ISL season where they finished outside the playoffs spots the Blues are looking to start with a clean slate under the Italian. They beat Club Eagles from the Maldives on Sunday to make it to the group stage. It promises to be an interesting contest to follow this Wednesday evening as ATK Mohun Bagan take on Bengaluru FC.
03:53 PM ATKMB come into the competition as favourites to make it out of the group. As you'll recall, ISL out ATK merged with Mohun Bagan from the I-League to form ATKMB. As such, the Mariners have taken their place in the competition courtesy of Mohun Bagan title win in 2019-20. Its fair to say that the club have been building for this competition n some force. Signings like Finnish midfielder Joni Kauko, ISL hotshot Hugo Boumous and young gun Liston Colaco have arrived at the club over the summer. They expect to go deep in this competition.
3:50 PM Line-ups are out.
ATK Mohun Bagan XI: Amrinder Singh; Pritam Kotal, Sumit Rathi, Carl McHugh, Subhashish Bose; Lenny Rodrigues, Deepak Tangri; Manvir Singh, Hugo Boumous, David Williams; Roy Krishna
Subs: Arindam, Avilash, Ashutosh, Biyananda, Sahil, Liston, Engson, Ricky, Kiyam, Abhishek
Bengaluru FC XI: Gurpreet Singh Sandhu; Sarthak Golui, Alan Costa, Yrondu Musavu-King, Roshan Singh, Suresh Wangjam, Ajay Chhetri, Jayesh Rane; Udanta Singh, Cleiton Silva, Sunil Chhetri
Subs: Ralte, Pratik, Muirang, Ajith, Parag, Danish, Rohit, Bidyashagar, Leon, Sivasakthi
The two teams will look for bragging rights and crucial points on Matchday 1.
03:36 PM A bit of scene-setting as we build-up to kickoff. These two teams are in Group D of the competition. They've been joined by Maziya S&RC from the Maldives and Bangladesh's Bshundhara Kings. The four teams will play each other once across three matchdays. The team that finishes as group leaders will advance to the knockout rounds.
ATK Mohun Bagan Vs Bengaluru FC Preview here.
03:30 PM Hello and welcome to Khel Now's live coverage of the AFC Cup 2021. We have a blockbuster on hand as two Indian heavyweights ATK Mohun Bagan and Bengaluru FC go head-to-head. I'm your host Uttiyo Sarkar and will be keeping you company through a fascinating evening of football.
Follow ATK Mohun Bagan Vs Bengaluru FC live action here with Khel Now.
For more updates, follow Khel Now on Twitter, Instagram and join our community on Telegram.