AFC Women's Asian Cup
AFC Women's Asian Cup: Three key battles to watch at Chinese Taipei Vs India
The Blue Tigresses will eye a victory after the draw against Iran in their opening match.
India started off their AFC Women's Asian Cup 2022 in relatively underwhelming fashion as they were held to a goalless draw by debutants Iran. There's no room for slacking off anymore for the Blue Tigresses. India's next two games — against Chinese Taipei and China — are both guaranteed to be difficult affairs and must be treated like finals for them to advance to the knockout stages.
In their next game against Chinese Taipei, India faces a challenging but not exactly impossible task. They had defeated Chinese Taipei in a friendly game last October and can do so again. However, Thomas Dennerby's side needs to be sharper and more clinical than before to do so. The game itself should be a close-contested battle knowing the quality of both teams.
It should be an entertaining affair with mini-battles taking place all over the pitch. There are some duels between certain players that could eventually decide the outcome of the match. Let's take a look at the three key battles to watch out for.
3. Pyari Xaxa Vs Wei-Ju Lai
India's young striker Pyari Xaxa was quite lively against Iran, but lacked the finishing touches that could've turned the draw into a win. She'll need to be more ruthless upfront to take the fight to her next opponents. Xaxa will go up against a sturdy defensive line, led by centre-back Wei-ju Lai.
The 27-year-old defender is a seasoned individual, who possesses the game-reading ability and movement to neutralize chances. Pyari needs to time her movement perfectly to trouble the Chinese Taipei centre-back and help open up spaces for teammates. She also must be more composed with her finishing to light up India's attack in the next game.
2. Chen Yen-ping Vs Dalima Chhibber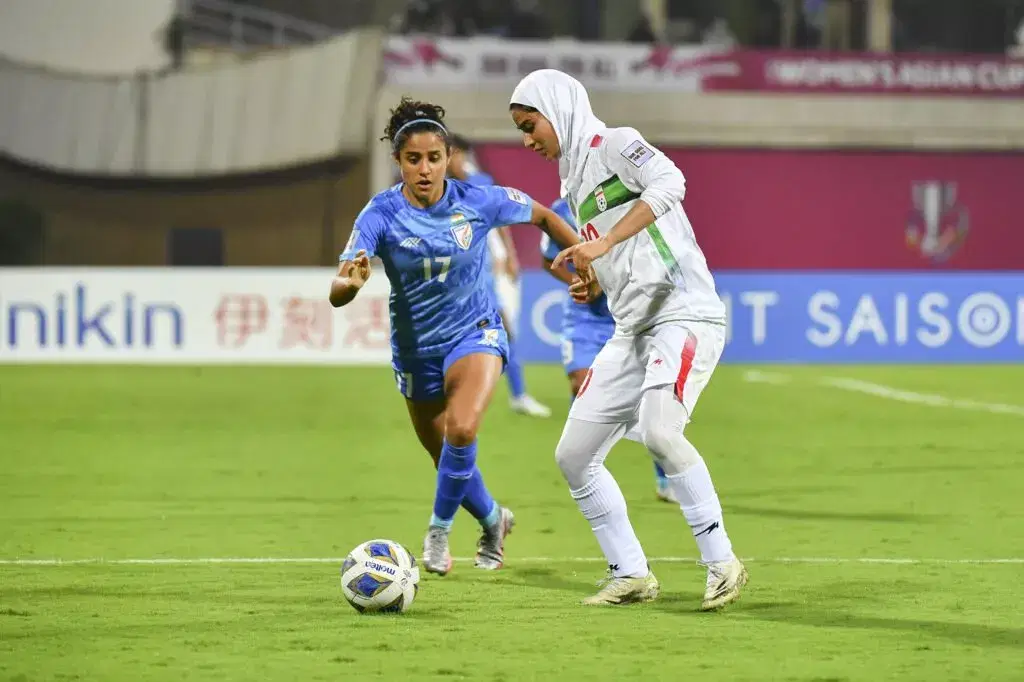 Dalima Chhibber was one of India's silver linings against Iran, shining in the right-back role. Not only was she defensively solid, but also delivered some excellent crosses into the final third to create chances. India's right-back will face a daunting task against an experienced Chinese Taipei winger Chen Yen-ping in the next game. With nine goals in 26 international appearances, Yen-ping is one of her side's biggest attacking threats.
Her speedy movement down the left-wing, trickery with the ball, and tendency to pop into key scoring areas make her an intimidating challenge. Chhibber needs to maintain her impressive form to lock down Yen-ping on her wing, not allowing the opponent winger any space to maneuver or the chance to get sight on goal. Yen-ping can run riot if given too much freedom in the attack, so the Indian right-back has to be on guard at all times to nullify her threat.
1. Manisha Kalyan Vs Yen-Hsin Pan
Manisha Kalyan showed glimpses of her exciting talent against Iran, always looking to run at defenders and moving into key areas. She does, however, need to polish her final product to really get going in the AFC Women's Asian Cup. Kalyan won't have it any easier against the Chinese Taipei side, who shut her down in their meeting last October. Their right-back Yen-Hsin Pan is a sturdy defender who isn't easy to break down at the back.
Yen-Hsin will probably be tasked to mark Kalyan very closely, not letting her get on the ball or carry it into the key areas for India. Kalyan should expect a tough challenge and must be smart about how she deals with the threat. Knowing her excellent dribbling ability and tricky movement, she should relish the challenge against the Chinese Taipei defender. The young winger, however, needs to be more decisive in those key areas in & around the penalty box to really hurt the opponents on Sunday.
For more football updates, follow Khel Now on Twitter, Instagram and join our community on Telegram.