Bundesliga
Top 10 moments from 10 Bundesliga title runs of Bayern Munich
By

Shaunak Ghosh
The Bavarian giants recently confirmed their 10th straight league title after a victory over Borussia Dortmund.
Bayern Munich have rewritten the record books once again by claiming their 10th straight Bundesliga title – a feat never before achieved in one of Europe's top five leagues. But how have they managed to forge such a decade of dominance?
Here we take a look back at 10 key moments in these 10 consecutive Bundesliga wins.
1) Overcoming Klopp
Bayern were already the dominant force in German football as we entered the 2010s, having won the Bundesliga title in six of the previous 10 years. But their supremacy suddenly came under threat when Jürgen Klopp turned Borussia Dortmund into a winning machine and flipped the Bundesliga on its head.
He guided BVB to their first title in a decade when finishing seven points clear in 2010/11 – 10 above third-placed Bayern – before repeating the feat with an eight-point advantage over the second-placed Munich club in 2011/12. To rub further salt into the wound, his side would go on to thump Bayern 5-2 in the DFB Cup final to win the first domestic double in their history.
Yet that wasn't the end of the misery for Bayern in 2012. They would also lose the UEFA Champions League final on penalties in their own stadium against Chelsea – their second European final defeat in three years. They had not won a major trophy since 2010 and were really hurting now with Klopp's team dominant and a haunting collection of three runners-up medals.
"I won't look back on the season with a smile, but you have to look ahead, focus on the next objectives," Thomas Müller told UEFA early in 2012/13. The previous campaign could have broken a team, but he and Bayern took it as the need to right a wrong.
They did that in some style, winning the Bundesliga in then record time (28 matchdays) with a record 91 points – 25 clear of second – having led the way from start to finish, losing only once, scoring in every game, keeping 21 clean sheets and finishing with a goal difference of +80.
Bayern would brush aside Juventus (4-0 on aggregate) and Barcelona (7-0) in the Champions League en route to the first all-German final against none other than Klopp's Dortmund. An 89th-minute Arjen Robben goal saw them beat their arch-rivals at Wembley to be crowned European champions for the fifth time.
Full amends were finally made the following week with a 3-2 victory over VfB Stuttgart in the DFB Cup final. After coming second in everything the previous year, Bayern had now won the lot and claimed the first treble ever by a German club. More importantly for their psyche, they had got one over Klopp and ended his stranglehold at the top. It would set them up for the decade to come…
2) Flick's sextuple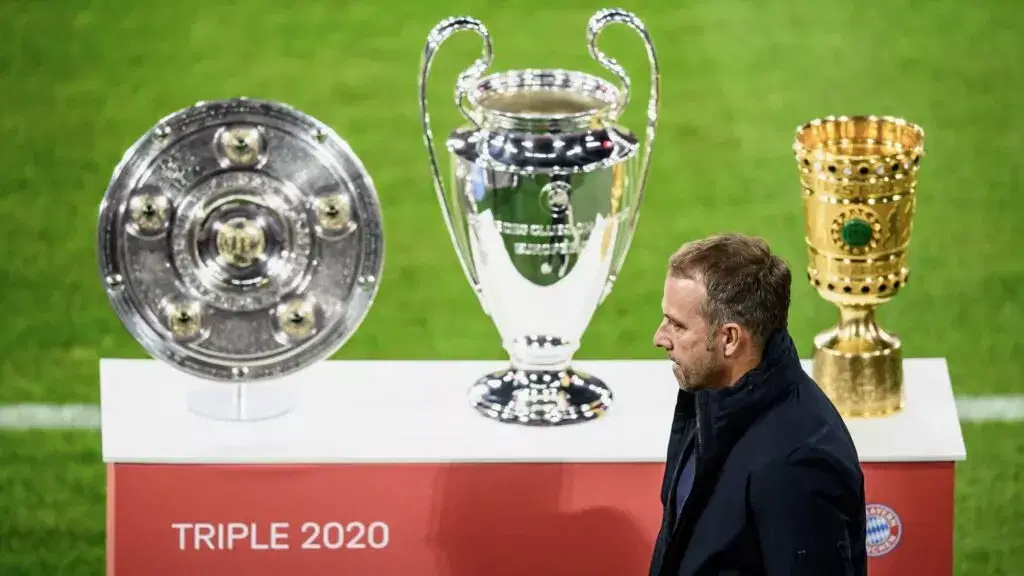 The class of 2013 will forever be revered in Munich, not just for the treble itself but for how they moved on from the triple setback of the previous year. The class of 2020, though, took things to a new level.
The 2019/20 season was a transitional one as the first in a decade without Franck Ribery and Robben. And when Niko Kovac was dismissed in November with the team in fourth after a 5-1 thrashing at Eintracht Frankfurt, there were serious questions over what might happen.
Assistant Hansi Flick was given the job on a caretaker basis, beating Dortmund 4-0 in his first league game in charge, but defeats to Bayer Leverkusen and Borussia Mönchengladbach left Bayern in seventh after 14 matchdays.
That was when everything suddenly clicked. A 3-1 win at home to Tottenham Hotspur completed the first perfect group stage in the club's Champions League history and kickstarted a run to the end of the season that saw Bayern win 29 out of 30 matches (plus a 0-0 draw with Leipzig).
Bayern stormed to the Bundesliga title with 100 goals and a 13-point advantage over BVB. They saw off Energie Cottbus, Bochum, Hoffenheim, Schalke, Frankfurt and Leverkusen to win the DFB Cup. And they won every single Champions League game, beating Spurs, Olympiacos and Red Star Belgrade in the groups before easing past Chelsea 7-1 on aggregate in the round of 16, smashing Barcelona 8-2 in one quarter-final match, and beating Lyon 3-0 in the semis before Kingsley Coman scored the only goal of the game against Paris Saint-Germain in the final to complete the club's second treble.
All impressive and historic in itself, but the remarkable thing about this period of dominance was that it came in the most unprecedented season after COVID-19 brought a halt to all football for two months. Bayern appeared to handle all this better than any other club, dealing with the fact games had to be played behind closed doors and keeping the players fit from home.
And Flick's charges didn't just stop with their three trophies. That success gave them further opportunities in the UEFA Super Cup, DFL Supercup and FIFA Club World Cup, which they duly added to their collection by beating Sevilla, Dortmund, and Al Ahly and Tigres to round off the greatest period in the club's over 120-year history.
3) Signing Lewandowski
Bayern owe so much of their success over the last decade to the goalscoring prowess of Robert Lewandowski. And remember, he was signed for the princely sum of €0 from Dortmund in 2014.
He's since gone on to score 342 times in 372 games in red, smashing all kinds of records in the process.
No non-German has as many Bundesliga goals or as many in Bayern colours. He surpassed the great Gerd Müller's record of 40 goals in a single Bundesliga campaign when he got 41 in 2021/22. The Poland international was the first person to win the treble of league, cup and Champions League as top scorer in all three competitions.
He holds places in the Guinness Book of Records after his famous five goals in nine minutes as a substitute against Wolfsburg in 2015.
We'll never know the answer, but where would Bayern have been without the two-time Best FIFA Men's Player? It is the same as asking how things would have changed if they had not found Gerd. Simply unimaginable.
4) Pep's dominance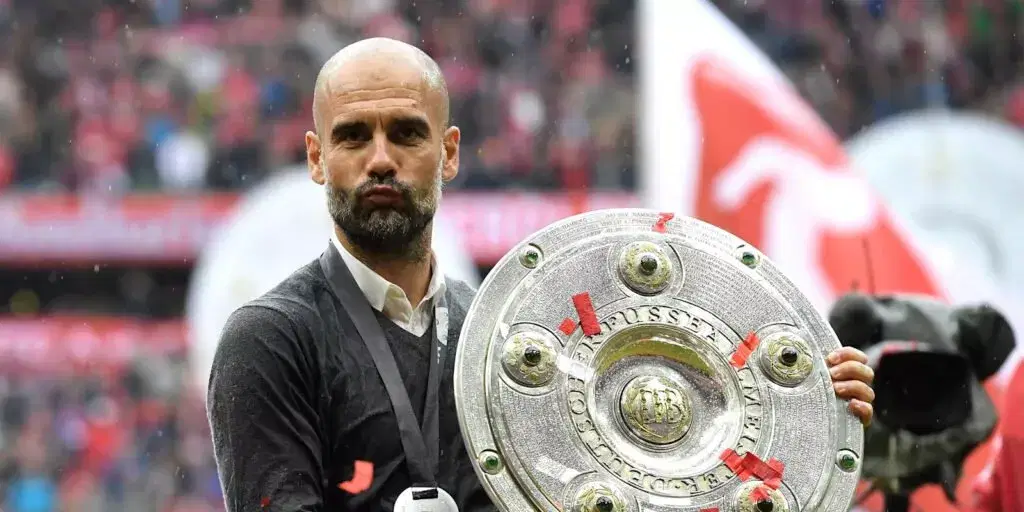 Heynckes retired (at least for a while) on the back of his treble, with the club having already lined up Pep Guardiola to take over for the 2013/14 season. Although he lost his first game in charge, which was the Supercup against Klopp's Dortmund, he would go on to turn Bayern into the consistently dominant force in German football.
Guardiola won 82 of his 102 Bundesliga matches in charge, losing only nine times – and five of those came when the title was already secure for the season.
Although often sticking with the 4-2-3-1 formation that had become a feature of Bayern and German teams in general, he took the Munich club to the next level tactically. He would play without an out-and-out striker, converted full-back Philipp Lahm into a world-class central midfielder, introduced the idea of a back three, and much more.
The treble under Heynckes could have been a flash in the pan, followed by players relaxing in the belief they had won it all, but Guardiola was never going to allow that when he came in and ensured the team kept up that imperious level. On top of three Meisterschale, he also beat BVB twice in DFB Cup finals to secure domestic doubles. The only blot on his Munich copy book was no doubt three semi-final eliminations in the Champions League.
5) The core of continuity
Thomas Müller broke into the first team in 2008, David Alaba first came through in 2010, Manuel Neuer and Jerome Boateng were both signed in 2011 and Javi Martinez joined in 2012.
Five brilliant players who formed a core in this Bayern team from the treble through to the sextuple.
Müller has, of course, been going about business in his own inimitable way for many years, scoring, creating and also leading the squad. He's got well over 200 goals and assists in more than 600 appearances for Bayern, also becoming the first person to lift the Meisterschale 11 times.
Neuer does so for the 10th time – and fifth time as captain – in 11 seasons in Munich. He has redefined the goalkeeping game during his spell with Bayern, surpassing numerous records once held by illustrious predecessor Oliver Kahn – such as most wins and clean sheets in the Bundesliga – and one day leaving the biggest possible boots to fill for a successor or in fact any aspiring goalkeeper.
Alaba was the latest in a long line of top-class players to come out of the Munich youth system, establishing himself in 2011/12. Over time he has shown his brilliance at left-back, on the wing, central midfield and now centre-back. Although he missed the 2012 Champions League final through suspension, he was a feature in 2013 and all the way through to 2020 before finally leaving the following year after over 400 games for the club.
Boateng was signed at the same time as Neuer as Bayern looked to wrestle the title back from Klopp's dominant Dortmund. The 2014 FIFA World Cup winner no doubt would have made far more than the 363 appearances he did in Munich if not for injuries, but he became one of the best centre-backs in the world – both in terms of defending and build-up play – as a consistent feature of the Bayern backline.
Martinez is perhaps the unsung hero of Bayern's brilliant decade. The Basque became an honorary Bavarian as he assimilated into Munich life and formed a pillar of the team, whether in holding midfield or later on at centre-back. He did what the team needed and will go down in club history as Mr Super Cup for his crucial late goals in the 2013 and 2020 UEFA Super Cup wins over Chelsea and Sevilla.
6) Robbery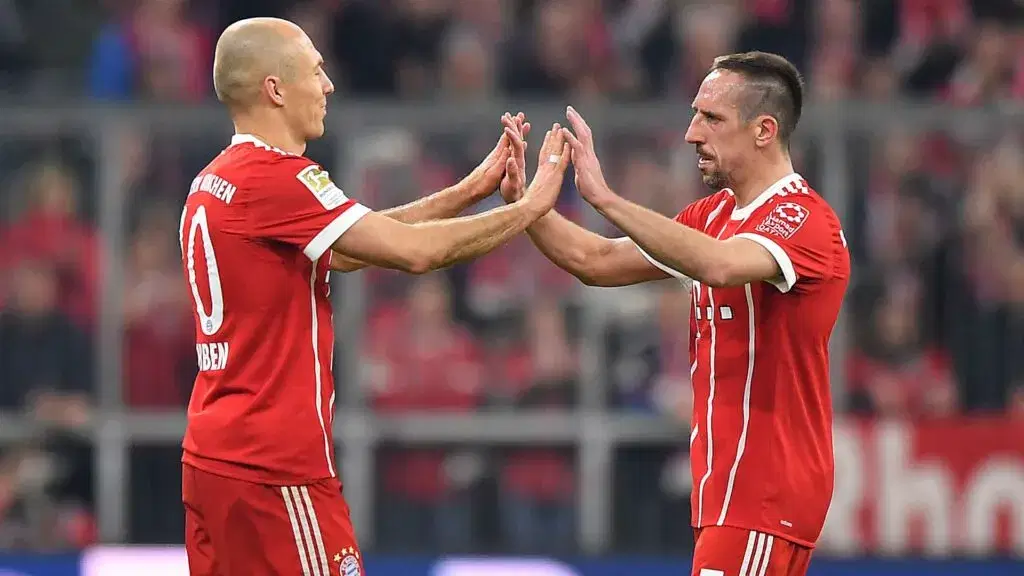 Robben and Ribery – the dangerous wing duo known affectionately as Robbery. They may have left the club the year before the sextuple, but the pair were defining faces of Bayern's supremacy from 2012/13.
The Frenchman joined the club in 2007 from Marseille, followed by the Dutchman in 2009. They played a combined 734 matches in red, scoring 268 goals and providing almost 300 assists.
There was a sense of magic about their partnership. Even though playing on opposite wings, their seemingly unstoppable moves inside onto their stronger feet saw them converge like an arrow towards the opposition goal.
"When Arjen, myself and others arrived at the club, we brought more pace and dynamism, a different type of football," Ribery told bundesliga.com in an exclusive double interview with Robben.
But the pair also have their own personal places in Bayern's illustrious history. Robben, for example, has been given the name Mr Wembley after his late winner in the 2013 Champions League final – of course assisted by Ribery.
It was fitting when the two both bowed out at the same time in 2019, signifying the end of an era and the passing of the baton.
7) Müller's consistency
Müller is the most decorated player in German football with over 30 trophies in his collection for club and country. But he has always raised eyebrows from observers left bewildered by just how he does it.
His style is so unique that he had to invent his own name for it, coining himself the Raumdeuter – the space interpreter.
Whatever you want to call it, it has always worked. You do not score 226 goals and set up almost 250 more in 623 games for Germany's biggest club if you are not doing something very right.
The Bavaria native set a Bundesliga record for most assists in a season when he got 21 in 2019/20. It was the final proof – if even needed – that he is simply irreplaceable in this Bayern team. And it is fair to say the club had tried, signing playmakers James Rodriguez and then Philippe Coutinho to try and add something more. But there has been nothing better than Müller.
8) Pep's personal target
When Guardiola took over the club, he famously made his "Thiago or nothing" demand to sign the up-and-coming midfielder from Barcelona. He got his man and the Spain international enjoyed great success in Munich, but the next player on Guardiola's radar after that was Joshua Kimmich.
"I want you in this team," was what Kimmich later said were some of the first words Pep spoke to him when convincing him to swap Bundesliga 2 side Leipzig for Bayern in 2015 – as if he needed convincing.
The coach was reported to be scouting Kimmich personally and watched him in action in the first half of the 2014/15 season. Although only 20 when he eventually joined, he was earmarked for a great future. Guardiola gave him a taste of everything, using his young player as a centre-back, full-back and central midfielder. The idea was to allow him to develop his obvious talent into world-class ability.
Lothar Matthäus, a legend for club and country, stated Kimmich will define an era and one day captain both Bayern and Germany. While the latter will surely still come, he has already been proven right on his first prediction.
He became a top-class right-back under Ancelotti, Heynckes and Kovac before the latter finally moved him into central midfield more permanently in 2019/20. And when Flick took over, Kimmich had become his midfield general alongside Thiago.
The 27-year-old is now the beating heart of this Bayern team, combining footballing quality with real leadership. And having recently signed a contract extension until 2025, he looks destined to guide the squad through the next transition when the likes of Lewandowski, Müller and Neuer eventually move on.
9) The helpful Heynckes hand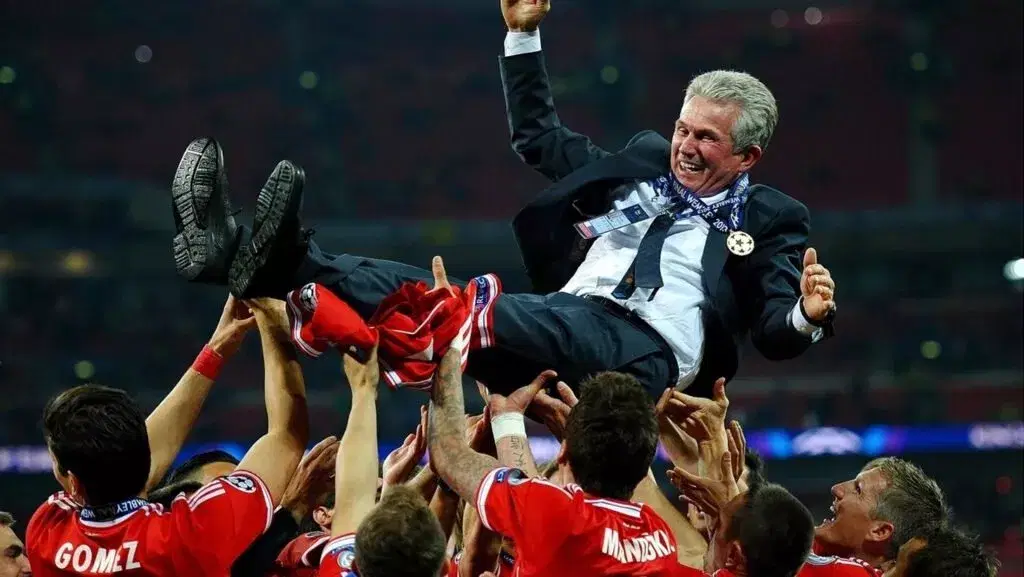 When Heynckes retired in 2013 as the architect of the treble, his place in history was secure.
"After everything that's happened over the past two years, I'm ready for some peace and quiet," he told Der Spiegel. "After this string of successes, I could transfer to just about any club in Europe. But I can assure you that I have no intention of coaching again. I had a worthy ending."
Given the team he had created and the foundation he had laid with the treble, few would have had reason to doubt those words. It was indeed a worthy ending, but would in fact just be the ending to the latest chapter.
When Ancelotti was dismissed in 2017, the phone once again rang at the Heynckes household in his hometown of Mönchengladbach. How did he fancy a fourth spell at the helm?
Heynckes stated at his unveiling that this was by no means a comeback but a favour for friend Uli Hoeneß, helping out until the end of the season. And once again he was that steady hand the club needed, taking them from five points behind Dortmund to winning the title with four games to spare.
Dreams of a repeat treble were ended with elimination in the semi-finals of the Champions League, while he was beaten by designated successor Kovac and Frankfurt in the DFB Cup final. But as so often, the elder statesman of German football and pivotal figure in Bayern history had once more come in and done the job.
10) The Campus
Tucked away within sight of the Allianz Arena to the north of Munich, the FC Bayern Munich Campus cost around €70 million to build and was opened in 2017. Youth development had always been a pillar behind successful periods in the club's history.
Think Gerd Müller, Franz Beckenbauer and Sepp Maier in the 1960s and 70s, through to Lahm, Bastian Schweinsteiger and Thomas Müller in the modern era. All players from in and around Munich, but at most from further afield in Bavaria.
But very little had come through since the latter set (and Alaba) in the 2000s and the club realised that needed to change. For the cost of what they would potentially spend on one player, they invested in a state-of-the-art academy facility and use the club's global status to attract young players from beyond Bavaria's borders, training them up to be ready for the first team and get ahead of the competition in a spiralling transfer market.
We are now starting to see the results of that approach. Players like Jamal Musiala – whose goal put the seal on Bayern's 10th straight title – were lured away from the Chelsea youth system where prospects of a breakthrough were low.
For more updates, follow Khel Now on Twitter, Instagram and Facebook.