The #9 shirt has been worn by some of the world's most iconic players for some of the legendary clubs.
The concept of using shirt numbers was something that didn't give logical credence when introduced, but going forward it became the characteristic highlight of certain players and certain positions in football where the players specialize.
Although it is the players who make the people remember the name and number on the back through their quality, these numbers are of utmost concern when assigning and determining the roles of the players in the side.
Unlike other numbers, a #9 typifies a striker's role. The end product. The finisher, the punisher. The one who puts the final piece in the jigsaw puzzle of an attack and also one who can take the team forward with their pace, dribbling, physicality, and lethal finishing.
Some players like Ronaldo Nazario, Filippo Inzaghi, Fernando Torres, Robbie Fowler and Alan Shearer are among an illustrious few who made the number the striker's grade with their contemporary counterparts the following suit.
But unlike others, the #9 is more of people who are considered out-and-out finishers of the attack but with the creativity and work-rate of modern footballers. Today we will look at the current top #9s in the world based on their real and virtual (FIFA 20) characteristics and qualities.
Robert Lewandowski – 89
Bayern Munich striker Robert Lewandowski is the highest rated #9 in this year's edition rated 89. The Polish attacker who stands at a height of 1.85m and has scored 206 goals in just 253 games. This season, Lewandowski has fired on all cylinders so far scoring 11 goals in seven Bundesliga games and 15 in 11 across all competitions.
His continued scoring exploits would mean Bayern are a serious force to be reckoned with this season particularly considering that their quest for the ever-elusive Champions League crown since 2013 could finally bear fruit should Robert continue his prolific start.
It would also be a good balm to his wounds that he is still looking to soothe since 2013 when his previous side Dortmund lost heartbreakingly to their Der Klassiker rivals at Wembley.
Luis Suarez – 89
One of the best strikers in the world and considered by many to be the best #9 at the moment, there is no doubt that Luis Suarez is striking royalty. The forward has performed brilliantly in a stellar career for club and country winning multiple honours including the Copa America with his nation. He also recently scored his 400th career league goal this season.
Suarez went under the radar last season with an underwhelming 21 goals in LaLiga and also struggled to get going in the Champions League which was attributed as one of the reasons for Barcelona's inability to get their hands on the trophy.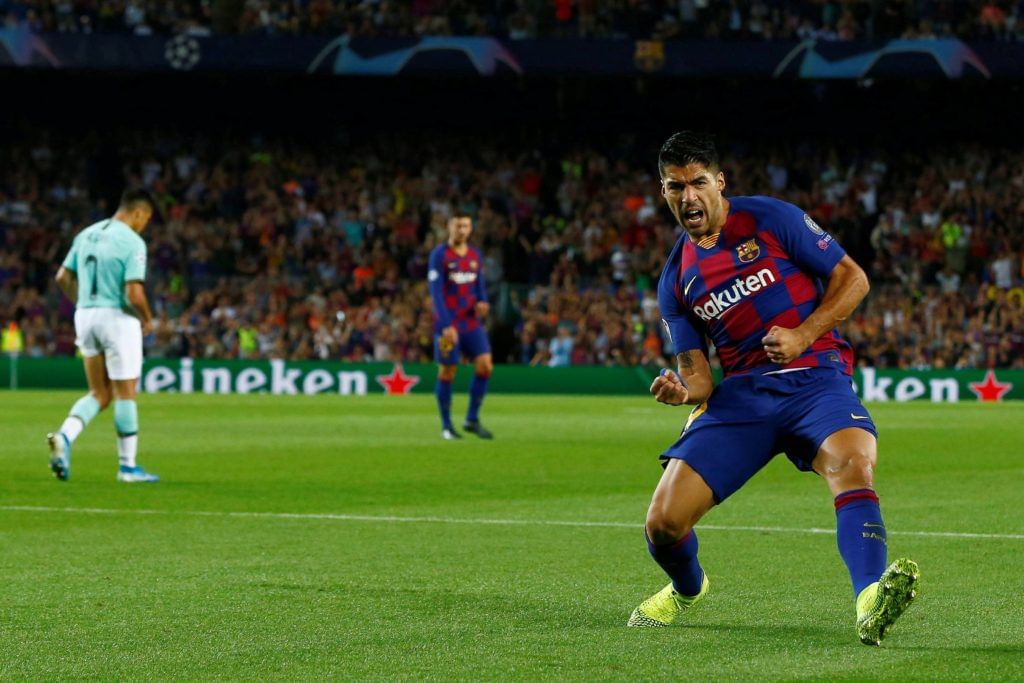 Number 9 Football Players – The Uruguayan is on fire since his brace against Inter
This year though Suarez has started strongly proving to people why he's considered by many to be the world's best striker. In the absence of Lionel Messi, Suarez has led Barcelona's charge with four goals in six LaLiga games with a total of six in eight games across all competitions.
Suarez is proficient in assisting other players as he is in scoring. His consistent scoring rate for Barcelona have often been soothing for Lionel Messi who nowadays takes a back-seat from looking to always score (despite still scoring 35-40 goals a season) to laying off for his Uruguayan amigo aptly nicknamed "El Pistolero."
Edinson Cavani – 88
It is a tough life in the PSG dressing room. Particularly when it contains the two biggest purchases in footballing history, you know the limelight is to be on Neymar and Mbappe. But Edinson Cavani is not one to sleep on, the former Napoli striker has been fantastic for Le Parisiens and is the top-scorer in the club's history.
A fox-in-the box, Cavani combines great positioning ability with deadly precision to put himself in the right place at the right time to slot the goal home.
In his PSG career since moving from Napoli in 2013, the Uruguayan has scored 195 goals in 282 games which is a great number for a striker. He is also creative enough to lay on passes for his team-mates and despite being in the shadow of his illustrious and sometimes shady attacking company, Cavani has managed to hold onto his own as the first-choice striker for one of the top clubs in the world.
Karim Benzema – 87
Similar to PSG, life in Real Madrid is tough and particularly when you are playing for probably the most demanding fanbases on the planet, things can go south very quickly from happy. Karim Benzema is the perfect example of this. The forward was signed from Lyon in 2009 and became a fan favourite at the start taking the #9 shirt from Ronaldo who took the iconic #7 shirt before making it his own.
Life was smooth for Benzema who didn't mind being in Ronaldo's eclipsing shadow, with the signing of Gareth Bale the Bernabeu faithful saw the duo being considered as the front-running striking partnership. During this phase, Benzema's inconsistencies with scoring also didn't help with many considering him surplus to requirements.
But since the shock departure of Ronaldo to Juventus, Benzema has seen a new lease of life with the onus and trust on him now to score and boy hasn't he clapped back!
Number 9 Football Players – The way Karim has stepped up in this trouble tells a lot about him
In the two topsy-turvy seasons that Madrid have endured since that departure, Benzema has by far been their best player with his goalscoring. Combine this with his ingenuity in creativity in attack and feeding other players in and Benzema gives you more than just scoring.
His versatility in attack makes him durable and efficient but at times takes him off the radar of being a quintessential #9 slipping slowly out and giving others the chance to don the limelight.
Alexandre Lacazette – 86
One of Arsenal's costliest signings, Lacazette came to North London with the reputation of being a quality striker and the #9 has done no harm to it.
Lacazette plays in a style similar to the aforementioned Benzema. With great dribbling and good eye for a pass, he is as good as they come but as is the case for a proper #9 he is top finishing grade. He has been consistent for Arsenal for as he has scored  38 goals in 91 games, which is good considering he has Pierre-Emerick Aubameyang taking the brunt of the scoring load.
Provided he ups with his scoring rate a bit and continues his attacking prowess, Arsenal fans will no doubt see Lacazette and Aubameyang as the perfect contemporary instalment for Thierry Henry and Dennis Bergkamp.
Roberto Firmino – 86
Roberto Firmino is the perfect explanation of the modern #9. Quick, slick and devastating. One of the most artistic footballers and probably one of the most underrated, Firmino sees passes not many can with Brazilian flair oozing class.
The Brazilian was given the #11 shirt when he moved from Hoffenheim but gave up the #11 to Mo Salah to take up the 9, worn by former Liverpool greats such as Ian Rush and Robbie Fowler.
Like Cavani, Firmino has his attacking company but unlike the Uruguayan, he looks to feed his wingers Mo Salah and Sadio Mane to go on. He started making the trio probably the best attacking front three in football.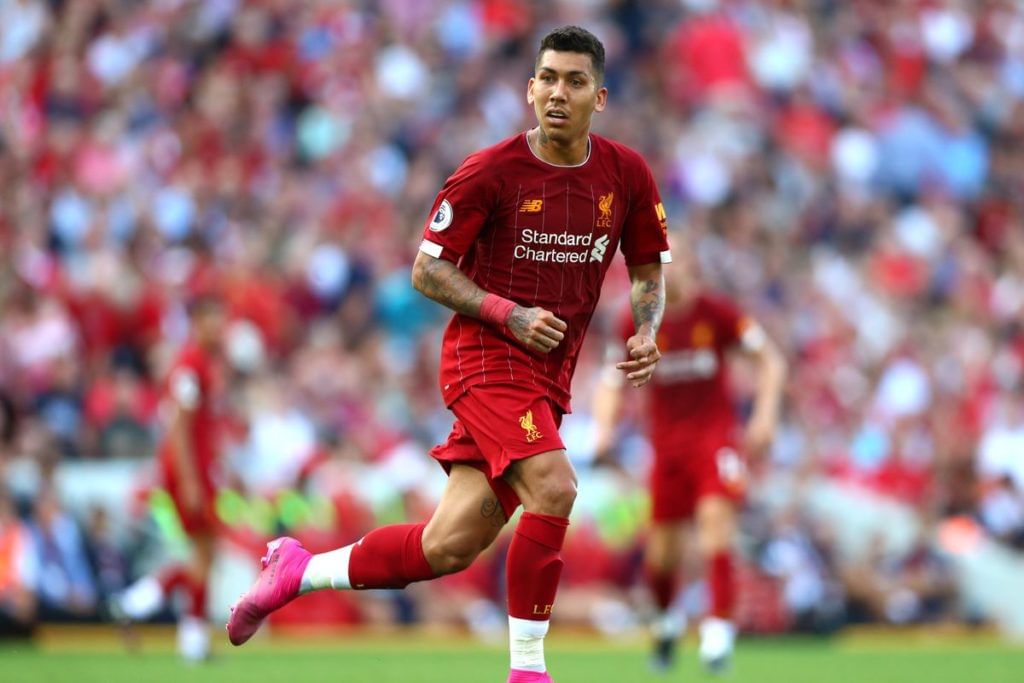 Number 9 Football Players – Firmino is probably the best striker any winger would want to play with
His eye for a pass is exemplary and Liverpool are only to benefit from his genius and scoring ability. But don't let these qualities lead you to forget that he is also a consummate finisher and a wonderful dribbler of the football.
Romelu Lukaku – 85
Romelu Lukaku is a giant of a man standing at an imposing height of 1.91m and weighing 94kg. Such hefty physical features make him a perfect fit for a stick-to-the-box #9, as vintage as they come. Unlike other strikers bar Lewandowski, Lukaku is a player who is mostly a devil in the D-box.
A proven goalscorer, his imposing stature means he gives defenders a hard time to take the ball of him with being able to shake off defenders while on goal with his imposing physical stature. His only weakness, his dribbling and ball control which the player is slowly improving on.
It is perhaps due to this reason combined with his rather ignominious time at Manchester United that led to a transfer to Inter Milan.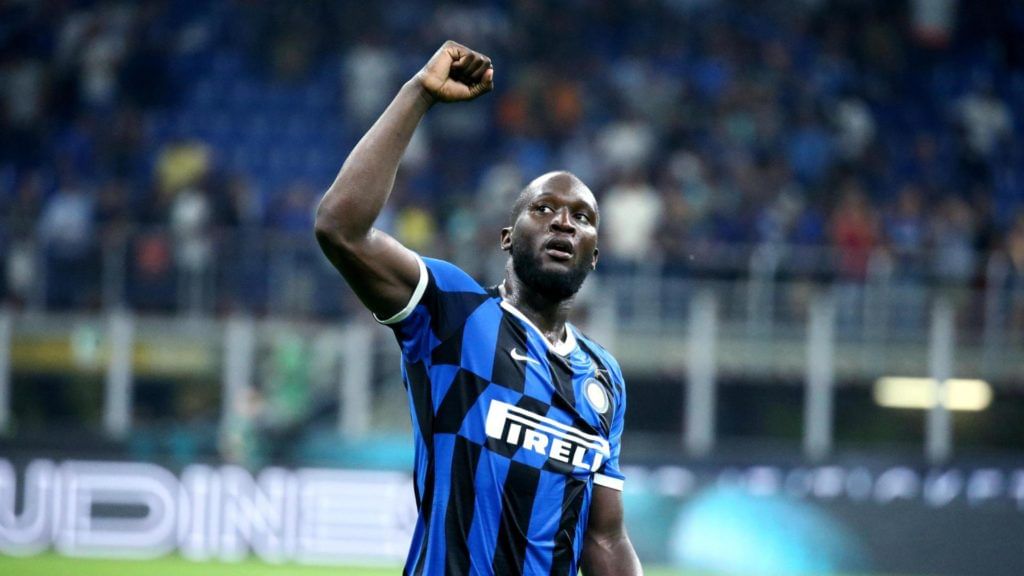 Number 9 Football Players – The Belgian is enjoying his time at Inter
At Inter he has been given a new lease of life with regular game time and the belief of Inter manager Antonio Conte who wanted to sign him during his time at Chelsea. Lukaku has repaid the faith with three goals in seven Serie A games. If he continues the good form in a league suited to his style of play and power, Lukaku could go onto be reconsidered among the best strikers in the world.
Zlatan Ibrahimovic – 85
You know you are special when you get a FIFA rating of 85 despite playing in the MLS. Well, at least Zlatan will say so.
Despite the nonstop big talk, Zlatan has proven time and again that where his mouth speaks so do his feet. Since moving to the MLS, Zlatan has taken the league by storm right from his opener for LA Galaxy, a screamer from almost 40 yards.
Since then Zlatan hasn't looked back and has gone on to do what he does best – , talk, unnerve, score goals, and talk more.
But the Swede is to be considered among the greatest finishers of all time and has been like a fine wine, he has been more prolific since turning 30 than he was before 30 proving that age doesn't have anything to do with the abundance of class that the Swede wields.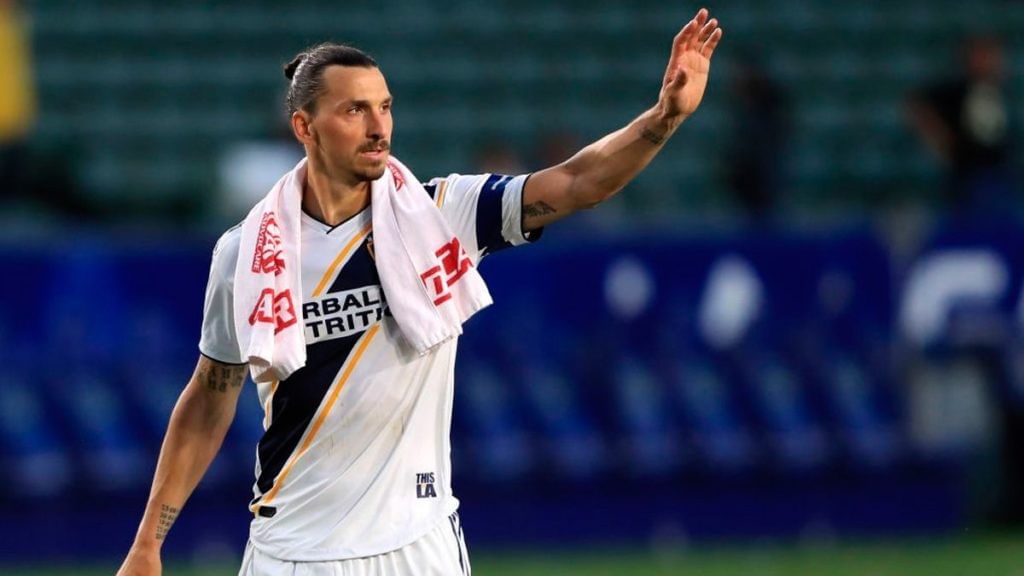 Number 9 Football Players – The player who never stops scoring
His imposing nature and warrior-like play on the pitch has what has won him praise, laughs, trolls, trophies and the chance to play for some of the best clubs in world football and dare say he hasn't "conquered" them all.
Edin Dzeko – 84
Roma's Edin Dzeko rounds off our list pretty much the way he rounds off the scoring for his side, with consummate ease. The Bosnian striker is similarly finding his Midas scoring touch in the Eternal city similar to Zlatan. The veteran forward moved to Rome from Manchester City having won two Premier League titles.
At Rome, he won the Capocannoniere (Serie A top scorer) award scoring 29 goals and has since then score many more important ones. Despite not having the same sky-high stats and status as the other more illustrious names on this list, the striker is a flexible and efficient option in attack and can score goals from scraps.
His experience in the attack has also made him an indispensable part of both Roma's and Bosnia's forward surges.