The betting apps in India are Parimatch, Bet365, Rajbet, 4rabet, Melbet and Dafabet. And among the lot, Parimatch has become a very popular tool for wagering on sports and other events in recent years.
Best Betting Apps in India and their Key Features
Best Betting Apps in India
Betting offers in Details
Top Features of the App
Download App Link

Parimatch
Welcome bonus of 150% up to INR 20,000
Bonus Code – BETMAX
Live streaming
Easy navigation
Download Parimatch App
Bet365
Top offers for new customers
Live streaming coverage
Betting markets
Download Bet365 App
Rajbet
+100% up to INR 20,000 for sports
Bonus code – BETMAX
120+ betting markets
100+ payment options
Download Rajbet App
4rabet
INR 20,000 on First Deposit
Bonus code – 4MAX
Good live betting options
Generous welcome bonus
Download 4rabet App
Melbet
Welcome bonus of 100% up to INR 20,000
Bonus code – MBMAX
Multiple language support
Several live and pre-match bets on cricket
Download Melbet App
Dafabet
Welcome bonus of 160% up to INR 30,000
Live streaming
Moderate bonus requirements
Download Dafabet App
Our Pick for the Best Betting Apps 2023
Here is a list of the best online betting apps in India:
Parimatch (9.2/10)
Bet365 (9.0/10)
Rajbet (9.0/10)
4raBet (8.8/10)
Melbet (8.6/10)
Dafabet (8.5/10)
Parimatch, Bet365 and Rajbet score highly due to a combination of great bonuses in the case of the former and an excellent live streaming feature in the case of the latter. Meanwhile, 4rabet, Melbet and Dafabet are unable to score highly on this front as all three feel a step down in terms of design and overall usability.
1. Parimatch – The best app in India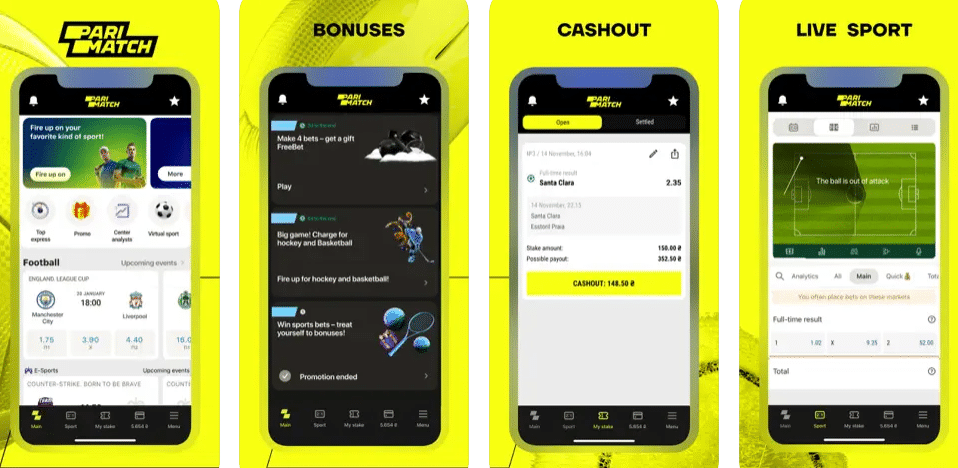 Parimatch is widely considered one of the best betting apps around. It manages to bring the right balance between features like live streaming, multiple language support, and more. The support for several local languages is a big advantage at Parimatch, which still manages to present betting options on more than 20 sports. Another big advantage is the welcome offer you can receive via our Parimatch bonus code.
2. Bet365 – Best live betting app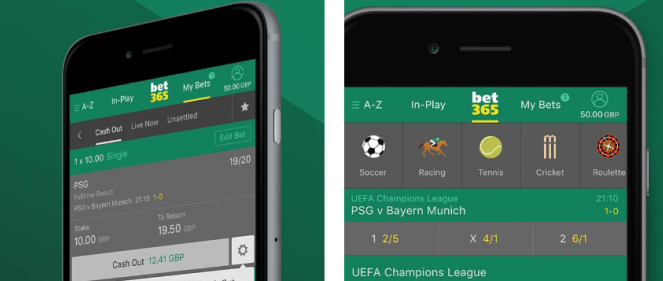 Bet365 is one of the global leaders in the betting space. It is an excellent option for those who are interested in live betting apps. Apart from housing a large volume of live betting options, Bet365 also provides one of the top tools around – live streaming. Unlike competitors, the live streaming feature from Bet365 is better in terms of coverage, quality, and ease of access.
3. Rajbet – Outstanding customer support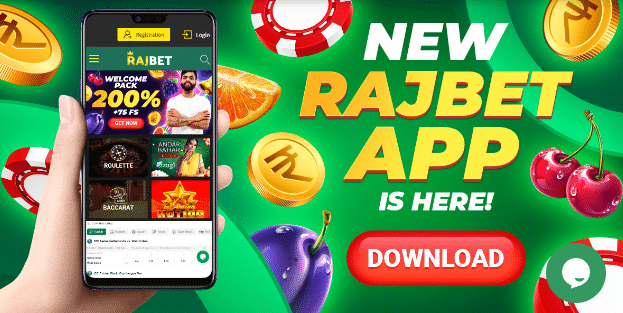 Rajbet is one of the leaders when it comes to market coverage with more than 40 different sports, and under its platform. At the same time, it is able to support a wide variety of payment options tailored specifically to the Indian customer in mind. Other nifty elements of Rajbet will include outstanding customer support and an efficient product that does not take a lot of power.
4. 4rabet – Lots of games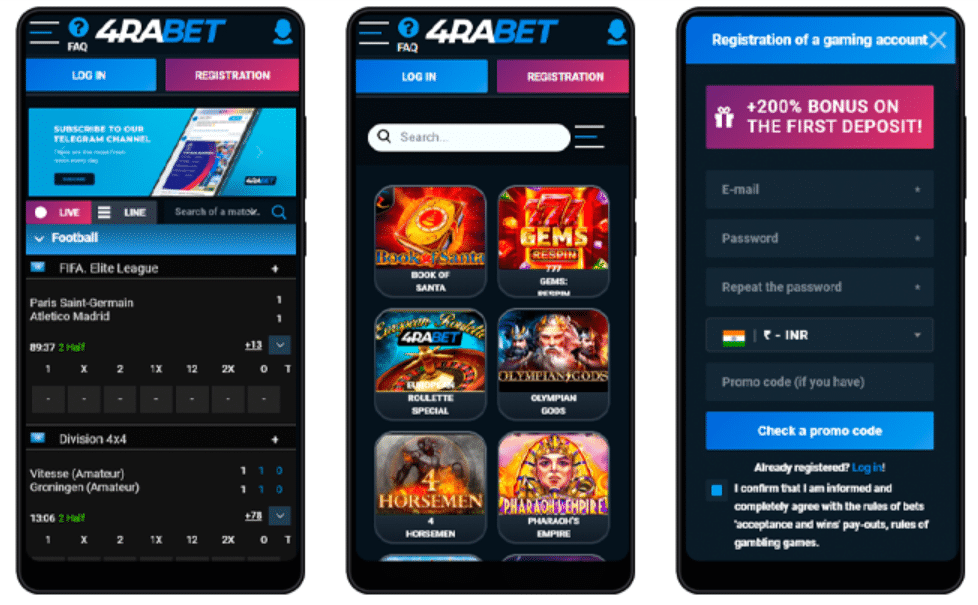 4rabet app has been around but recently it has established itself as a very reliable and dependable betting app for Indian players. Apart from having a generous welcome offer, the 4rabet app interface for both its casino and sports games is interactive and smooth transitioning.
5. Melbet – Top cricket betting apps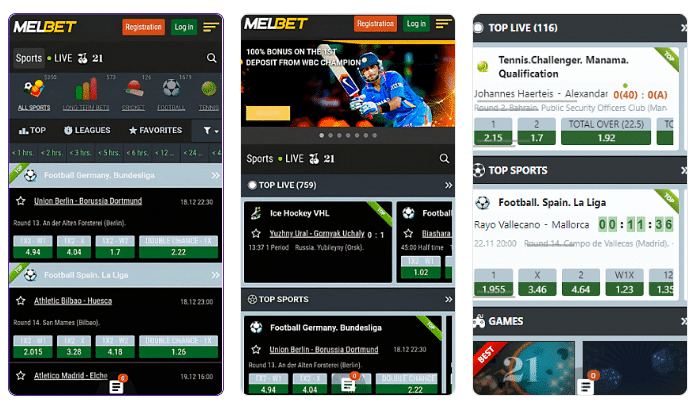 Melbet comes into the game as one of the top-ranking apps for betting on sports. It has been able to combine a wealth of betting markets seamlessly into the app that has been designed beautifully on so many fronts. The design of the desktop site may not be much to shout about, but the brand has made a sizeable difference in the world of cricket betting apps. And with our Melbet promo code, our readers have access to a very generous welcome offer.
6. Dafabet – Hand on Free streams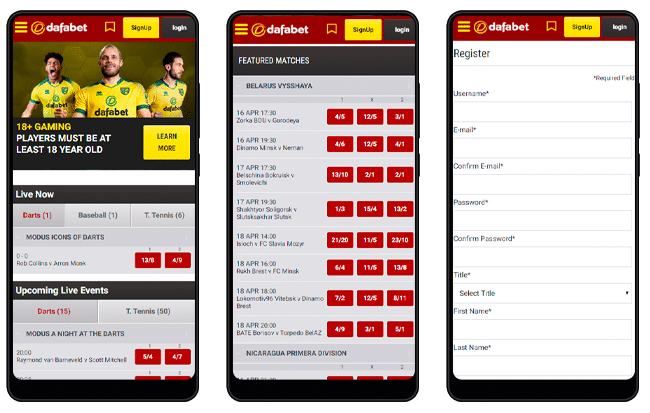 Dafabet is a big operator in the world of online betting in Asia. It is able to consistently deliver class-leading odds in many sports. It manages to specialise in sports like cricket which enjoy huge popularity in the Asian continent. At the same time, users will be able to lay their hands-on free streams and attractive bonuses. This has helped transform the product into one of the best betting apps in India.
How to download and install a bookmaker's app
The process of getting an app on any smartphone has become a simple task in almost every aspect. However, the same does not hold true for getting betting apps, as rules and regulations do prevent the same from different ends.
How to install on Android
The installation process for online betting apps on the Android platform is among the hardest. This is because Google's terms and conditions prevent bookmakers from uploading their content onto the Play Store. However, there are options to circumvent the problem and it is to be expected from an open-source operating system. The user has to download the APK file from the official site. It is crucial to stick by this step since downloading from elsewhere can result in bringing unwanted elements into the phone.
After downloading the APK file, the phone settings have to be modified so that the device can install applications from outside the Play Store. Once this step has been completed, the downloaded file can be used to finish up the installation. After the installation process, however, there is no difference between apps which are on the Android and iOS versions.
How to install on iOS
The installation process on iOS is much more straightforward, as users will only be getting into the App Store without exceptions. The official site will usually come with a link that takes them directly to the App Store, where the normal process of downloads will ensure getting the app on the phone or tablet.

How to Identify a Betting App
Even though there are many factors in choosing a betting app, the key choices would be:
Design
It is important that the top betting apps are able to provide a very functional and pleasing user interface. At the same time, usability also has to be considered. If there is any difficulty in navigating through the various sections, it can be cumbersome, especially when placing live bets. The markets have certainly evolved in such a way that the app is very much similar to the desktop site in terms of the overall theme. Yet, managing the small space effectively is the differentiating element between an average app and the best apps in India.
Payment methods
Gone are the days when apps did not have a lot of additional functionality apart from providing a space to bet on sports events. Now, the best betting apps are able to provide features that allow users to add or withdraw funds. Some have even been able to take the next giant leap by being able to support options which are primarily oriented toward mobile users. This makes it a lot easier to bring in funds or take out the same when required.
Betting markets
The betting markets remain the most crucial feature when picking betting apps. After all, the primary reason for signing up and downloading these products would be to place bets. The diversity of betting markets is more or less similar to the desktop site – especially the pre-match segment. However, there is potential for some variations in the live market. One should take a close look at all of these options before picking on the same. Similarly, betting apps are not just about backing a team to win the game or draw. Instead, it goes much further by being able to support intricate markets.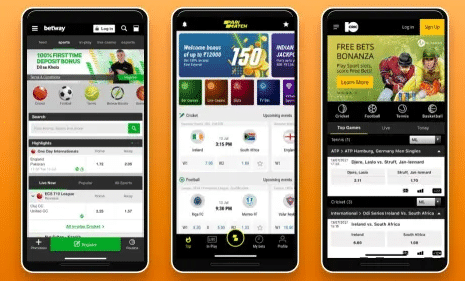 Casino Markets
The need for betting apps has grown beyond placing a wager on sports matches. Now, these products are able to offer every type of gaming experience. At the same time, some products are able to deliver outstanding results in certain sports like cricket to end up becoming the choice of options when it comes to cricket betting apps. At the same time, there is no sacrifice in the volume of casino games although it cannot completely replace the desktop site. Similarly, there is also no let-up in terms of features when making the transition.
Promotional offers
The primary focus might stay on bonuses provided by online betting apps but some are able to deliver outstanding results when it comes to bonuses and rewards. It is rare that a platform may provide mobile-exclusive offers these days. However, such offers have helped transform the fortunes of online cricket betting apps like Parimatch. The availability of sport-exclusive offers is a big driver in popularity and traffic. This starts a virtuous cycle where more rewards can be expected in the near future. This, alone, is not a big factor to choose an app over others.
FAQs about the Betting Apps
What is the minimum deposit required by a betting app?
The minimum deposit amount requirement placed upon by a betting app differs a lot from one operator to the other. It usually starts from Rs. 100.
Can users stay safe while making use of the app?
The betting apps from operators in India are under the license and regulation of authorities. The use of a string of safety measures to protect users.
Do betting apps allow all types of bets?
Yes, it is possible to place all forms of bets through these apps, as there is no variation between them and the desktop site on this front.
Is there any cost involved in accessing the mobile platforms?
No, online betting apps are provided completely free of cost by operators.
Summary of Finding the Best Betting Apps
There may be several operators in the world of mobile sports betting, but only a handful of choices are able to rise above the rest. These are able to excel in various aspects like promotional offers, payment options, and betting markets. One should be able to consider many of these elements before zeroing in on an option. This should ensure the most enjoyable experience.