The top-five leagues in the world boasts of having the elite of the continent.
Some peerless footballing talents hail from Europe currently. Couple this with a few veteran footballers who have carved an unmatchable impression in the sport and continue to do so and the continent comes up as a hotbed of prodigious players of the game. We have set out on a task to form an appropriate lineup that comprises of the best European footballers.
The team that we have drawn out consists of a sturdy yet adventurous backline, a versatile midfield and a few extremely potent goalscorers. Without further ado, let us get into the details of the same.
GK – Jan Oblak
The Slovenian shot-stopper has consistently been one of the most all-round European goalkeepers in the past few years. His quick reflexes, incredible command between the posts and effective ball-distribution ability sets him apart from his peers. Jan Oblak has been instrumental in sustaining Atletico Madrid's rigid defensive setup over the years. In the 2019-20 La Liga season, Los Rojiblancos conceded only 27 goals from 38 matches with Oblak as their custodian. This is a pattern that has persisted continuously under Diego Simeone's tutelage.
RB – Trent Alexander-Arnold
The 21-year-old Englishman offers a creative outlet from the right-back slot that only a few other fullbacks can manage to do. Trent Alexander-Arnold induces dynamism from the flank and this is reflected in the 13 assists that he bagged in 38 Premier League appearances last season. In addition to that, he also notched four goals and created 18 big goal-scoring chances. Though he might be found wanting defensively on occasions, it is an aspect in which the lad will definitely improve on in the coming years to become a more complete fullback.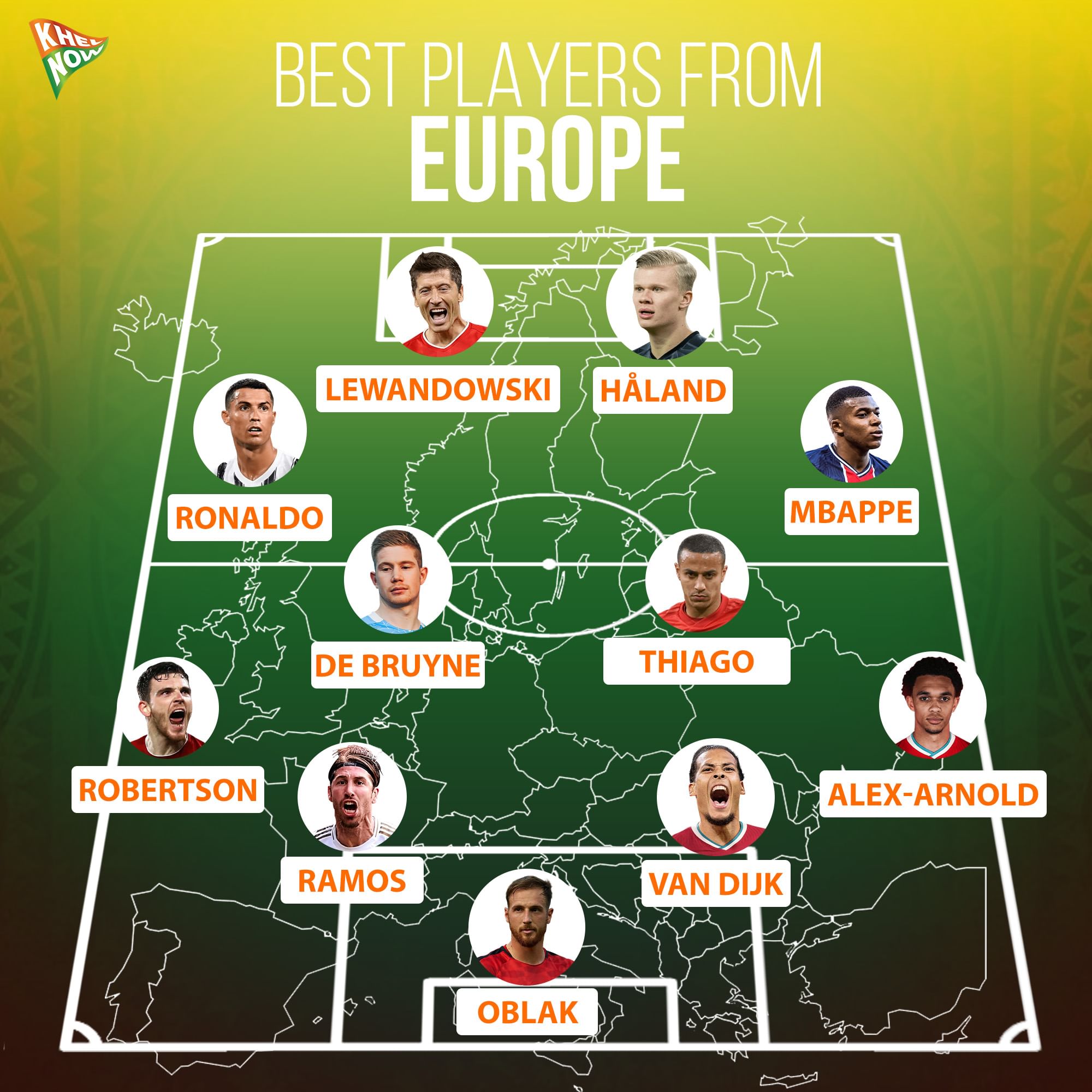 CB – Virgil van Dijk
Virgil van Dijk played a vital role in Liverpool's resurgence under the stewardship of Jurgen Klopp. The tall centre-half has a dominating presence inside the box. He is technically astute, commits clean challenges and is extremely adept at holding the backline together. The Dutchman boasts of many critical leadership traits that immensely benefits any football team. The reliability, composed demeanor and innate confidence to deal with tricky 1v1 situations that van Dijk brings in a setup is possibly unparalleled in present times.
CB – Sergio Ramos
At 34 years of age, Sergio Ramos continues to be perhaps that most crucial member of Real Madrid's lineup. The Los Blancos claimed the La Liga title in 2019-20 and the Spaniard donned an influential leadership role for Zinedine Zidane's team. The overwhelming success that Ramos has attained is indisputable. Furthermore, he scored 11 goals in 35 matches in the league and recorded a passing accuracy of 91%, highlighting Ramos' abilities on both ends of the field.
LB – Andrew Robertson
The Scotsman is a tenacious operator from the left-back slot for the Reds. Andrew Robertson registered a tackle success rate of 57% in the Premier League last season and assisted an incredible 12 goals. The 26-year-old is someone who offers a balance on both the defensive and offensive aspects of the game. He won 51.36% of his duels in the campaign gone by and his work-ethic along with sheer defensive qualities makes him arguably the best player in his position in Europe.
CM – Thiago
Thiago's stature as a stellar central midfielder has enlarged in recent years. The Spaniard demonstrates an incredible understanding of the game and that propels him to consistently intercept the ball and claim back the possession for his team. He is keen to commit into challenges in according to the demand of the situation which is visible through the 3.1 and 1.9 tackles that he has registered in the Champions League and Bundesliga in 2019-20 season respectively.
Furthermore, he boasts of a fine passing acumen and can regularly make use of his nimble footwork to get past the adversaries on the field. Thiago registered a passing success rate of 90.5% in the Bundesliga in the previous campaign and he also attempted three dribbles per game, to round off a successful season for the Bavarians.
CM – Kevin De Bruyne
Kevin De Bruyne has thrived substantially under the guidance of Pep Guardiola in Manchester City. His widespread vision, passing range, an equal ability to score and set up goals has made him one of the best European footballers. Moreover, his abilities are backed equally with the statistics that he manages to rack up. The former Chelsea player scored 13 goals and assisted 20 others in 35 Premier League appearances in 2019-20. He created 33 big goal-scoring chances and even hit the woodwork on six occasions to round up an astounding season on a personal level.
RW – Kylian Mbappe
Kylian Mbappe's meteoric rise in European football compels one to predict the scales that this lad can achieve if he manages to maintain this consistency. The Frenchman has pace to burn, possesses an eye for a goal, repeatedly takes on defenders at will and replicates his impressive performances from the centre as well as from the flanks.
He took the top-tier of the French league by storm in 2016-17 with AS Monaco and has scored 80 goals and assisted 29 times in 117 Ligue 1 matches. Maybe, the time has come for Mbappe to take the step up and shift to a more competitive league to further unleash the boundless potential that he holds.
LW – Cristiano Ronaldo
With 31 goals and five assists in 33 Serie A matches in 2019-20, the flawlessness that Cristiano Ronaldo has displayed in adapting to the demands of the Italian league in almost his mid-30s is remarkable. The Portuguese star continues to remain brilliantly efficient in front of the goal. His influence on the other areas of the field might have reduced due to age but Ronaldo continues to be as dependable as ever when it comes to putting the ball into the back of the net. He has the tendency to shift inwards from the left-wing slot often and one will assume him to carry out a similar role in this lineup.
ST – Robert Lewandowski
Robert Lewandowski's productivity whilst leading the forward line has reached a rather supreme level this season. He bagged 34 goals in 31 Bundesliga matches and was a very key figure in Bayern Munich's revival to emerge victorious in the league after an indifferent start to the campaign.
Furthermore, the Polish forward has netted 14 goals in eight UEFA Champions League encounters too. His clinical finishing abilities have improved massively in recent times. Lewandowski is capable of bagging goals through both his feet, is dominant aerially and is an ideal centre-forward that any ambitious team will strive to possess.
ST – Erling Braut Halland
The 20-year-old has caught everyone's attentions through the instant mark that he has been able to make for Borussia Dortmund after a mid-season transfer in January. Erling Braut Haaland has scored 13 goals and assisted twice in 13 Bundesliga matches this season. He represented Red Bull Salzburg in the first half of the 2019-20 season and scored 16 goals in 13 Austrian Bundesliga encounters.
The maturity that Halland demonstrates whilst finishing off attacking moves is a rare trait to own for a player of his age. However, the Norwegian international has repeatedly proven his mettle in two different leagues and has the potential to continue to do so for a long period of time.
For more updates, follow Khel Now on Twitter and join our community on Telegram.