At the age of 41, the veteran striker remains a key figure in the squad for Die Werderaner.
When we think about footballers grown like fine wine, the first name that comes to mind is Stanley Matthews and in this current generation it can be Gianluigi Buffon or Zlatan Ibrahimovic. While he might not be as highly rated as the duo, Claudio Pizarro, too, has left his mark on the beautiful game. 
The Peruvian talisman has proved that age holds no bar in football. Quite interestingly, in his 21st year in the Bundesliga, he is still finding the back of the net for Werder Bremen. 
The veteran forward joined Werder Bremen back in 2000 and after his first season was heavily monitored by top European clubs. Real Madrid, FC Barcelona and Bayern were amongst his suitors. Finally, the German club won the race for the Peruvian.
All the buzz was created mainly after his 29 Bundesliga goals for Werder in his first season in Europe after flourishing for Deportivo Pesquero and Allianza Lima, clubs in his native country – Peru. 
While speaking about the Peruvian footballing legends, the players who first come into the picture are Paolo Guerrero and Jefferson Farfan. That has been the case with Claudio Pizarro in his homeland. He was one of the most fabled stars from South America making a name in Germany but his reckless attitude always made him second favourite to Guerrero who has always been there at the point of need. 
Bayern was a different chapter in Pizarro's life as he spent six seasons in Munich, where he netted a further 71 goals and won Bundesliga-DFB Cup doubles in 2003, 2005 and 2006. However it was shocking when the Bavarians did not renew his contract and he joined Jose Mourinho's Chelsea.
It can be considered as a rare blot on his illustrious career. Claudio Pizarro struggled for opportunities and managed to score just twice in the Premier League. 
He returned to Werder Bremen and soon started becoming a messiah for them during the era of 2008-2012. He was a loyal servant for the club and helped them survive relegation at times and also played his part in winning crucial games.
The Peruvian poacher soon became Bundesliga's highest foreign goalscorer crossing Bayern's Giovanni Elber. Claudio Pizarro held the record for staggering nine years and it was eventually broken by another metronome, Robert Lewandowski, who later became his teammate at Bayern.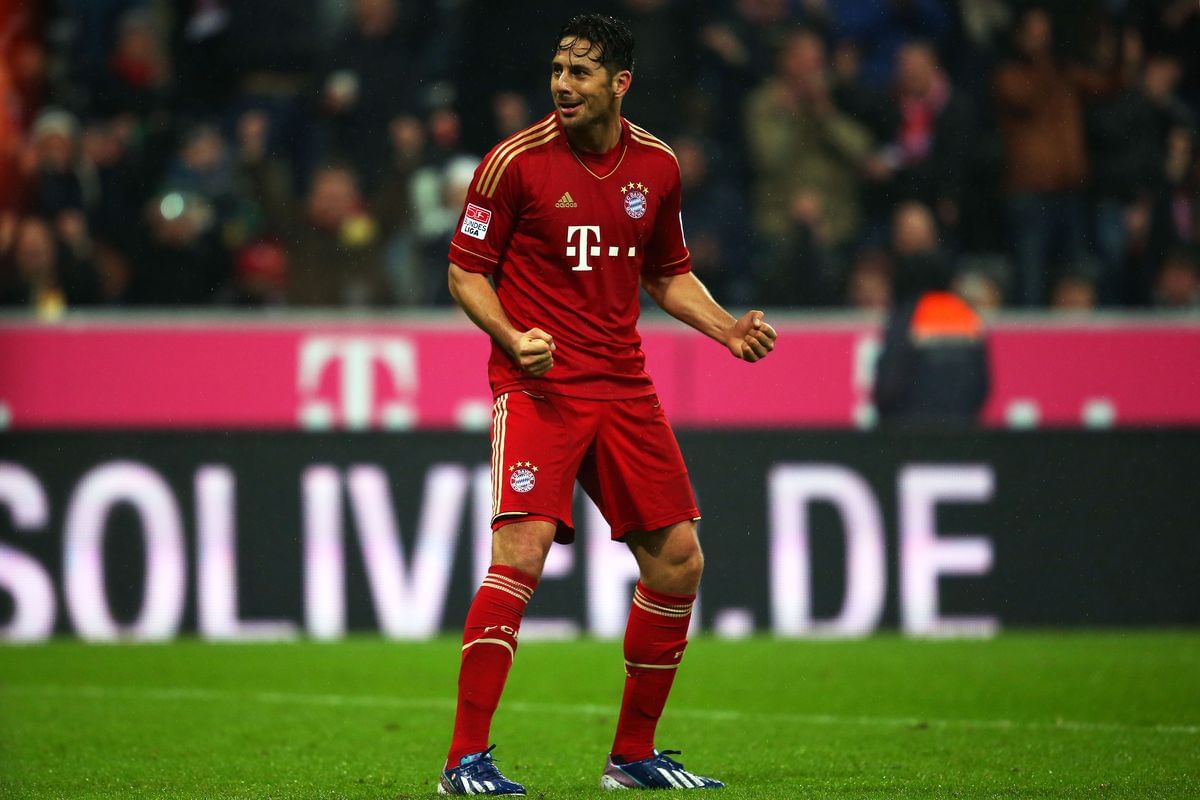 Claudio Pizarro during his time with German champions Bayern Munich
During his third stint at the club, he scored 16 goals and took the Pole under his wing, nurturing him and sharing his experiences as a striker. Pizarro's performances inspired Bayern to multiple league titles and also the much-coveted UEFA Champions League. But above all, it is needless to say that the veteran had a huge impact on his successor's career. 
He had some rare off seasons with Werder Bremen and the relegated Cologne as injuries took a huge toll on him. His muscular struggles and abductor and abdominal injuries meant he had to hang his boots from the national team. However he had a very eventful phase even with the national team. Issues with his drinking and fallout with former Peru head coach Navarro summed up his trouble-making attitude. 
Several Peru coaches have been testing out Claudio Pizarro and Guerrero together upfront. But both having similar traits made it very difficult for them. After all, tall and physical players like them always need more space to roam around. A resurgence from Pizarro's side saw him return to national team fold ahead of the Copa America Centanario. However, being way past his prime, he saw himself sacrifice his position for the younger generation. 
Claudio Pizarro is a legend and Peru's most decorated player, but sadly he may never earn the similar amount of respect from his native fans, like Guerrero or even Farfan. Back in Bundesliga, he had quality players around him with him dropping deep and mainly operating as a poacher. Meanwhile with Peru, things were a lot different. The Los Incas mainly sat back allowing oppositions to come at them and then reciprocating on the counters.
Pizarro has therefore seen himself isolate upfront with multiple defenders marking him and not allowing him to play his natural game. Thus, playing for domestic clubs and for the national team was different on many aspects for him. 
Peru were definitely on the same page as that of teams like Argentina,Brazil, Uruguay etc. in the CONMEBOL at that point of time. And they needed individual brilliance to bail them out of a defeat. However, for Pizarro, being in a strong confederation with ever changing coaches did not help his game improve. 

Claudio Pizarro during his time with the Peru National Team
One does not attract top European clubs just like that and  Anden-Bomber deserves every bit of plaudits after serving two of Bundesliga's biggest clubs. 
The 2019-20 is yet another season for Claudio Pizarro, but this can be the last one for the veteran and stories of his greatness will always be told amongst the Bundesliga folklore. 
The player went on to speak about his aspirations for the season. "I need to score a few goals and I hope I can play again soon. I am working on my match fitness because it is lacking at the moment. The main thing is that I feel good again and I can train with the team. Hopefully we can win a few games because we need points and we want to achieve our aims." 
Having spent many years in Germany and embracing the Bundesliga, living in the country feels like home to Pizarro.
"I feel good here. Had started here and want to finish my career here," he said to Bundesliga.
"I feel comfortable in every stadium here. And I am grateful to everyone because it makes me feel the welcome in every stadium."
"I feel most at home in the stadiums where I have played for a longer time. Especially at the Weserstadion and the Allianz Arena. I feel good and hope that it stays that way," he added. 
Claudio Pizarro has been there for a long time now. And for every Bundesliga or even football afiocionado, it will be the end of a glorious footballing chapter. Further, going ahead on time, he was asked about his future aspirations. "Firstly, I want to finish this season well. Then I will look at what options I have and will make a decision. I will definitely do something in football, but I am not sure yet exactly what that will be." 
With every passing match, the end is nearing for the ageless veteran. People in Germany are basking in the glory of the Peruvian's plaudits over the years. But the rare blemish of not reaching similar heights with Peru may just end as an unfinished chapter in his footballing career.