Bundesliga
Top 10 youngsters to look forward to in Bundesliga 2021/22 season
By

Sudesh Baniya
(Courtesy : One Versus One/Bayern Strikes/Footyrenders)
These teenage talents are expected to excel in the German top-flight this season.
Bundesliga, in recent years, has extablished itself as a depository of young and talented footballers. The emergence of Kai Havertz, Jadon Sancho, and now Erling Haaland are testaments to the German top flight's nurturing capabilities.
Similar to the previous seasons, plenty of new talents are on display this term. Take a look at the 10 best U-20 talents to look forward to in the Bundesliga this season.
10. Youssoufa Moukoko (Borussia Dortmund)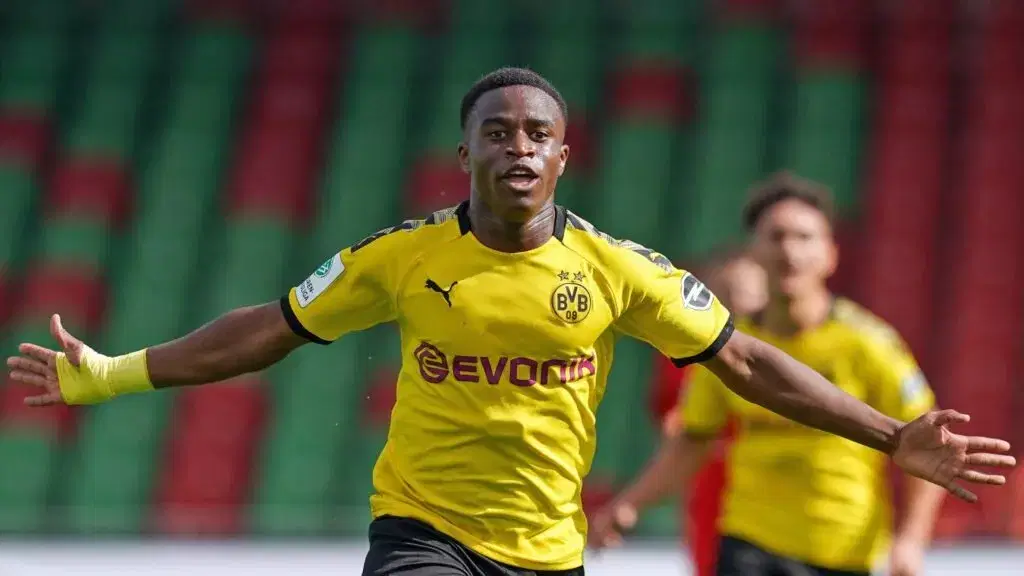 Borussia Dortmund have been hailed for their approach in developing youth since long. If there could be one such example that could personify their approach, it would be 16-year-old Youssoufa Moukoko. Although Borussia Dortmund were not allowed to let him train with the first team simply because he was too young, rule amendments now allow him to play in the German top-tier after turning 16.
Moukoko first caught attention when he scored 83 goals in 50 appearances for Dortmund's U-17 side from 2017 to 2019, aged just 14. An incisive center-forward by nature, the Cameroon-born player became the youngest ever Bundesliga debutant and goalscorer in quick succession in the 2020-21 season and will only look to improve from hereon.
9. Reinier (Borussia Dortmund)
19-year-old Reinier was one of the most functional attackers in Brazil's gold winning campaign at the Tokyo Olympics. The former Flamengo playmaker made his way to Real Madrid in 2020 after just 14 appearances with his Brazilian employers, scoring six times in the process. The starlet is currently on loan at Borussia Dortmund and could turn out to be an integral member of the squad.
His movements in and around the penalty area are considered to be very effective. Although breaking into the Dortmund squad will not be easy for him. The Real Madrid loanee is yet to get a national team call-up, and is expected to be handed a cap soon. With the FIFA World Cup approaching in the next year, this can be a breakthrough season in the Bundesliga for the talented midfielder.
8. Josko Gvardiol (RB Leipzig)
The Croatian starlet had a summer to remember in terms of individual achievements. Not only did the 19-year-old defender managed to break into the Croatia squad for EURO 2020, but played all five matches in the campaign. Hopes will be high for Gvardiol at Leipzig, especially after an impressive spell at Dinamo Zagreb in the previous season.
There are plenty of reasons to watch out for Gvardiol in the German top-flight. In a world where left-footed center-backs come at premium, Gvardiol, despite being very young, possess promising attributes. While there are things to be improved before he develops into a household name, pace, agility, and aerial prowess certainly project a smooth trajectory for him.
Furthermore, his ball-playing abilities and progression capabilities will benefit Leipzig for all the good reasons. Versatile, yet a rare talent, he's definitely one to keep an eye out for in the Bundesliga.
7. Brian Brobbey (RB Leipzig)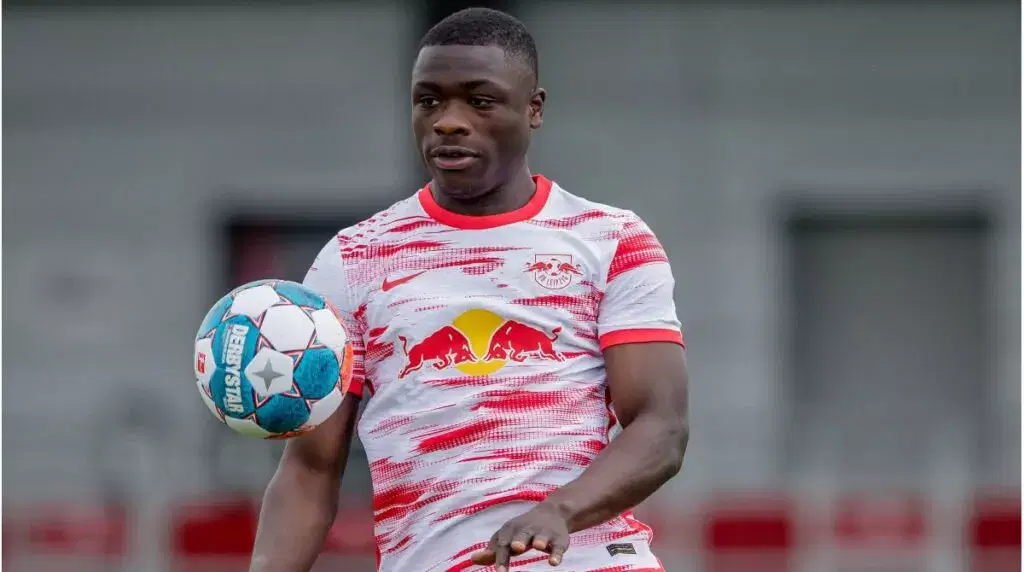 Unlike most of the Ajax youngsters, Brian Brobbey made a move outside of Ajax before setting his foot properly on the Johan Cruyff Arena. The 19-year-old striker is a promising striker who has all it takes to be deadly in front of the goal in the future.
Built solid for a 19-year-old, Brobbey's career so far signal the likeliness of his rise soon. In just 190 minutes for Ajax, Brobbey scored three goals, ending his Amsterdam stint on a high. In addition to the physicality, Brobbey's awareness makes him a smart striker for his age. That has led him to execute the basics like overperforming xG, spotting and making runs in the box to be at the receiving end well.
6. Luca Netz (Borussia Monchengladbach)
Netz will be a talent to look forward from Adi Hutter's Borussia Monchengladbach for the 2021/22 Bundesliga season. The 18-year-old left-back made the switch from Hertha Berlin after making 11 appearances in his side's not-so-impressive 14th place finish. On individual terms, it was a season of revelation for Netz and he'll look to strive again this season.
A capable passer who can operate higher up the pitch, Netz will be crucial to Monchengladbach under Hutter. Possessing the ability to make both overlapping and underlapping runs, considered crucial for a modern-day full-back, Netz will have to compete with Joe Scally for the left-back spot. However, Monchengladbach's journey and Netz's progression put his development in a achievable spot going into the new Bundesliga season.
5. Gio Reyna (Borussia Dortmund)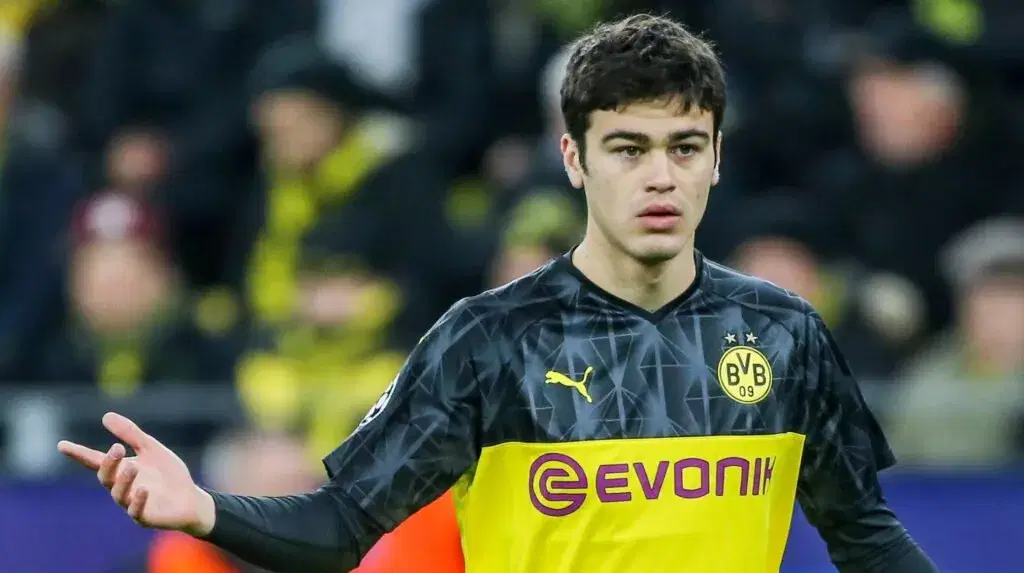 As Borussia Dortmund's number 7 after Jadon Sancho's departure to Manchester United, Gio Reyna has an optimistic season ahead of him. The 18-year-old has already accumulated 49 appearances for Dortmund so far and it's just the start of plenty more to come.
The USMNT star has already scored four goals his country in just eight appearances. The attacking midfielder is mostly involved in playmaking, combining the deep midfield with the final third. In addition, Reyna's creativity and skillful approach is what stands out the most. Considering how Marco Rose's Dortmund are built, the 18-year-old's role will be a major thing to observe this season in the Bundesliga.
"I think this season can be a really exciting one for me. I'm feeling comfortable now," he said in an exclusive interview to Khel Now.
4. Jamal Musiala (Bayern Munich)
Bayern Munich's Jamal Musiala is one of the most looked upon talents in German football currently. After deciding to represent Germany over England in the senior national team set-up, the 18-year-old has already made five appearances. Musiala became the youngest player to represent Germany at a major tournament in their 's 2-2 draw against Hungary in Euro 2020. For Bayern, the young prodigy has made 29 appearances so far and has netted six goals.
Technically outstanding, Musiala is a number 10 who is able to operate inside and outside of the final third. He is known for his skillful play, as well as the ability to score goals from both inside and outside of the box. Having represented Chelsea at the youth level until 2019, he joined the stream of English youngsters in the Bundesliga – only for him to switch nationalities later. Musiala's career is heading in the right direction, and the 2021/22 season can be the stepping stone that he needs.
3. Jude Bellingham (Borussia Dortmund)
There's barely any football fan that does not find Jude Bellingham's development interesting. Ever since debuting for Birmingham City at 16, the English midfielder has made everyone stop and look. His move to Dortmund has been justifying so far – the 18-year-old has already made 31 appearances in a season's time in the Bundesliga.
Bellingham is accompanied by a group of youngsters at Dortmund. The squad, under Marco Rose will be the one to watch out for. Often credited for his resilience and composure at the heart of midfield, the England international will look to build on his tally in the forthcoming term.
2. Florian Wirtz (Bayer Leverkusen)
After Kai Havertz's rise to prominence, Bayer Leverkusen have established themselves as potential talent producers. Joining the bandwagon is 18-year-old attacking midfielder Florian Wirtz, currently looking to make a big impact this season. Considered by many to be the next big thing in German football, Wirtz has already appeared in 37 occasions for Leverkusen.
In addition to the creativity that he possesses, Wirtz is famous for his quickness and awareness on the pitch like Havertz. The FC Koln graduate is the fourth youngest Bundesliga debutant of all-time but his performances suggest that will not be the only record that he's going to claim.
1. Dominik Szoboszlai (RB Leipzig)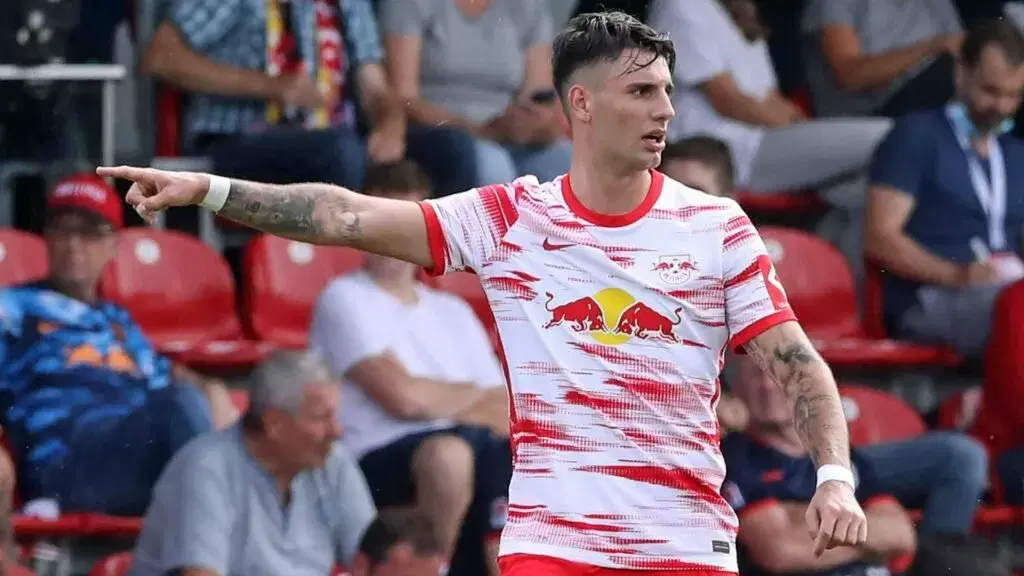 Dominik Szoboszlai's brace in his Bundesliga debut for RB Leipzig was a redemption in itself. After missing out Euro 2020 due to an injury he sustained towards the middle of the 2020/21 season, the 20-year-old announced his return in style. The former RB Salzburg midfielder is expected to take on Marcel Sabitzer's role this season for Leipzig.
Szoboszlai first caught attention at the Austrian Bundesliga when he became the league's best player. Scoring nine and assisting 14 in the 2019/20 season, he garnered huge interests. Creative with excellent vision for his age, the Hungarian international played a crucial role in his country's road to the Euro 2020. Possessing ability to dictate play and grind out victories, the opposition needs to watch out for Szoboszlai this season.
For more updates, follow Khel Now on Twitter, Instagram and Facebook.
posted in :