The first matchday since the German top-tier returned had fans all over the world glued to the television.
Let's be honest – although most of us know that it is still a bit early for competitive football to resume, we had all been impatiently waiting for it. And it was Bundesliga that gave us a much-needed respite during these troubled times, by resuming the 2019-20 season at Matchday 26 this week.
The matchday 26 began with one of the most high profile games in the Bundesliga, the Revierderby and went on to include several high scoring games courtesy to Bayer Leverkusen and Borussia Monchengladbach.
Let us take a look at the five most important points that we understood from the return of the league.
5. VAR controversy continues
"You can take football out of VAR, but you cannot take VAR out of football." Football post-Coronavirus may have changed in many aspects, but VAR and its villainous nature returned to the pitch as soon as Bundesliga resumed on Saturday.
On the same day, VAR made major interventions in two closely-fought games. During Augsburg's 2-1 loss at home to Wolfsburg, Felix Uduokhai thought he had put the hosts 2-1 up before seeing his goal ruled out by the technology. Similarly, Freiburg – who tied 1-1 with RB Leipzig – were denied an upset victory as Robin Koch's stoppage-time goal was disallowed for being marginally offside.
We may have missed football badly, but we definitely did not miss VAR.
4. Footballers are still under scrutiny
Although Bundesliga has resumed without causing much furore amid Coronavirus concerns, footballers are still under scrutiny for the possibility of spreading the disease. A notable incident worth mentioning here would be that of Hertha Berlin defender Dedryck Boyata, who had to apologize to the fans after his up-close encounter with teammate Marko Grujic got criticized in a massive scale on social media.
In case you missed it, photos circulated of Boyata apparently 'kissing' Grujic in what was said to be a celebration during Hertha Berlin's 3-0 win at Hoffenheim on Saturday – and later, the 29-year-old had to defend himself by posting a video of the incident on Instagram to show that it took place when the game was still goalless, and that he was in fact giving instructions to his teammate before a corner kick.
"We must definitely be careful now that we play under this situation," he wrote. "We have to adapt our way to play or celebrate."
The Belgian center-back's goof up and the situations that followed is enough proof for all to know that players are being observed very closely and that they can no longer afford to make such mistakes which may look trivial, but are actually of serious nature.
3. Social distancing maintained
Social distancing is the new normal. But when it comes to a contact sport like football, social distancing norms can become quite problematic and difficult to implement. Nevertheless, Bundesliga tried – and fairly succeeded – in introducing it to the sport.
Players were seen wearing face masks during warm-ups and in the stands, and as matches happened on the pitch, substitutes sat at least two metres apart from each other in the sidelines. Social distancing also found its way to coin tosses and goal celebrations – a noted instance being Erling Braut Haaland's celebration after scoring what was the first goal of the competition since it resumed on Saturday.
However, given the fact that footballers on the pitch got involved in the games as soon as the whistle was blown, there has been some criticism that all of the above had only been done for show. Dedryck Boyata's incident as mentioned previously is an example of how players sometimes inadvertently fail to remain careful.
That being said, one might have to wait for at least a couple of weeks to find out whether Bundesliga's social distancing efforts have been completely successful or not.
2. Top players showed no rustiness despite long break
While millions of fans rooted for football to return over the past couple of months, a lot of others were skeptical about how the changed circumstances – such as playing behind closed doors and lack of sufficient training – might affect the quality of performances on the pitch.
But these doubts were gone with the wind as soon as the ball got rolling in Bundesliga – as the games were played quickly with plenty of quality on show. While Bayern Munich registered a 2-0 win against Union Berlin to maintain their four-point lead at the top of the table, Borussia Dortmund outshot Schalke 04 in style, winning 4-0. Robert Lewandowski scored what was his 40th goal for the fifth straight season, and Haaland recorded his 13th goal and third assist in only his 12th appearance for the Black and Yellow.
Matchday 26 at Bundesliga saw a total of 27 goals across nine matches – an average of exactly three goals per game. Dortmund won by the biggest margin, and only one match remained goalless.
At the same time, home advantage seems to have taken a hit, as proved by the four away wins out of the eight games played over Saturday and Sunday. This also low-key proves the influence of fans in football – the sport does miss them greatly.
1. Eerie game atmosphere
Although Germany relaxed a few lockdown regulations last week to allow cafes, restaurants and bars with outside seating to reopen, football stadiums continued to remain closed to fans. As a result, the games were held behind closed doors, and the atmosphere was quite haunting, to say the least.
"It's strange and unfamiliar, it makes your heart bleed," is what Borussia Dortmund's Sporting Director Michael Zorc said, prior to the start of his team's match against Schalke. And after the game, coach Lucien Favre said, "It was very, very weird. There's no noise, you create a chance, you play a top pass, a goal and… nothing."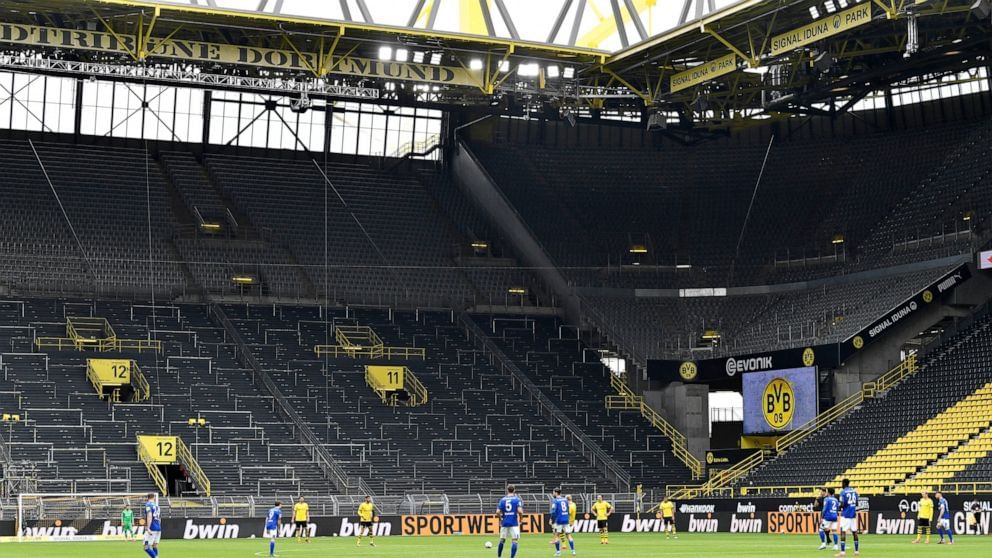 There is, however, a silver lining to this – you can now hear every line of the instructions that managers shout at their players. Every shout and kick can be heard clearly. But this also led to a few displeasing situations, such as when Schalke's Jean-Clair Todibo mouthed an obscene comment at Haaland and everyone across the world watching the match on live television heard it.
The eerie game atmosphere is definitely a vision in football for the foreseeable future, not only in Bundesliga but also in every other part of the world. All of us – the fans, the players and everyone else related to the sport – have no other option but to accept it and move forward.
For more updates, follow Khel Now on Facebook, Twitter, Instagram, Youtube and join our community on Telegram.