The Dutch teenage sensation is expected to evolve in the successor to Robert Lewandowski at Bayern Munich.
Scouting and talent identification has now become a vital cog to success for Europe's heavyweight teams. A good scouting network all over the world may often help clubs in the long run. Bayern Munich and their shrewd policy of scouting in North America has helped them find a top talent in Alphonso Davies, who was a vital part of their quintuple success in the 2019-20 season. The Bavarians' smart scouting has also helped them secure a Dutch forward who they think can be the successor for Robert Lewandowski. Hailing from Rotterdam, Joshua Zirkzee has Nigerian roots and made the right noises during his time at the Feyenoord academy, for which his potential was quickly realized by the Bayern scouts and the club decided to sign the youngster.
The Bavarians are currently mesmerized with the poise and precision of Lewandowski in front of goal, but Zirkzee has shown great potential for Bayern II and the club believe the 19-year-old has the capabilities to succeed the Polish dynamo.
Scouting Report
Name: Joshua Zirkzee
Age: 19
Height: 1.93m
Date of Birth: May 22, 2001
Position: ST
Background
Joshua Zirkzee was born in the Netherlands to Nigerian parents. He started very young and had stints at the Hekelinger, Spartaan and Ado Den Haag academies, before moving to Feyenoord in search of more exposure. He spent one year at the Feyenoord academy and featured for their junior teams, even scoring on debut for the U-19s.
It was at the Feyenoord academy where he caught the eye of Bayern scouts. Zirkzee was headed to the Premier League following a successful trial at Everton, but a late move from Bayern forced the teenager to change his mind. "I got the feeling from Everton that there was a good chance I could really become something there," he said to Bundesliga media. "They even offered me a contract, whilst I was on trial. After I first trained with Bayern, I knew that's who I wanted to join."
Joshua Zirkzee has featured for the Netherlands at multiple youth levels, scoring a handful of goals. His move to the Bavarian capital saw him gaining more form, as he notched up a lot of goals for both Bayern and Netherlands U-17s. He gathered some serious pace and in no time represented the Bayern U-19s, his debut goal and consistency for the U-17s helped him rise up the ranks.
His dedication and goalscoring instincts were not unnoticed, as he soon made it to the Bayern II team. The transition to the 3.Liga from the youth leagues did not happen very smoothly, as he was not dominating kids of his own age anymore and therefore the goals dried up. But, the lanky young forward was still very much involved in his team's attacking gameplay. He fared very well in the UEFA Youth League for Bayern in the 2019-20 season, scoring four goals in three matches.
His continuous rise and ability to stay in the limelight forced Hansi Flick to give him the senior team debut which he desperately needed. It was a 1-1 stalemate for Bayern against Freiburg and there was not much happening in the game. So, Flick decided to bring on Joshua Zirkzee and the Dutchman did not disappoint, as he scored on debut to make it 2-1 to Bayern. Later, Serge Gnabry scored and the Bavarians won 3-1. He became the third youngest goalscorer for Bayern only behind Roque Santa Cruz and Alphonso Davies.
It was a breakthrough moment for the Dutch marksman, as he announced himself to the world with that game-changing goal against Freiburg. He then scored again in a match where Bayern were only leading by a solitary against Wolfsburg, as his late minute strike gave the team much-needed breathing space. He has often been used as a substitute by the German giants and despite his preferred position being that of a striker, he has adapted well to playing in the wide areas or in a deeper role.
Joshua Zirkzee has lived up to expectations from his younger days and has carried his knack of scoring big goals to the senior level. However, playing second fiddle to someone like Robert Lewandowski is not easy, as chances in the senior team will be few and far between.
Positives
Zirkzee can be classified as a traditional No. 9 who mainly relies on positioning in the final third to score goals. However, he often drifts wide to create space centrally or even help in ball retrieval.
When his team are in possession he often takes a central role against the opposition's backline throughout the build-up, allowing the full-backs to attack and combine with a midfielder or the wingers on their respective flanks. The formation of a wide triangle on a flank allows Joshua Zirkzee to remain central, as it stretches the opposition's backline.
Even out of possession, he presses the opposition defenders primarily using the central channel and it often forces defenders to launch a long ball forward in urgency, which is more often than not intercepted. Apart from all this, he also tends to drop deep and has the natural ability to hold the ball up and lay it off to his teammates, making runs from deep. This allows his team to attack quickly and catch opposition defenders off guard.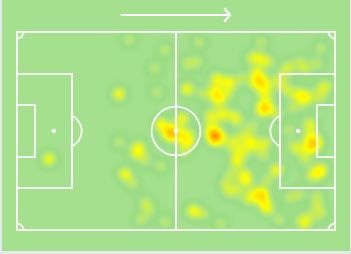 Coming to his finishing skills, the youngster has been a prolific goalscorer throughout his youth career and has carried that form to the senior level, as he scored some crucial goals in the Bundesliga last season. He has a natural sense for use of strength and positioning, which helps him hold off defenders two times his age and still find the back of the net.
The Dutchman has this unique ability to arrive late in the box and find spaces in between defenders to finish off the build-up with a goal. This ability takes time to develop in a striker, as the sense of timing and positioning does not click every time. But, in case of Zirkzee, it is clear that he is gifted and his physical stature helps him get past defenders with relative ease. He always arrives in good attacking areas and therefore his shots taken are of great quality, which contributes to his impressive xG. It also proves his talent as a young striker who is set to evolve into something special.
The talent is clearly there, but statistics can wait for now, as the sample size is very small to draw sweeping conclusions. Zirkzee scored four goals and assisted once in nine appearances playing for only 293 Bundesliga minutes last season.
Areas to Improve
Zirkzee's pressing is a hit or a miss. Sometimes it clicks and his team regain possession, but other times it falls apart miserably, resulting in the youngster not maintaining his primary position on the field. His off the ball movement still needs improvement, according to Hansi Flick. He sometimes struggles to block off passing lanes, allowing opposition players in dangerous positions to get away and keep possession. His rawness becomes evident when he tends to find himself in no man's land in an attempt to put pressure on the opposition's defenders.
However, his direct pressing is still a lot better than the indirect one, as he drifts wide, puts pressure on defenders and secures a corner or helps his team regain possession by forcing a long ball. He has shown the urgency required in a youngster to press his opponents and work hard without the ball. With time he should be able to iron out his mistakes.
Similar To
Zirkzee's traits are very similar to Chelsea's star striker Olivier Giroud, considering their physical stature and aerial prowess. The 19-year-old has a keen eye for goal, similar to the Frenchman. Also, they both like to aid their teammates with strong hold-up play. However, considering his age, Joshua Zirkee has more pace in him than Giroud which helps him speed past defenders.
Future
Joshua Zirkzee is one for the future in the Bavarian capital and there are no second thoughts about it. He is currently being nurtured as a potential successor to Robert Lewandowski. However, looking at the season ahead and the busy schedule that follows, Bayern were forced to rope in a backup for Lewandowski in Eric Maxim Choupo-Moting, as the club feel Zirkzee will still need a couple of more years to compete at the top level. Therefore, a loan move to the Eredivisie just like those of Oliver Batista Meier and Adrian Fein, could have been perfect for the Dutchman as he needs game-time to hone his skills.
For more updates, follow Khel Now on Twitter and join our community on Telegram.