The German international has developed to become among the best wingers of the sport.
FC Bayern Munich's Serge Gnabry is one of the hottest properties in the world of football. The winger has cemented his place as a crucial cog in Hansi Flick's system and as the Bavarians prepare to face arch-rivals Borussia Dortmund on Saturday, fans would be hoping for Gnabry to run the show at Signal Iduna Park.
We caught up with the 25-year-old and Serge Gnabry shared his thoughts on the legacy of Der Klassiker, comparisons with Jadon Sancho and more.
Not so long ago, Serge Gnabry tested positive for COVID-19 and it did raise some eyebrows about the possible outbreak of the virus in the team. Luckily, it was a false positive test, but Gnabry did not hold back when he was self-quarantined at home. "For me, it was difficult to talk about it and all I can say is that I have been tested negative, apparently it was a false positive. Apart from that, I didn't have any other symptoms. I was productive in the house. Luckily, I was out in five days and could join the team."
The winger talked about the importance of the fixture so early on in the season and how it would affect the title race as both the teams are tied at the top of the table. He said, "It's very important as two best teams in Bundesliga face each other. So, whoever comes out top of it, gains a lot of confidence for the rest of the season. Knowing that a lot of people around the world are going to watch the game, makes it a lot important for us to win it."
"For Dortmund, I am happy that they are playing good football and winning games. For Bayern, it's more enjoyable to win against a team who are at an eye-level with you. I think we are still the favourites to win the game. I know it's going to be hard, they play good football. In the end, we want to make sure that we are still on top."
Apart from the age-old rivalry that has brewed into one of the classics of football, a new era of personal rivalry emerged not so long ago between Jadon Sancho and Serge Gnabry. Although, Sancho has a higher involvement in front of goal than Gnabry, the frenzy of the battle of the No. 7s is always interesting. Gnabry said that they are always going to be compared and he respects his counterpart, but would also love to win and score against him.
"We are always going get compared, but for myself, the most important thing is to win the game. Of course, I will be more than happy to have a good performance in an important game against a player I am compared with. Hopefully, at the weekend, I can help with one of my goals."
However, there is a key similarity in how the careers of Sancho and Gnabry have shaped up. They both struggled to perform in England for different reasons, but have flourished in Germany. Talking about shifting base to succeed in a career, Gnabry pointed out that it helps to build the character of a player. He said, "I think, most of all, it's a test of character. You have to leave your comfort zone, your friends, your family. I think it helps you a lot in building a strong character because in someway you are by yourself in a whole new environment."
"It's always good for young people. I'd do it over again if I were in that position because it helped my character a lot. You experience new things. So, for sure, it's never the wrong thing to move abroad."
Serge Gnabry had a forgettable time in England, which was marred by several injuries and the hurdle of coping with the Premier League's style of play. Pointing it out, the player mentioned that it was not easy to turnaround from that and develop to become what he is today. "After having struggled a lot (in England), it was difficult for me to lift myself up. The biggest thing is that self-confidence and I knew what I was capable of. I never lost that, obviously you doubt that sometimes, but I never lost it."
"The second biggest point was that I was playing, a lot. Not having so many injuries, so many little things that kept me out of games. Being able to play every time, show my performance. If I can play, I can show what I can do."
"I am proud of the journey I have taken. To be a Champions League winner and a couple of years ago, I was doubted. So, yes it's a great thing for me."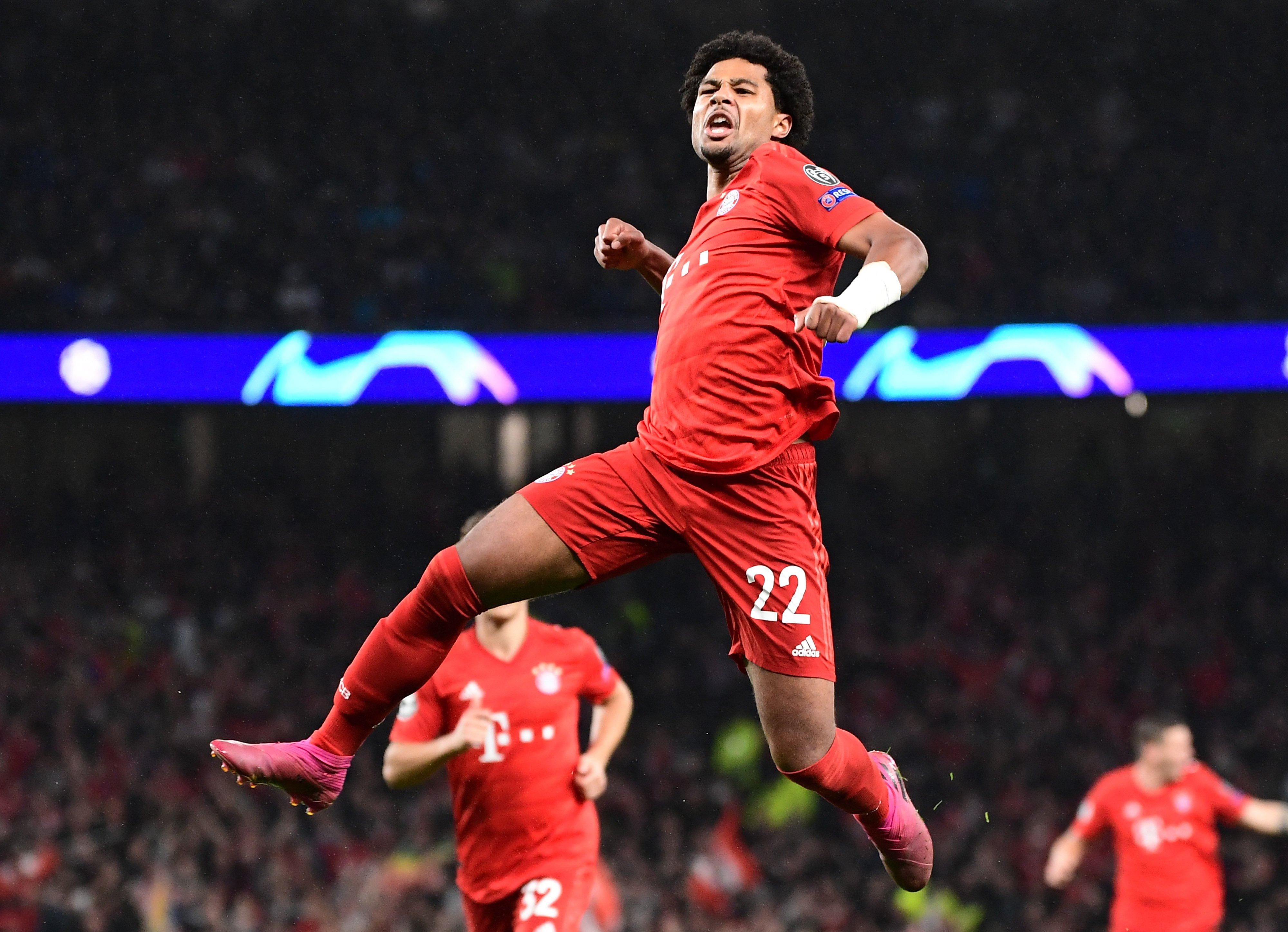 While his advice to young wingers who are looking to leave their mark on the world of football is to be creative and courageous in their style of play. He said, "I always try to be creative and take risks because without risks I don't think you can achieve anything. I think it's good to be flexible, be two-footed. Try to be an offensive player and score goals."
If one is talking to Gnabry, it's hard to forget the fact that he loves to score against English teams, especially those from London. He did admit that he had extra motivation when he scored four goals past Tottenham Hotspur. "The biggest thing about it are my friends. They give me a lot of motivation obviously, knowing the history. Yes, because of my Arsenal history, against Spurs you have extra motivation. But, apart from that, every game is important and it's been going well for me against London teams."
The German international ruled out the possibility of a return to the Premier League for now, but should he ever decide to move back, Arsenal would be his preferred club. "I can't give you an answer on that (move to England) but of course, Arsenal is the favourite," said Serge Gnabry.
Talking about Bayern Munich and the exceptional season they had in 2019-20, Gnabry mentioned his delight at the success they achieved. He hopes that the team is yet to reach the pinnacle of their abilities. He said. "The mentality of the players and I can speak about the team, we aim for another treble. We know it's going to hard, but we know we have a lot of quality and the motivation. Sometimes, it's difficult, but I am sure we can achieve a lot more than just having one season that's been great."
He went on to add, "We are very attacking. We are not satisfied when our opponents somehow beat us in the game. That's a very strong point. Attacking football, getting behind the defences because we have pace on the wings and a striker who scores in nearly every match. Also another big thing is our pressing, which we have adopted."
Although, before treble-winning head coach Hansi Flick turned the season around for Bayern, Arsene Wenger was touted to take over from then departing Niko Kovac. Having played under both Flick and Wenger, Gnabry opined, "Do I think he (Wenger) would have had success here? Sure. He has proven he is a fantastic manager to lead a club. I think football-wise, they both are at a very, very high level."
The focal point of the goals has been Robert Lewandowski and according to Serge Gnabry, he is the best in the world. "Every statistic speaks for him and the amount of goals he has scored in the last last couple of years at a very consistent level, they talk for themselves. So, sure he is the best striker in the world."
Ahead of this season, FC Bayern Munich signed Leroy Sane to bolster their attack. Ever since his arrival, the duo have been compared week-in-week-out. According to Gnabry, they share a healthy bond on and off the pitch. "It's the media that talks about comparisons. Everybody is different. Me and Leroy have a very good understanding. We know each other for a long time. Played together for youth national teams. Our strengths are that we adapt together."
A thing which really excites the winger is the prospect of playing quality oppositions regularly, which is the core principle of the idea behind the European Super League. Serge Gnabry is keen on the concept, but also has concerns.
"To be honest, when you hear about it, of course, it sounds interesting. I think everyone can say that playing in the Champions League is always something special and I don't know if this different league would be feeling the same. Obviously, the question is when would you fit that in? I don't really know, but playing big games is something that every player loves to do."
For more updates, follow Khel Now on Twitter and join our community on Telegram. Fans in India can watch Bundesliga and DER KLASSIKER live on FanCode.