The combined XI features some surprise selections that may amaze you.
ATK Mohun Bagan and SC East Bengal glittered up the Indian Super League (ISL) with their popular presence in the 2020/21 season. It was a case of contrasting tales for the Kolkata giants. The Mariners were the 'second-best' team in the league and finished behind champions Mumbai City FC. The Red & Gold Brigade failed to impress, succumbing to a ninth place finish.
The difference in quality was obvious, as the Mariners finished 23 points above their rivals in the league phase. The quality of domestic talents in both teams – especially – was polar opposite. While ATK Mohun Bagan boasted some of the best, in-form Indian stars – SC East Bengal were left with stars past their prime and inexperienced youngsters.
So, it's fair to say that in a combined XI, ATKMB's superiority will keep them on top. However, the Red & Gold Brigade also boasted some impressive talents who produced some memorable moments through the season. On that note, let's look at the combined XI for ATK Mohun Bagan & SC East Bengal for the 2020/21 season:
Goalkeeper: Arindam Bhattacharya (ATK Mohun Bagan)
Despite his mistakes in the final, Arindam Bhattacharya was still one of the best goalkeepers in the ISL last season. He kept the most clean-sheets (10) and made the third-most saves (59) by any custodian in the league.
Bhattacharya's clutch stops helped the Mariners maintain the best defensive record in the league. Despite his errors towards the end, he still won the Golden Glove award for his heroics.
With East Bengal failing to have a permanent No.1 last season, Bhattacharya easily gets his deserved spot in this team.
Right-Back: Pritam Kotal (ATK Mohun Bagan)
Mr. Reliable for ATK Mohun Bagan, Pritam Kotal maintained impressive consistency all season. His versatility to play in different roles and defensive sturdiness helped keep the Mariners' defence safe.
Kotal made the most interceptions (46) among all ATKMB players, along with 75 tackles and 81 clearances. He neutralized the threat of many dangerous wingers and ensured his side maintained a compact defensive shape.
The ATKMB co-captain fulfilled his duties very well and was one of the best domestic defenders in the ISL last season.
Centre-Back: Sandesh Jhingan (ATK Mohun Bagan)
Returning to action after over a year out through injury, Sandesh Jhingan proved his class last season in the ISL. In his debut campaign for the Mariners, Jhingan was like a lion for his side's defence.
In his 22 appearances, Jhingan made 119 clearances and 52 tackles – being an absolute warrior in defence. He bullied some of the league's best strikers and also moved the ball forward efficiently.
With his aerial dominance, impressive game-reading ability and clutch challenges – Jhingan marshalled his side's defence with an iron fist. He also played a big part in helping ATKMB maintain the best defensive record and proved his reputation as India's best centre-back.
Centre-Back: Tiri (ATK Mohun Bagan)
Tiri started his ISL career with Atletico de Kolkata, later known as ATK, and was roped in to be part of ATKMB's first season. Alongside Jhingan, the Spaniard was an extremely proactive figure who loved to take matters into his own hands.
Tiri's aggressive defensive style and ability to win key duels at the back helped the Mariners negate many threats. He made 133 clearances, 33 tackles and 29 blocks all through the season to help his side rack up the clean-sheets.
While like Arindam – Tiri also made a few costly errors towards the end – his overall performances were solid and definitely better than East Bengal's foreign defenders' efforts.
Left-Back: Subhasish Bose (ATK Mohun Bagan)
In his first season with the Mariners, local lad Subhasish Bose also did a very good job to help ATKMB maintain the best defensive record. Bose was an energetic, hard-working figure on the left and covered a lot of ground in every game.
He topped the tackling charts for ATKMB with 79 tackles along with 51 blocks! While his attacking contribution wasn't as much as Michael Soosairaj's, Bose definitely earned his reputation as a defensive rock.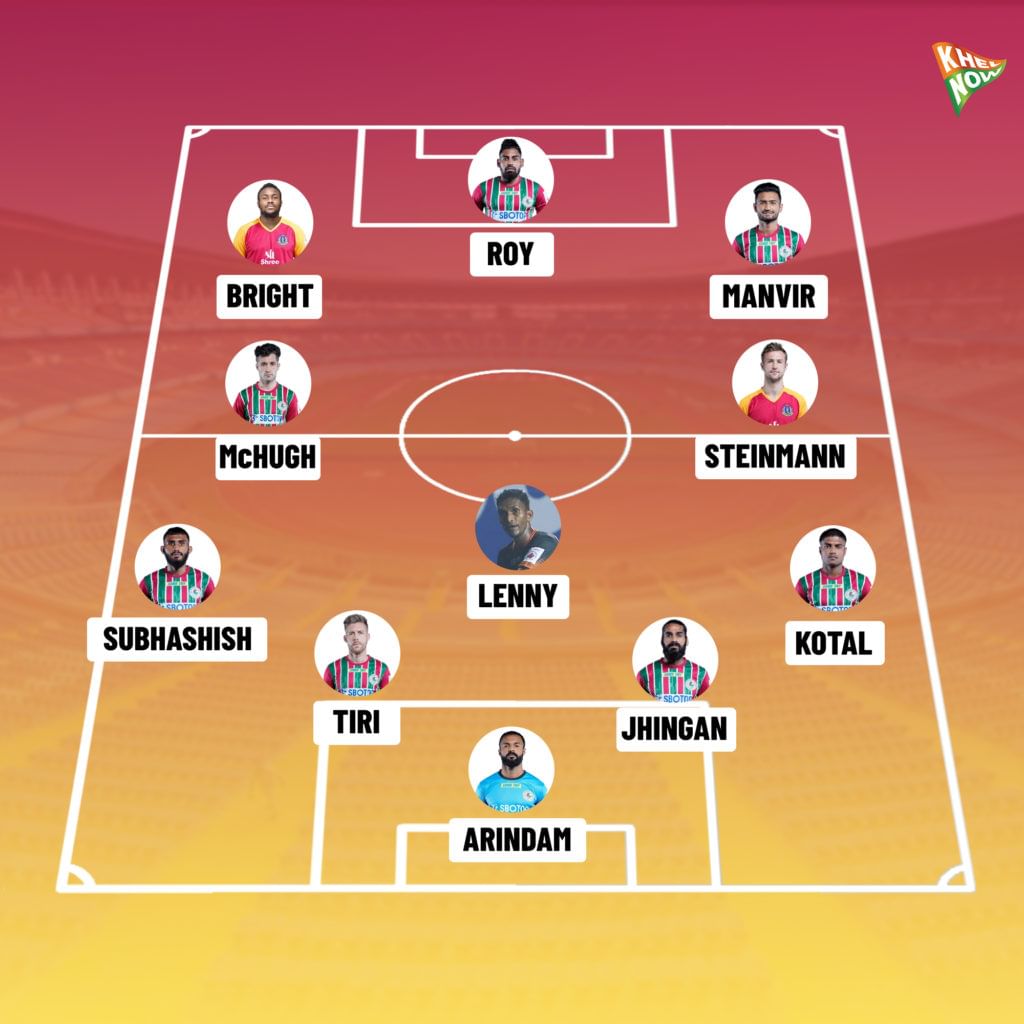 Central Midfielder: Matti Steinmann (SC East Bengal)
The 33-year-old midfielder joined the Mariners in the January transfer window, but played a huge part in their end-of-season heroics. He made 9 appearances for the club, winning five, drawing two and losing as many.
Probably the best thing about SC East Bengal last season was Matti Steinmann's energetic performances. The German midfielder was arguably their best player and worked his socks off in every game. Steinmann scored four goals and registered three assists, despite playing in a deeper position in midfield.
He revitalized East Bengal with his positive approach and hard-working attitude in every game. Steinmann's creativity, dribbling ability and defensive sturdiness made him a joy to watch for the fans and helped him shine through in a gloomy season.
Central Midfielder: Lenny Rodrigues (ATK Mohun Bagan)
Rodrigues' impressive passing ability helped him unlock his side's attacking ability and give the attackers more freedom. Lenny put in some really hard-working performances, helping neutralize many threats with his defensive effort as well.
The 33-year-old star fit into Habas' system perfectly and helped the Mariners dominate many teams towards the end of the season.
Central Midfielder: Carl McHugh (ATK Mohun Bagan)
After missing the majority of the 2019/20 season due to injury, Carl McHugh proved his class for ATKMB. The Irishman was the Mariners' engine in midfield, putting in double shifts in every single game to help them dominate.
Be it his impressive pressing, tackling ability or impressive passing ability, McHugh was ATKMB's own knight in shining armour. He made the fourth-most tackles in the league (109), 42 blocks and 32 interceptions.
His creativity was also on display as he played brilliant long-balls to kick-start counter-attacks and sent his forwards through. McHugh was one of the best midfielders in the ISL last season and played a huge role for the team.
Right Winger: Manvir Singh (ATK Mohun Bagan)
Having been signed for a huge figure from FC Goa, Manvir Singh had a lot of pressure on his shoulders last season. However, he thrived under the pressure and had his best-ever campaign in the ISL with the Mariners.
Manvir scored six goals and registered three assists for the Mariners, being the most prolific domestic player in the ISL. His first itself came against East Bengal in the first Kolkata Derby win.
He also scored a goal-of-the-season contender with an incredible effort against Odisha FC and chipped in with important goals all season. Singh perfectly adapted to the ATKMB system and proved why they made the right decision by splurging big money on him.
Left Winger: Bright Enobakhare (SC East Bengal)
Matti Steinmann might've been East Bengal's best player, but Bright Enobakhare was definitely the most exciting one. The Wolves academy star had one of the best dribbe-completion rates and turned defenders inside out.
His incredible goal versus FC Goa – in which Bright dribbled past nearly the entire defence before scoring – introduced him to the ISL in style.
From there, Bright lit up the East Bengal fans' mood with his sizzling, tricky movement to terrorize defenders. He ended the campaign with three goals and an assist, with his performances often putting a smile on the face of the fans.
Striker: Roy Krishna (ATK Mohun Bagan)
In his second season in the ISL, Roy Krishna was even better than in his debut campaign. He played a more influential role, in terms of creating more chances and carrying ATKMB to slender wins.
Krishna's work-rate along with his clever movement, link-up play and tenacity helped him excel last season. He scored 14 goals and registered eight assists – the joint-most for both in the ISL. He himself won ATKMB five games with winners and terrorized defenders with his ruthlessness in the final third.
Krishna lost out on the Golden Boot due to a technicality, but won the Golden Ball for the best player of the competition. If he wasn't there, it's safe to say that the Mariners probably would've struggled to make the playoffs.
For more updates, follow Khel Now on Twitter, Instagram and join our community on Telegram.