Despite going down 0-2 to Paraguay, La Roja are still one of the title contenders.
Football periodically witnesses national teams that have a well-knit and talented group of players. Termed as "golden generations" of their respective nations, these sides are expected to achieve the extraordinary. While many golden generations have failed to meet expectations, some have gone on to become iconic and decorated sides. The golden generation of Chile belongs to the latter half.
After clinching Copa America titles in 2015 and 2016, La Roja are on the quest to secure another this year. Considering their age, this can probably be the last South American tournament for Chile's golden generation. Here are a few reasons why Chile will be a mighty force to conquer for Argentina and Brazil this year as well.
An experienced core of players
Chile's core of talented players was the main reason behind their double triumph in 2015 and 2016. The likes of Alexis Sanches, Claudio Bravo, Arturo Vidal, Eduardo Vargas, Gary Medel and Charles Aranguiz were the foundation upon which Jorge Sampaoli built his championship-winning team.
Despite missing Alexis Sanchez this time, the rest are playing for Chile at Copa America 2021. Vargas has already scored two in this edition and is leading Chile's attack. Arturo Vidal and Aranguiz's experience and work-rate in midfield have always been the key to their progression. Shot-stopper Bravo and defensively solid Medel have been two more pillars.
Stubborn Chilean defence and physicality
Martin Lasarte's Chile are a difficult team to play against for any side in the world. The team is physical and the defence can be hard to break. In the presence of physical and technically gifted defensive players, Chile always play to their strengths.
Both Brazil and Argentina, two favourites of this tournament, have already found it difficult to break down sides that defend deep this time around. Brazil's struggle against Colombia, despite getting a late winner, was evidence of their lack of vertical penetration. 
Similarly, Argentina had a major share of possession and created chances, but were unable to get past the Chile defence. Like we've seen in the previous editions, this Chile side only gets better as the tournament progresses. They will be a major obstacle for both Argentina and Brazil in the knockout rounds.
The rise of Ben Brereton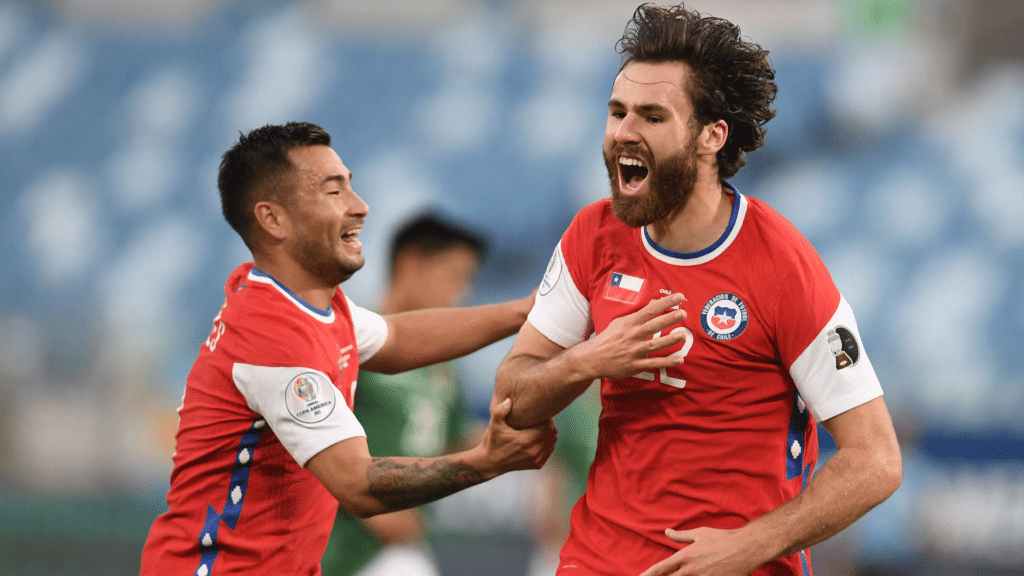 Ben Brereton was once Mason Mount and Ryan Sessegnon's teammate in England's U-19 setup. Brereton failed to make an impression after England's U-19 Euro Championship and was never called-up to the senior setup. The Blackburn Rovers striker, however, debuted for Chile at the start of this tournament, capitalizing on his mother's Chilean heritage.
Ever since his debut for the national team, Brereton has been potent with his performances. Pairing up with Vargas in attack, he has already scored a goal and notched an assist so far in the tournament. In addition, Brereton's aerial and playmaking abilities will be a threat to Chile's oppositions in the knockout stages. Brereton's debut comes at exactly the right time for Chile, as they will be without Sanchez this summer.
Chile's ability to accelerate
Despite conceding numerous chances in the first match against Argentina, Chile equalized in an intense 20 minutes in the second half. Chile's ability to dominate and apply pressure suddenly adds to their defensive capabilities, making them a side capable of scoring on the counter.
In the clash against Paraguay, Chile showed similar traits and came close to scoring in a few instances. Their strength in the previous editions of Copa America has been this very ability to score and win out of nowhere.
Since we've already seen Argentina and Brazil concede goals to sudden counter-attacks, this very ability stands out for Chile. Their intense gameplay, in general, will be the key to Chile's success in the tournament. Now that they're through to the knockout rounds, we'll have to see if they'll bring out their vintage ability on display.
For more updates, follow Khel Now on Twitter, Instagram and Facebook.