Durand Cup
Analysis: Which is the strongest Services team in Durand Cup 2021?
By
Uttiyo Sarkar
(Courtesy : Durand Cup Media)
The quarter-finals of the competition will begin on September 23.
The Durand Cup 2021 has proven to be an enjoyable spectacle as a curtain-raiser for the Indian football season. Multiple teams from the Indian Super League (ISL) and I-League have glittered up the competition. However, the Services teams (Army, Air Force & Navy) this year have proven themselves capable of putting up a strong fight.
Despite being arranged only for this occasion, some Services sides have exceeded expectations. From defeating ISL opposition to playing attractive attacking football, they have put on a show in the Durand Cup. But which of them have been the strongest this year? Before coming to a conclusion, let's examine their performances.
Army Green (Bangalore)
The odds were stacked against Army Green before the group stages. They were placed in a difficult group containing two ISL sides in FC Goa and Jamshedpur FC as well as Sudeva Delhi FC. However, Mileswamy Ramachandran's side were not one to get daunted by the challenge.
They came out punching over their weight in the group games, producing some surprisingly impressive performances against the opposition. Despite losing the first game to FC Goa – one they could've even won if not for poor finishing – Army Green undid their wrongs against Jamshedpur FC.
By displaying some slick attacking football, they pounced them 3-1 to take a big step into the quarter-finals. That was accomplished with a gritty 1-0 win over Sudeva Delhi, which could have been bigger if not for some sluggish finishing.
Army Green have been brave with their approach and not looked to park the bus to get points. Their incisive attacking technique, clear-cut passing football, and work-play down the wings have resulted in some very enjoyable performances.
Indian Navy
The team representing the Indian Navy forces were actually packed with players with plenty of experience in the I-League. The likes of Britto PM, Pintu Mahata, Novin Gurung, Dalraj Singh, and Bhaskar Roy all featured heavily in the I-League in recent years. Britto even played for NorthEast United in the ISL.
So there were expectations that the Indian Navy team could put up a big fight in their group – containing the likes of Bengaluru FC, Delhi United and Kerala Blasters. They did just that, defeating Delhi United in their opening game.
However, the Indian Navy side then tasted a narrow defeat to Kerala Blasters in their next game. Despite displaying an entertaining and attacking brand of football, they were unable to make it out of the group after losing to Bengaluru FC in the final game.
Army Red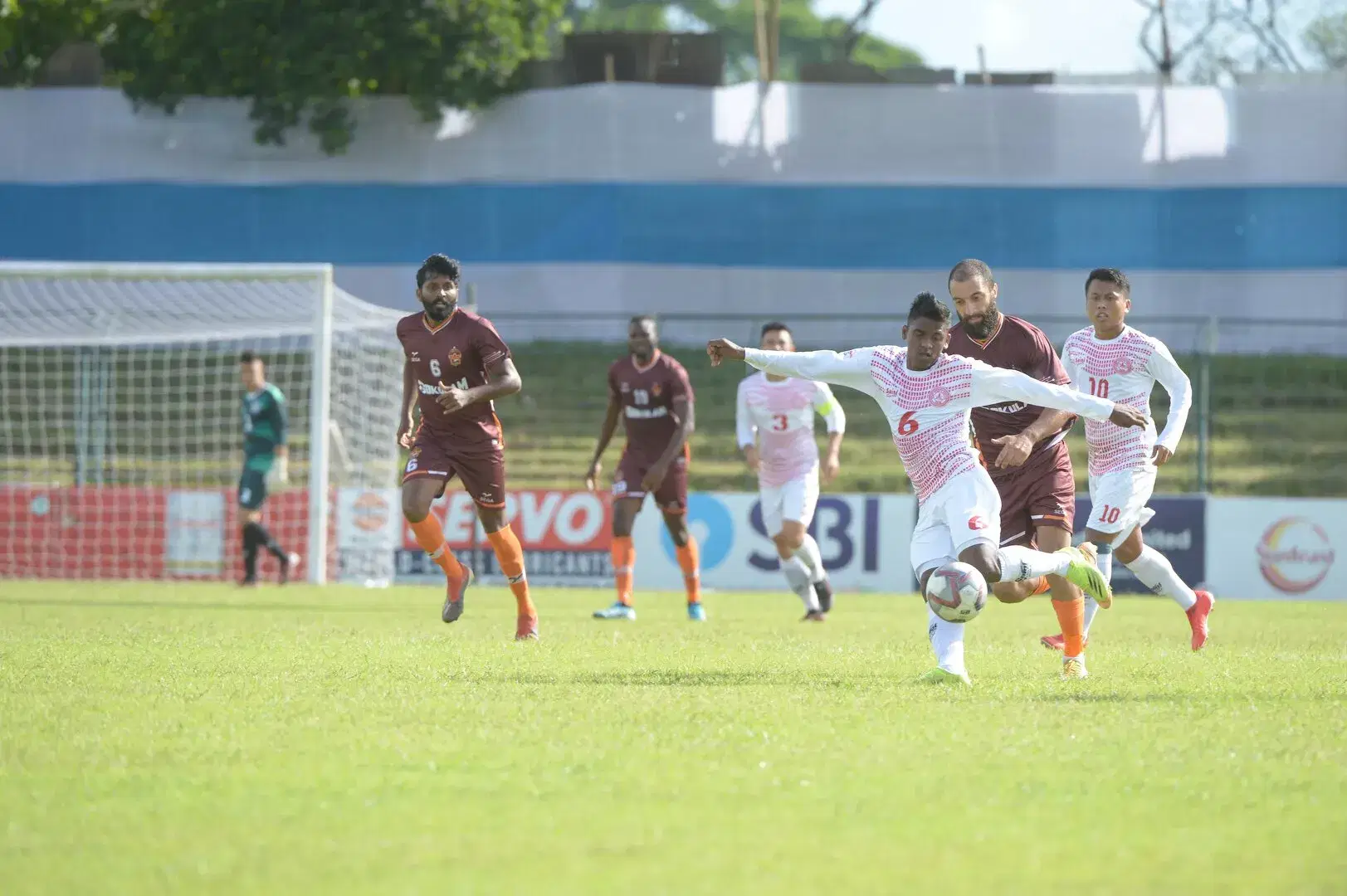 Army Red were perhaps the real surprise packages of the Durand Cup, mostly for the stunning attacking football on display. They were the highest-scoring Services team in the group stage, scoring six goals in their first two games itself! Overall, they have been one of the highest-scoring sides in the entire tournament so far.
Army Red started their campaign in a dominant 4-1 win over the Assam Rifles, producing a brilliant game of attacking football. After that, they took the fight to defending Durand Cup holders Gokulam Kerala.
They scratched and clawed their way into a 2-2 draw, taking one step closer to qualification into the quarter-finals with four points from their first two games. Army Red then won their final game against Hyderabad FC – thereby confirming their berth in the knockouts.
The others
From the Services teams, the above-mentioned ones were the only ones to get at least one win in the Durand Cup. In Group A, both the Indian Air Force and CRPF teams suffered defeats to Mohammedan Sporting and Bengaluru United.
However, these two sides finished with a point each after their game was canceled because of bad weather. The Assam Rifles side also couldn't match up to the competition, losing all their group games and conceding many goals.
Verdict
It's safe to say that the Services teams perhaps exceeded many expectations with their performances. They proved they are not here just for the participation but to challenge for the title itself.
However, the team that proved to be the strongest and most impressive one was Army Green. They produced memorable and top quality performance against intimidating opposition. They played brave attacking football, creating a lot of delightful opportunities with their slick passing style.
Mileswamy Ramachandran encouraged his side to showcase admirable work-ethic throughout their games, while maintaining discipline with their defensive style as well. The fact that they only conceded two goals from open play in the group stages proved how sturdy the Army Green side has been in Durand Cup 2021.
They might have been occasionally wasteful in front of goal, but the fact that the side created so many chances is itself proof of their ability. The Army Green team has definitely kept the Indian Defence Forces' name in shining light in the Durand Cup and proved to be a surprise package of the tournament.
For more football updates, follow Khel Now on Twitter, Instagram and join our community on Telegram.