The 21-year-old's performances have been key to the Blues' ongoing run in Durand Cup 2021.
Bengaluru FC will lock horns with FC Goa in the Durand Cup's second semi-final on 29 September. This much-awaited fixture will take place at the Salt Lake Stadium in Kolkata; the winner of which will face Mohammedan SC in the final on 3 October. What stands out for The Blues, however, is the squad that's been fielded throughout the tournament; a 'B' team of sorts, comprising youngsters and academy graduates as per their "continuous player development philosophy."
One of the standout players in this team has been goalkeeper Lara Sharma. The 21-year-old made 10 saves in four games and also won the 'Man of the Match' on his debut against Kerala Blasters. He's been one of the team's key defensive players alongside the likes of Naorem Roshan Singh, Wungngayam Muirang, Parag Shrivas, Ajith Kumar and others. All of whom, have demonstrated their respective positional capabilities under assistant coach Naushad Moosa.
About Lara Sharma
Lara is a product of the Tata Football Academy. He's had quite a lot of experience right from his earliest days. He played for the Indian U-18 team when they finished third in the U-18 SAFF Championship. His most recent stint, however, was with ATK, with whom he spent around a year before joining Bengaluru FC on 3 October 2020.
Recently, in an exclusive interview with Khel Now, the custodian shared his experience as a Bengaluru FC player:
Thoughts on BFC's Durand Cup performance
First up, Lara Sharma shared his thoughts on The Blues' Durand Cup journey thus far, having made it to the penultimate game. He began, "Yes, everyone's doing good. While we initially came here, we didn't think that we'll be in the semi-finals. But now, we are here and everyone's doing their best.
"We're together and stronger now. Sometimes we go down (concede), but everyone stands together and that's why we are here now, in the semis," he added, thereby emphasizing on his team's resilient campaign until now.
On his debut for the Blues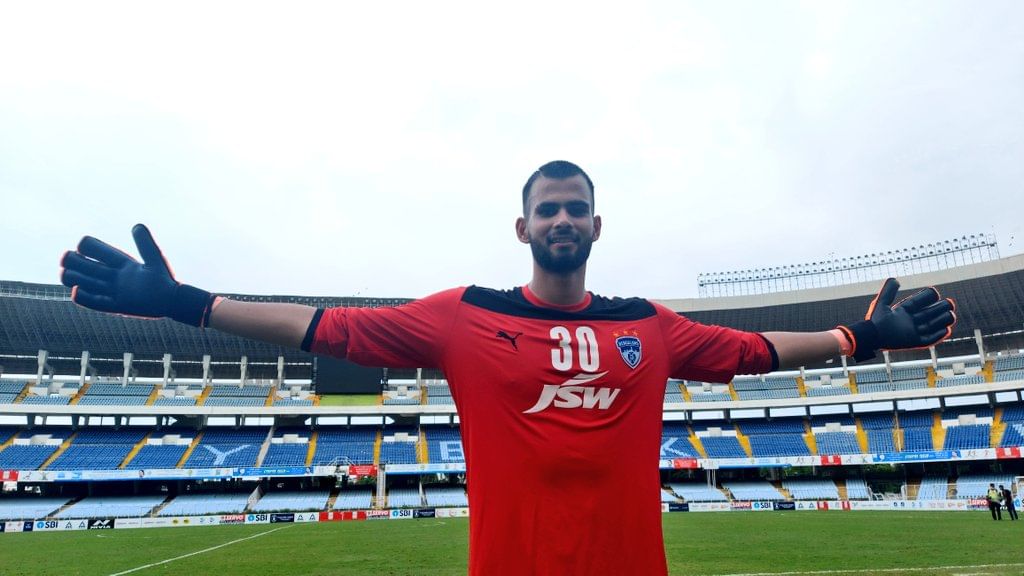 Lara started his first game for The Blues on 15 September at the Salt Lake Stadium. As mentioned already, he was voted the 'Man of the Match' for denying several of the opposition's chances. In other words, he kick-started his new journey with a clean-sheet against the Yellow Army. Post the game, he earned the praise of fellow teammates as well as his idol and teammate Gurpreet Singh Sandhu.
Expressing his feelings on the same, he stated, "That was good! Gurpreet bhai tweeted and texted me. I was very happy that day. It was also my debut that day and winning the 'Man of the Match' award on your debut is a different kind of feeling. Basically, I was proud of myself that day."
On coach Naushad Moosa
Bengaluru FC's assistant coach Naushad Moosa is a man who's known for nurturing and scouting youth in the country. He's currently guided his side to the Durand Cup semi-finals and has achieved similar feats in the past as well. For instance, during his tenure at Pune FC when he won two I-League U-20 titles (2013,'14) and one Pune Football League (2016). Lara Sharma was asked for his opinions regarding the 49-year-old's mentorship and coaching.
He replied, "He is too good with us, always pushes us for good things and motivates us. He doesn't say stuff like 'We have to win, do this or that.' Instead, he just tells us to play good football and give our 100%. He doesn't say anything more or expect a lot of things from us. The thing is, he just wants good football and our maximum potential. The way he pushes us both on and off the pitch, however, is very motivational."
Subsequently, Bengaluru FC have had three comeback scorelines so far; one ending in a draw (against Delhi FC) and two resulting in wins (against Indian Navy and Army Green). Pertinent to this, Lara gave some insights. He said, "In the last few games, we've conceded around 1-2 goals at the start which were because of our mistakes only. But, at half-time, coach Moosa always tells us that it's not a problem because we have 45 minutes more to come back. He always motivates us on the pitch and in the dressing room; he says that if we concede 1-2, we can score three. That's what happened in the last few games."
Thoughts on facing FC Goa
FC Goa under Juan Ferrando's coaching have had a flawless Durand Cup run so far. They've not lost a single game so far and are one of the favourites in this tournament. Based on these statistics, Sharma was asked about his mentality heading into such a challenge. He responded, "Yes, FC Goa is a good team. Their attacking is too good. They have foreigners as well as Indian players. They're playing with last year's squad and they too have a good setup. They're very good.
"But, the thing is, we are also very good. From the last four matches, we know each other well now. I think we can do much better than those four games. FC Goa is a good team, but I think we are also in good form now," he added.
On his football inspirations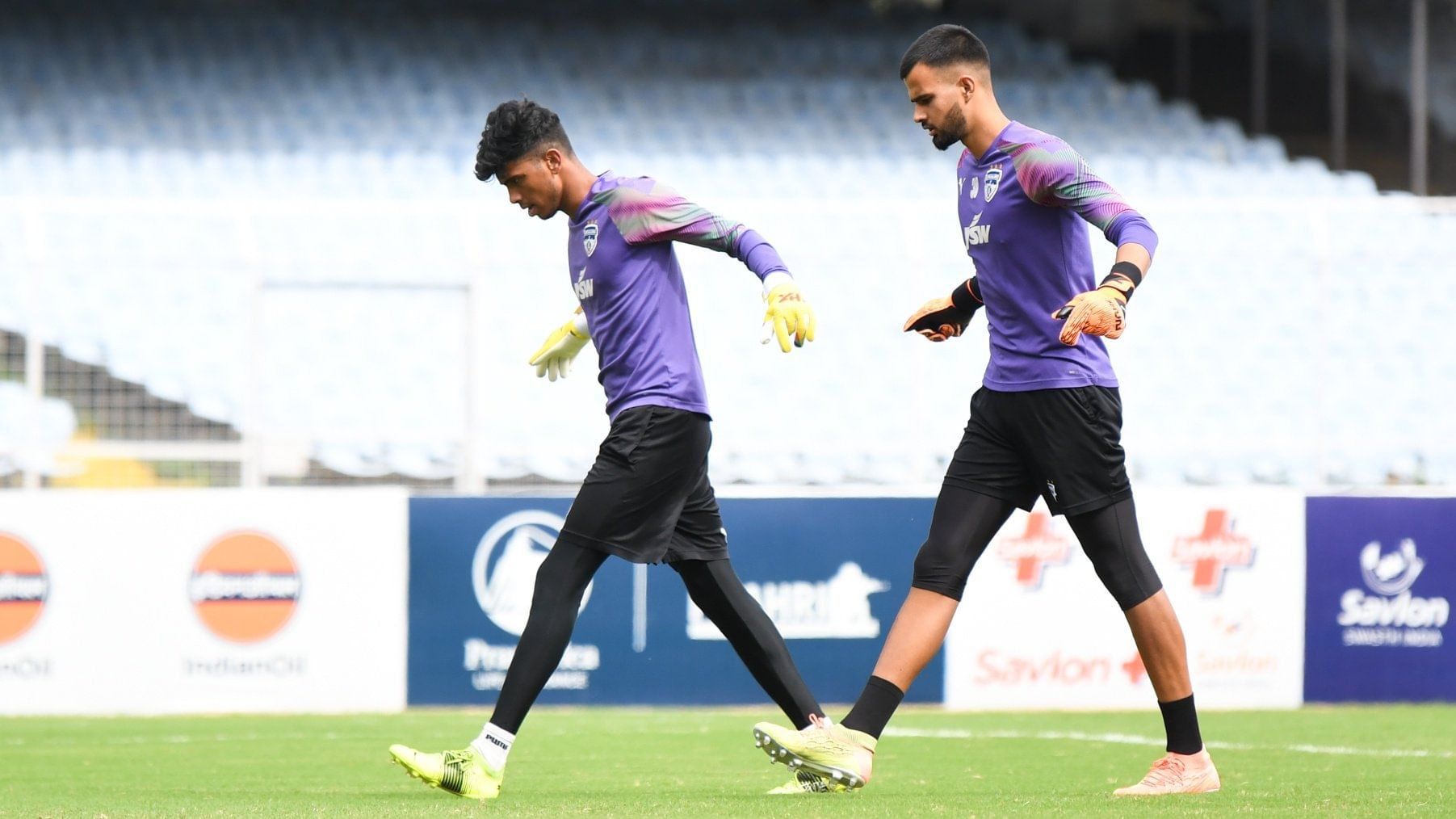 The 21-year-old is also a Manchester City fan. "I've been a Manchester City supporter since Joe Hart's time. They were my favourite team back then. But now, I still watch and follow Joe Hart. Now, he's not performing the way he did before. But, still, I love watching him play," he responded.
Subsequently, Lara Sharma was asked about his current favourite footballer to which he responded, "Donnarumma (Gianluigi Donnarumma). The way he plays, he's very calm and is in very good form. Now, I'm following him as well and I think he's currently the best goalkeeper in the world."
Bengaluru FC's ecosystem and philosophy
Lara was then questioned on his experience at Bengaluru FC; their facilities, environment and so on. He answered, "When I came here, I knew I was going to learn a lot of things. Gradually, I got to know everything about BFC, like nutritionists and other things, both on and off the field. BFC is a very professional club compared to other Indian clubs. What I feel here is different; BFC's football atmosphere is amazing. It's a very different kind of training."
He added, "When I joined BFC, I was in love with this colour. Slowly, I got to learn everything else. Now, what I'm learning as well as my process is going in the right way. I am happy to be here and I'm very proud that I signed for Bengaluru FC."
Regarding Bengaluru FC
When asked if he had been following the Blues before his arrival at the club, Lara Sharma answered, "Yes, I love to watch their games because of Gurpreet paaji. I'm following him for the last 5-6 years. I love the way he plays. He's like my inspiration; the way he plays as well as the way he motivates me now. Before joining Bengaluru FC, he was my idol. Now, since I joined BFC, he motivates me, he texts me on WhatsApp and he pushes me."
On BFC's all Indian and youth side at the Durand Cup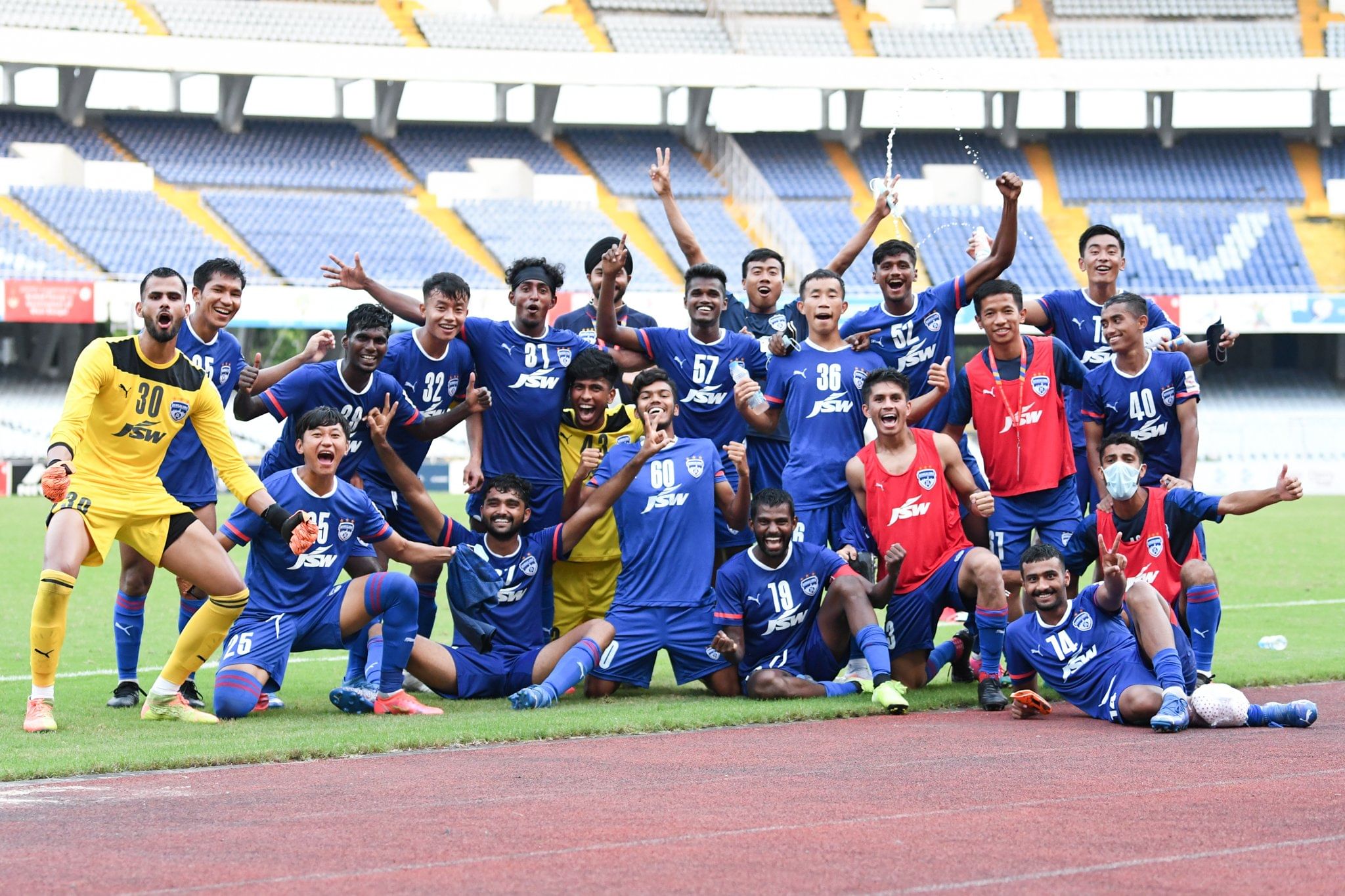 Finally, Lara Sharma was asked to share his thoughts on Bengaluru FC fielding an all-Indian youth side for the Durand Cup. In other words, if he had any message about the same; which was quite a discussed topic on social media.
He answered, "Yes, even I saw that some were saying that BFC sent their 'B' team, reserve team or something. But, it's not like that, it's not a 'B' team or reserve team. It's (just) BFC. We're here to gain experience as well as win the Durand Cup. Maybe, other teams have foreigners or their full squad, but we're also good."
For more football updates, follow Khel Now on Twitter, Instagram and join our community on Telegram.