The Australian midfielder spoke at length about his professional career, life at Bengaluru FC, Indian football and more.
Amid the nationwide lockdown, sports presenter and commentator Anant Tyagi interacted with Bengaluru FC's Erik Paartalu. The midfielder joined in from Australia in an Instagram live session on the Indian Super League's Instagram handle. Paartalu who recently signed a two-year contract extension at the club spoke at length about the recently concluded season and also answered a few questions from the fans.
The Australian was asked about his introduction to the beautiful game and about the time he spends at the gym. He replied, "It all started in the backyard playing with my older brother and my dad. I wanted to be like my brother. I haven't been a great technical player, but I'm extremely hard-working, dedicated and determined to be very fit."
Paartalu has had multiple stints at clubs across various countries and shared his story on how he ended up at Bengaluru FC. "At that point in my career I was at a crossroads. I was at the biggest club in Asia, in South Korea, at Jeonbuk Hyundai Motors. I didn't really have a great spell there and was cast aside for a couple of months, before ending up in Qatar, playing in the Middle East for three or four months."
"I don't think giving up was an option. I had to make sure my next move was one that was going to be for footballing reasons, but also for the soul. India just seemed like a different place to play football. Having Cameroon Watson play at Bengaluru before me was of huge help. He had some really complimentary things to say about the club and my decision was made pretty quickly."
Speaking about the environment at the club, he added, "The club is an infectious place to be around. It's a hard-working yet genuine environment. The staff are brilliant people. They're not really picking star signings, it's all about quality. When I first arrived at the club, it was evident we were working with hungry athletes."
"Sunil Chhetri was a big reason I re-signed at the club. I heard him speak at the awards night after the season had finished and he was really disappointed about how it went. If a player like him is so hungry for success, everyone is just right behind and driving the team forward."
"As a club we haven't been in this position before where we haven't won a trophy. No-one is guaranteed success in football, but what I can guarantee is a huge reaction from the club internally and also from the players and staff."
The 33-year-old summarized the Blues' performance in the recently concluded ISL season. "I think this season will be one of the most important ones for the club. As a club, we know it wasn't our best season. I don't see BFC taking a backward step now, I see us going further forward with hunger and desire. I think what Carles (Cuadrat) and the staff have done with the team we've had this year has been nothing short of a miracle."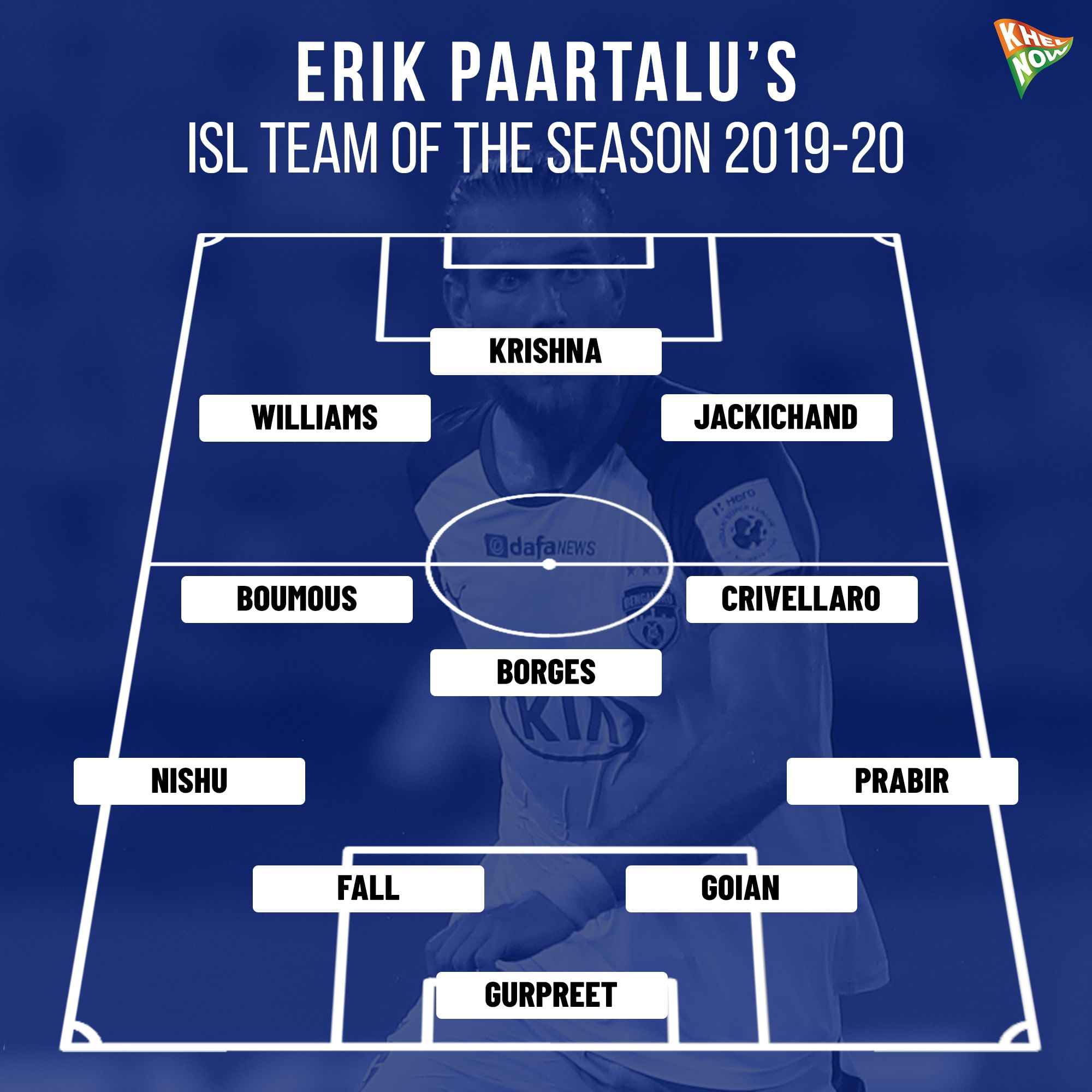 Further, on the toughest opponent he has faced, Erik Paartalu had nothing but praise for Mumbai City FC midfielder Rowllin Borges. "For us this year it was Mumbai. Playing against Rowllin Borges is a great battle. He's a player who, when you find on the team-sheet, you know they'll be solid. Mumbai made it very difficult for us and we have to come up with something different for next year."
Speaking about the importance of interacting with supporters, he quoted, "Everywhere we go around India and play, the fans have been very respectful. We need this engagement with fans, it's important we don't get too ahead of ourselves. We need each other and the game wouldn't survive if we didn't have fans coming to the matches."
"Playing at Kanteerava, the record speaks for itself. We haven't lost a lot of games there and it's primarily to do with the BFC supporters," he added.
Later, Erik Paartalu was asked to name an Indian youngster who caught the midfielder's attention this season and the Aussie was quick to answer.
"Sumit Rathi looks like a player who can play at another level. I like watching him play, I see something European about the way he plays. In the future, we've got to be getting these boys overseas, whether that's playing in Australia or Europe."
"Suresh Wangjam is another one, he's had a great season. He's so adaptive; the coach asked him to play three different roles this season. He played at right-back, midfield and took on a man-marking role. He took on the information so well."
The midfielder also shared his personal objectives that he has set for the upcoming season. "I want to try and build on the season I had last year. I believe I have got another year in me and I feel like I do. I haven't been at any club this long and this is new territory for me. I'm going to make it my complete aim and goal to go to a new level."
While concluding the interaction, Tyagi asked Paartalu's opinion on Indian football to which he replied, "I think what Indian football needs is 27 games. That's going to be great for squad depth. With 27 games you're going to see a lot more rotation and players playing seven or more games rather than a few minutes off the bench."
For more updates, follow Khel Now on Twitter, Instagram and join our community on Telegram.