The biggest match of the week is between top four contenders Leicester City and reigning champions Manchester City.
After a week away on international duty, the Premier League returns this week with Crystal Palace playing Tottenham Hotspur in the opening clash of matchday 4. Tottenham lead the points table and are the only side to win all three league games. Interestingly, their North London rivals Arsenal are at the bottom, winless in all three. The Gunners' woeful performance would have shocked many fantasy league managers. But Mikel Arteta's men will hope for a bright restart when they play bottom-dwellers Norwich City.
Ahead of gameweek 4, let us take a look at which players could have the biggest impact on the FPL points tally.
Week 3 Review
Manchester City and Ferran Torres ran rampant against a clueless Arsenal. The Spanish forward had 18 points against the Gunners, who lost Xhaka to a red card. Tottenham continued their winning run, while Manchester United eked out a win against Wolverhampton thanks to Mason Greenwood's third goal of the campaign. Liverpool and 10-man Chelsea played a tough 1-1 draw. Antonio had another remarkable week, having registered a goal and assist in the 2-2 draw against Southampton.
Week 4 Preview
Leicester's home stand against Manchester City will be the match everyone's eyes will be on. However, the match offers a lot of unreliability in terms of fantasy. Premier League matchweek 4 is good to load on Chelsea and Manchester United players as both are at home against Aston Villa and Newcastle respectively. Arsenal might finally be able to see the light at the end of the tunnel when they travel to a Norwich side that is equally desperate for a good result. Spurs could likely continue their fine run against Crystal Palace. Leeds can pose a tough challenge for Liverpool.
Khel Now Fantasy XI
The goalkeeper of the squad would be Edouard Mendy. The three-man defence includes Sergio Reguilon, Pontus Jansson, Marcos Alonso. In the midfield we have Bruno Fernandes, Mason Greenwood, Said Benrahma, Adama Traore and Bukayo Saka. Michail Antonio and Richarlison make up the attack.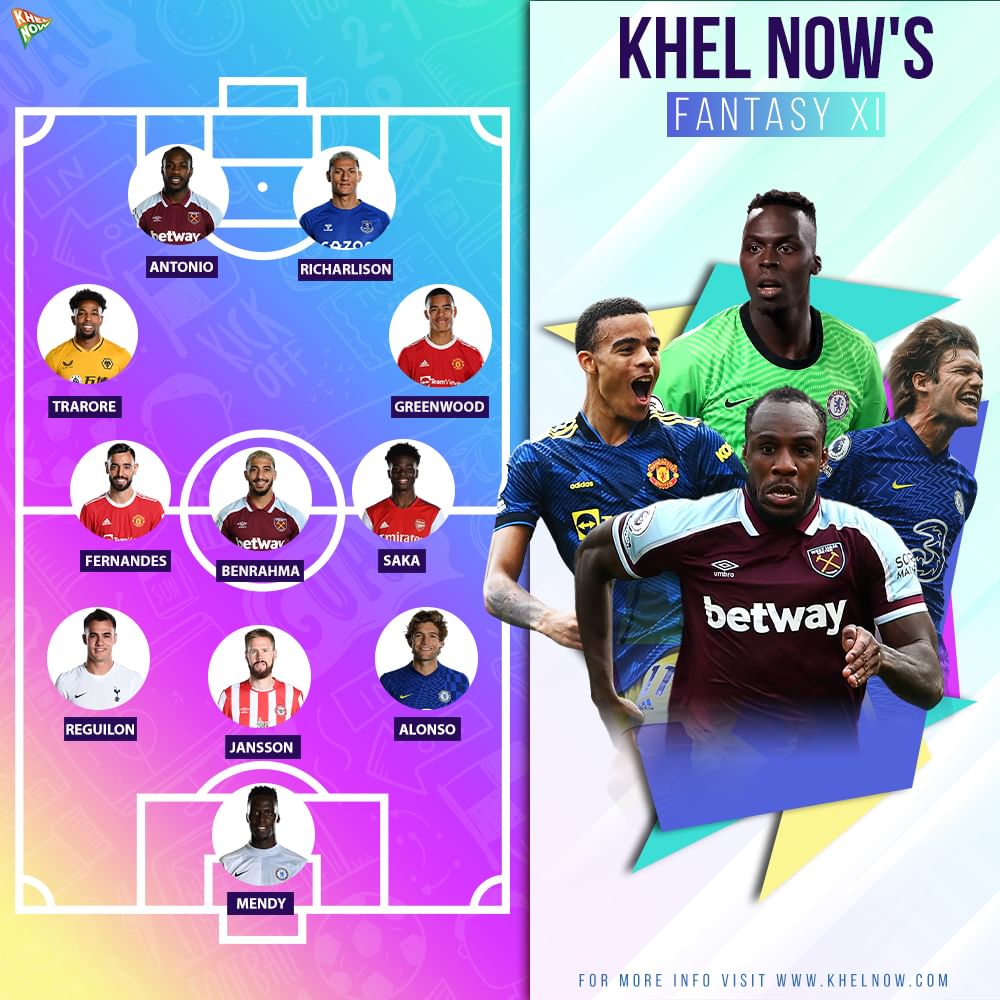 Top Selections
1. Sergio Regulion
Crystal Palace will have their hands full when Nuno's Spurs travel to Selhurst Park. The Spanish full-back looks set to continue his impressive performance and his marauding runs down the left flank could reward him with an assist against an underwhelming opposition.
2. Mason Greenwood
The Manchester United striker has scored three goals in as many games. He has slowly vaulted himself into the Red Devils' starting XI and with Ronaldo just arriving and Sancho having a forgettable opener against Wolves, Greenwood is likely to get a chance to continue his streak against Newcastle.
3. Pontus Jansson
Brentford look like they belong and their unrelenting defense is a key reason why. They have only conceded one goal so far and against Brighton at home, they most likely will be impenetrable. Jansson will also provide a good attacking threat and get points in the form of goals or assists.
Top Captaincy Picks
1. Bruno Fernandes
Easily the popular choice. Newcastle is one of the Portuguese' favoured opponents and if he finds a way to exploit the space between the lines, he could be unleashed. The Manchester United man is a potent threat and could just get lively at any point in the match.
2. Michail Antonio
Antonio has been a force to be reckoned with since the beginning of the season. The Jamaican forward has registered four goals and as many assists so far this season. Facing a Southampton side who are still looking for their first win, Antonio could drive up his numbers to a bigger extent and create the most impact during the week.
3. Richarlison
After a brilliant first week, Richarlison has been fairly quiet. But the home outing against Burnley could be the catalyst for another remarkable performance. He will be fuelled by the international break and Burnely could bear the brunt of his exploits.
Key Unavailable players
Reece James will be the biggest miss of the Premier League matchweek 4, prompting a lot of questions about the Chelsea lineup. The Tottenham trio of Cristian Romero, Giovanni Lo Celso and Davinson Sanchez are all bound by the quarantine regulations and are unlikely to feature as well. Major doubts are there regarding Heung-Min Son and Romelu Lukaku, who both have only a 75% chance of playing.
For more updates, follow Khel Now on Twitter, Instagram and Facebook.