Some of these tacticians have also played for the club which shows their transitional capabilities both on and off the pitch.
Over the years, we have all been witness to the metamorphosis of FC Barcelona from a competitive club in Catalonia to a global footballing powerhouse. The team has been one of the most successful clubs of the 21st century and are among the most followed and supported clubs on the planet. They are now the second-richest football club and are the eighth richest sports team on the planet(Forbes).
This success of FC Barcelona can be attributed to their core values of community representation, their unique and influential style of football (tiki-taka) which define their famous epithet of "Més Que un club" (More than a club). Some of their players have gone on to become legends of the game and the same can also be said of managers who have elevated Barcelona to global stardom.
Here, we will be looking at the five most successful managers in FC Barcelona's illustrious history.
5. Frank Rijkaard – 5 Trophies
Frank Rijkaard was appointed as FC Barcelona manager ahead of the 2003-04 season and managed the club for five seasons.
In his time with FC Barcelona, he brought in the golden generation of players for FC Barcelona with the likes of Xavi, Andres Iniesta, Deco, Samuel Eto'o, and a young Lionel Messi rising up the ranks and getting into the first team under him.
While he faced struggles initially, he rallied his troops around and led them to two La Liga titles, two Supercopa de España trophies and the 2005-06 Champions League title which they won after defeating Arsenal in the final.
4. Ferdinand Daučík – 8 trophies
Ferdinand Daucik oversaw the first golden period of success for Barcelona way back in the 1950s. Despite an all-dominating Real Madrid team that won titles for fun, locally and internationally, Daučík ensured that FC Barcelona also had their fair share of the pie of success.
In four years with the Blaugrana, Daučík spearheaded the club to eight trophies including two LaLiga and three Copa Del Rey titles. Despite this success, his tenure was short-lived due to reported altercations with players and staff and he exited after the 1954-55 season.
Ferdinand Daučík passed away in 1986 in Spain at the age of 76.
3. Luis Enrique – 9 trophies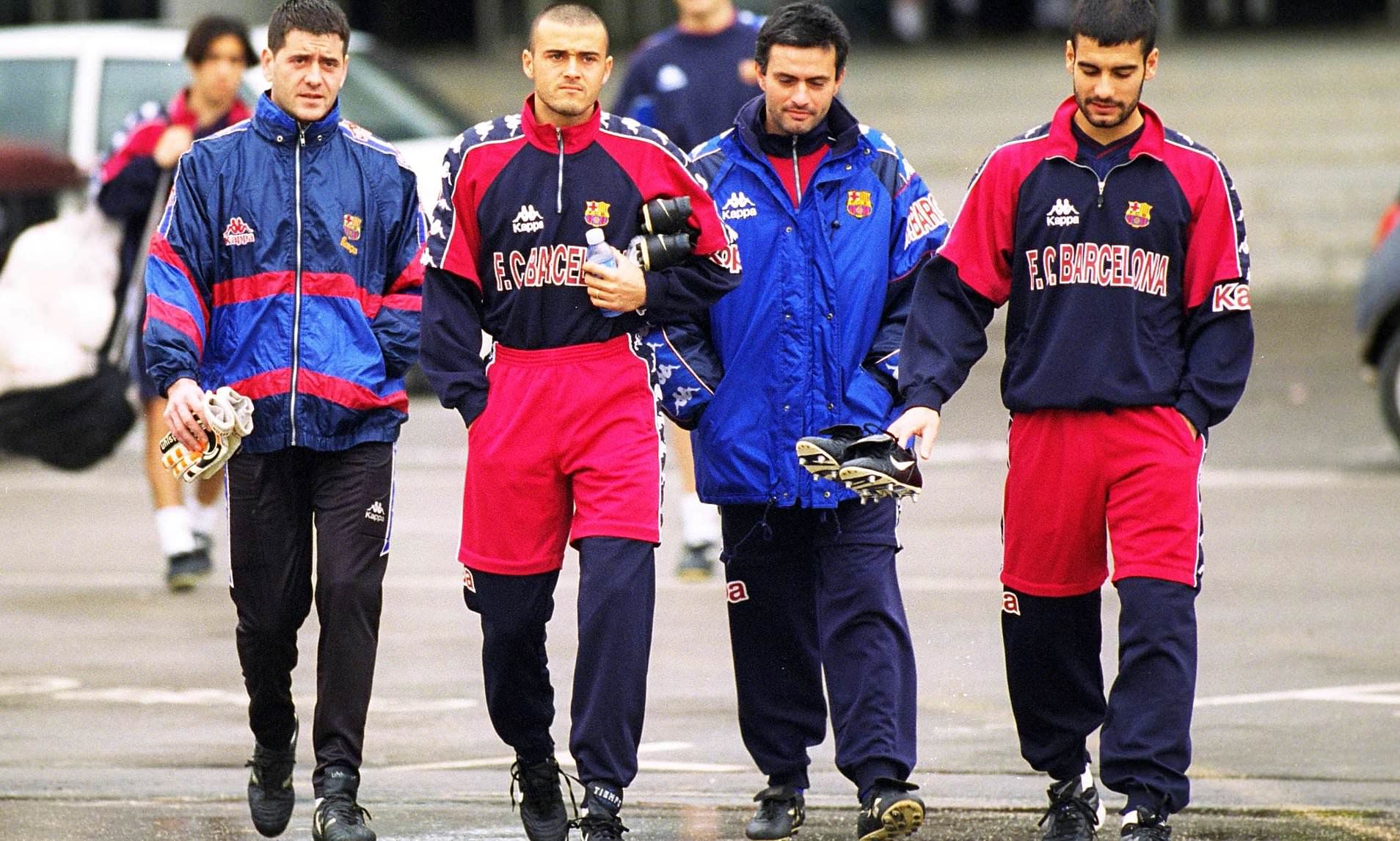 The man who oversaw the last golden period of success for Barcelona was Luis Enrique. As a player, Luis Enrique represented either side of the Classico divide and enjoyed a successful playing career winning three league titles and Copa Del Rey trophies among many others.
But it was as a manager where he enjoyed more success at Barcelona. The man from Gijón took the reigns at the club in 2014 after a season that yielded them only a Supercopa de España.
He led the club to a historic treble in his first season causing an upturn in form from the new year which saw them go all the way to clinch the League, Cup and the UEFA Champions League.
He signed a contract extension till 2017 and won another La Liga title and Copa Del Rey in 2015-16 along with the UEFA Super Cup and the FIFA Club World Cup. But following a barren run in 2016-17 where the only highlight was an incredible 6-1 win in the second leg of their Round of 16 clash against Paris-Saint Germain, Luis Enrique decided not to renew his contract and moved on to manage the Spain National Team where he is currently plying his services.
All in all, Luis Enrique won nine trophies in his time managing FC Barcelona, including the treble in 2015-16.
2. Johan Cruyff – 11 trophies
The man who gave FC Barcelona its identity, Johan Cruyff is by far the most influential manager in the history of the club and his philosophy and results speak for itself and gives credence to his genius, far beyond his time and life.
Cruyff introduced and instilled the tiki-taka philosophy which was embodied by generations of FC Barcelona players from their esteemed "La Masia" academy and the style which made Barcelona the household name that it is today.
Like others on this list, Cruyff also represented Barcelona as a player and won a single La Liga title and Copa Del Rey. But he saved his best for his time from the touchline and led Barcelona to 11 trophies, including their first-ever continental success when Barcelona lifted the European Cup in 1992.
Other accolades include four La Liga titles, three Supercopa de España titles, a Copa Del Rey title, European Super Cup and a Cup Winners Cup to complete the tally. But more than the trophies, it was the identity that he gave to Barcelona as a club and through their modern style of play that is followed to this day and pays homage to the unending legacy that the iconic Dutchman left behind.
1. Pep Guardiola – 14 trophies
The man who took his master's lessons to heart as a protégé, Pep Guardiola proved to be the ideal foil for further instilling Cruyff's tactics and philosophies into the club. He oversaw the most successful period in FC Barcelona's history and won 14 trophies in his time at the Camp Nou.
Inheriting a golden generation of players, Guardiola moulded his ideas around the club and his tactical nuance meant that his team were well drilled in passing and movement situations and played breathtaking football under his supervision.
Guardiola won three league titles, two Champions Leagues, two Copa Del Rey trophies, and two UEFA Super Cups among a whole host of trophies. Considered a taskmaster at times, he made FC Barcelona and himself the household names that they are in footballing circles today. His 2008-09 season saw him become the first manager in Barcelona history to win a treble.
Since then, Guardiola has gone on to reap success in managerial assignments in Germany and England while going on to become arguably the best coach in world football and certainly among the most sought-after managers in the sport.
For more updates, follow Khel Now on Twitter and join our community on Telegram.