The Blue Tigers return to action after more than a year with a number of new faces in the ranks.
| Oman Football Team | 1-1 | Indian Football Team |
| --- | --- | --- |
| | Vs | |
| 43′ Chinglensana (OG) | | 55′ Manvir |
It was a game of two halves. In the first half, Oman were completely dominant and India's counter-attacking style just did not work well enough. The Blue Tigers saw Al Maqbali miss his penalty but were a bit unlucky to see Chinglensana score the own goal before half-time. But Igor Stimac decided to work fast into making early changes, bringing on Raynier and Lalengmawia which instantly improved the energy levels of his team. Some good game reading by Ashutosh and link-up play with Bipin allowed the Mumbai City man to assist a brilliant header for Manvir. After that, The Blue Tigers showed a lot of character to hold up defensively despite persistent attacks from Oman. Chinglensana made some terrific challenges to stray away danger, while Amrinder held out strongly with some good saves. The youngsters went toe-to-toe with the Oman team and ensured they did not have it easy for a second. A very energtic, encouraging performance considering this was India's first in such a long time and that too with so many key regulars not featuring. 10 debutants in a game which will probably motivate Stimac to pick more youngsters in the games to come. This is Uttiyo Sarkar signing off for the day folks. Have a good night, Ladies and Gentlemen!
Related Articles
90+3′ FULL-TIME! India hold out for a very good draw after what was a superb second half for the Blue Tigers. They came out the second half firing on all cylinders, got a deserved equalizer and held out strongly to grind out a result.
90+2′ India make a late change here with Manvir coming off for debutant Mashoor Shereef.
90+1′ Two minutes of added time is announced. Can India get a late winner here??
87′ Oman seem to be really going for the winner here but India are standing firm. Chinglensana has come up big in this half and made a number of crucial clearances to save his side.
85′ CLOSE! Al Sabhi finds some more space inside the box and takes a shot that blares over the bar.
84′ Fun fact: Manvir Singh's goal was India's first goal from open play after 614 minutes. They had last scored from open-play vs DPR Korea in July 2019, 8 games ago
81′ The game seems to have really opened up with both teams going for the winner. Can India find it in the late stages here?
78′ India stitch up another promising move down the right, but Manvir passes it too late for the onrushing Ashutosh outside the box and the right-back's cross doesn't result in anything. Al Harthi seems to have picked up a knock and is down, while India make another substitution with Lallianzuala Chhangte replacing Suresh.
77′ Oman seem frustrated right now as Al Busaid decides to take matters into his own hands and try an ambitious long-ranger from nearly 35 yards out that goes well wide.
76′ Oman again create a decent chance through the right as Al Busaid somehow keeps the ball in play and moves into the box, but his delivery is blocked by Chinglensana.
74′ The system seems to have changed up for India with that change. Manvir is now operating as a right-winger and Ashique has taken up his role on the left again, while Pandita plays as the centre-forward.
72′ A couple of changes from both teams. Ishan Pandita makes his national team debut and comes in for Bipin, while Ali Al Busaid comes in for Abdlghafur.
71′ CLOSE! The Blue Tigers enjoy a decent spell of possession and the ball is sent wide to Ashutosh, who floats in a cross for Manvir whose header goes just over the post.
69′ CLUTCH DEFENDING FROM CHINGLENSANA! The centre-back seemingly redeems himself after last half's errors, making a brilliant block to deny an Oman player's shot from open range inside the box.
67′ Another sharp save from Amrinder. Issam Al Sabhi is threaded through on goal and takes a powerful shot from inside the box, but Singh reacts well to parry it away.
65′ The added energy from the substitutes definitely seems to have tipped the game in favour of the Blue Tigers. Raynier especially is covering a lot of ground and linking-up well to get the ball forward.
63′ Sharp reflexes from Amrinder denies Oman a goal. Abdlghafur takes a whipped free-kick from outside the box but Singh dives sharply to his left to parry it away.
62′ Oman try to create a chance with a clever short corner, but the delivery is intercepted and cleared away just in time. Meanwhile, Lalengmawia is booked for bringing down Al Aghbri outside the box.
59′ India are experiencing more possession in the Oman half so far than they probably did for the entire of the last 45 minutes. Stimac makes another substitution as Akash Mishra comes off for Mohammad Yasir.
56′ Oman were playing with fire trying to play the ball out of the back in such risky fashion throughout the game and were made to pay for it with some clever work from Ashutosh and Bipin. India have come out this half firing on all cylinders and seem to have Oman rattled!
55′ GOALLLL!! MANVIR SCORES! Ashutosh does brilliantly to intercept a long ball from Oman and finds Bipin on the right flank, allowing the winger to float in a perfect cross for Manvir to head in powerfully. 1-1!
53′ CLOSE! India give away the ball cheaply and allow Oman to attack in numbers. The ball is switched to the right wing and some nice link-up play sees Al Harthi go through on goal, but his shot from a narrow-angle goes well wide.
50′ Chinglensana absolutely clatters into Al Dhafri and picks up a yellow card for that rash challenge.
48′ The Blue Tigers look much more positive with their approach in this half, trying to attack from the get-go and pouring more numbers forward.
46′ The second half kicks off. This time Oman will be the ones attacking from the right to left.
8:18 PM: Two changes made by India as Lalengmawia and Raynier come on for Rowllin and Jeakson. Oman also make a sub, as Al Maqbali goes off for Omar Al Malki.
8:15 PM: India are warming up Raynier Fernandes and Lalengmawia to come on in the second half. It will also be a national debut for the NorthEast United youngster.
HALF-TIME ANALYSIS: Oman dominated the lion's share of possession in the first half, while India too eager on hitting them on the break rather than creating chances themselves. The Blue Tigers' defending as a whole was pretty decent for the majority of the half, as they worked hard to close down space and neutralize Oman's threat trying to move down the wings. However, one poor moment from Rowllin saw the Blue Tigers concede a penalty before the half-hour mark, one which Al Maqbali missed! Oman kept pressurizing Igor Stimac's men until they finally folded, when a clever low cross was awfully predicted by Chinglensana and Amrinder – with the goalkeeper being unable to latch onto it and seeing Sana's tipping it into his own net. A few changes are needed to get a result out of this game and Stimac will definitely demand better from his boys from an attacking standpoint in the second half. We'll be back with action from the second half soon. Stay tuned folks!
45+1′ One minute of added time is announced. Can India equalize here? Not really. They go into the break trailing and with a lot of changes needed to get a result here.
43′ GOAL! Oman score! A swift move ensues from their left-wing which allows Zahir Al Aghbri to whip in a low cross from the left which is unluckily diverted into his own net by a diving Chinglensana Singh. 1-0!
40′ Yazed Al Mashaani takes a bit of a nasty blow after coming in contact with Manvir around the half-way line, clashing with the ATK Mohun Bagan forward and going down in a heap. He's receiving treatment now, bringing a halt to the play.
37′ India get a decent counter-attacking chance with Manvir receiving the ball on the right wing around the half-way line mark. He moves forward powerfully with the ball but his forward pass can't be latched onto by Bipin before Oman recover the ball.
34′ Bipin again shows impressive energy to intercept possession inside Oman's half and moves forward with the ball, but his final pass is poor as he can't find any teammate in space in the final third before being dispossessed.
32′ Oman are again dominating all the possession and trying to score with crosses from the right, but every single one of their delivery is eventually being cleared away.
29′ Oman seem to be embarrassed by that miss and are attacking in numbers to try and take the lead. They play a decent fast-paced move with the ball finding its way to Al Maqbali, who doesn't go under a dangerous tackle from Chinglensana and plays on – only to waste the chance.
27′ AL MAQBALI misses! The Oman star does his worst Bruno Fernandes impression to try tip-toeing his way into the penalty, but his weak penalty is perfectly intercepted by Amrinder who dives sharply to his right to save it. Still 0-0!
26′ PENALTY TO OMAN! Rowllin Borges needlessly hacks down Al Maqbali inside the box and the referee doesn't take much time to point right to the spot.
24′ CLOSE! India give away possession poorly in their own half and Oman almost pounce on it, with Abdullah Abdlghafur's shot from outside the box blazing over the bar.
22′ Great defending from Akash Mishra to save a possible goal! The ball is floated into the box and flicked onto a player by Al Maqbali, but Mishra clears it out for a corner before his opposition player could pounce on it.
20′ The young Indian players seem quite charged up for this game and are conceding too many free-kicks with unnecessary rash challenges. The referee warns them to tone things down or risk getting booked.
18′ India get a glorious counter-attacking opportunity after Bipin Singh intercepts a free-kick inside his area, but his pass can't find Ashique who was blazing forward through on goal. Frustrating!
16′ Again some good link-up play on the right sees Al Harthi send in a vicious cross from the right, but Al Maqbali mishits his shot and allows Ashutosh Mehta to clear the danger.
14′ Threatening movement from Oman sees Mohammed Al Dhafri find space into the box after some good movement, but his shot is blasted well wide of the post from a promising position.
12′ Finally some threatening attacking work from India. They receive a throw-in which is sent in to Manvir Singh, whose shot is blocked for a corner. On the set-piece, the ball hits multiple men before being headed wide by Sandesh Jhingan.
10′ Decent movement from Oman on the right sees Amjad Al Harthi whip in a vicious cross into the middle that is held onto well by Amrinder Singh.
9′ Oman have dominated almost all of the possession in the early minutes but India's defensive shape looks very good right now. The Blue Tigers are still not able to hit them on the counter-attack as much as they'd like.
6′ A pretty energetic start from the Blue Tigers here. Stimac's men have done well to neutralize Oman's threat and forcing them to take ambitious shots from afar.
4′ First chance for Oman. A swift move from the left-wing sees a cross whipped into the middle, which Abdulaziz Al Maqbali heads wide.
3′ Oman are dominating much of the early possession as India seem to be playing a very deep 4-3-3 formation. Ashique looks bright with his movement.
1′ KICKOFF! The game kicks off with India attacking from the right to left.
07:10 PM: The teams are now coming onto the pitch. The pre-match activities, including the national anthem and coin toss will take place before we kick-off. KO in a few minutes, folks!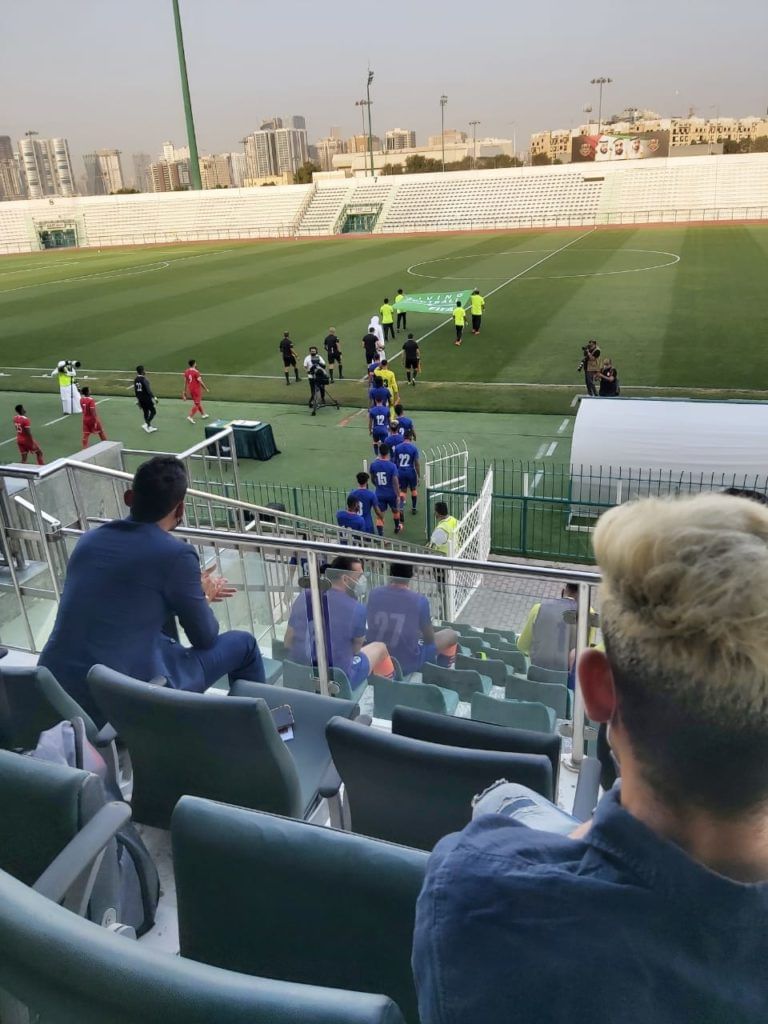 07:05 PM: We are now minutes away from the game! A lot of excitement around India playing their first competitive game in over a year and the players themselves look pumped up for this one!
07:00 PM: Oman seem to be playing with a 4-4-2 diamond formation for this one, which should be a real test for the style the Blue Tigers are opting for in this one.
6:55 PM: Here's how the Oman national team lines up for this one:
Oman XI: Ahmed Rawahi (GK), Juma Al Habsi, Amjad Al Harthi, Harib Al Saadi, Abdullah Abdulghafur, Abdulraziz Al Maqbali, Ahmed Al Kaabi, Gami Durbi, Yazed Maashani, Mohammed AL Ghafri, Zahir Al Aghbari
6:50 PM: The Indian team are now undergoing their pre-match practice sessions before the game to get ready for the big clash. Being their first game after a long time, it will be interesting to see the approach Stimac's men take for this one, even though the team itself seems a more attack-minded one.
6:45 PM: Ishan Pandita has to wait for his debut as he makes the bench for this game. That might actually be a good thing considering he scored so many goals for FC Goa coming off the bench in the ISL. If India need a goal late in the second half, Pandita could be their trump card.
6:40 PM: Incidentally, Oman head coach Branko Ivankovic was the assistant coach of Croatia in the 1998 World Cup. Igor Stimac was a part of that team that finished third in the competition.
6:35 PM: SIX players have been handed their national team debut for this game. Ashutosh Mehta, Akash Mishra, Jeakson Singh, Suresh Singh, Chinglensana Singh and Bipin Singh are all getting the honour of playing for the Blue Tigers for the first time!
6:30 PM: A very interesting and young team chosen by Igor Stimac for this one. It seems like a 4-3-3 formation with Bipin Singh and Ashique Kuruniyan flanking Manvir Singh in the front-line. Big game for Ashique who comes off the back of a nasty injury he suffered in the ISL a few months ago.
6:20 PM: Here is the team news for the game!

INDIA XI: Amrinder, Ashutosh, Jhingan (c), Chinglensana, Mishra, Jeakson, Suresh, Rowllin, Manvir, Ashique, Bipin
Subs: Gurpreet, Adil, Shereef, Kotal, Mandar, Yasir, Lalengmawia, Raynier, Chhangte, Narzary, Colaco, Pandita
6:15 PM: Hello and welcome to the live coverage of the international friendly between Oman and India here in Dubai. The Blue Tigers return to action after a long hiatus and we are here to bring you all the action as it happens. Follow Oman vs India live here.
Having last played an international game in November 2019, the Indian football team returns to the arena against Oman. All things considered, winning against Oman is not easy for India. In 2019, the two teams faced each other twice as part of the FIFA World Cup 2022 Qualifiers as Oman beat the Indians on both occasions. The Blue Tigers lost 1-2 to Oman at home in September, before conceding a 1-0 away defeat two months later.
However, this time, the two teams will face each other in an international friendly. This means that not much will be at stake for both sides and Igor Stimac could look to use it to his advantage to clinch an unexpected win. Oman are currently 81st in the FIFA rankings, while India is at 104.
In the 2022 FIFA World Cup Qualifiers, they defeated India, Bangladesh and Afghanistan in the group stages. However, most of these achievements came to them under Dutch coach Erwin Koeman. Since then, Branko Ivankovic has been appointed as the new head coach and facing India will be his second game in charge.
Oman Vs India Live Trending Stories
---
For more updates, follow Khel Now on Twitter, Instagram and join our community on Telegram.