Indian Football Team
International Friendly Live Commentary: Nepal vs India
By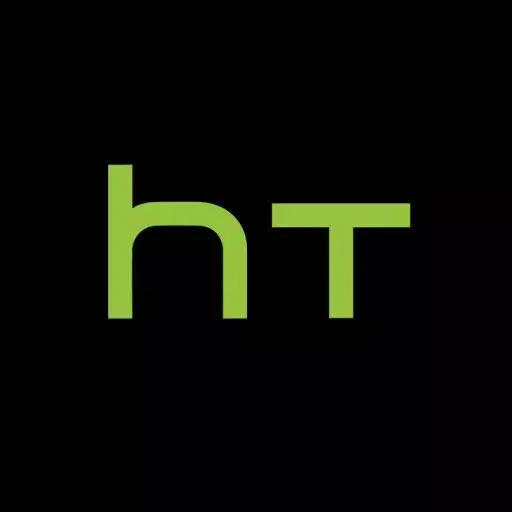 Harigovind Thoyakkat
| Nepal | 1-1 | India |
| --- | --- | --- |
| | | |
| Anjan Bista 36′ | | Anirudh Thapa 60′ |
Another disappointing night for India against SAFF rivals. India did enjoy more possession and ended the on a superior note. But Igor Stimac's men still look far from a well-oiled team. The game was full of disjointed, sloppy passes and wayward shots. Both sides looked well short of proper coordination. The culmination was seen in Chinglensana's ill-timed backpass for Gurpreet Singh Sandhu despite having time and space on the ball. Anjan Bista intercepted the ball well before Gurpreet could clear it and slotted it home into an empty net. With his side managing no shots on target in the first half, Stimac turned to his bench. India did improve once Anirudh Thapa came on in the second half. But Men in Blue still looked to their captain Sunil Chhetri for inspiration and like on most occasions, the 37-year-old provided it. Thapa pounced on the rebound from Chhetri's shot from outside the box and scored to put India on level. Both teams meet again on September 5 (Sunday) and both will hope for a better result. Till then, this is Hari Thoyakkat signing off for Khel Now. Thanks and Good Night, Ladies & Gentlemen.
Watch post-match reactions
Full Time: Nepal 1-1 India
85′ Just five minutes and added time remaining in the match. Can either team break the deadlock? Meanwhile, Nepal make two substitutions amd Pujan Uperkoti and Tej Tamang makes way for Nitin and Komal Thapa.
84′ Huge chance for India! Terrific play from them as they swarm the Nepal box. Too many options there and in the end, that's another chance wasted. Nepal will heave a huge sigh of relief there.
82′ Unlike the first half, the Blue Tigers have looked much better in the attacking third in this half. Meanwhile, Almutairi's boys are currently on the back-foot.
81′ Back-to-back corner-kicks for Nepal but they can't capitalise. India launch a counter-attack but lose possession in the midfield.
79′ A golden chance for Nepal, but squandered. India can thank their lucky stars that the hosts did not score there.
74′ Rahim Ali moves forward with the ball so well that few people will realise that this is his first game in the India colours. A promising player, one for the future for the Blue Tigers. On this occasion he collected the ball in the defensive third, launches on the counter and played it to Glan, who put Manvir through. However, the forward was cut out.
73′ Nepal trying hard to restore their lead now. Long shots are back but they lack the power and precision to test Gurpreet Singh Sandhu.
72′ Another substitution for Nepal as goal-scorer Bista makes way for Suraj Thakuri. Corner for India, taken by Thapa once again but it amounts to nothing substantial.
69′ Substitution for Igor Stimac and co. Bipin Singh comes on for Sunil Chhetri. A rare game for the Blues forward as he failed to create much impact.
68′ Anirudh Thapa's goal in pictures! An important one not just in terms of the result but also for the morale of the Blue Tigers. They are showing more energy now, an evident change after the Chennaiyin FC midfielder ran in from midfield to find the back of the net.
67′ India win another corner, but Thapa's cross into the box is cleared away by Nepal. Good job by the hosts.
65′ Beautiful passes from Nepal and a good ball in to India's penalty box. However, the linesman calls an offside. Relief for Indian fans, and a triple-substitution for Nepal.
63′ More changes for India. Suresh Singh Wangjam out, Lalengmawia in.
60′ GOAL FOR INDIA! The Blue Tigers are back, courtesy of a combined effort from Sunil Chhetri and Anirudh Thapa who scores. Chhetri's brilliant shot had Kiran Limbu diving to force a save, but the lose ball is prodded into the net by an onrushing Thapa.
It's all square once again at the Dasharath Stadium. The substitutions seem to have worked for Stimac and co.
59′ Both teams are playing more long balls now – a subtle change in tactics? Meanwhile, Pujan Uperkoti comes to Nepal's rescue as he clears a dangerous ball in.
58′ Not much in terms of action from both teams in the past five minutes. Nepal have been extra defensive – perhaps in a bid to save their lead. Sahal Abdul Samad and Seriton Fernandes are in now for India.
53′ Another chance for India, and the first big chance for Sunil Chhetri. However, his header flies wide by a narrow margin. Blue Tigers looking better now.
50′ Madness from Nepal. Anjan Bista and Kiran Limbu are shown yellow cards for two separate incidents – with Limbu advancing outside the penalty box and getting his hand on the ball while attempting to block a shot. India's resultant free-kicks are, however, very tame and do no damage.
48′ Handball from India, free-kick for Nepal from the half-way line. Poor attempt though as it amounts to nothing for the hosts. They still manage to hold on to the ball and are working to find an opening.
46′ Three changes for India. Anirudh Thapa replaces Brandon Fernandes, Debutant Rahim Ali replaces Glan Martins.
6:18 pm: No excuses for the Indian Football Team! The second half begins now. 45 minutes to go.
6:12 pm: Igor Stimac's first game as India head coach, post his contract extension – doesn't look good right now!
6:10 pm: This half-time result will be very frustrating for the Blue Tigers. They are the better team on paper, but they can't prove it as of right now. Igor Stimac will look to collect his boys together and talk to them about not losing focus, as only 45 minutes remain on the clock. They will have to make a difference during this period.
Meanwhile, Nepal and their head coach Abdullah Almutairi will be delighted at the result, as they are currently in the driving seat. It will be interesting to see what they do in the second half – will they look for more goals or sit on this lead? We will have the answer soon.
6:03 pm: HALF-TIME! It's Nepal 1-0 India.
The referee blows the whistle to signal the break, and it brings the curtains down on a very entertaining half of football. India got their chances, but not many of them were big ones. Meanwhile, Nepal tried to capitalise on the mistakes made by their neighbours, and their efforts were duly rewarded in the 36th minute.
45 + 1′ Foul on Nepal's Tej Tamang by Suresh Wangjam. Reckless tackle from the youngster and he is lucky not to get booked. Free-kick for the hosts, who are happy to play out the rest of the half.
45′ Two minutes of added time in the first half.
43′ Ayush Ghalan down, 'No Foul' says the referee as India seem to have started adopting a more physical approach to the game.
42′ The Blue Tigers try to stitch an attack through the right flank, but Manvir Singh cannot carry it into the Nepal box. The hosts quickly start a counter-attack but it doesn't amount to much.
40′ India trying everything they can to equalise before half-time. Only five minutes and added time remaining in the first half.
36′ GOAL FOR NEPAL! Bright start for the hosts here, although this is almost against the run of play. Big defensive mistake from the Blue Tigers' side as Chinglensana Singh attempts a poorly-timed back pass.
It is Anjan Bista who scores, as he latches on to the ball, finds some space inside the India box and slots it into the net.
30′ Good intent from India so far. This time they make another attempt to build play up, but fall at the final hurdle where a deflection takes the ball to the Nepal goalkeeper.
28′ The hosts taking shots from far out now, the latest one to do so being Pujan Uperkoti. However, his attempt lacks power and precision. Harmless for India.
26′ Chance for Nepal. Ayush Ghalan at work as he plays a juicy cross into the India penalty box. Unfortunately for him, none of his teammates are in a perfect position to head home, and the ball bounces out.
24′ A good chance for India to take the lead, but Nepal goalkeeper Kiran Limbu comes to the rescue of his team as he punches the ball away. Also earns a free-kick in the process. Danger averted.
20′ Not much have been seen of Sunil Chhetri so far in the game. As evident from the Blue Tigers' recent games, a lot rides on the Bengaluru FC forward whenever he plays for India. Fans will expect him to rise up to the occasion once again tonight.
18′ Nepal forward Anjan Bista looks hurt following a collision. Meanwhile, the others take a quick drinks break before the game resumes.
15′ India making too many mistakes especially in midfield, and Nepal unable to captalise on them despite starting promising counter-attacks. Story of the match so far.
14′ Ananta Tamang plays an ambitious pass forward to Ayush Ghalan, but the ball is too quick for the Nepali player as it goes out. Goal-kick for India.
11′ Brandon Fernandes enters the action. A good forward ball from him which Akash Mishra attempts to collect, but Nepal's Gautam Shrestha is the first man there and he clears it out.
8′ Dinesh Rajbanshi is definitely Nepal's star in the first few minutes. A series of no-nonsense clearances from him as India still look for their first goal.
6′ Foul on Suresh Wangjam by Suman Lama. Free-kick for India from their own half. Long-ball in, but Nepal easily intercepts.
4′ Gurpreet Singh Sandhu enters the action as he is forced to make a save from out wide. It's an easy save for the Bengaluru FC shot-stopper.
3′ India pressing hard to win possession. However they cannot keep it for long.
1′ The Blue Tigers initiate proceedings as they kick off. They also get an early chance and a corner, but it's finally a goal-kick for Nepal. A quick start!
1′ Nepal vs India, Match 1 Here we go! The referee has blown the whistle for kick-off!
5:12 pm: Here are a couple of photos from India's training earlier today, courtesy of AIFF!
5:10 pm: The first Nepal vs India International Friendly is on! As we speak, both team are walking on to the pitch. National anthems will follow.
5:05 pm: Reminding Indian football fans again that coach Stimac was handed an extension on his contract a few weeks ago. It is now up to him to prove that he deserves it.
5:00 pm: Just 15 minutes to kick-off! How's the josh, guys!
4:56 pm: India's Starting XI vs Nepal
4:56 pm: Nepal Substitutes – Bikesh Kuthu (goalkeeper), Bilal Shrestha (goalkeeper), Deep Karki (goalkeeper), Bishal Rai, Manish Dangi, Santosh Tamang, Nitin Thapa, Sunil Bal, Suraj Jeu Thakuri, Rajan Gurung, Aashish Lama and Kamal Thapa. Three goalkeepers!
4:53 pm: Let's take a look at India's options on the bench. There is Amrinder Singh (goalkeeper), Pritam Kotal, Mandar Rao Dessai, Lalengmawia, Jeakson Singh, Anirudh Thapa, Rahim Ali, Bipin Singh, Seriton Fernandes, Pronay Halder, Yasir Mohammad and Sahal Abdul Samad who are ready to enter the game at any point of time as substitutes.
4:50 pm: Take a look at the official match sheet here. Thanks for this, AIFF.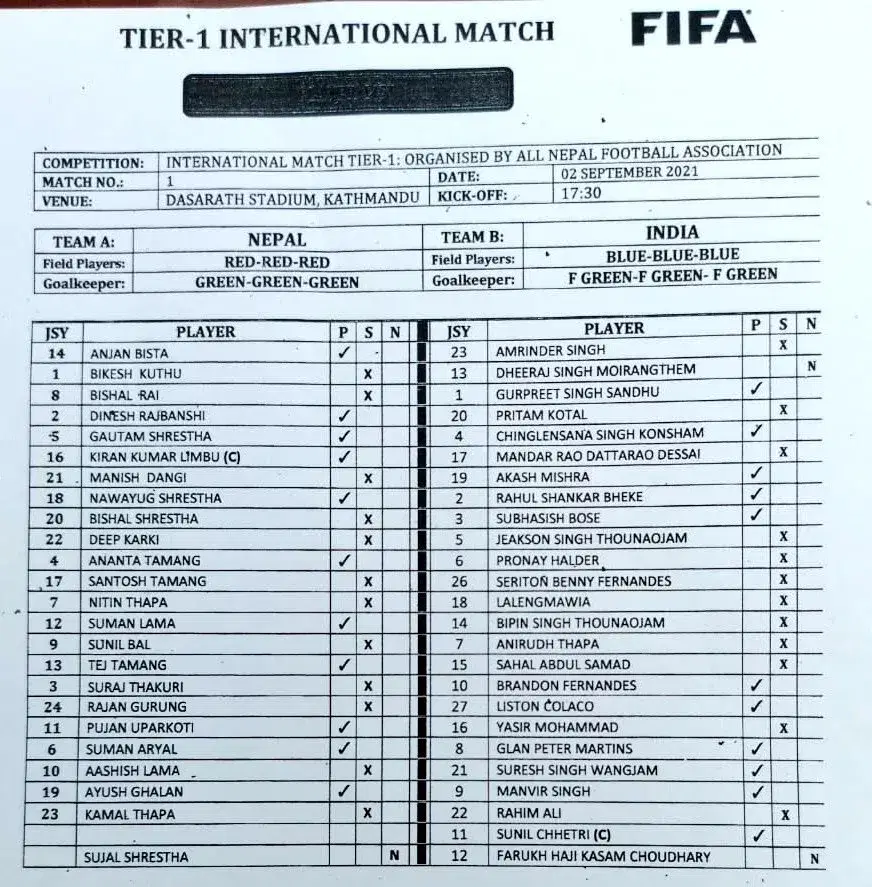 Nepal will be donning their Red home jersey. India, although playing away from home, will also be sporting their home colour of Blue. What other details can you spot?
4:44 pm: Stimac has claimed that India have done their homework ahead of the match vs Nepal. In the next couple of hours and a bit more, we'll see how that pans out!
4:42 pm: India head coach Igor Stimac and captain Sunil Chhetri also spoke on Wednesday.
4:40 pm: Here's an official update from the Blue Tigers. They have reached the venue of the game.
4:30 pm: 45 minutes to kick-off at the Nepal vs India clash!
4:25 pm: Just one change in Khel Now's predicted XI of Nepal, as teenager Ayush Ghalan plays in place of Santosh Tamang. Just two changes in our predicted XI of India, as Bheke and Subhasish get the nod over Seriton Fernandes and Pritam Kotal respectively.
4:20 pm: TEAM NEWS IS IN! Nepal vs India Line-ups:
Nepal (4-3-3): Kiran Limbo (GK); Dinesh Rajbanshi, Ananta Tamang, Gautam Shrestha, Suman Aryal; Suman Lama, Pujan Uperkoti, Tej Tamang; Ayush Ghalan, Nawayug Shrestha, Anjan Bista.
India (4-2-3-1): Gurpreet Singh Sandhu (GK); Rahul Bheke, Chinglensana Singh, Subhasish Bose, Akash Mishra; Glan Martins, Suresh Wangjam; Manvir Singh, Brandon Fernandes, Liston Colaco; Sunil Chhetri.
4:15 pm: Hello everyone, and welcome to Khel Now's Live Commentary of today's International Friendly. It's Nepal vs India and kick-off is exactly an hour away, at the Dasharath multi-purpose stadium in Tripureshwar, Kathmandu. This is your host Hari Thoyakkat, and I'll be giving you all the updates from the match in real-time!
Building up
So, as I've said, we have some time to spare – hence let's build the game up a bit. Led by head coach Igor Stimac, the Indian football team are returning to action today evening for the first time in nearly three months. The Blue Tigers last played an international fixture on June 15, when they took on Afghanistan in the FIFA World Cup 2022 Qualifiers. The match ended 1-1. Prior to that, Sunil Chhetri and co also registered a 2-0 win over Bangladesh and a 0-1 defeat against Qatar in the same competition.
A few weeks afterwards, Stimac was handed a contract extension. Today, the Croatian will be keen to prove as to why he deserved to stay on as the Blue Tigers' coach.
Meanwhile, Nepal will also be looking for a win vs India as they would want to prove that they're no pushovers. They are below Stimac and co in terms of FIFA rankings. Being the underdogs in this fixture, they will play without pressure. Another point to remember – they also have the home advantage! All of this means that there is indeed a lot riding on the match, although it is a Friendly by nature.
Click here to read Khel Now's preview of the Nepal vs India clash. You can read team news, predicted XIs and more on our preview.
For more football updates, follow Khel Now on Twitter, Instagram and join our community on Telegram.
posted in :