The last time both teams faced each other the match ended in a 1-1 draw.
After a tough game against Qatar last Thursday, the Indian Football Team now move on to an easier phase in their FIFA World Cup 2022 Qualifying campaign. Bangladesh vs India is the next game on Monday, followed by a clash between the Blue Tigers and Afghanistan on June 15.
The Blue Tigers did not suffer much damage against Asian champions Qatar, who beat them 0-1 thanks to a solo goal from Abdulaziz Hatem. Prior to that clash, India head coach Igor Stimac had made it clear that his team will look to play safe against them, so as to be at their best versus Bangladesh and Afghanistan. This is because both those games are must-win affairs for the team, in case they want to finish third in the group and advance further in the AFC Asian Cup 2023 Qualifiers.
In this article, Khel Now previews the upcoming Bangladesh vs India game.
About The Teams
Bangladesh
Bangladesh, like India, also resumed their FIFA World Cup 2022 Qualifying campaign in the past week. They were heading to a 1-0 defeat against Afghanistan, but an 84th-minute strike from Topu Barman levelled the scores and resulted in both teams sharing points.
From six matches, they now have two points and remain at the bottom of Group E. But, they only have a three-point deficit against third-placed Afghanistan and a win against India by three goals or more will see them overtake the Afghans. As things stand, such an outcome is highly unlikely, but we need to factor in all outcomes regardless.
India
The defeat to Qatar was expected by everyone in India including Igor Stimac, who has made it clear that the best of his resources will go into trying to win the matches against Bangladesh and Afghanistan. The Blue Tigers have basically gone past the most difficult stage of their campaign and an easier set of matches welcome them now.
On Monday night, we will witness the first of those two games, but things may not be as easy as everyone expects. The last time India faced Bangladesh, they were lucky to get away with a 1-1 draw. In their own backyard, the Blue Tigers were bossed by their neighbours who struck the post twice and almost had another one go in. Had it not been for Adil Khan who produced a miraculous goal-line clearance and scored the equalizer, the Indian football team would have had an embarrassing defeat.
It is now upon Stimac and Co. to assure fans that they have grown and developed as a team since then. Currently at fourth place in Group E with three points, a win will see them replace Afghanistan in third place.
Tactics
Bangladesh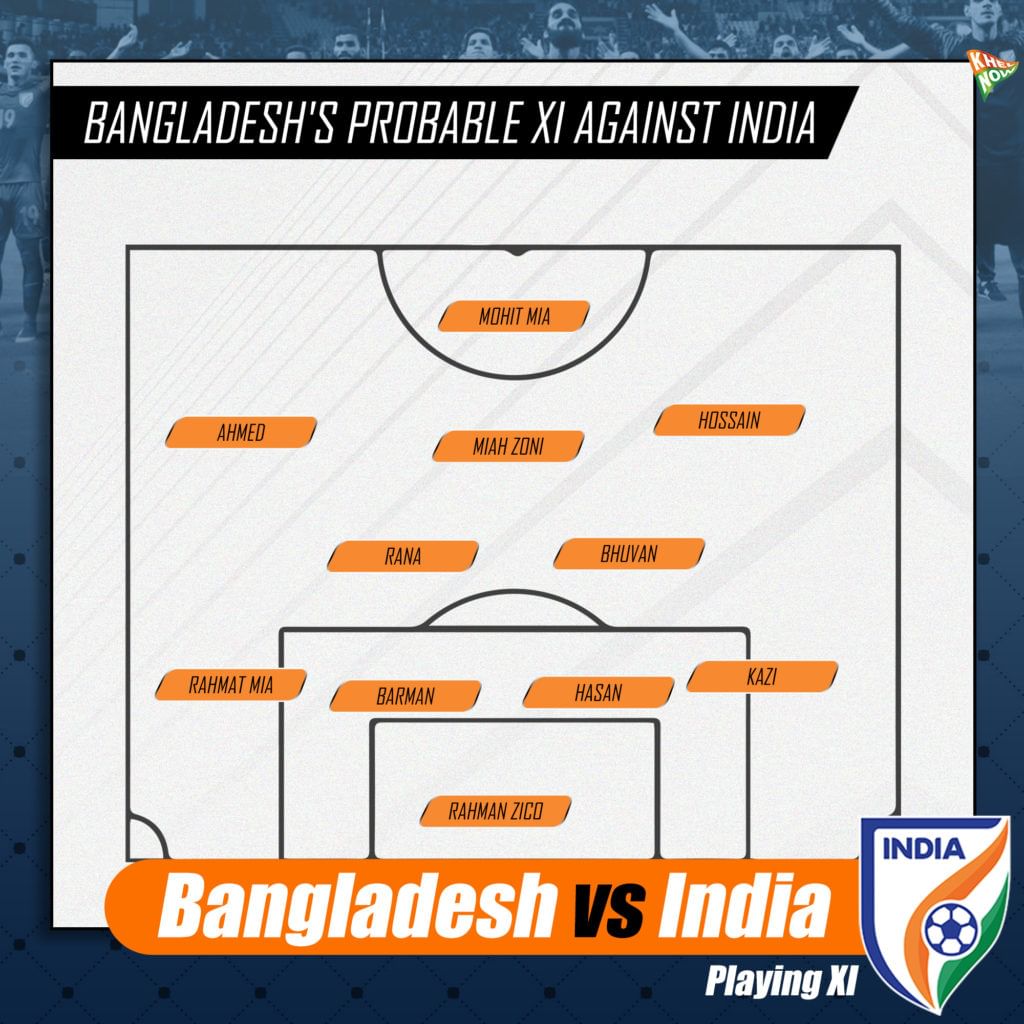 The team's head coach Jamie Day looks like an advocate of the 4-2-3-1 formation, as there are very few instances where he has lined his side up differently. Full-backs Rahmat Mia and Tariq Kazi are offensive-minded and they ably complement wingers Biplu Ahmed and Rakib Hossain in attack.
Whenever Ahmed and Hossain get to play inside the opposition box, Rahmat Mia and Kazi cover the flanks giving them more passing opportunities. The whole of India's defence needs to be mindful of this when they take them on.
When it comes to defending, Day uses the services of all four defenders and the two defensive midfielders as well. In case the two full-backs are caught out high in a counter-attack, Sohel Rana and Jamal Bhuyan will drop deep to cover for them.
India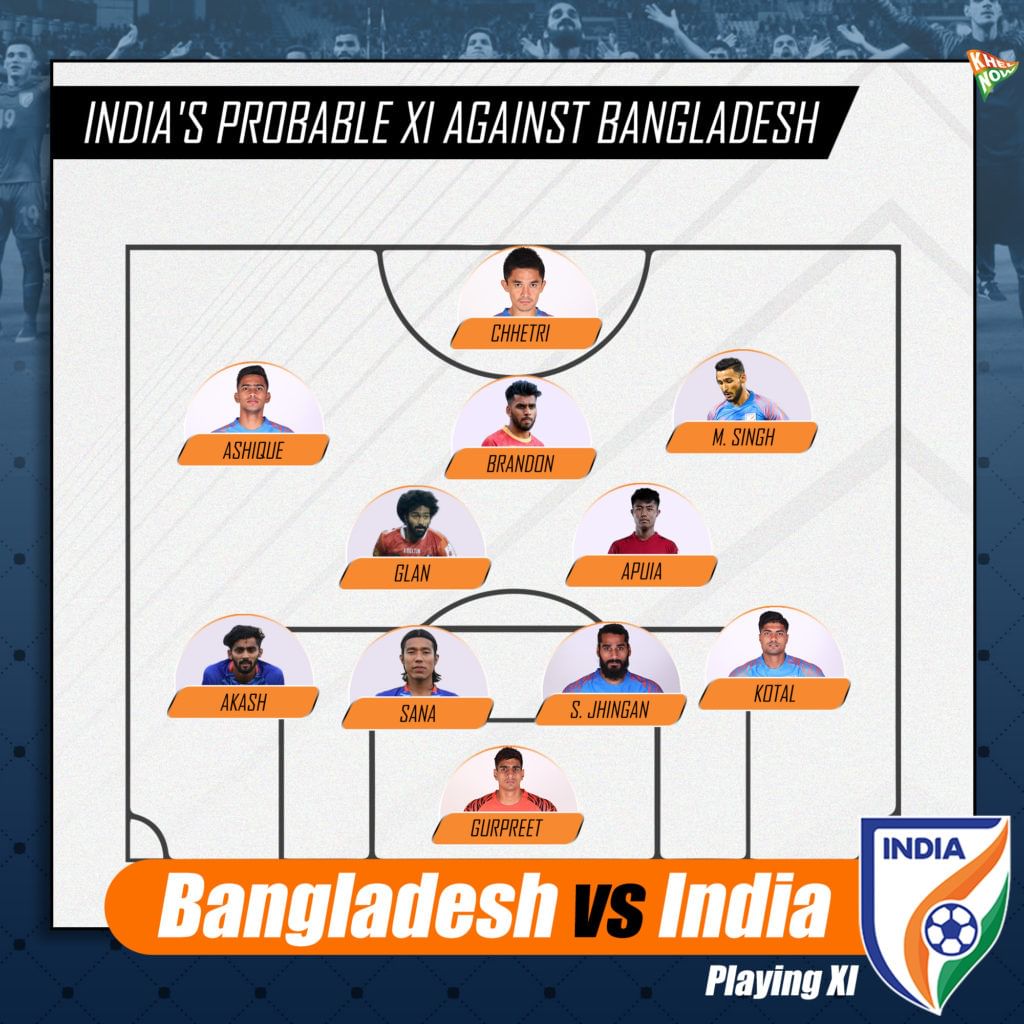 While the Blue Tigers employed a highly defensive 5-3-2 formation in the game against Qatar, it is unlikely that they will repeat it against Bangladesh and Afghanistan. For one, Stimac was looking at damage limitation against the Asian champions and he also succeeded to an extent. But, in doing so, they are now in a situation where they need two wins to claim third place in Group E. To do so, they have to be a more attacking side.
Like Day, the Croatian also prefers a 4-2-3-1 formation, although he is more open to experimenting than his Bangladeshi counterpart. However, we think that he will not try anything unusual on Monday. Akash Mishra may start at left-back, which means Ashique could return in a forward role replacing Bipin Singh. Brandon Fernandes may also start, as he is the most creative player in the team. Against Bangladesh, India need to score goals and Brandon's presence and creative flair will be an added boost for the side.
Although Glan Martins had a mixed debut, he could get another start as Rowllin Borges remains injured. After his impressive performance against Qatar, Apuia may also get a start against Bangladesh. The rest of the team picks themselves.
Probable Lineups
Bangladesh: Zico (GK); Kazi, Hasan, Barman, Mia; Bhuyan, Rana; Hossain, Zoni, Ahmed; Mia.
India: Gurpreet (GK); Kotal, Jhingan, Chinglensana, Akash; Apuia, Glan; Manvir, Brandon, Ashique; Chhetri.
Players To Watch
Jamal Bhuyan (Bangladesh)
The captain of Bangladesh, Jamal Bhuyan is also the most popular name in the squad. He played in India in the 2020-21 season – for Mohammedan Sporting in the I-League and it is safe to say that he made a decent impact.
With the experience of playing in Europe, the 31-year-old is one of the biggest threats in Jamie Day's side. Bhuyan's passing ability, creativity, defensive abilities and hard work make him a tough nut to crack. His set-piece delivery and aggressive pressing could also cause trouble for the Blue Tigers.
When India and Bangladesh last faced each other in 2019, Bhuyan was one of the best performers on the pitch. On Monday, it will not be surprising if he causes further trouble for Stimac and Co.
Sunil Chhetri (India)
'Captain Fantastic' Sunil Chhetri is the most important member of the Indian football team. It is understandable, given he is one of the best all-time international goalscorers ever. The Bengaluru FC striker has often saved his team with crucial goals in crucial moments and he could do the same against Bangladesh. Further, he is coming back after recovering from COVID-19 and could not impress against Qatar. Both these factors will definitely be on his mind when he takes the field on Monday.
Apart from his goal-scoring abilities, the Indian skipper is also well-known for his powers in finding spaces. If he is given the license to roam around freely in attack and play off the likes of Ashique and Manvir, Chhetri can easily get into those pockets of spaces in the final third.
Last, but not the least, the 35-year-old's presence will also have a psychological impact, as the Blue Tigers generally tend to do well when their inspirational captain is leading from the front.
What To Expect
Given how India have much superior names in their squad when compared to Bangladesh, a win is what everyone would expect. We have also mentioned already that the Blue Tigers should take home three points, if they would like to claim third place in Group E.
The draw from last time out was not acceptable and the same will be the case once again on Monday.
Telecast
The match between Bangladesh and India will be held at the Jassim bin Hamad Stadium in Doha. Kickoff will be at 7:30 pm IST on June 7.
Fans in India can watch the game live on Star Sports 2/2 HD, Star Sports 1 Hindi/1 HD Hindi, Star Sports 3, Star Sports 1 Tamil, 1 Telugu, 1 Kannada and 1 Bangla. It was also be available on their streaming service Hotstar and Jio TV.
For more updates, follow Khel Now on Twitter, Instagram and join our community on Telegram.