After weeks of speculation, the Argentine is finally expected to arrive in Turin soon.
It has been a very quiet transfer market for Juventus so far. With no Serie A title in the past two seasons, the Old Lady were expected to act aggressively in the transfer market but have remained silent. They have also already lost key players like Dybala and Chiellini for free. In recent developments, they appear to be closing in on the free transfer of Argentine star Angel Di Maria.
Juventus have been searching for a lethal winger for several years, and Angel Di Maria is expected to fill that role. He has been a subject of a transfer tussle between FC Barcelona and Juventus this summer, but now it appears Turin is his next destination. Di Maria is in great form for Argentina at the moment and could be the saviour for Juventus in their battle to regain Serie A dominance.
Today we are going to prove five reasons why Angél Di María is perfect for Juventus.
5. Instant fit into Max Allegri's system
After returning to Juventus last summer, Allegri's first season was a bit of a rollercoaster. He returned to Juventus with a string of problems after previously winning Serie A five times in a row at Allianz Stadium. One of the biggest problems he had was a lack of players in wide areas and wings. As much as the Italian manager liked to use his wingers and fullbacks in attack, he had no effective options.
The two candidates he tried — Dejan Kulusevski and Federico Bernardeschi — failed to deliver. As far as quality options go, Allegri only had Federico Chiesa to choose from. A genuine winger like Angel Di Maria would fit into Allegri's plans. A technically sound winger like Di Maria could be very lethal on either flank. And would fulfil the Allegri's missing piece in his system.
4. The Winning mentality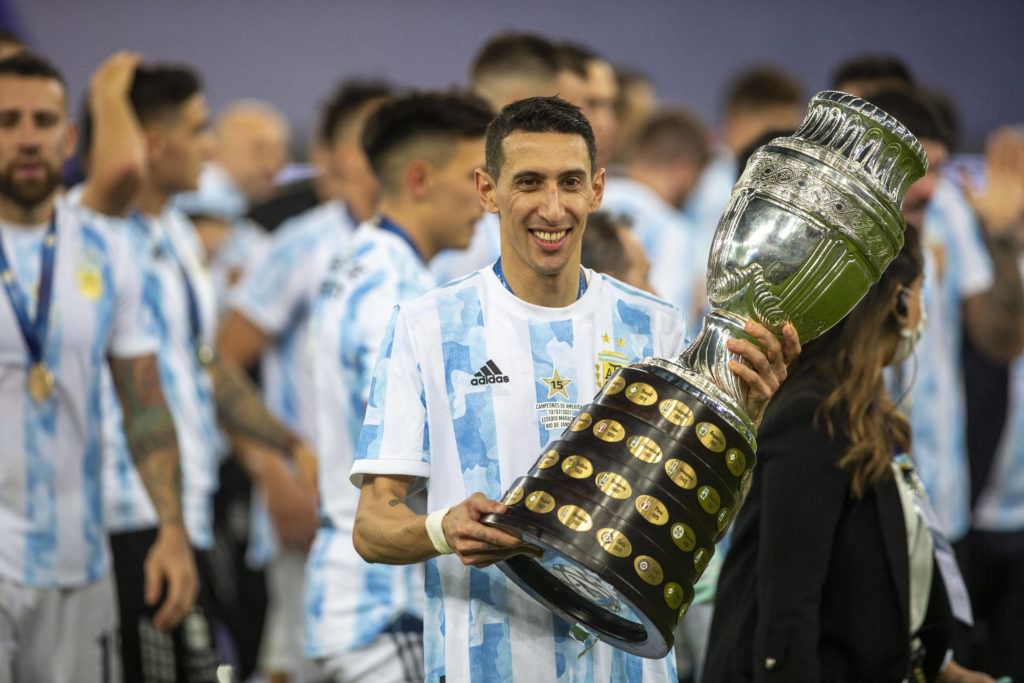 There have been more than 15 years of Angel Di Maria in European football. Till now, he has been prolific in winning at all of his clubs. Bringing Di Maria to Turin would bring the winning mentality Turin needs. It has been tough for the Old Lady to win big games in the last few years. Especially since Cristiano Ronaldo left the team, the team has been lacking a leader.
The current Juventus squad lacks the winning mentality that Di Maria exhibited throughout his career. He has won leagues in Spain, France and Portugal. Additionally, Juventus lost Dybala and Chiellini this summer, two of the team's strongest members.
3. Recent Form
Among the many underrated players in the last year, Angel Di Maria is undoubtedly at the top. Argentina's success at Copa America and the win against Italy in the Finalissima trophy were largely due to him. He also enjoyed another successful season in Paris. Di Maria started 17 games in the French League last season and finished the campaign with five goals and seven assists.
Last season, Juventus struggled to score goals and finished the season with the fewest goals among the top 10 teams in Serie A. In the last year, Di Maria has been in superb form, and with Vlahovic up front, they could form one of Europe's most lethal partnerships.
2. Leader of the Pack
In the aftermath of Cristiano Ronaldo's departure, Juventus struggled heavily with leadership qualities. In addition to leading from the front, Ronaldo had a strong influence on the pitch. Last season, Juventus appeared completely confused on the field at times. For years, the old lady had the luxury of always having great leaders on the pitch.
Despite the fact that this tradition has been broken in recent years. Juve's current squad is one of the youngest in Europe, and they don't have many leaders in their dressing room. The team has already lost Chiellini and Dybala, who were big names on the field. Currently, their most experienced players are Bonucci, de Ligt, and Szczęsny. Di Maria could be the missing piece for their jigsaw puzzle in attack, especially with no big names to choose from.
1. Last dance in Europe
The presence of Angel Di Maria in Europe goes back more than 15 years. Since then, he has played in Portugal, Spain, England, and France. Except for one season at Manchester United, Di Maria has enjoyed success in all leagues. He has won championships in France, Spain, and Portugal. Only Italy remains for him to leave his mark.
Angel Di Maria has already confessed his intentions to retire in Argentina and his spell at Juventus could be his last dance in Europe. He is currently 34 years old, so he might still have two years left in him to play European football. With the World Cup also this year, Angel Di Maria will have high hopes for a successful end to his European career with Juventus.
For more updates, follow Khel Now on Twitter, Instagram and Facebook.