The Brazilian is currently a free agent with the Gunners being favourites to sign him.
Arsenal are close to sign Willian on a free transfer after the attacker refused to sign a new contract at Chelsea. The 31-year-old wanted a three-year contract but the Blues were only willing to offer a two-year extension.
As a result, the forward has now denied to sign a new contract and is a free agent as of now with Arsenal leading the race to secure his services. The deal has also received the seal of approval from manager Mikel Arteta as he looks to bolster his attacking options. So if the transfer does materialize, how will the Brazilian fit in at Arsenal and what will he bring to the side? Let's find out. 
5. Versatility
Willian is a tricky winger that can do a commendable job on either flank for Arsenal. Regardless of which position he occupies, the Brazilian doesn't look out of place and manages to contribute adequately. When playing on the right wing, Willian possesses the acceleration and skills to breeze past his marker, run to the byline, and whip in dangerous crosses for his teammates.
If he is deployed on the left, he is adept at cutting inside and unleashing venomous efforts on goal. Moreover, his inward movement tends to drag the opposition players with him, which in turn creates space for the full-back to run into. The flexibility and versatility of Willian will be a great asset for Arsenal as Arteta could utilize his strengths for various tactical purposes depending upon the opposition and the requirements in a match.
4. Proven in Premier League
Ever since he joined Chelsea in 2013, Willian has been an important player for the Blues and has proven to be a very successful signing. In the last seven years, the 31-year-old has played 234 league matches, amassing 37 goals and 33 assists. He is also a two-time Premier League winner and has won the FA Cup, League Cup, and Europa League during his time at the Blues.
Willian is a proven commodity and will not need much time to settle in at Arsenal as compared to any signing from the other leagues, who generally need time to adjust to the Premier League. It was also the case with club-record signing Nicolas Pepe, who took time to acclimatize to English football and gradually grew in stature as the season progressed. Hence, acquiring a player who is experienced and can hit the ground running makes plenty of sense for the Gunners.
3. Reliability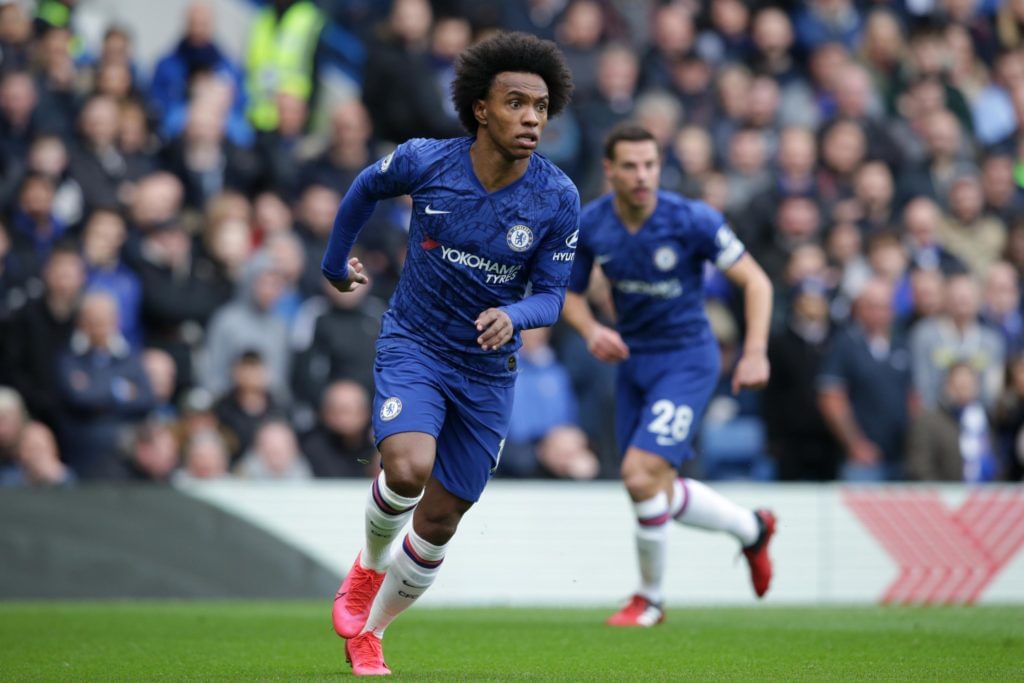 Willian is also quite a durable athlete and boasts a tremendous injury record. He rarely is injured and his reliability would be such a huge bonus, especially for a side that has struggled with injuries. In the last three seasons, the attacker has recorded 36, 32, and 36 league appearances respectively in each campaign. For someone who relies on his dynamism and rapidity, it is truly incredible that he has managed to stay clear of any injury concerns.
It is a bit curious that he receives non-stop criticism from fans, with many not rating him in the slightest but then every manager that has coached him tends to be huge admirers of him. This might be down to his professionalism and sincerity in training and recovery sessions that help him to maintain top fitness whilst also simultaneously becoming somewhat of a favorite in the eyes of his coaches.
2. Suits the manager
Willian has a number of admirable qualities; however, his hardworking and diligent displays are arguably treasured most by his managers. Whenever he takes the field, the winger covers huge distances, helps his full-back defensively, and is just a constant menace for the opposition. Now, due to the cluster of injuries towards the back end of last season and the limited resources, Arteta used a more pragmatic approach.
However, it wouldn't come as a surprise if he implements a more aggressive style in the upcoming campaign, demanding his attackers to press from the front as he starts getting his methods across to his players during the pre-season. The tireless energy and resourcefulness would make Willian a great fit at Arsenal and with the quality he possesses, he could terrorize opponents alongside the likes of Pierre-Emerick Aubameyang and Nicolas Pepe.
1. Low-risk signing
Arsenal came under a lot of criticism recently as they announced their decision to lay off 55 staff members.  With finances taking a hit during the pandemic and the subsequent redundancies, it is highly unlikely that the club will spend big money on any signing this summer.
In that case, even after taking his wages into account, adding Willian to the ranks on a free transfer is an astute move from a financial and a sporting point of view right now. This gives them an opportunity to invest wisely in other areas that require strengthening. The Gunners still need another centre-half or two and a defensive midfielder, with the likes of Gabriel Magalhaes and Thomas Partey reportedly targeted by the English outfit.
Meanwhile, Willian scored nine goals and provided seven assists last term. Moreover, he yet again demonstrated his excellent dribbling prowess and ability at carrying the ball, having completed 62 dribbles with a notable success rate of 72.1 %. Questions have rightly been asked about his age and the length of the contract offered to him; however, considering all the factors involved, he could prove to be a masterstroke in the current market and would possibly be a terrific addition to the squad.
For more updates, follow Khel Now on Twitter and join our community on Telegram.