A lot was expected from these footballers but they weren't able to capitalize on their early success.
Football is a great leveller. At certain times, there is nothing like the 'beautiful game' to lift up your spirits, while at other situations, it teaches us a lot about the harsh realities of life. Quite often, you get to hear about the Messis and Ronaldos making it big by means of their talent and skill with the ball, while occasionally you also find yourself paying attention to the Andres Escobars and Adrianos who unfortunately became the tragic faces of the same game.
Talent alone does not guarantee a fulfilled career. Combining that talent with mental fortitude is imperative to shine in the biggest stages. Unfortunately, an unexpectedly large number of players have lacked that trait and for all the talent they had, their careers never reached the astronomical heights of superstardom that were once expected of them.
That said, we take a look at an all-time XI of some footballers who failed to live up to their potential.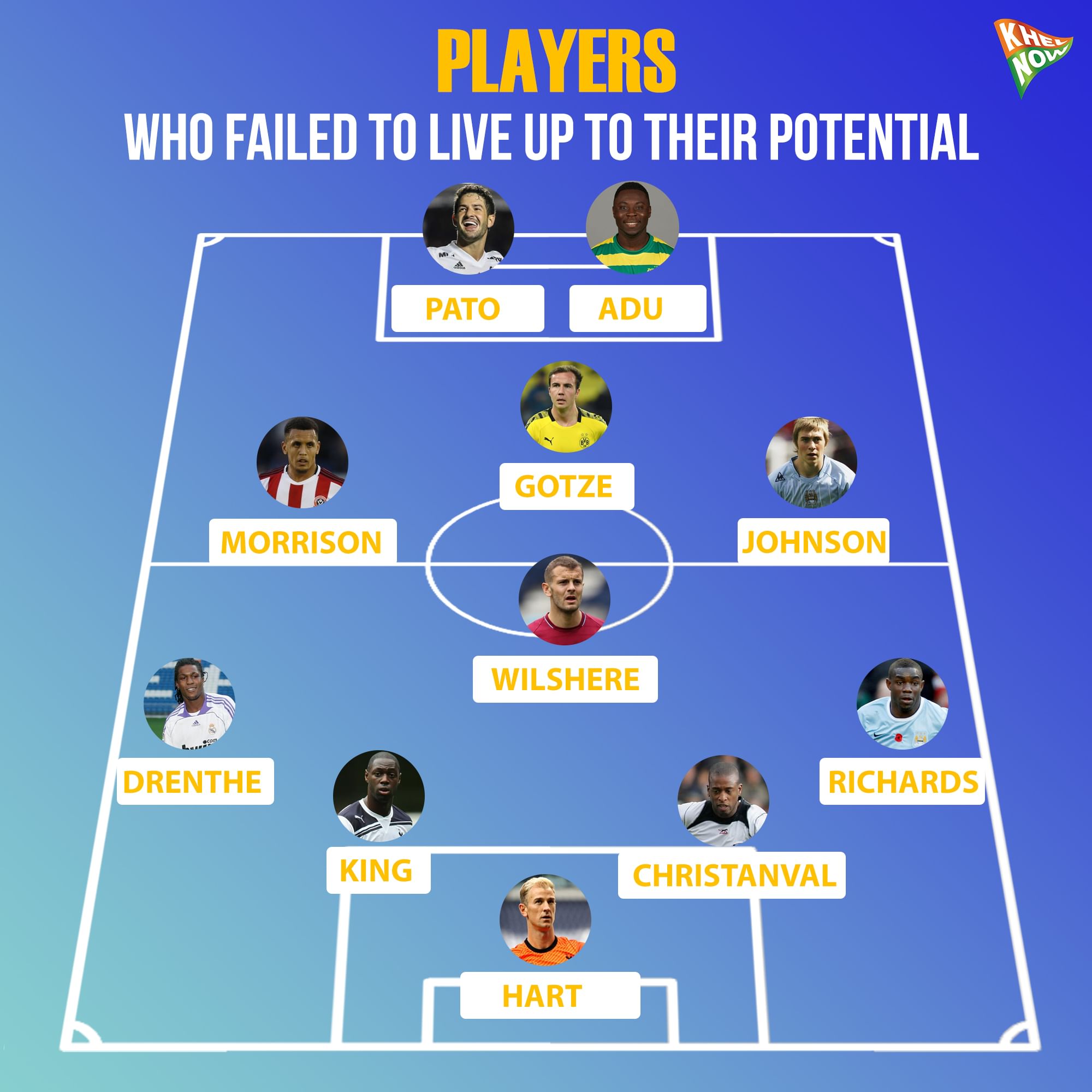 Goalkeeper: Joe Hart
At one point of time in his career, Joe Hart was the first choice between the sticks for both Manchester City and the England national team – between 2010 and 2015, he was considered one of the greatest English goalkeepers of all time, winning the Premier League twice, FA Cup once and the Premier League Golden Glove four times during this period. But unfortunately for him, it did not take much time for things to take a big tumble, as a series of unforgivable errors over the course of the 2014-15 and 2015-16 season caused him to fall down the pecking order initially at City and later with the Three Lions.
Loan moves to Serie A side Torino and West Ham United followed, before Burnley signed him in 2018 and made him play just 19 matches across two seasons. Currently aged 33, Hart is now the second choice goalkeeper behind Hugo Lloris at Tottenham Hotspur, where he will probably try for one last time to rejuvenate his career.
Right-Back: Micah Richards
After impressing in his breakthrough 2005-06 season at Manchester City, 18-year-old Richards became the youngest defender of all time to represent England in November 2006. With the world seemingly at his feet, however, Richards was unable to match the hype and in 2008, he suffered a severe knee injury that would go on to bother him for the rest of his career.
"When I look back on my career, I know things could have gone better but I know I always gave everything I could, and I am content with that," Richards told BBC last year.
Right Centre-Back: Philippe Christanval
As a young centre back at Ligue 1 side AS Monaco, Christanval was known for his pace, power, skill, and a cool head. He was even given the captain's armband in a few matches at the age of just 22. In the same season, he also won France's Young Player of the Year award as Monaco lifted the Ligue 1 title.
A dream move to Barcelona followed but unfortunately, that's where it all went wrong for the youngster, who failed to make any kind of impact and was released just two years later. Spells with Marseille and Fulham followed, however after being released again by the latter, Christanval retired from football in 2009 after being unable to find a new club.
Left Centre-Back: Ledley King
Ledley King's failure to fulfill his potential came down to injuries rather than anything else. A Tottenham regular by the age of 20, King was threatening to displace either John Terry or Rio Ferdinand at the heart of England's defense ahead of the 2006 World Cup.
However, a chronic knee problem and a broken foot meant he couldn't travel. King's knee continued to bother him throughout the rest of his career, often ruling him out of games and forcing him to train alone. Eventually, in 2012, he retired from football having missed over two seasons of action through injury.
Left-Back: Royson Drenthe
At the age of 20, highly rated Dutch youngster Royston Drenthe was presented as a Real Madrid player alongside Wesley Sneijder. While the latter shone and went on to be regarded as one of the all-time greats, Drenthe found himself falling further from grace with every move that he made. Finally, in 2016 – just nine years after signing for Los Blancos, the left-back was unable to find a club following his release from UAE Pro League side Baniyas. He also decided to hang up his boots immediately afterwards.
But two years later, at the of 31, Drenthe came out of retirement – and earlier last year, signed a new deal at Dutch third division side Kozakken Boys. He is still playing for them, but it is safe to say that he has been unable to fulfil any of the expectations that fans had on him as he donned Real Madrid's shirt over a decade ago.
Centre-Midfielder: Jack Wilshere
Jack Wilshere is another football player who didn't fulfil his full potential because of major injury problems throughout his career. He made his debut in September 2008, at the age of 16 years and 256 days, becoming Arsenal's youngest-ever league debutant.
The midfielder was once seen as the future captain of Arsenal and the England national team, but his injury struggles have halted what might have been a spectacular career. After joining West Ham United in 2018, he has played only 16 Premier League games for them across the last two seasons.
Right Centre-Midfielder: Michael Johnson
When the subject of failed English wunderkinds is raised, Michael Johnson frequently gets a mention. The young midfielder burst through at Manchester City in the 2006-07 season as the most exciting homegrown talent that the club had produced in an entire generation. By 2012, though, Johnson's career was over.
Injuries ravaged the midfielder. Compared to Michael Ballack and Roy Keane, Johnson picked up abdominal and knee injuries that proved too much to recover from. Released by City in 2012 after just four appearances in five years, Johnson's case of unfulfilled potential is a particularly acute one. As per the latest reports, he currently runs his own estate agent's business, from his hometown of Urmston in England.
Left Centre-Midfielder: Ravel Morrison
It was none other than Sir Alex Ferguson who once called Ravel Morrison 'the best kid you'll ever see'. Back then, the controversial midfielder was an integral part of Manchester United's youth side. While his football ability can never be called into question, his work ethic and attitude were far from exemplary at Old Trafford as he trained alongside the likes of Paul Pogba and Jesse Lingard.
Due to several controversies both on the field and off it, the Red Devils cut their ties with Morrison in 2012. He then went on to join West Ham, Birmingham, QPR, Sheffield United, Lazio and so on, but could only play a total of 104 league matches in the eight years since leaving Old Trafford. Currently playing for Eredivisie outfit ADO Den Haag, Morrison is no longer the 'best kid ever' that he once was.
Centre-Attacking Midfielder: Mario Gotze
Who can forget the not-so-tall attacker who received Andre Schurrle's weighted cross on his chest before tucking it into the far end of Argentina's goalpost to gift Germany their fourth FIFA World Cup title in 2014? However, disappointingly, that became Gotze's only career highlight, as the German failed to create an impact despite plying his trade with Bayern Munich and Borussia Dortmund for years.
Gotze rose through the ranks as a Borussia Dortmund player before earning the switch to arch-rivals Bayern Munich in 2013. Back then, it was a sign of things to come as the football player won his country the World Cup the next year, before playing a role in the Bavarians' Bundesliga and DFB Cup wins in the next two seasons. However, a metabolic disorder which was later diagnosed to be myopathy (a muscular disorder which affects the muscle fibres) meant that he could never reach the heights he was supposed to reach.
After returning to BVB, he was reduced as a fringe player before his contract wound up at the end of the 2019-20 season. Aged just 28, the former World Champion is currently playing for PSV.
Right Centre-forward: Freddy Adu
Dubbed 'the next Pele', Freddy Adu is one of world football's most-discussed examples on how loads of talent alone doesn't help anyone build a career in the game. At the age of just 14, Adu was putting pen to paper on a sponsorship deal with Nike worth more than $700,000 and making his debut in professional football in the USA's Major League Soccer (MLS).
Interest from clubs including Manchester United followed, but several issues including the failure to get a work permit prevented him from making a move to Europe. He finally gained access to the continent by signing with Benfica as soon as he turned 18, but even that did not work out as he got shipped out on not-so-successful loan moves season after season. Eventually, he peaked before turning 25 and never played for dream clubs of his choice. Currently aged 30, he is without a club, and is unlikely to play professional football ever again.
Left Centre-forward: Alexandre Pato
Once dubbed a 'wonderkid' during his time at AC Milan, Alexandre Pato's journey to world-class status soon took a wrong turn, just like the others in this list. The fall of Pato was as quick as his rise. By the time he was 21, Pato had taken his homeland by storm at boyhood club Internacional, as well as leading AC Milan to their first league title in seven years. However, injuries played spoilsport and perhaps the returning fear of losing out all together caused him to lose focus, as his career took an abrupt nosedive.
After a spell with Milan that took off well but became poor soon after, Pato returned to Brazil and joined Corinthians. He failed to impress there as well and loan moves followed one after the other, and finally, he earned a move back to Europe via Chelsea in 2016. Villarreal came calling six months later, before he fell for the riches of the Chinese Super League (CSL) in 2017 when he signed for Tianjin Tianhai.
That has turned out to be his last high-profile transfer till date, and while he may have earned a good sum of money from his time in China, his career has undoubtedly not seen the growth that was once expected of him.
For more updates, follow Khel Now on Twitter and join our community on Telegram.