Sky Sports/The Independent
The German tactician lifted the Blues from 10th in the Premier League to European Champions in just six months.
When Thomas Tuchel took over from Frank Lampard at Stamford Bridge in January 2021, he made his intent very clear on what he wanted to achieve with Chelsea. After a draw with Wolves in his first game in charge, he vowed to make Chelsea into a team that no one wants to play against.
A fourth-place finish, a Champions League and Super Cup winners medal later, his Chelsea side are on top of the league. They are already being regarded as the title favourites alongside Liverpool and Manchester City. The miserly defence have kept 31 clean sheets under Tuchel in his first 50 games in charge. He has a highly mobile front three that rotates at will, pressuring high up the pitch. They are linked by a midfield five that keeps things ticking. One would wonder, how did Thomas Tuchel turn a struggling team into a winning machine in the span of just over six months?
What Chelsea were before Tuchel
Legendary former AC Milan manager Arrigo Sacchi famously said, "Great clubs have had one thing in common throughout history, regardless of era and tactics. They owned the pitch, and they owned the ball. That means when you have the ball, you dictate play and when you are defending, you control the space."
Thomas Tuchel sought to bring these principles to West London. He was taking over a Chelsea side that had kept only three clean sheets in the last 12 games. There was a good blend of youth and experience in the defence in the form of Reece James, Ben Chilwell, Andreas Christensen, Antonio Rudiger, Cesar Azpilicueta, Marcos Alonso, and the seemingly ageless Thiago Silva.
Jorginho, Mateo Kovacic, N'Golo Kante and Billy Gilmour gave Thomas Tuchel plenty of variety in terms of ability in the center of the pitch. It was in attack where Chelsea had invested heavily over the summer with the arrivals of Hakim Ziyech, Timo Werner, Kai Havertz to complement Tammy Abraham, Mason Mount, Olivier Giroud and Christian Pulisic.
Lampard's preferred 4-3-3 formation leaned heavily towards the attacking third of the pitch, leaving the team vulnerable to opposition counterattacks. Even the tireless Kante was unable to prevent teams from cutting through towards Edouard Mendy's goal.
The squad had depth, youth, experience, and title-winning ability. It needed an elite coach. Tuchel had a squad that was hurting from losses, lack of performances and misfiring signings. Being a disciple of Ralf Rangnick, he knew he had the potential to bring a transformation to the team's fortunes.
A change in formation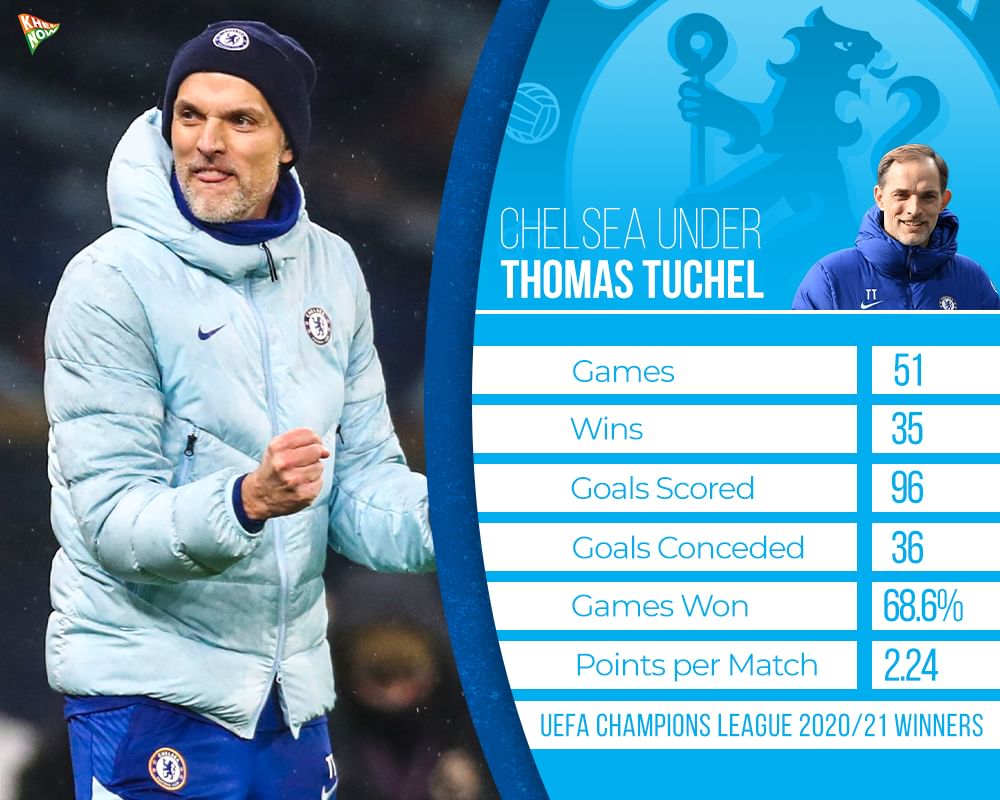 Thomas Tuchel returned to a three-man backline, protected by a two-man midfield pivot in proximity. This ensured solidity in the middle of the pitch and would help the team to retain possession. Two wingbacks provided width and two narrow attacking midfielders would play around a striker.
This would effectively pin opposition defences deep into their own half. The change was not unfamiliar to most members of the Chelsea squad. This was because they had played in Antonio Conte's 2016-17 title-winning team. The shift to a 3-4-2-1 system sought to give Chelsea control the spaces in every area of the pitch.
Strong defence
A strong defence is always the bedrock to great title-winning sides. Thomas Tuchel said that he did not want to give teams an inch of space when they played against Chelsea. The team scored only 13 times in his first 10 games. But more importantly, they were winning again. The squad tasted blood and embarked on a winning run in the league and Europe. This saw them take down Atletico Madrid, Real Madrid, Liverpool, Manchester City in the league, FA Cup and Champions League final. This punctuated what was a vindication to the Chelsea hierarchy on their decision to move Lampard on.
This style play brought back memories of Jose Mourinho's first spell at Chelsea where defence was always a priority. The Blues never played free-flowing attacking football. Chelsea under Thomas Tuchel has seen the entire team embrace an aggressive, relentless, and high-energy style of play. This has suffocated oppositions into mistakes across all areas of the pitch.
Tweaking the attack
Werner, Havertz, Mount, Pulisic, Abraham, Giroud and Ziyech are attackers that any manager would want in their squad. Lampard was unable to find the right system to get the best out of his expensive new talents. He also wanted to be loyal to the academy talents that enabled him to finish within the Champions League spots in the previous season.
The move of Thomas Tuchel to have a mobile front three had two advantages. It created a link between the attack and midfield and additional security against counterattacks. It also gave the team chances to form overlaps on either flank. This was in case the wingbacks were marked out of the game.
A team that was labelled boring last season under Thomas Tuchel have scored 28 times already this season. This included a 7-0 win over Norwich City. The draw against Manchester United was only the third occasion when Chelsea conceded from open play in the Premier League season. The frontline is yet to function smoothly with the addition of Romelu Lukaku to give the Blues a greater aerial threat and a focal point for their attacks. But one must also remember that Lukaku did not have a full pre-season with Chelsea. He has also been missing due to injury for a considerable period.
Astute man management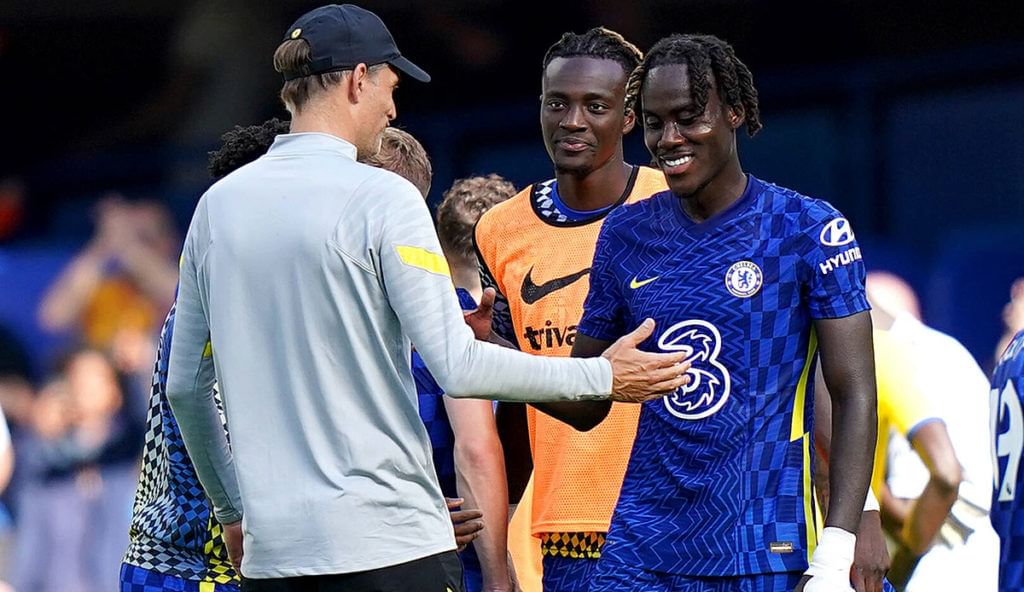 What was most striking was the way Thomas Tuchel handled the various personalities in his squad. Lampard was quick to abandon the use of his veteran players in favour of younger legs. However, Tuchel has adopted a more measured approach.
The older heads just needed an arm around their shoulder and just the right amount of motivation to get back to their potentials. The younger players, including the academy products were assured of being given a fair chance of making the first XI. It has seen the likes of Trevor Chalobah being a key cog in the defence in tough games against Juventus and Manchester United. Ross Barkley and Ruben Loftus-Cheek, whose career at Chelsea and England had stalled, were revitalised under the German.
Thiago Silva and Rudiger has grown into pillars in defence and mentors to Christensen and Chalobah. Chilwell and James are among the top scorers in the team. Jorginho, Kante and Kovacic have come into their own. Under Thomas Tuchel, they are looking like the players that Chelsea paid big money for.
The 'Differential Learning' technique
A Champions League title and a Super Cup win would usually put most squads in a comfort zone. However, Tuchel's relentless drive and work-ethic and attention to the smallest details during preparations for matches have paid dividends. Thomas Tuchel has adopted Professor Wolfgang Schollhorn's "Differential Learning" sports science theory into his training sessions.
The theory revolves around the fact that players do not learn new sequences and techniques by mere repetition as most coaches would suggest. It instead advocates for the introduction of small deviations and distractions into these sequences repeatedly. Such an approach saw Thomas Tuchel making his training sessions more intense than the actual match itself and thus keeping his squad prepared to handle any scenario during the game.
Chelsea's season so far has had its blips in the losses to Manchester City and Juventus followed by the frustrating draws with Burnley and Manchester United. But these drawn games have seen Chelsea batter the opposition goal incessantly only to be let down by their finishing. It has only given Tuchel more incentive to double down on his approach given that they are on top of the league table and safely through to the Round of 16 in the Champions League as group leaders.
Thomas Tuchel turned Chelsea's fortunes around to devastating effect in under half a season. The possibility to build on that success with a full pre-season is far too tantalizing for both Tuchel, the fans and the club — marking the return of the Blues back to England and Europe's elite.
For more updates, follow Khel Now on Twitter, Instagram and Facebook.