The Snow Leopards will look to replicate their superb performances from last season.
David Robertson's rather strong-looking Real Kashmir side will be keen to kick on from exactly where they left off last time around. In the club's first-ever attempt at cracking the I-League puzzle, they managed to surprise everyone involved, by pulling off an incredible third place finish at the end of the term.
They were bettered on the table only by East Bengal and eventual champions Chennai City FC. They also put up better performances than more established teams like Mohun Bagan and Churchill Brothers. They will surely be looking to keep the good work going in the new campaign.
Last Season's Performance: Third
The Snow Leopards succumbed to just three defeats all campaign last year and picked up an impressive return of 36 points from their 19 matches. Despite conceding 14 times, they successfully managed to out-manoeuvre the opposition on most occasions, by simply outscoring them.
Despite the fact that last season was their first-ever in the then top tier of Indian football, their achievements were commendable indeed. The fact that they were able to beat what are considered to be some of India's best teams, further highlights their credentials to challenge for the title this time out.
Pre-Season
The Snow Leopards participated in the Durand Cup ahead of the new campaign and bowed out against a familiar foe in Mohun Bagan.
After losing out in the semi-finals of the tournament, they travelled to Mumbai for a two-week training camp. They played out hard-fought draws against ISL opposition in Jamshedpur FC and FC Goa, while they unfortunately lost 4-0 to Chennaiyin FC.
Coaching Staff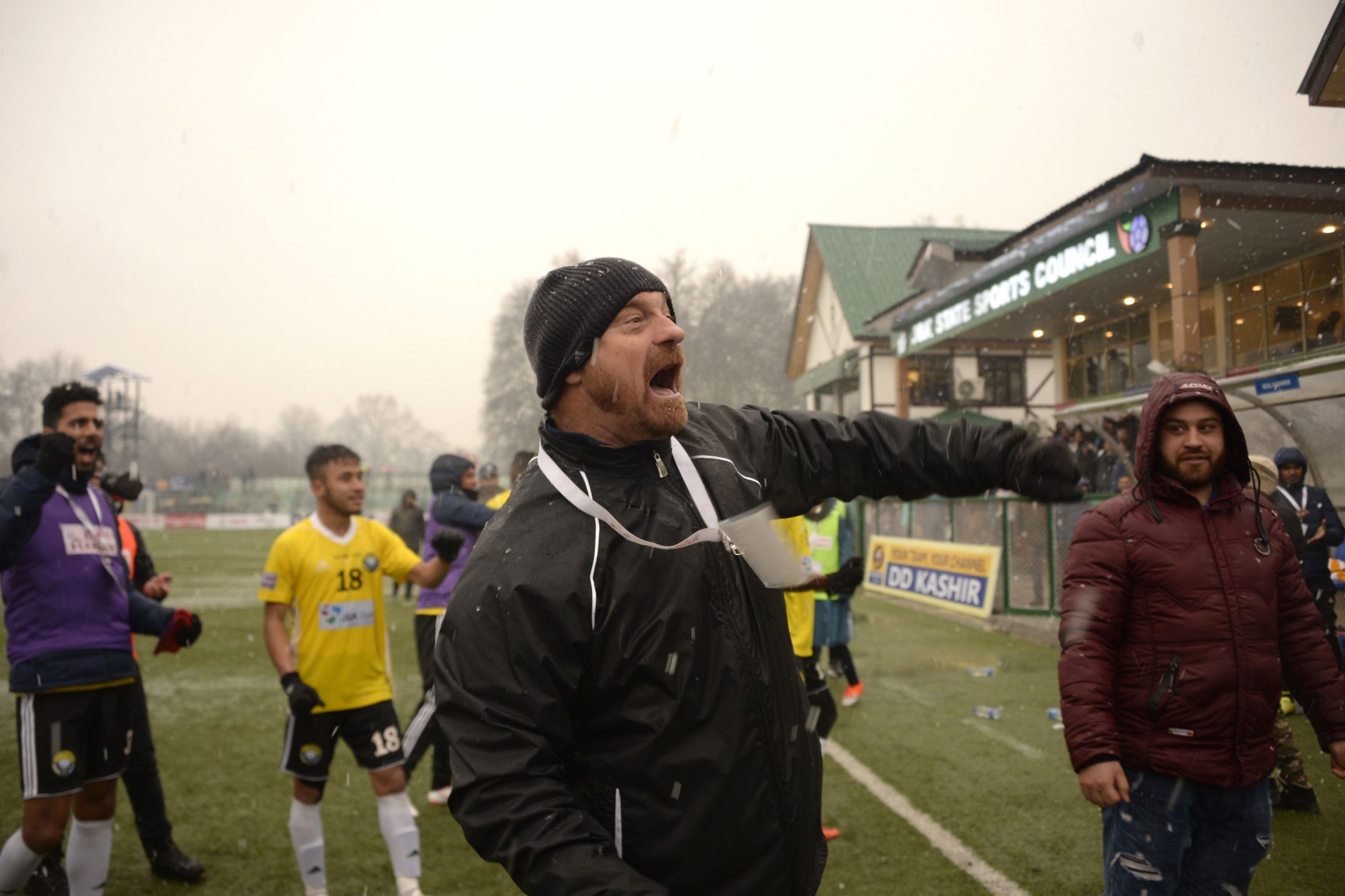 David Robertson has reiterated his love and respect for the club on multiple occasions
Former Leeds United and Rangers star David Robertson has been at the helm since the start of 2017 and has reiterated his love and respect for the club on multiple occasions.
Also, team manager Showkat Ahmad Yatoo has been putting in a lot of work trying to maintain the status quo around the football club. His efforts off the field do tend to go unnoticed, but the influence that he has on this team simply cannot be underplayed. Further, Mohammad Mudasir Lone has done an excellent job of keeping all the players in tip-top shape.
Transfer Dealings
Ins
The Snow Leopards have generally been a side that promotes the youngsters from within Jammu & Kashmir. Although, they were quick to bring in a few new players, none of the acquisitions were made out of necessity, but rather out of luxury. The signing of Scottish creative midfielder Kallum Higginbotham as well as the loan arrival of Oxford United youngster Kashif Siddiqui, will surely headline any news about Real Kashmir FC. The addition of Chesterpoul Lyngdoh is also sure to go a long way to helping Real Kashmir achieve their ambitions as well.
They have also managed to acquire the services of two of the I-League's long-standing players in striker Subhash Singh and centre-half Dalraj Singh. The area that Robertson seems to be focusing on is midfield and to this end, he has brought in former Bengaluru FC midfielder Altamash Sayed as well as former Jamshedpur FC man Asifullah Khan.
Outs
The Indian Super League scouts, undoubtedly, were keeping a close tab on all the proceedings at the TRC Turf Ground. Hyderabad FC's summer raid for left-back Abhash Thapa was a success, while Surchandra Singh's move to Mumbai City FC should only be seen as a very minor roadblock. Another key departure from last season was that of Ghanaian striker Abednego Tetteh, who has gone on to join I-League newcomers TRAU FC.
Squad
Goalkeepers: Phurpa Lachenpa, Shambhu Mistry, Ujawar Nabi Bhat.
Defenders: Farhan Ganie, Muhammad Hammad, Mason Robertson, Loveday Enyinnaya, Arun Nagial, Suhail Bhat, Aaron Katebe, Novin Gurung, Mohammed Abdul Salam.
Midfielders: Amit Rehman, Ubaid Haroon, Shahnawaz Bashir, Bazie Armand, Khalid Qayoom, Kallum Higginbotham, Kashif Siddiqui, Altamash Sayed, Asifullah Khan, Brian Mascarenhas, Chesterpoul Lyngdoh, Danish Farooq.
Forwards: Ifham Tariq Mir, Shahid Nazir Wani, Khaidem Vicky Meitei, Nagen Tamang, Rohit Jhamat, Nadong Bhutia, Ritwik Kumar Das, Gnohere Krizo.
Formation and Tactics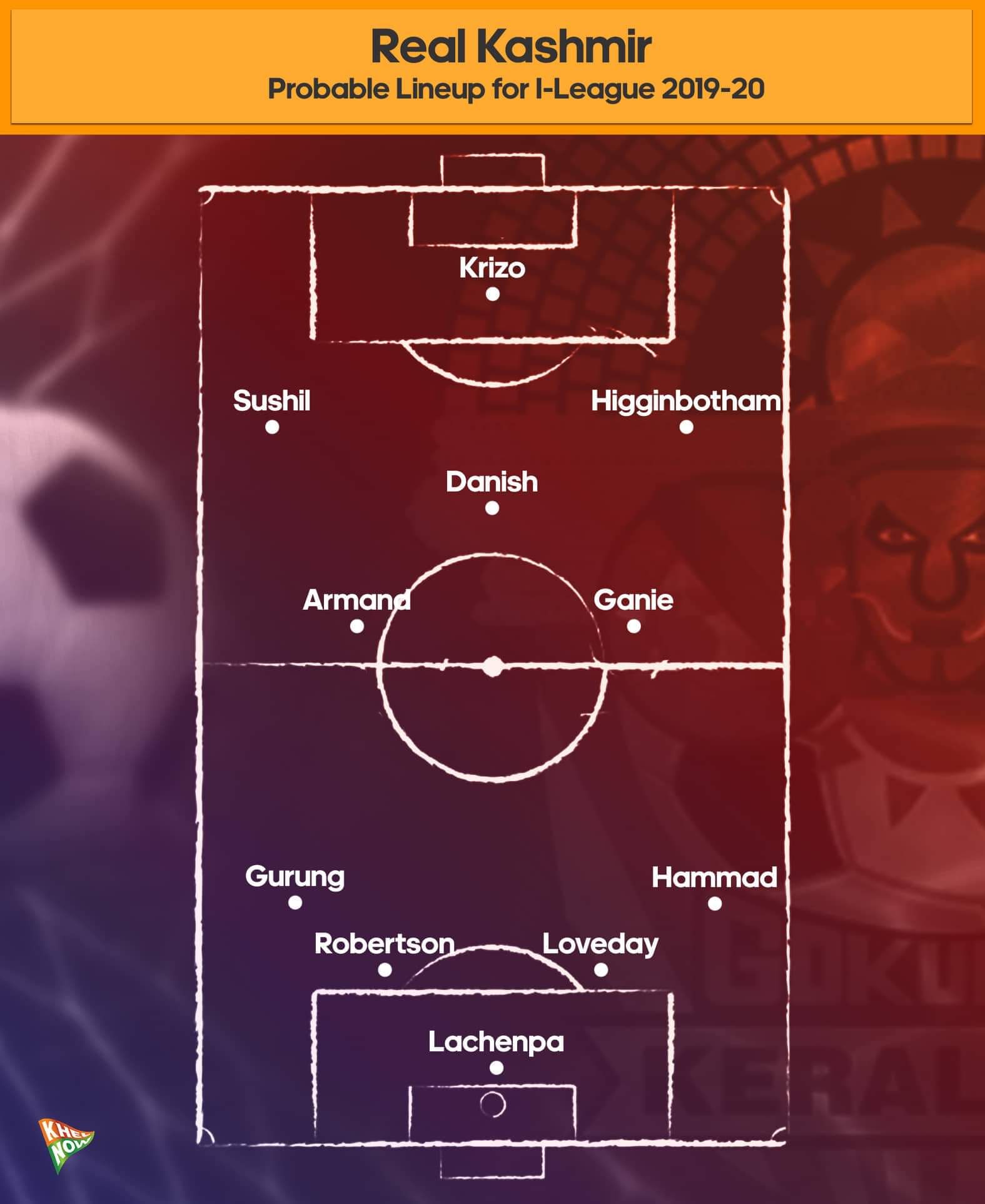 I-League 2019-20: Real Kashmir FC Probable Lineup
Real Kashmir FC's Scottish manager David Robertson has been known to generally prefer playing with a rather conventional footballing setup – the kind that most English managers earn their bread and butter using. Often seen opting for a 4-2-3-1 formation, the team are required to factor in certain criteria before choosing the style of play against certain opponents.
Versatile in their ability to control a match, the Snow Leopards showed the world just what they were capable of going forward last season. But, defending is one area where they will need to improve, if they have any hopes of replicating the previous campaign's league finish.
Robertson also tends to allow his full-backs to overlap, effectively causing the defence even more worries, while being countered. Smarter selection of the midfielders in front of the backline could help eradicate this problem, albeit only in the short term.
Danish Farooq's contributions to this team in the final third simply cannot be underplayed, but expect the responsibility on his shoulders to decrease slightly, owing to the summer acquisitions of Lyngdoh and Siddiqui.
The two holding midfielders in Bazie Armand and Mason Robertson should be handed the responsibility of protecting the backline behind them, especially if the full-backs are going to be given full attacking license this time around as well.
Strengths
It's quite easy to point out that the Snow Leopards seem to have a general sense of togetherness. Their passion and determination towards the cause is apparent when they take to the field. Another major bonus for Real Kashmir is the sheer depth in their squad. Boasting a centre-back who can play as a striker is no small matter – that's the kind of versatility that wins titles.
Weaknesses
Their inability to replace superstar left-back Abhash Thapa could come back to haunt them. The Snow Leopards' defending wasn't quite up to the mark last season. Although they have made multiple additions across the midfield and attack, the reinforcements brought it from a defensive viewpoint are extremely limited. Also, whether or not new signings Chesterpoul Lyngdoh and Kallum Higginbotham are an instant success, could play a part in how their season unfolds.
Players To Watch
Danish Farooq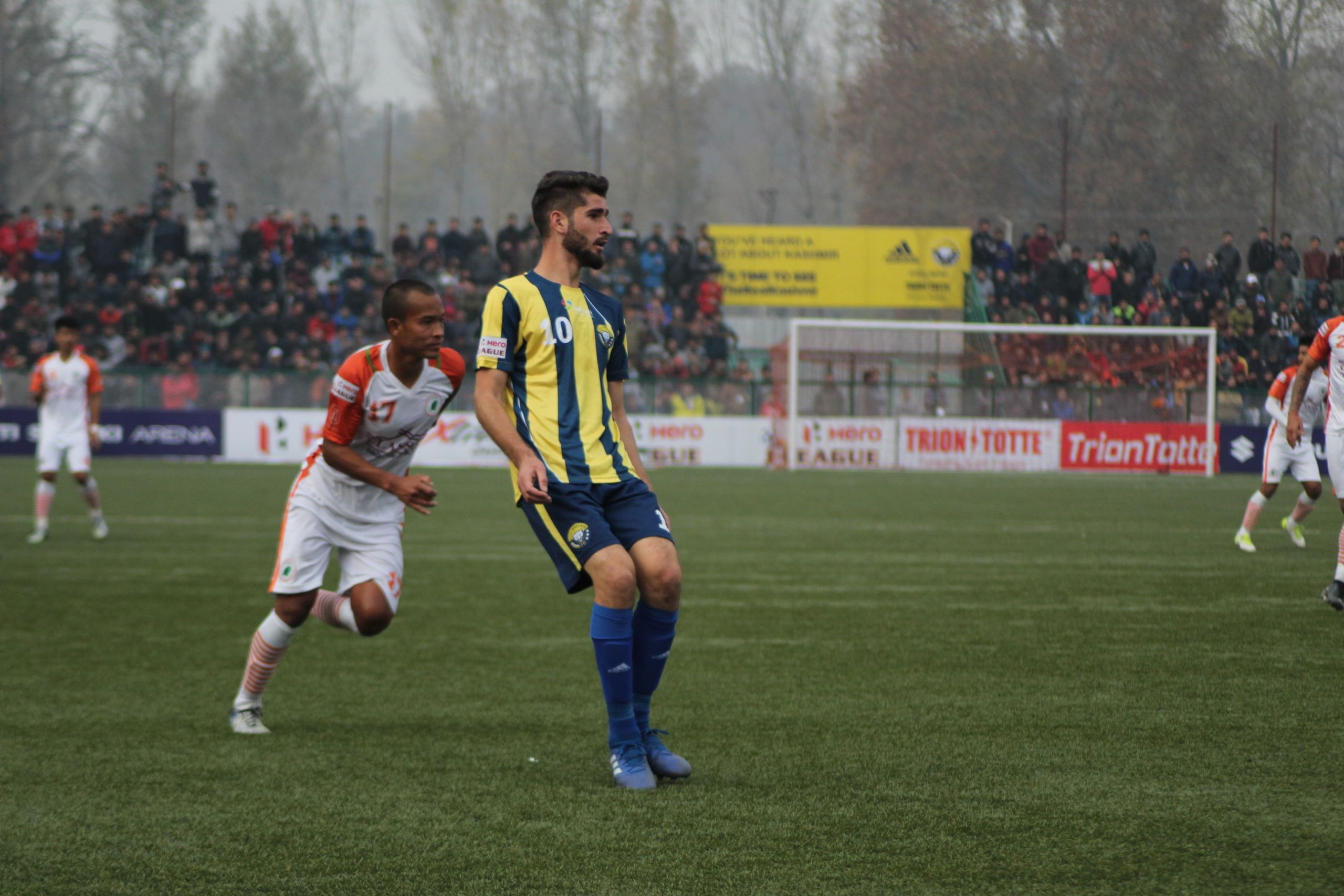 Danish Farooq has been one of the key men in the starting lineup for the Snow Leopards.
The local boy has been a revelation since breaking into the side and has gone on to become a real favourite with the fans at the TRC Turf Ground. He often plays as the most advanced midfielder, or even as a striker, depending on what the situation calls for.
Kallum Higginbotham
The Englishman left the Scottish top flight to make his move to Srinagar and could have the biggest impact among any of the other players in the squad. Despite his rising age, he is effectively guaranteed to be a hit in Indian football.
Kashif Siddiqui
The Pakistani youngster has been signed on a season-long loan from English lower league club Oxford United, where he played for the first-team. It's not normal for a player from English football to take on a loan move to India, but given the quality that he adds to the team, acquiring him was obviously a no-brainer.
Fixtures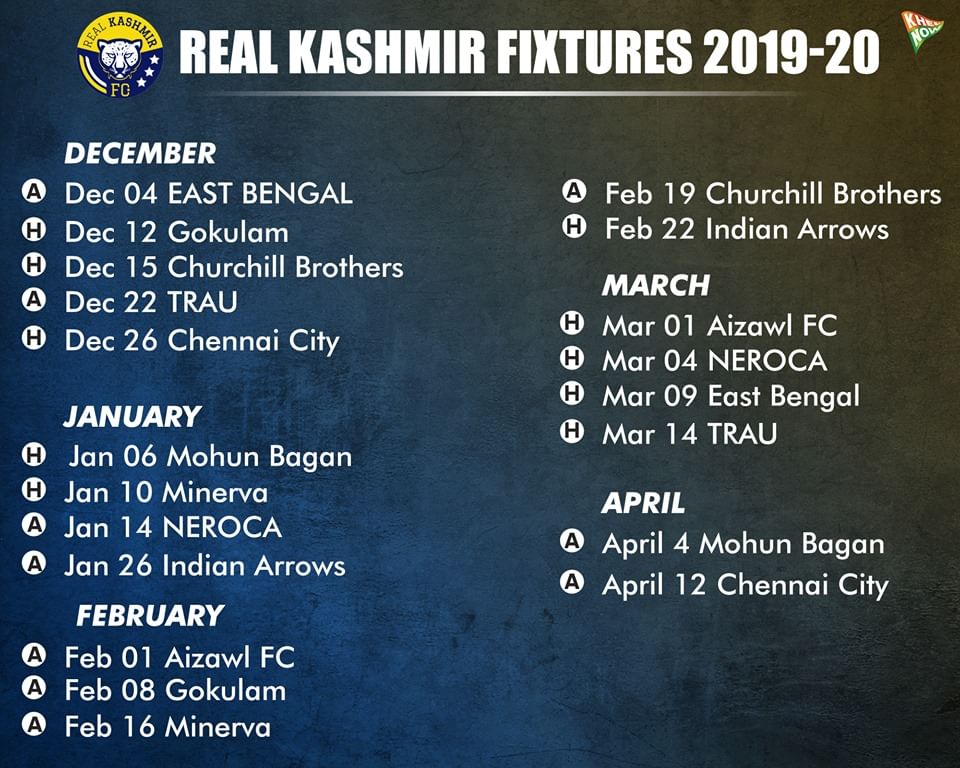 I-League 2019-20: Real Kashmir FC Fixtures
What To Expect
With a stronger squad and even more confidence now in place, David Robertson will be more than hopeful that his team have what it takes to go all the way and clinch the title this time around.