The lineup consists of quite a few new faces who have proved their mettle this week.
The I-League seemed to be joyous with the festive season's giddiness, producing lots of goals and thrilling games. While the postponement of the much-anticipated Kolkata Derby topped the headlines, the other teams made sure fans wouldn't be left wallowing after that news.
With some high-scoring bouts to enhance the entertainment levels of the league, the teams gave the fans their money's worth. Not only the teams, but certain players also raised the quality of the games with their excellent performances. While some helped win games for their teams, others made sure they didn't lose. So, here's Khel Now's I-League Team of the Week 3:
Goalkeeper: Sankar Roy (Mohun Bagan)
Sankar Roy is making a strong case for Mohun Bagan this season. The young custodian again pulled off a solid display for the Mariners against the dangerous Gokulam Kerala. He couldn't have done anything about Marcus Joseph's penalty, but Roy was excellent apart from that.
With some brilliant reflex saves, he endured Kerala's late onslaught and parried away everything they threw at him. He didn't get a clean-sheet, but was adjudged as Hero of the Match after his excellent saves garnered the Mariners three crucial points.
Right-Back: Ashutosh Mehta (Mohun Bagan)
After being criticized for a woeful performance against Churchill Brothers, Ashutosh Mehta seems determined to silence his doubters and carve out a permanent place for himself in the Mohun Bagan lineup. The experienced right-back gave a compelling display of his skills against Gokulam, holding his own against their barrage of attacks from his side.
Apart from making crucial challenges, Mehta was excellent in romping forward and earned his side a penalty after a perfectly-timed run. He helped the Mariners endure a late surge from the visitors to gain a crucial win before the turn of the year.
Centre-Back: Teah Dennis (Punjab FC)
Teah Dennis has helped add some steel to Punjab FC's defence this campaign and continued his good work for the former I-League champions against Indian Arrows. The Liberian defender was dominant, nullifying their threat with his solid work.
He also tried his best to keep a strong shape against Aizawl, but individual mistakes didn't allow that. Regardless, he's seemingly getting better and trying his best to improve Punjab's defensive record.
Centre-Back: Mason Robertson (Real Kashmir)
Mason Robertson's a jack-of-all-trades for Real Kashmir! In his first appearance of the season, he proved why he's so important for their success. Roberston gave another hard-working performance for the Snow Leopards against TRAU, moving around all over the place to help create a sturdy outlook for his side.
He also scored twice via a header and an efficient finish to help salvage a point for his side. Robertson was Kashmir's best player once again, winning the I-League Hero of the Match award.
Left-Back: Yumnam Raju (Punjab FC)
Yumnam Raju is being rotated by Punjab FC this season to reserve his best performances for when his side need him the most and gave a solid showing against Indian Arrows. The experienced left-back was a persistent figure in the backline, making timely clearances and tackles.
He kept the dangerous Vikram Pratap Singh pretty quiet, rarely allowing him to get a clear eye on goal. Raju helped his side gain another clean-sheet, doing a commendable job to seal three important points.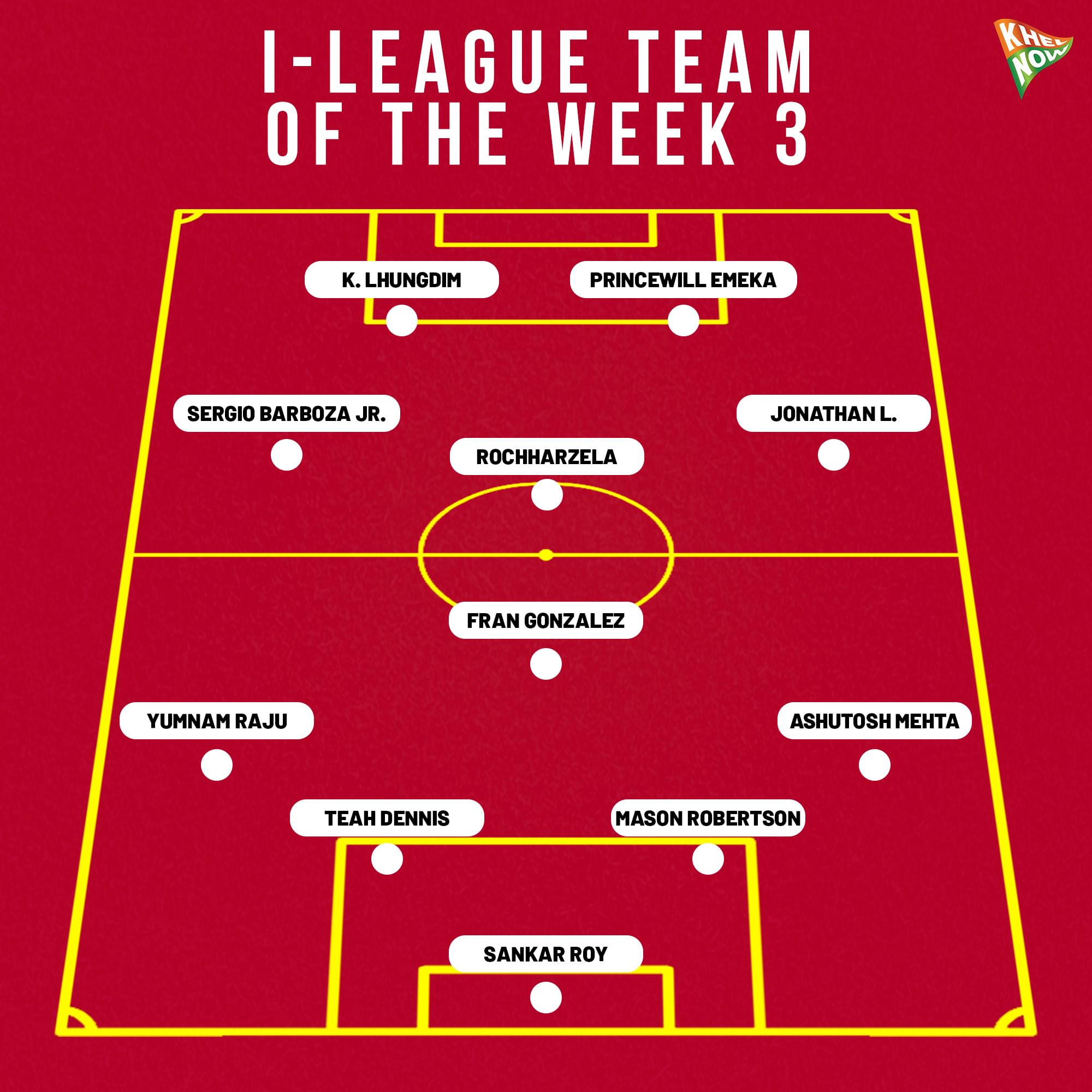 I-League Team of the Week 3
Central Defensive Midfielder: Fran Gonzalez (Mohun Bagan)
Fran Gonzalez is quickly turning into a cult hero at Mohun Bagan, with his incredible never-say-die spirit inspiring them forward into challenging for the I-League. He gave another spirited showing against the menacing Gokulam Kerala, holding his own against their dangerous attack. He aided his defence with his efficient work in midfield, covering for his defenders and romping the Mariners forward.
Gonzalez maintained his brilliant penalty record, calmly slotting in the opener and thumped in an amazing header to win the game for Bagan. He also moved atop of the goalscorers' chart with five goals this season, despite only being a midfielder.
Right Winger: Jonathan Lalrawngbawla (Aizawl FC)
Better known as "Jojo," Lalrawngbawla has taken strides forward under Stanley Rozario's mentorship and provided an excellent performance against the stringent Punjab FC defence. He seemed to have a lot of fun bursting forward with pace, scoring the opener for Aizawl with a sweet finish from close range to top off a swift counter-attack.
But, Jojo wasn't finished, as he later went onto assist the second goal with a inch-perfect cross for Rochharzela. The 22-year-old was a bright spark in Aizawl's attack, worked extremely hard and was given the Hero of the Match award for his heroics too.
Central Attacking Midfielder: Rochharzela (Aizawl FC)
Another one of Aizawl's blooming youngsters in the thrilling contest against Punjab FC was teenager Rochharzela, who ran rings around the former champions' back four with his clever work moving forward. The Aizawl No. 7 was menacing with his blistering movement, finding himself in the right places to make a difference.
He sweetly slotted in a header from close range for his first goal, before taking a calm penalty to complete a brace. Although, his goalscoring heroics weren't rewarded with a win, the youngster has solidified his place in the team with a bright display.
Left Winger: Sergio Barboza Jr. (Punjab FC)
Punjab FC's recruitment this season has been pretty impressive. Perhaps the best of the lot has been the feisty Brazilian Sergio Barboza, who proved his sublime ability with another productive display against Aizawl.
He was menacing for Aizawl's defence with his sparky movement, packed with trickery and pace to keep things unpredictable. Barboza scored an exquisite equalizer with a brilliant goal from a long way out and snatched a point for his side by coolly slotting in a late penalty to take his tally to three goals for the campaign.
Right Centre Forward: Khaimingthang Lhungdim (NEROCA FC)
NEROCA FC have had a very shaky start to the I-League with a brand new squad. However, they gained some confidence with a draw against Chennai City last week. Among their best performers was teenager Khaimingthang Lhungdim, who led the line really well.
The NEROCA No. 9 was very clever with his movement around the penalty area. He kick-started his side's comeback with a sublime diving header to stun the Southern giants. He was also adjudged the Hero of the Match.
 Left Centre Forward: Princewill Emeke (TRAU FC)
Princewill Emeka finally got his season underway in style and did so against perhaps the strongest defence in the I-League, that of Real Kashmir. Emeka was menacing with his tricky movement around the final third throughout the match and after a lot of trying finally got his goal, when his powerful header blasted into the net to equalize for TRAU.
He then scored his second through a delicate free-kick, which deflected into goal. Emeka was a bit unlucky to see his brace undone by a late equalizer from the opposition to split the points.