These tactical encounters could be instrumental for either side in grinding out a victory.
Gokulam Kerala FC face Mohammedan SC in a crucial playoff encounter in the I-League on Saturday. The two clubs have been very well matched ever since their first meeting in the league last year. Kolkata's sole representative in the I-League has one victory while the Kerala-based side has another. The third and last meeting between the two sides had resulted in a stalemate.
This year they have gone toe-to-toe as Gokulam Kerala find themselves only three points adrift of Mohammedan SC. In short, a victory in this fixture will be crucial for both teams. While Gokulam Kerala can extend their lead at the top, Mohammedan can cut that lead short and potentially topple the champions off their perch. A few of the players have been performing extremely well for their respective teams and could be quintessential to grabbing the game by the scruff of the neck.
With that in mind, let's have a glance at the three major battles which can decide the game.
3. Jourdaine Fletcher Vs Asheer Akhtar
Gokulam Kerala's versatile forward has been in fine form for the Malabarians this season. Compatriot Luka Majcen has grabbed the headlines more than once this season but the Jamaican attacker has followed suit. With seven goals and two assists, he is the club's second-highest contributor to the G+A charts.
Asheer Akhtar on the other hand has been a mainstay in the Mohammedan SC starting lineup in this campaign. His performances have helped the team to six important clean sheets. Thereby Mohammedan (16) are only second to Gokulam Kerala (14) in terms of goals conceded. The former SC East Bengal defender has amassed 16 appearances this season and also scored once.
The 27-year-old defender's pace on the cover and readiness to join the attack often pegs back the opposition. As a high-flying, attack-minded fullback, a lot of eyes will be on how he deals with the physical and technical threat of Fletcher. The Jamaican is good with the ball at his feet and has bundles of energy so the Indian must be on his toes while trying to venture forward. If Mohameddan employ a back-four it would be all the more important for Akhtar to hold his position. We all know how capable Jourdaine Fletcher is of punishing teams with his breakneck counter-attack abilities. Against the Kolkata-based outfit, he'll be looking to exploit Akhtar and replicate the same.
2. Marcus Joseph Vs Mohammed Jassim
Marcus Joseph has been Mohammedan SC's standout performer with 15 goals in 17 appearances. The left-winger has offered his side not only the routine package of dribbling and pace but goals galore. He's showing no signs of stopping as he has scored four times in the five championship stage matches he has played.
Mohammed Jassim will be Joseph's primary adversary and the rag-tag defender needs to be slightly wary of his opponent. Although he's primarily a left-back, he has often been deployed in an inverted fullback role for the Malabarians this season. That has seen him get two assists in all 12 of his appearances for the club. His disciplinary record is also commendable as he's only seen yellow twice in over 1000 minutes of action.
Marcus Joseph is a modern winger that looks to cut inside and generate goalscoring opportunities. Jassim's battle against him will not only be an important one but a potentially mouth-watering one as well. Historically speaking, it has always been a treat whenever a cool and composed defender comes up against an intelligent and electric attacker. That will be the same in this case as Mohammed Jassim tries to negate the rampant threat that Marcus Joseph poses.
1. Luka Majcen vs Shaher Shaheen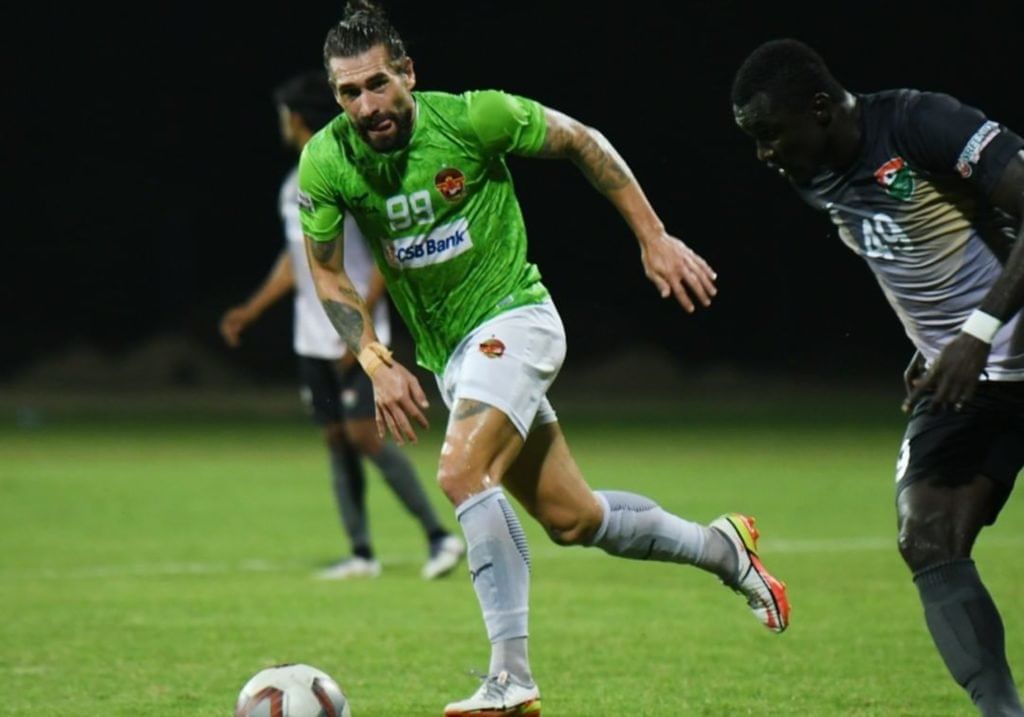 Who else but the I-League's top-scorer to top this list. Although Luka Majcen has been in breathtaking form throughout the league stage, his fire seems to have dampened a bit in the championship stages. But you can never write off a player of his calibre, especially someone who has 18 G+A contributions in a mere 12 appearances.
Shaher Shaheen has had a tamer return at the heart of the defence for Mohammedan SC. The Syrian centre-back has started 15 games and has one assist in the league this season. But his forte lies in intelligent game-reading and marking his opponents tightly. Although he isn't the fastest player around, he is excellent at making aerial challenges and harrowing strikers with his bullish stature.
If Majcen starts, Shaheen should be deployed by Mohammedan SC to negate the Slovenian's threat. Majcen's acrobatic finishing and ability to find half-spaces in the inside channels should cause problems for Mohammedan. However, Shaheen should lead the team with his experience in these scenarios and the prospect of that battle is undoubtedly an exciting one.
For more football updates, follow Khel Now on Twitter, and Instagram and join our community on Telegram.