The 25-year-old is currently evaluating offers from a few clubs.
The 2021-22 season in Indian football is only a few months away. Irrespective of the leagues where they feature, teams have already started their preparations as well, by signing players to bolster their respective squads. The upcoming season also gives players an opportunity to shine brighter and better their numbers. One such person looking for a chance to impress is Davinder Singh.
Born in Patiala, Punjab, Davinder is in possession of a very rare record in Indian football. He is one among only three players to jump levels from University football directly to the Indian football team. The two other Indian footballers who did the same before him are Abhishek Yadav and Eugeneson Lyngdoh.
However, the full-back has not been active of late, having suffered an injury that has kept him out of action for nearly two seasons.
The former Mumbai City FC star is now working hard to get back to the game and play in the top levels once again. In an exclusive interview with Khel Now, the 25-year-old spoke about his days with the national team, career so far, ambitions and more.
Humble beginnings
Like many other Indian footballers, the game entered Davinder's life by chance. "I belong to a very poor family and our only source of solace was a ground near our place. On one occasion, a football camp took place at that ground and a friend invited me to join. If you trained with them, you would get boiled eggs and a glass of milk. I found that an attractive prospect and that's why I joined the camp at first," he said.
"Slowly, I started loving the game more and the coach there also told me to train everyday. Eventually, I got selected to the Dalbir Football Academy in Patiala. I played for eight years there and that's how it all began."
He further added, "I later played for my university team, but there was not much encouragement from home during this period. It was understandable – given our financial situation – that they wanted me to join the Indian Army. I tried, cleared the physical rounds, but failed in the tests. Then I got selected to join the Border Security Force (BSF), but that job posting got cancelled due to various reasons. Thankfully, football gave me another chance."
Davinder Singh later played for the India U-23 team and even got a call-up to the senior side. Hence, looking back, him not taking another career path turned out to be a good move.
University team & selection to India U-23, senior teams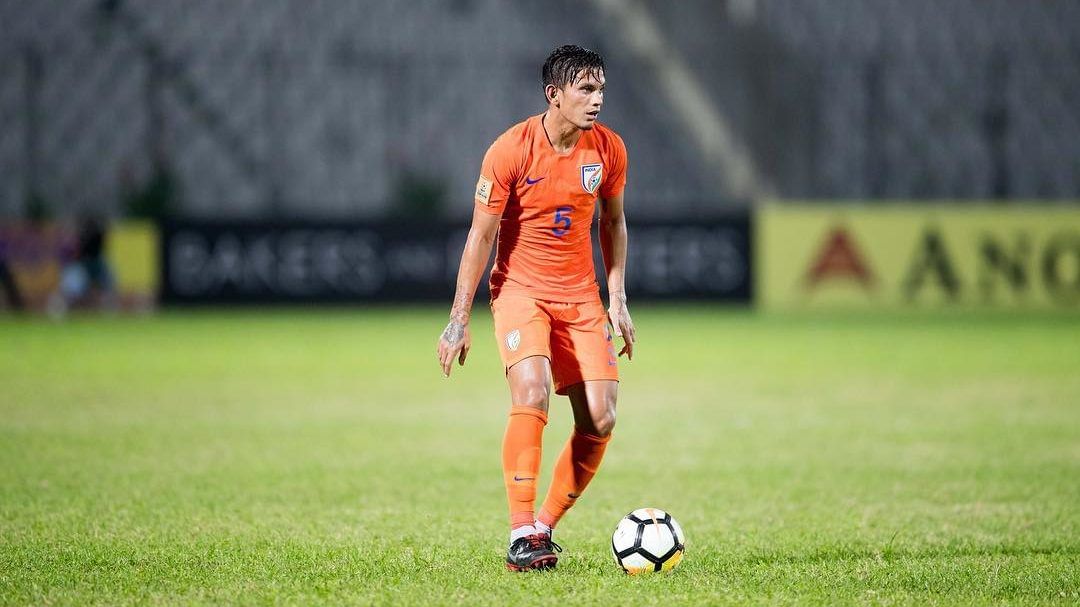 The 25-year-old joined the Dalbir Football Academy when he was studying in eighth grade. He eventually went on to play for their U-14, U-15 and U-16 teams, before joining Punjab University. There again, he played in their football team. That, in turn, further paved the way for him to achieve greater heights in the future.
"I played several tournaments with my University team, the most of important among them being the All-India Inter University Championships. From there I got selected to the India U-23 team, with whom I played the AFC U-23 Championship Qualifiers in 2018," he recalled. Although he played just three games at that level, Stephen Constantine – who was the head coach of both the U-23 and senior national teams – was impressed and gave the right-back his maiden Blue Tigers' call-up. Davinder Singh admitted that the call-up surprised him at first.
He said, "I did not expect the call-up, so I was pleasantly surprised. Also, my journey to the Indian senior team wasn't a normal one. Afterwards, I just wanted to prove that I belong here.
"My first game at the top level was at the international stage. Players usually get there only after years of good performances in club football."
Experience with Blue Tigers
Davinder Singh made his debut for the Indian football team on September 9, 2018, playing the full 90 minutes against Maldives, as his team won 2-0 in a Group B clash at the SAFF Championships. He also featured in a 3-1 win against Pakistan in the semi-final and a 1-2 defeat against Maldives in the final.
"I've played three games for the Indian senior national team. But, all of them happened over two years ago and I need to get back to playing regular football, before returning to the national team. Of course, it's a dream to play for the Blue Tigers again, and I'm confident that my days with them are not yet over," he said, when asked about his hopes of donning the India jersey again.
Joining Mumbai City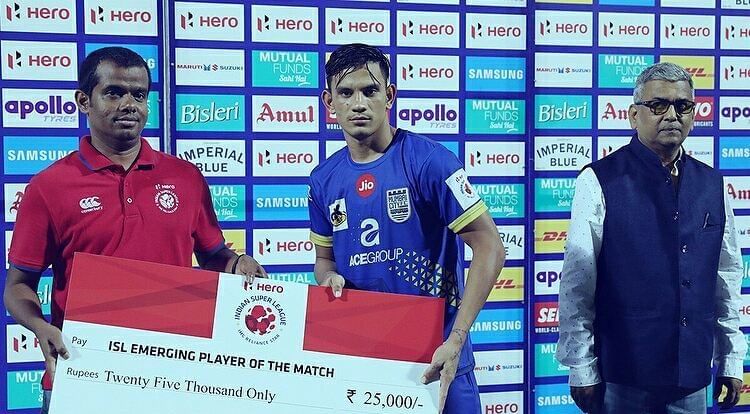 Signing for the Islanders was another turning point in the Punjabi defender's career. That also happened like a fairy-tale, according to the player. "Ahead of ISL 2017-18, I was a part of the players' draft but nobody picked me. Nobody even knew who I was and that was a bit sad.
"A few days later, East Bengal – who were then playing in the I-League – offered me a deal and I accepted it. But, I didn't sign immediately, and asked the club to wait for a while because I wanted to see if I would get any other offers," he said. Shortly afterwards, Davinder Singh received a call-up to the India squad for the Intercontinental Cup and people started taking notice. "After I got that call-up, Mumbai City approached me and spoke of their interest to sign me. This time I didn't think twice, as I accepted their offer just prior to the league season," he added.
Injuries & recovery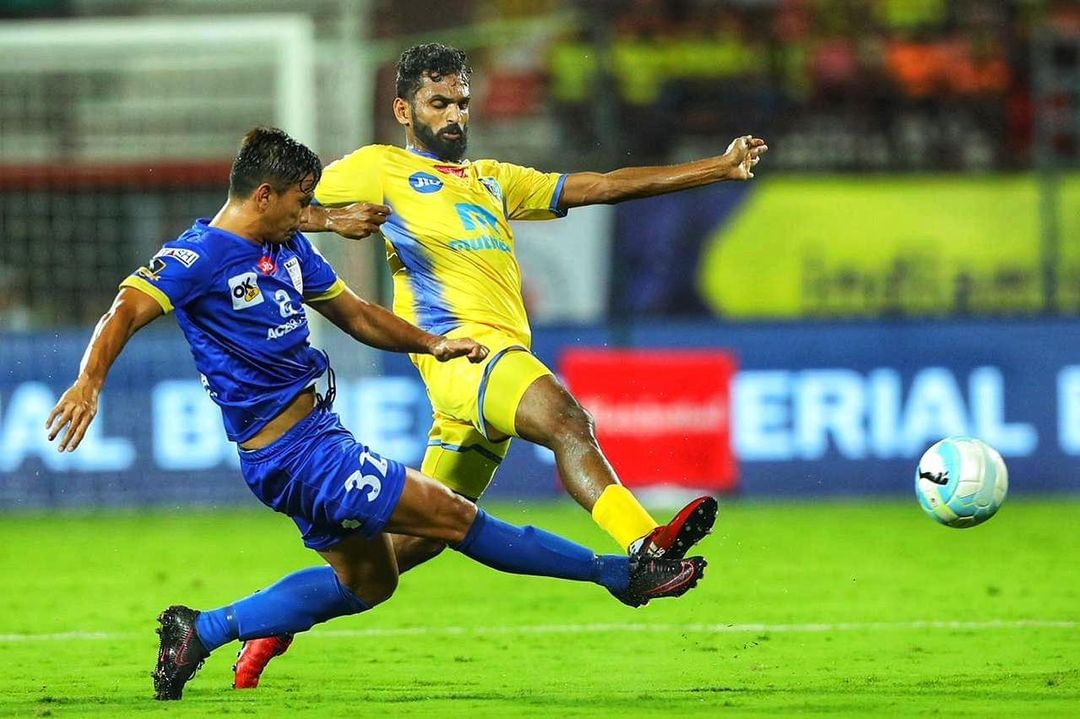 The full-back made eight ISL appearances for the Islanders in his debut season, clocking 474 minutes and registering 20 clearances and 16 interceptions during this period. It was a good campaign, but he could not repeat his performances the following year after an injury struck him in a practice game against Real Kashmir.
"I was playing at left-back, which is not my regular position. During the match, I had a fall and suffered a dual injury on my knee. Both the ACL (Anterior Cruciate Ligament) and LCL (Lateral Collateral Ligament) were torn and it was a pretty big problem," he recollected.
"The injuries kept me out of action for a really long time – over a year. It was not until last year – January 2020 to be precise – that I was finally able to return to playing." In May, his term with the Islanders ended, but the injuries and rehabilitation prevented him from signing for any club ahead of the 2020-21 season. However, he does not mind it because he wants to make the most of his chances and that means he has to recover fully before hitting the pitch again.
"I worked on myself at a top rehab facility in Bengaluru. Now I'm ready. I also played in a local tournament recently, which featured the likes of Sehnaj Singh, Balwant Singh and other ISL stars based in Punjab. Physical fitness is important, but so is mental well-being – which is why I had to build my confidence before committing my future with any team," Davinder said.
He spends one hour at the gym every morning, apart from roughly two hours of game-training in the evening. "I am working really hard because I want to make a good comeback," he stressed.
Post-recovery
Having put his injury woes behind him, Davinder Singh is now working on making a strong return to the Indian Super League next season. He confirmed to Khel Now that he is in talks with a couple of clubs and is on the lookout for that one chance that will help him return to the pitch in style.
"I just need one chance. I'm sure that I'll be able to prove myself well when I get that chance. At 25 years of age, I'm not too old yet and I have plenty of football left in me. Having played for India at a young age, I can definitely do all that it takes to get back to those levels once again," he concluded, with an air of determination.
For more football updates, follow Khel Now on Twitter, Instagram and join our community on Telegram.