In their rich history, the Kolkata-based outfit saw plenty of top players represent them.
As Mohun Bagan script the next chapter in their storied history with the merger with ATK, they leave behind an incredible legacy that can barely be matched by any club in Indian football. The Mariners have decided to step on their evolution process into becoming the all-conquering entity in Indian football with the move to the Indian Super League (ISL), but their past achievements will never be forgotten.
In the 130+-year-old legacy, Bagan have handed the spotlight to some legendary players. Be it those unearthed by them or those who arrived as big names, the Mariners have a vast pool of outstanding players in their Hall of Fame. While picking a particular set from the hundreds of admirable players who donned the Green & Maroon jersey is difficult, Khel Now gives its own take on their all-time best XI.
Goalkeeper: Shibaji Banerjee
Shibaji Banerjee was an absolute rock in the goal for Mohun Bagan during the 1970s. He gained a big reputation for starring in the friendly against Pele's New York Cosmos in 1977, in which he saved some of the Brazilian's shots and won many plaudits. He also excelled in the draw against Ararat FC in the 1978 IFA Shield final.
The strong goalkeeper was revered for his impressive shot-stopping and aerial abilities to catch high crosses. He also didn't concede a single goal against East Bengal from 1977-80, an extraordinary feat for the time. Banerjee won many trophies with Bagan (including the Triple Crown) and was a beacon of inspiration for future generations, starring in a role few paid much attention to, back in the day.
Right-Back: Gostha Pal
Regarded as one of the best defenders in Indian football history, Gostha Pal marshalled the rise of Mohun Bagan following the famous win against the East Yorkshire Regiment. Popularly known as the 'Wall of China,' the defender's remarkable strength and ability to stop any attacker in his tracks earned him a big reputation.
He was the Mariners' captain for five years and also became the captain of the Indian national team in 1924. Pal had a two-decade-long career with Bagan, helping them silence intimidating opponents with his fearless and clever defensive work.
Centre-Back: Jarnail Singh
Jarnail Singh stood out like a fierce lion in Mohun Bagan's backline in the 1960s, creating a formidable defence in years of dominance. Singh's no-nonsense, uncompromising style ensured that players feared to face him due to his aggressive tackles and never-say-die attitude.
The brilliant defender was also known for his creativity, often slipping in clever passes and leading from the front to inspire his teammates. Singh's amazing work helped the Mariners win six Calcutta League titles, four IFA Shields and a Durand Cup in his stay. During this time, the Arjuna Award-winner ensured his team stayed atop the Indian football ladder.
Centre-Back: Subrata Bhattacharya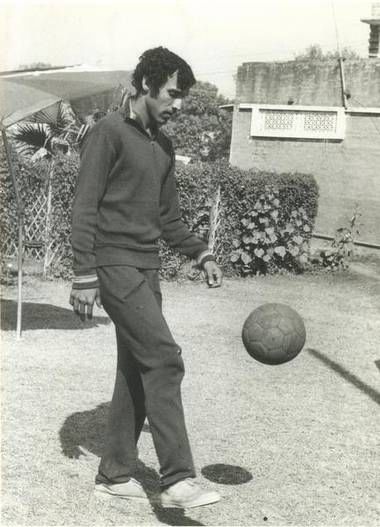 After Jarnail's excellence in the 1960s, Subrata Bhattacharya became the immovable pillar in Mohun Bagan's backline in the '70s. The former captain was a robust defender for over a decade as part of the Mariners' side. He led them in their Triple Crown win in 1977 and also the team which drew with Pele's Cosmos in the same year.
Bhattacharya attained popularity for going toe-to-toe with the Brazilian, but his incredible consistency in his 16-year stay with Mohun Bagan was unprecedented. A strong defender with enough game-reading ability, he rendered strikers useless with his impressive defensive work and won a plethora of trophies with the Mariners.
Left-Back: Sailen Manna
Arguably the greatest defender in Bagan's history, Sailen Manna was definitely ahead of the curve during his time at the top of Indian football. He spent 19 years at Mohun Bagan, where he only received ₹19 and played with utmost dedication for the club he loved. Manna was also captain for many years, with his impressive defensive work back in those days making him hard to get past.
His ability to anticipate attacks, rally his fellow defenders and take quality free-kicks made him a complete defender. The current Mohun Bagan club's dressing room is named after Manna, who will always be remembered as one of the best players in their history.
Central Midfielder: Manash Bhattacharya
The midfielder was another key part of Mohun Bagan's dominance in the late 1970s, helping them win the Triple Crown along with an assorted number of titles. Bhattacharya was known for his impressive creativity and ability to link-up with the feisty attackers the Mariners boasted back then.
His chemistry with winger Bidesh Bose helped Bagan tear apart teams with ease, while his hard-working attitude enabled them stay on top during games. Bhattacharya spent many years dictating as a midfield general for the Mariners and his influence made things easier for those ahead of him.
Central Midfielder: Anil Dey
Anil Dey emerged as a versatile player for the Mariners just before Indian Independence, with his determination helping him climb the ranks at the club. He became club captain in 1943 and his leadership skills inspired those playing alongside him. Dey's fearless style and composed nature helped him dictate much of the games for Bagan.
He was creative, strong and led from the front with a vibrant attitude. Under his leadership, Mohun Bagan won a number of trophies and dominated Indian football for many years.
Central Midfielder: Prasun Banerjee
Banerjee was also a pivotal part of the Mariners' success in the late '70s when he joined to play under his elder brother PK Banerjee. The midfielder was filled with creativity, but also the determination to win battles in midfield and open up games. Banerjee helped create a lot of attacks with his efficient passing and edged victories with his tenacious nature.
He won more than 25 trophies during his stay with Mohun Bagan, scoring 28 goals and consolidating himself as one of the very best midfielders the club have ever produced.
Right Forward: Jose Ramirez Barreto
Perhaps the greatest foreign signing Mohun Bagan have made in the last two decades, Barreto was like the Mariners' own 'Superman' just as they started to adapt to the then newly-formed National Football League/I-League. The Brazilian goal-scoring machine could slot into any role in the attack and still come up with the magic for Bagan.
His amazing goalscoring instincts, clever movement around the box and physicality all helped him dominate for years. Barreto scored more than 250 goals for Bagan in over 10 years with them, despite short moves away. He remains one of the best foreigners to have ever played for the club and is still the fifth-highest goalscorer in I-League history with 101 goals.

Left Forward: Chuni Goswami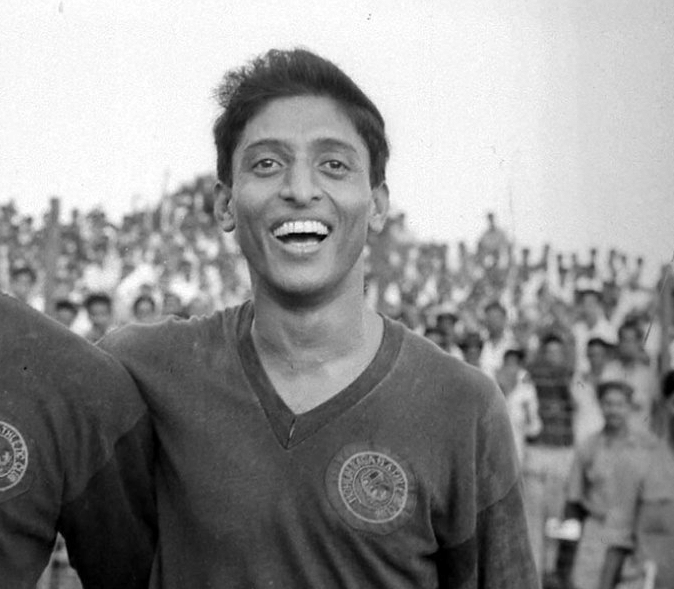 Chuni Goswami will always be remembered as not only one of Mohun Bagan, but India's greatest-ever footballing products. He was incidentally one of the best complete sportspeople to have emerged from Kolkata, having attained success in domestic cricket as well. Goswami was a magician with the ball, being capable of outwitting and dribbling past defenders with ease.
He was a pivotal part of their success in the early 60s and also captained them for a number of years. In those years, he scored and assisted a flurry of goals and created wonder like none other. Goswami sadly passed away very recently, but he'll always be in the reckoning as the club's best-ever player.
Centre Forward: Chima Okorie
Chima Okorie was the first-ever foreign player to don the Green and Maroon shirt and ensured that he certainly wasn't the last one. In a period when many scoffed at foreigners playing for the Mariners, Okorie changed that perception with his deadly goalscoring aura. He soon became a huge fan-favourite, scoring goals left, right and centre to delight the fans.
Okorie's goalscoring instincts, raw power and determination to win games for the Mariners helped them gain a lot of success in the 1990s. He scored more than 100 goals with the club and formed amazing memories which immersed him into folklore, as one of the best strikers to have ever played for Mohun Bagan.
For more football updates, follow Khel Now on Twitter, and Instagram and join our community on Telegram.