The 25-year-old is at his peak at the moment, delivering fantastic performances in the Goa Pro League.
Suraj Hadkonkar has been one of the popular names in Goan football these days. Starting his career with third division side Portais Sporting Club to becoming a key player at Dempo SC – one of the top teams in Goa Professional League, he has shown tremendous growth as a player.
The winger has also caught the attention of I-League and Indian Super League teams with his eye-catching performances in the GPL last season.
Scouting Report
Name: Suraj Hadkonkar
Age: 25
Height: 175cm
Position: Right Winger
Background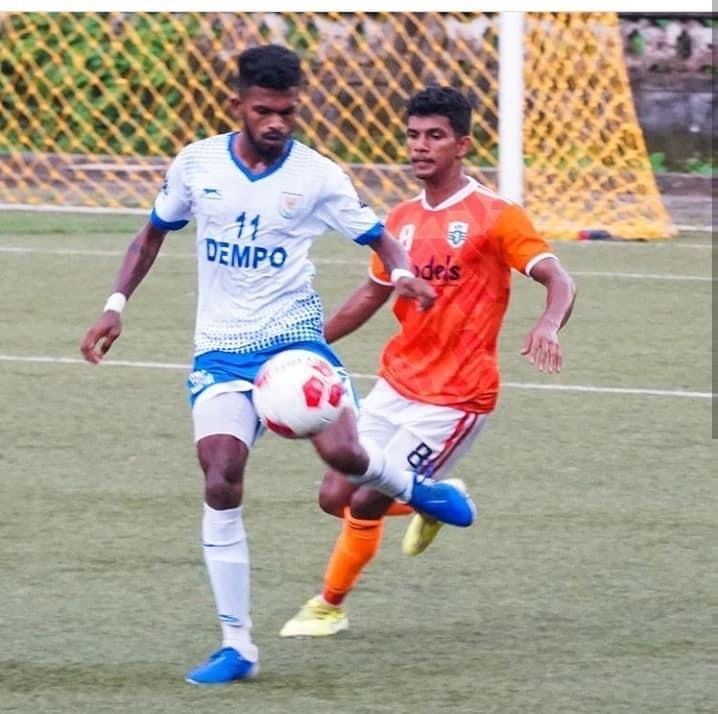 At the age of 16, Suraj Hadkonkar made his senior team debut in Goan football with third division side Portais Sporting Club. There, he caught the eye of Clube Sao Miguel de Taleigao coach Levino Pereira who brought him in. Hadkonkar played for their U-18 and U-20 sides and also won the TACA Goa Second Division with the latter.
Excelling in the GFA U-18 and U-20 League, the winger earned a promotion to their senior side who were, then, playing in the GFA First Division League. The next season, he was also part of CSM Taleigao side that won the first division league and were promoted to Goa Pro League.
Further, Suraj Hadkonkar joined Santa Cruz Club of Cavelossim in the following season and also won Goa Sevens Premier League with them. After spending a year there, he joined the Golden Eagles who became the first team to win the AWES Cup in 2017 and has been one of the consistent performers for the GPL side ever since.
Having spent a couple of seasons with Dempo SC, Hadkonkar developed into a much mature player. His performance in the previous season was a testimony to it. The 25-year-old was one of the top performers in the league where he scored 10 goals – the majority of which came through free-kicks.
However, his best came in the match against Guardian Angel SC who were leading by a goal. Then came in Suraj Hadkonkar only to cancel their lead, making the scores level just before half-time. The second half saw him scoring two more goals to help his side win and snatch the important three points.
In another outing against Churchill Brothers, the Golden Eagles were trailing by a goal. However, he once again came off the bench to make it all square. This was an unforgettable season for Hadkonkar as he scored on many occasions to rescue his side from drowning. Moreover, his contribution against Sesa FA, Salgaocar FC, Vasco SC and Panjim Footballers earned his side vital points.
Positives
The winger is known for his pin-point free-kicks having scored more than five goals directly through set-pieces. Suraj Hadkonkar brings pace to the game and can easily beat opponents with his speed. Coach Samir Naik mostly uses him in the second half and the player has proved him right on every occasion.
The 25-year-old is at his peak at present. He has great stamina and is very destructive when it comes to attacking. In addition to that, he has been very consistent with his performances and has shown tremendous growth under Naik.
Aspects to Improve and Future
Though the winger has improved a lot in the last few years, he needs to enhance his defensive skills as he often gives space to opponents while his team is on the back foot. Suraj Hadkonkar also needs some more playing time to show how prepared he is to make it to the bigger stage.
For more updates, follow Khel Now on Twitter, Instagram and join our community on Telegram.