The 22-year-old made his mark in the I-League with the Kozhikode-based outfit, showing great potential.
In today's scouting report, Khel Now takes a detailed look into the career of Gokulam Kerala's talented 22-year-old prospect, Jestin George, who has shown a lot of promise in the past two years.
Jestin, who is a centre-back by trade, joined Gokulam in 2017. He was initially a part of the club's B team, but went on to make a few appearances for the first team in both the 2018-19 I-League and the 2019 Durand Cup, which they won. In the following season, he had a more prominent role in the first team as he was named in the starting XI seven times in the 2019-20 I-League.
Fernando Santiago Varela, the club's current head coach, is known to trust him well, which is why one can be sure that we will be able to see more of him next season. Furthermore, the management also decided to extend his contract by two more years recently and that is yet another indication of the promise shown by him.
Without further ado, let's take a look at Jestin George's detailed scouting report:
Scouting Report
Name: Jestin George
Age: 22
Date of Birth: February 7, 1998
Height: 183 cm
Position: Defender
Background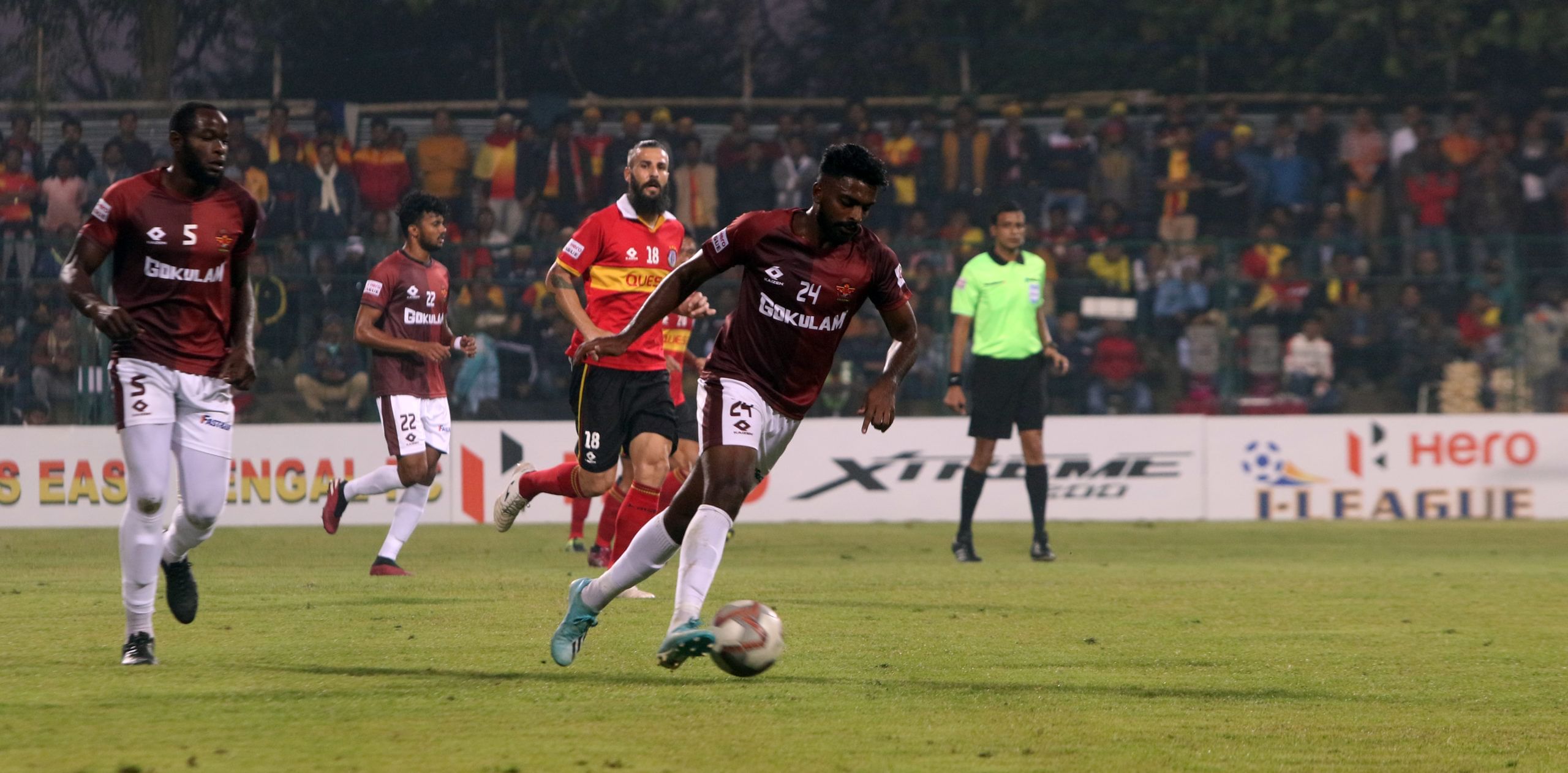 At the earliest stages of his professional football career, Jestin George faced a lot of difficulties. Coming from Kottayam, he had a tough childhood with monetary issues slowing down his development. The few on-field failures that he faced during this time did not help his cause either.
During this time, it was Bino George, former footballer and coach who helped the youngster, based on his own words. "Had it not been for coach Bino, my football career would have ceased to exist and I would've had to find another job. It was he who convinced me that I had the ability to play pro football," Jestin told Khel Now.
After completing his formal education in 2015, Jestin attended trials at Bengaluru FC and a good recommendation from Bino George helped him get selected in their U-18 team. However, after playing with them for two years, he had to return to his home state as they decided not to retain him any longer. At about the same time, Gokulam Kerala was founded, and Bino George was appointed as the head coach. He signed Jestin to their reserves team immediately, yet, his lack of experience had him waiting for a call-up into the senior side.
"His career was at a crossroads at that time. With Bengaluru FC deciding not to retain him, he was questioning his own future. But he is a player of great quality and it was a no-brainer for me to sign him," Bino George revealed to Khel Now, before adding, "But he did not have any experience playing in the senior levels, so in the beginning, I could not let him play with the senior team."
Santosh Trophy and Kerala Premier League
Then came Jestin's life-changing moment, as he got selected to represent Kerala in the 2017-18 Santosh Trophy. "He was elated at his selection. He knew he had to make this opportunity count," Bino George said.
And that is exactly what he did, as Kerala ended a 14-year long hiatus to lift the Santosh Trophy once again. Jestin George was part of the team's defence that conceded only three goals throughout the tournament. He also played an important role in the final, assisting Vibin Thomas' goal in the match that Kerala won on penalties after the score at the end of regulation time read 2-2.
Following his success in the 2017-18 Santosh Trophy, he returned to Gokulam's reserves team. By then the 2017-18 I-League season was over and the club had appointed Fernando Santiago Varela as their new head coach. Varela's first assignment was to lead the team to the 2017-18 Kerala Premier League (KPL), and Jestin George was named in the senior squad for the first time.
The 2017-18 KPL also proved to be a success story for both the player and the club, as they topped Group B with seven wins from eight matches. They went on to win the semi-finals against Sports Academy Tirur to reach the finals, where they beat Quartz FC to lift the title. Jestin's performances in the back did not go unnoticed, as he found himself in the first-team squad more often in the 2018-19 season.
I-League debut and Durand Cup heroics
The need for an Indian centre-back in Gokulam's first team paved the way for Jestin's inclusion in the squad for 2018-19 season. However, opportunities on the pitch were still rare. In the I-League, he was named in the squad five times, but made it into the starting XI only once – in a 3-1 defeat against Churchill Brothers on January 10, 2019. He clocked only 40 minutes on his debut but still showed a few glimpses of his talent.
In the Durand Cup held in August 2019, Jestin was handed more opportunities in the first team. He also scored a crucial penalty in the shoot-out during the semi-finals against East Bengal, helping his team bag a ticket to the ultimate showdown against Mohun Bagan.
In the final too, he stood out against the Kolkata-based opponents, with his aggression often coming to the forefront. Although he earned a second yellow card in the game and got sent off in the 87th minute with Gokulam leading 2-1, he had done enough to ensure that his team crossed the finish line in style.
2019-20 season
Consistent performances in the Durand Cup helped Jestin George become one of his coach's favourites, as he finally went on to become a regular in Gokulam's first team in the new season. With the blessings of his mentor Bino George who was then appointed as the technical director of the club, he made nine appearances (seven starts) in the 2019-20 I-League before the season was suspended.
On December 6, 2019, he recorded his maiden I-League assist – as he set up the only goal in a 1-0 win against Indian Arrows.
Positives
With a height of 1.83m and thanks to an imposing frame, Jestin is a colossus in defence. When his aggression is added to the equation, he automatically becomes a big threat to the opposition's attackers.
A case in point would be Gokulam's 3-1 win in the I-League against East Bengal on January 15. East Bengal used a total of five different attackers – Marcos de la Espada, Jaime Santos, Pintu Mahata, Juan Mera and Ronaldo Oliveira – during the game, and none of them could manage to find the net. When his defensive partners Andre Etienne and Wungngayam Muirang went higher up the pitch, Jestin often stayed back and was able to neutralize the threat from East Bengal's forwards all on his own a few times.
Jestin's height advantage also makes him a good player to have when defending corners. His heading prowess is also exceptional and so is his skill of playing the occasional long balls.
Aspects to improve
While he has already made quite a few appearances for Gokulam's first team, our verdict is that he still lacks experience, especially when compared with other prominent defenders in the I-League. However, Bino George has made it clear that Jestin George will continue to be given opportunities next season.
With reference to his playing style, it can be observed that he struggles when it comes to holding his line against pacy attackers, but again Bino George is optimistic that his disciple can rectify it with time.
"This happens because of a slight mistake in his earliest training lessons. Only with experience can you solve such problems – and it is only a matter of time before he gets there," he said.
Future
Indian football is relatively on the weaker side when it comes to the physical toughness of footballers. At just 22 years of age, Jestin already seems to have nailed that part. Few more years and he will hopefully gain more experience as well and that could pave the way for a potential selection to the national team too.
He definitely has the potential to break into the Indian team in the foreseeable future, as the country also needs a player who can at least share defensive responsibilities with the likes of Sandesh Jhingan and Anas Edathodika, if not shoulder them all on his own.
As for his I-League career, one can expect Jestin to remain at Gokulam for at least two more seasons, as the club renewed his contract recently. "He does have offers from two or three clubs," Bino George said, "but we're not planning to let him go as he is very important for us."
The player also revealed that he would like to continue at the Kozhikode-based outfit for longer. "I'm aware that a few clubs are interested in me, but I am definitely staying at Gokulam for now," he told Khel Now.
For more updates, follow Khel Now on Twitter, Instagram and join our community on Telegram.