The 20-year-old Manipuri winger is all set to take the Indian Super League by storm next season with Kerala Blasters.
Khel Now takes a look at a rejuvenated Nongdamba Naorem, who has shown the urge to learn from his past mistakes and was a metronome for Mohun Bagan in their historic I-League 2019-20 triumph.
A few seasons back Nongdamba Naorem's name was known by almost every ardent Indian football fan, as he represented India in the FIFA U-17 World Cup back in 2017. People who missed out on that, recognised him when he featured for the Indian Arrows and dribbled past six Shillong Lajong defenders, before bundling the ball past the goalkeeper for 'that' famous goal.
The Indian football circuit was pretty sure that the youngster from Manipur is 'the future. After all, close control, silky feints, smooth acceleration with the ball at his feet is not something you see every day from a youngster in India.
However, Nongdamba Naorem could not maintain his consistency. He was jumbled in trying too many things all by himself and lost possession one too many times. Decision-making was always a problem for the Minerva Punjab academy graduate. His regular habit of losing the ball cheaply restricted him as a mere impact substitution for the Arrows.
People started losing their hopes on the youngster, as they thought he was another flash in the pan who may fizzle out with the pressure of the big stage.
Little did they know that a few seasons later that same player would rise like a phoenix and rekindle the hope in the hearts of thousands of Indian football fans.
Scouting Report
Age: 20
Date of Birth: January 2, 2000
Position: Left Wing
Height: 170cm
I-League Debut
Right after the FIFA U-17 World Cup back in 2017, Nongdamba Naorem was sent out on loan from Minerva Punjab to join Indian Arrows for more game-time. The left winger made his senior debut against Chennai City FC, a match in which the Colts surprisingly won 3-0. Naorem featured late in the game as a substitute.
Positives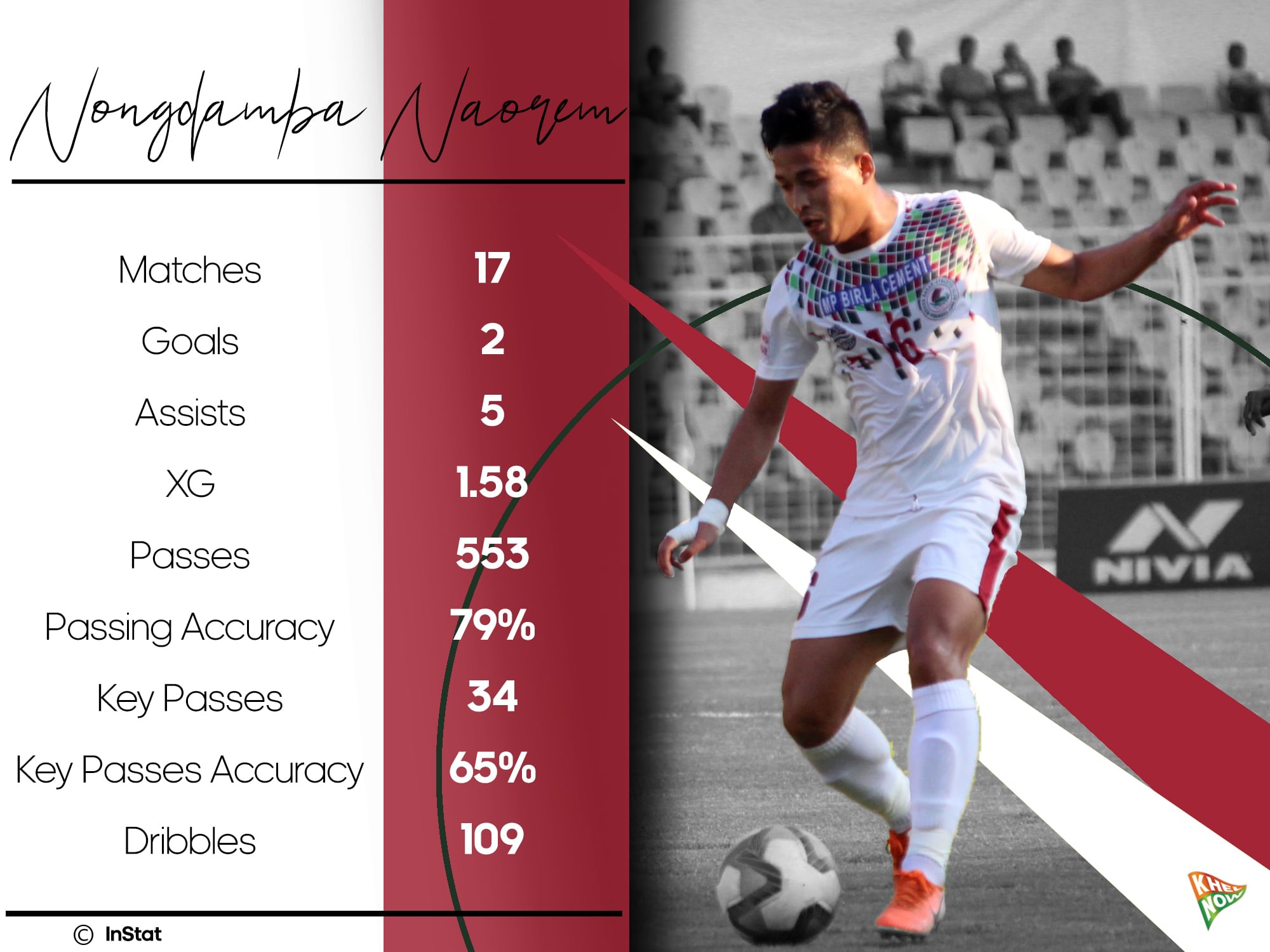 The primary positive for the youngster, who hails from a small village named Wagabai in Manipur, is his determination to achieve great feats. Naorem has often been heavily criticized for going overboard with his skill moves and dribbling. However, with Kibu Vicuna's experience to handle youngsters, he knew he was in good hands. Thereafter, he turned his negatives into positives. The 20-year-old was fixed on the left side for the Mariners as Vicuna showed immense trust in his abilities.
Naorem gradually matured and adapted his game to Vicuna's passing and possession-based style which made him a crucial weapon in attack. His silky movements on the wing often left defenders running helter-skelter. But, this campaign, he has shown maturity in the final third as well. His excellent movement in the Kolkata Derby to create the chance for the first goal was a prime example of his growth. He dribbled past two defenders on the left and almost from the edge of the byline sent in an inch-perfect cross for Joseba Beitia who was unmarked in the box, allowing the Spaniard to score a rare goal with his head.
Naorem's impressive work in the Kolkata Derby for the Mariners resulted in Vicuna heaping praise on him in the post-match press conference. His statements only amplify his unique European-esque style of play.
"I am happy with (Nongdamba) Naorem. He is a very good talent. He has a European style of play. Of course, he needs to improve. He is not a strong player. So, he has to improve on that. But, for a 19-year-old, he is doing a great job. We are happy with him. Young players need to be calm," said Vicuna.
Naorem always had the talent and all he needed was a little guidance and someone who was ready to show trust in his abilities. The Spaniard has been the ideal mentor for the youngster.
Aspects to Improve
Despite all his intricate movement and silky touches, Naorem still needs to be more consistent in front of goal. He has scored twice this season, both goals coming in tight situations. But, he can take the next step only if he scores on a consistent basis, something which is not common for wingers in India.
Also, he needs to build himself up physically so that he can take on any defender at will. If he can do that he will add another dimension to his game.
Similar to
Nongdamba Naorem is a rare Indian winger who likes to receive the ball, dribble past opposition defenders at will and create chances for his teammates. The 20-year-old has created 15 chances this season and was a vital cog in Vicuna's title-winning Mohun Bagan side.
While most of the Indian wingers tend to hug the touchline and deliver crosses in the box, Naorem is of a different breed. Moreover, Vicuna has wholeheartedly accepted that fact and shaped his build-up play in such a way which creates the opportunity for the youngster to carry the ball forward and make things happen. He is first of a kind in Indian football and we are pretty sure he has taken notes from top European wingers on how they operate from the flanks.
Future
A player who has represented India in an age-group FIFA World Cup understands the pressure of a whole nation, but a few seasons earlier he was considered as a flash in the pan. But, he is no longer the young kid from Manipur who is going to hover around the circuit. If nurtured properly, Naorem could be the start of a new breed of young talented wingers, who can create goalscoring chances and if needed score themselves.
With five assists and two goals to his name, Naorem has proven his mettle on the big stage, but he is only getting started. His 109 dribbles prove that Vicuna has had complete faith in his abilities. He gave him the license to play his natural game, something which worked to the Mariners' advantage.
Naorem was always known for close control and dribbling, but he was never a good passer. Yet, the Spanish coach transformed him into a complete package. His 79% passing accuracy proves that Naorem had the confidence in himself. On the other hand, his 65% key pass accuracy shows that he was a livewire in the final third, finding teammates in tight situations more often than not.
With the 20-year old left winger returning back to Kerala Blasters and Kibu Vicuna also set to take charge of the South Indian outfit, we will get to see the duo working together once again. While the Indian football fans rekindle their hopes of watching Nongdamba Naorem tormenting opposition defenders in the national team jersey, the 20-year-old will look to keep up his consistency on the big stage next season.
For more updates, follow Khel Now on Twitter, Instagram and join our community on Telegram.