The 22-year-old starlet had a wonderful last season for Aizawl FC in the I-League.
Khel Now looks at one of the fastest-rising prospects from Mizoram – Rochharzela who had a splendid previous season for Aizawl FC. The 22-year-old made his debut in 2017, but had to bide his time to make his breakthrough in the I-League.
The skillful winger energized Aizawl with his exciting style last season, often saving them from despair in a disappointing campaign. He often took games by the scruff of their neck and proved himself as one of the most efficient wingers in the I-League.
Moreover, Rochharzela showcased enough potential to soon earn a move to a bigger side and proved he can be Indian football's next big thing if given the right platform.
Scouting Report
Name: Rochharzela
Age: 22
Height: 172cm.
Date of Birth: 15 April, 1998
Position: Winger
Background
Rochharzela spent the entirety of his career impressing at the local level in Mizoram football and was part of Aizawl's acclaimed youth academy. He spent some of his teenage years in the academy before getting the call-up to the senior side in the 2017-18 season.
While he initially struggled to prove his potential in the high-intensity league, Rochharzela began to fly once Stanley Rozario took him under his wing.
The 22-year-old started excelling in the exciting attacking philosophy of Rozario. After being given the freedom to express himself and move around the park, Rochharzela started to showcase how much of a dynamite winger he could be.
He became the club's brute force in attack, with his sparky style lifting the young squad. Further, he went onto score six goals in the 2018-19 campaign. The winger was not only his club's highest scorer, but the highest-scoring Indian in the entire league.
Considering that he's scored only seven league goals in his entire career, the sudden burst in form was a breath of fresh air for the former I-League champions. Not only did he improve his own reputation at the club, but also made a case for the quality of talent they possess.
Positives
Rochharzela has been a feisty winger for Aizawl, but is not a one-dimensional player by any means. He can operate as a modern-day winger perfectly, possessing enough skills to run with the ball, dribble past opponents and cause chaos for defenders.
His impressive close-control and creativity are few more glowing aspects on his game. He's a cunning goal-scorer who doesn't shy away from moving behind defenders to find himself in prime scoring positions.
Interestingly, Rochharzela managed an XG (expected goals) of 4.3 last season, less than the number of goals he netted. That itself proves how much of an unpredictable yet threatening scorer he is with his impressive shot-power, set-piece ability and strength in the air.
He managed to create numerous chances with 24 key passes last season which proves his passing and crossing ability are deadly as well. The youngster possesses enough craft and determination in himself to floor any defender on his best day.
Aspects to Improve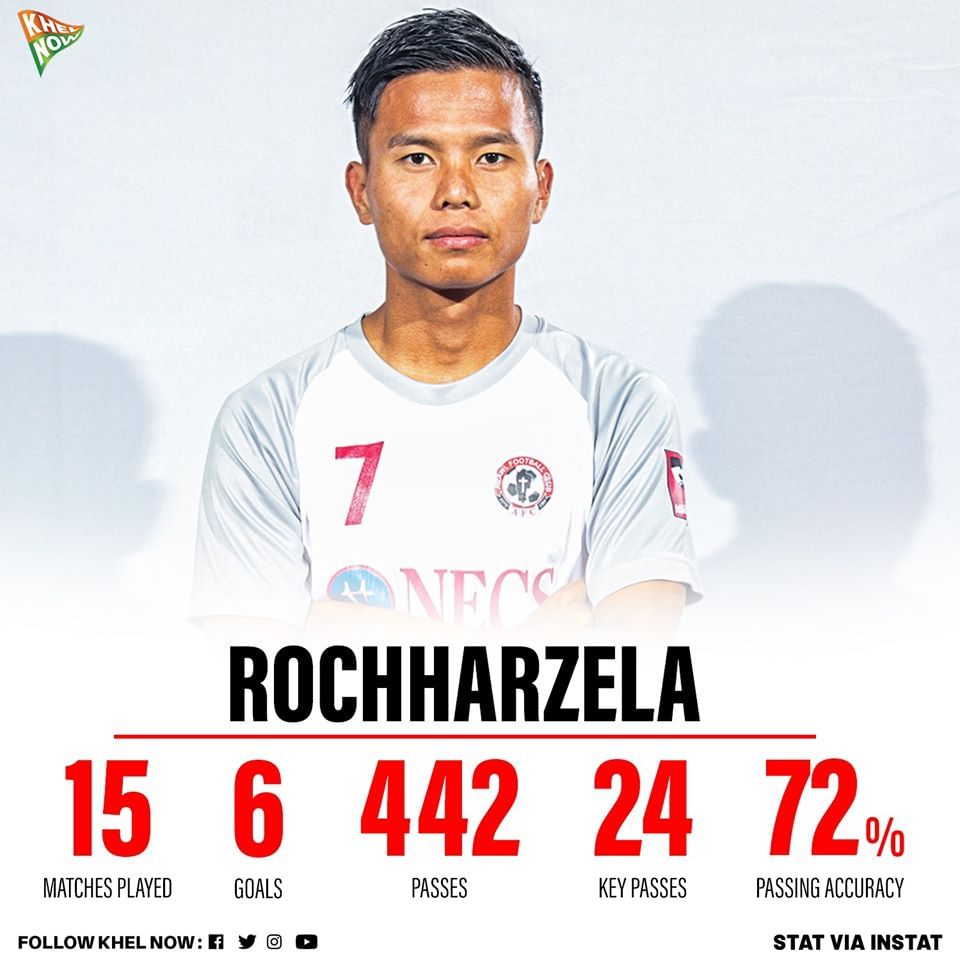 Rochharzela might be a creative player, but his passing efficiency needs to be worked upon. He only managed a 72% passing accuracy last season, numbers he'll want to improve on at a higher level.
Moreover, the youngster needs more composure in his game, looking to slowly build things rather than wowing fans with a burst of brilliance. He needs to time his passes and runs better to fool defenders even better going forward.
The physicality factor will also play a part in the future. Rochharzela might be a cunning winger, but sometimes gets ousted by stronger defenders. He'll need to be more clever in dealing with trouble and improve his ability in one-on-one duels.
Similar To
While perhaps not blessed with as much speed, Rochharzela has that glimpse of Lallianzuala Chhangte in his game. He knows how to move forward with the ball, penetrate defenders and find himself in all the right areas.
Similarly, he also has that hunger for scoring goals and often wanders into the right areas for doing so. The 22-year-old perhaps needs to hone his skills a bit more, but he can become a deadly winger like Chhangte if he continues with his development.
Future
The youngster probably has big things written in his future after his impressive performances in the I-League. His heroics must've grabbed a lot of attention from the big clubs around the country and he seems ready for a move to the Indian Super League (ISL) as well.
After watching his impressive work in the I-League, he should be able to hang with the competition in the ISL as well. Not just the talent, but Rochharzela also possesses the x-factor needed to shine out and prove himself as the next big thing in Indian football.
For more updates, follow Khel Now on Twitter and join our community on Telegram.